There are many types of project management software out there, but they are not all created the same. Wrike stands out for its accurate time tracking, specialized feature sets for your specific business, and easy to navigate UI. This review of Wrike covers in detail what makes it a tool worth considering.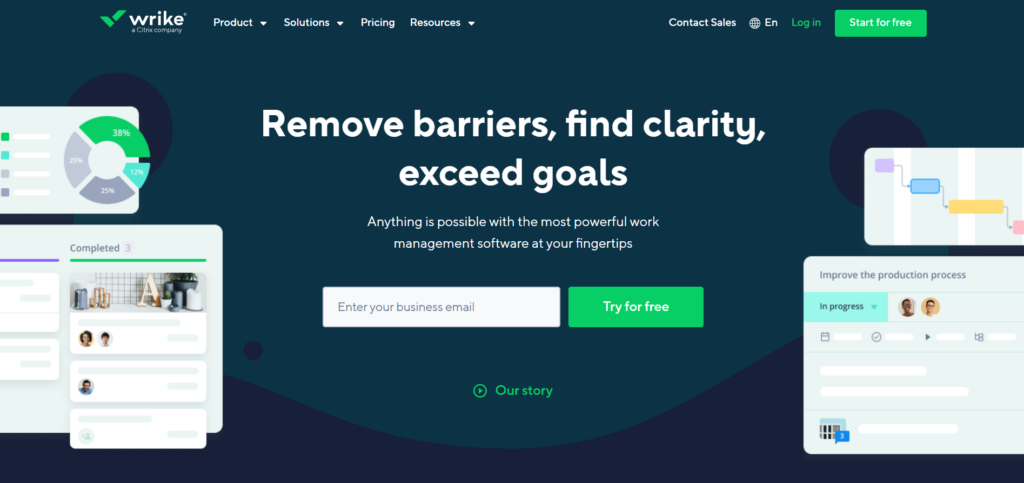 With so much customizability, Wrike fits into just about any type of business. With several tiers of features, it scales perfectly with organizations of any size. The price may be on the higher side, but you get what you pay for.
Built with people in mind, it's easy to add and manage users and share documents with anyone you wish. Teams can work together within the platform and track projects along the way. Reports flow in real-time so you can be immediately aware if something or someone falls behind.
Specialized packages for marketing, creative, and services delivery teams
Time tracking within tasks, with timesheets tracking totals
Analytics tool automatically generates charts
Slightly more expensive than other PM software
Templates can remove some options
Can't prioritize tasks
Pricing
A Wrike account may not be your first choice if you're looking for cheap or free project management software. It's neither the most nor the least expensive option to help manage projects, but it is closer to the costlier end of the spectrum. Wrike pricing does include a free version that allows unlimited users but is limited in tasks and features.
Access to many of the most useful features requires a paid subscription. Options include:
Professional Plan: $9.80/user per month.
Business Plan: $24.80/user per month.
Enterprise Plan: Inquire for price.
Additionally, there is the Enterprise Pinnacle plan, which offers specific features for professionals who manage projects which require more sophisticated analytical tools. Like the Enterprise standard option, you'll have to talk to their sales team about the cost. There are also special offerings for your creative team, marketing team, or service delivery team.
For those uncertain which tier to choose, Wrike offers a 30-day free trial.
Team Management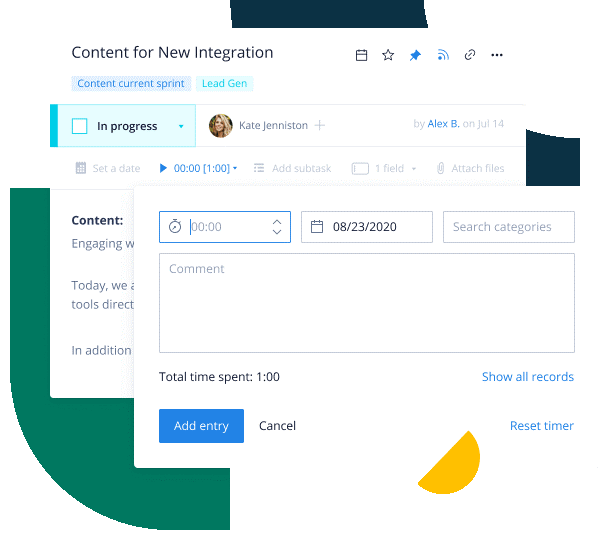 Most project management software out there, Wrike included, puts its focus in two areas. The first is team management, using task and subtask management to organize a team's work. Your workspace can be broken up into multiple projects and multiple teams, with the Stream widget keeping you informed of everything that is happening.
Time tracking is included natively, which is an advantage over other platforms. It's linked to specific tasks, which means it might be easy to lose track of it. On the other hand, it does make it easy to track resource allocation and your team members' workload. Altogether, Wrike's features make it suitable for either large teams or small teams.
There is an optional add-on with an additional cost called Wrike Resource that offers some more features such as timesheets and team utilization reports.
Project Delivery Management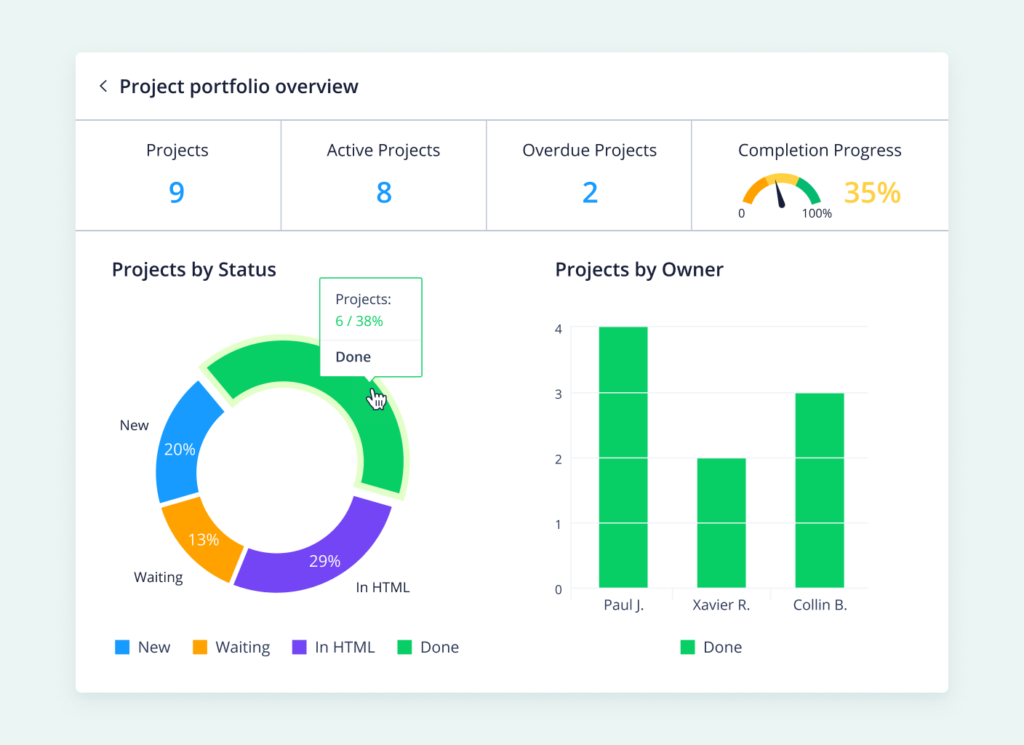 The task management features project management software like Wrike offer is aimed at shepherding a team to project completion. In Wrike's case, there are many tools to help managers track project progress, even complex projects, and identify problem areas.
We've mentioned time tracking and workloads. You can also create time estimates by adding 'Effort' estimates to tasks. You can also turn tasks into milestones as a way of noting important dates.
Customizable dashboards offer a number of ways to organize information, dividing things into projects, spaces, folders, and tasks, all of which can be added with a click. The 'Recent' area of the dashboard may be of particular use for navigating larger projects. Different views can also be added to spaces and projects, for example, to track dependencies using Gantt charts.
Risk/Issue Management
There isn't a specific tool for issue tracking within Wrike, though you can get those tools through integration with Github. Alternatively, depending on your project management needs, one of Wrike's other tools could fill the role of risk tracking. Wrike recommends using their Request forms as an issue tracker, for example.
There is also a Project Risk assessment that you can receive each week, which we'll discuss a bit more when we get to Wrike's AI options.
Reporting
Some of the most important project management tools are those that help visualize data in an understandable way, whether you're trying to monitor progress, time tracking, due dates, or whatever. With Wrike, you can easily add Gantt charts to track a business plan or a workload chart to see time spent on each task.
Additionally, the Analytics tab allows you to automatically generate various charts that are updated as tasks are for real-time visibility. Note that the analytics project management tool is only available for Business plans and above customers.
Finance Management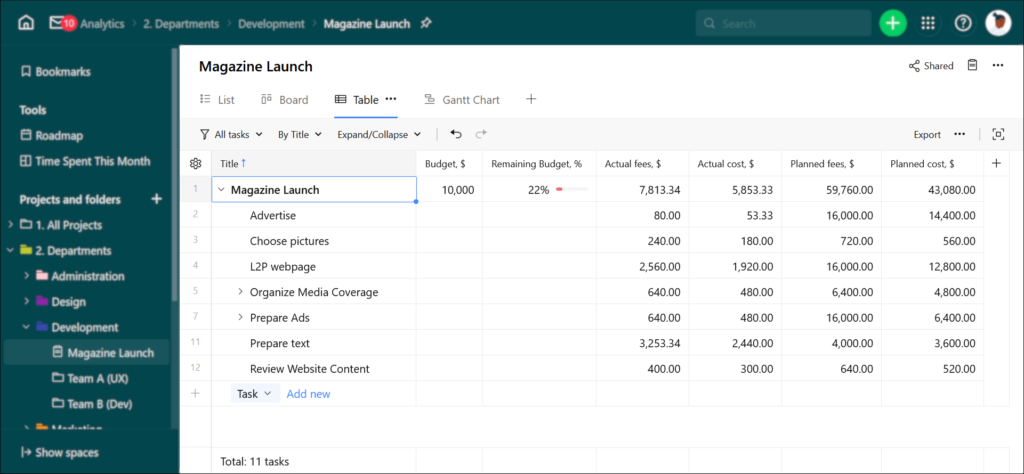 Wrike offers some basic functionality for finance management. For example, you can set a project to track either billable or non-billable hours. Limited options in this area is not unusual for a project management system, which will often integrate with financial tools and then focus on managing other resources. Still, Wrike's expense combined with the cost of separate financial software might be worth keeping in mind, particularly for projects on a tight budget.
Collaboration and Communication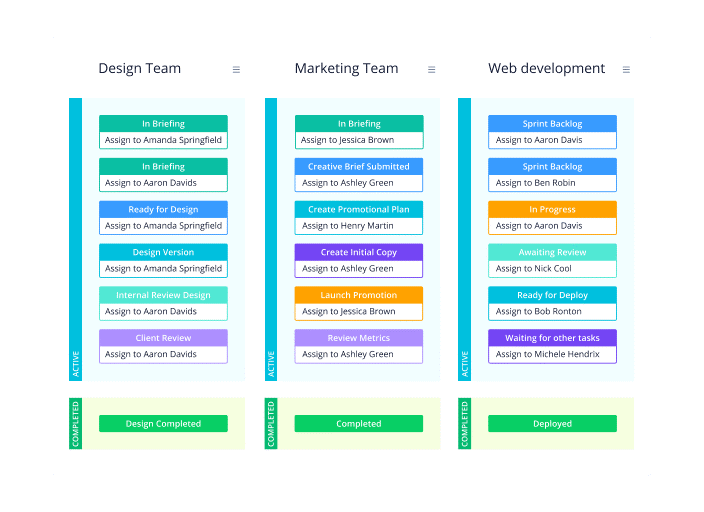 We mentioned that team management is one area of focus for most project management solutions. The other is usually team collaboration, offering communication and collaboration features to keep remote team members working together. Wrike offers many features to foster communication, many focused on task management. For example, you can comment on individual tasks.
It's also possible to send private messages to other users. Additionally, Wrike Proof allows you to mark up files stored on Wrike, allowing for some digital asset management, though file storage is somewhat limited. Even the Enterprise level is limited to 5GB per account, which for projects involving graphics or video may only scratch the surface.
Tasks also have an approval process feature, giving managers a chance to review assignments before marking them complete.
Integration With Other Apps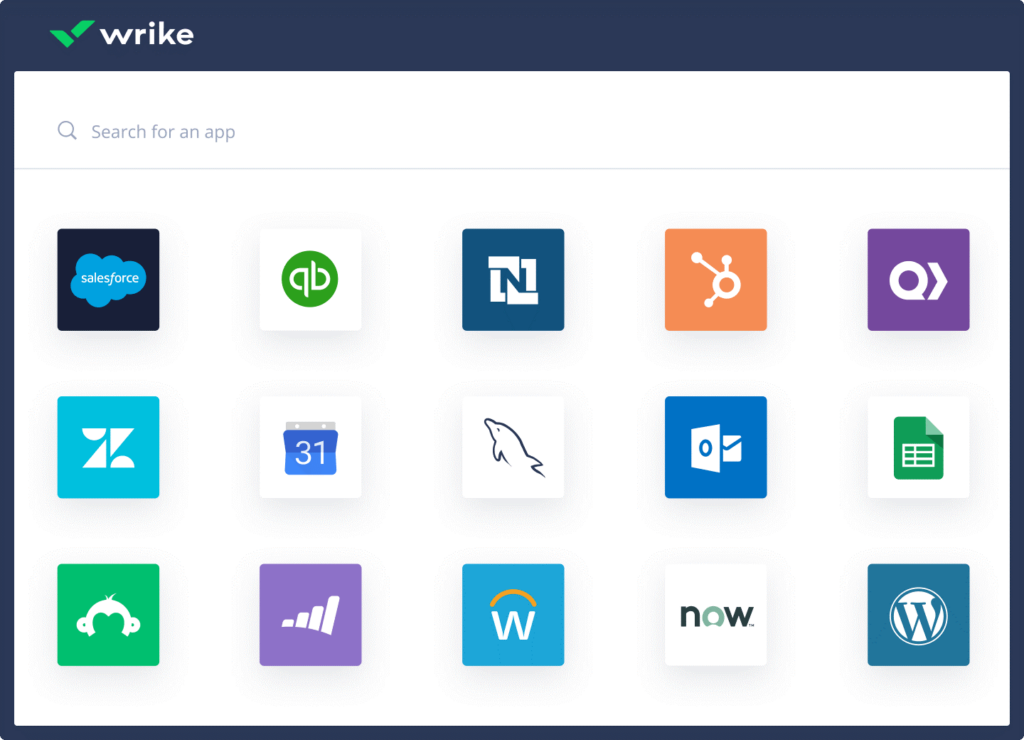 No project management solution will have every tool you need. To pull those other project management tools, many of which can offer a huge advantage, into your Wrike dashboard you'll need to look for an integration. Wrike offers a long list of options through their integration marketplace.
There are a few standard options, including a Salesforce integration, and integrations with both Google and Microsoft products. There are also many specialized apps for specific uses. Additionally, two-way sync keeps information updated across platforms, though at a separate cost.
Artificial Intelligence
Wrike offers some AI features in a few specific spots. The software uses its AI project management tool, called Work Intelligence, which is described as machine learning technology. It probably is doing a lot behind the scenes, but Wrike picks out instances in which you'll see it in action:
Risk: As long as enough information is entered, Wrike will assess project statuses and determine whether it's likely to be successfully completed.
Replies: Wrike will suggest three replies to messages and notifications based on the conversation context.
Document processing: Work Intelligence also provides OCR technology to convert scanned or handwritten notes into text files.
As far as work management goes, you're also able to create some automated workflows, such as recurring tasks or notifications.
Usability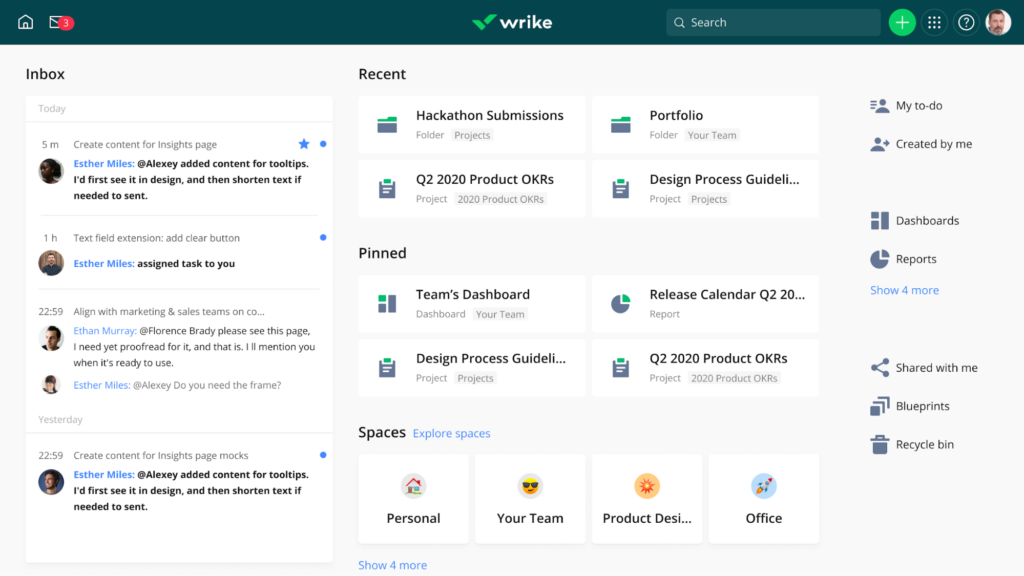 Wrike recently redesigned its user interface, adding some top features requested by users. One of the nicest new features is the ability to design your own Home, choosing what information is easily available. Once you figure out how to get around Wrike's customizable dashboards, the learning curve is actually pretty easy to climb. The same tools are replicated in different views, so you generally only need to learn to do something once.
Like most platforms, the different features are built on basic task management. You assign tasks to team members, then track progress, monitor workload, and create reports based on those tasks. Specific tasks can be turned into milestones, or you can add custom fields to all the tasks in a project. Time tracking also takes place within a task.
Project templates offer you a different set of tools depending on your needs. You may not see the option to track billable hours if you select a template for creative teams, for example. While it's not exactly simple project management software, anyone who has used similar platforms shouldn't have a problem. A mobile app for Android and iOS is also available.
Support
It turns out that many people don't object to complex, feature-rich platforms as long as they're given the tools to figure it out. As a result, support options are vital. There is a standard set of offerings that has evolved for these platforms that include things like support docs, tutorials, videos, and community support. Wrike provides all of those.
One major difference is the support options for more expensive tiers. For many platforms, these come with dedicated support. However, that's not true with Wrike.
Instead, it's good to note that support is supplied by another service. They include things like professionally designed workspaces, help moving to Wrike, and how to get the most out of its analytics, as well as additional support options.
Privacy
Wrike provides the same sort of security and privacy guarantees you'd expect from any similar platform. It has limited access to uploaded files, for example, and guarantees 99% uptime. Wrike also guarantees that its backup system operates in nearly real-time, so you won't lose anything if there is a serious issue.
Several additional and professional features for security have an additional cost or require a more expensive subscription. For example, two-factor authentication is an optional add-on. Charging extra for some features is not unusual. Wrike is unusual in offering some of these options ala carte, so you could add them to less expensive tiers if you wanted.
Enterprise-level customers can also add on Wrike Lock, which provides a master encryption key for your account that only you have access to.
Methodology Suitability
Unsurprisingly, Wrike's project management solution includes some features tailored toward an Agile approach. If you choose the Software Development set of templates, it will even set up options for Sprint work management. In many ways, Wrike could be used for any type of PM methodology you can build out of a task management system, though choosing the right template may make things a lot easier.
The platform can easily be used with Waterfall methodologies as well. It depends on how you set it up or which template you choose. You get a different set of options with a content creation template than you do with the web development option.
Wrike Alternatives
Most project management software, as we've mentioned already in our Wrike review, is based around task management. There are a number of variations on the theme with different price points, interfaces, features, etc. Some examples include:
Many Wrike features can also be found on other platforms. For example, Asana and Monday both provide an equivalent of Wrike Proof. Other options may also offer some of the professional services Wrike does.
The best project management software for your needs may be fairly similar to Wrike. However, since it actually offers some common features, top solutions that businesses look for, you may want to try out some of those other options and see how they suit you.
The differences may not be apparent in a quick overview, so taking advantage of a free trial or free plan is often a good idea. Wrike does offer some unusual features, most notably native time tracking.
If the task management model doesn't appeal to you, there are a couple options that are organized differently, including Confluence and Basecamp. If you're considering using a Wrike alternative, check out the battle between Microsoft Project vs Monday.com.
Frequently Asked Questions (FAQs) for Wrike Review
Final Thoughts on Wrike Review
While the higher price might initially put some people off, Wrike is one of the easier to use and feature-packed professional services out there. That may not make it the right choice for your project management requirements. However, it should be on your short list of platforms worth checking out.