Work operating system (OS) monday.com is popular among companies because it improves the way teams manage and monitor projects. It focuses on project management, which is critical to the success of any business. 
monday.com is a potential option for you and your team if you wish to level up your project management methodology, especially if you need a user-friendly, customizable platform to complete multiple business projects. It is well known for its excellent collaboration and integration features.
This project management tool empowers you and your team to complete long-term and short-term projects in an organized, operational efficiency way. Learn about the product's features, advantages, and disadvantages in this monday.com review.
Our Verdict
monday.com is an adobe creative cloud based OS which is mainly used for project management. Since it is code-free, it makes it simple for you to design workflow apps for your business. These apps can be used to handle your daily routines and responsibilities.
This tool includes workflow templates you can customize to manage your projects with ease. It reduces the manual work of your team by automating some of your key task management. Plus, this flexible platform may be adjusted based on the evolving needs of your business. You can even integrate it with well-known tools and apps to speed up your operations.
monday.com grants you the opportunity to collaborate with your team in a joint workspace. You can use it to track the time of your employees so you can motivate them to meet deadlines. The dashboards provide insightful data which gives you an overview of the progress of your multiple work projects.
monday.com is one of the best options in the global IT project and portfolio management market, a thriving industry which gained a total estimated revenue of $3.88 billion in 2019. At present, over 100,000 teams all over the globe use monday.com to streamline their work processes. After reading this monday.com software review, you can decide for yourself if this product is a perfect fit for your team or not.
Modern user interface (UI) is easy to use and navigate
Highly customizable features
Ideal for managing ongoing work for multiple projects
Confusing pricing of plans
Slow customer support
Best features only available with upper tiers of paid plans
Who monday.com Is Best For
monday.com is best for business teams, managers, and owners who want to become more productive and efficient in the workplace. It is recommended for you if you need to manage several long-term projects that are in progress, not just short-term projects. It can guide you in setting your group project goals and in planning how to achieve these goals through specific tasks.
It is also advisable for you if you would like to establish a culture of openness and transparency among your employees because its multiple project view feature keeps everyone updated on the progress of the whole team. monday.com is a smart choice for you if you needa project management work OS that is easy to use yet feature-packed at the same time.
monday.com Pricing
monday.com offers five plans that vary in terms of pricing and features. Compare the different project management plans to find the right one that matches the budget and needs of your business.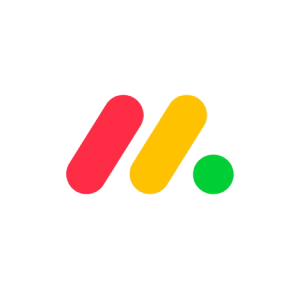 Individual
Basic
Standard
Pro
Enterprise
Free (Up to 2 seats only)
Contact monday.com for pricing
Unlimited boards
Unlimited documents
Unlimited boards
Unlimited documents
Projects, viewers, and shareable forms
Unlimited boards
Unlimited documents
Projects, viewers, and shareable forms
Gantt charts
Unlimited boards
Unlimited documents
Projects, viewers, and shareable forms
Gantt charts
Unlimited private boards
Unlimited boards
Unlimited documents
Projects, viewers, and shareable forms
Gantt charts
Unlimited private boards
Tailored onboarding
25,000 actions every month
Enterprise-scale automations
25,000 actions every month
Integration Compatibility
Android and iOS apps
Outlook or Gmail email
Google or Outlook calendar
Android and iOS apps
Outlook or Gmail email
Outlook or Gmail  calendar
Microsoft Teams
Slack
Todoist
Android and iOS apps
Outlook or Gmail email
Google or Outlook calendar
Microsoft Teams
Slack
Todoist
Salesforce
Jira
Basic analytics and reporting dashboards
Powerful analytics and reporting dashboards
Advanced analytics and reporting
Project Portfolio Management
Simple project portfolio management
Advanced project portfolio management
Advanced project portfolio management plus Premium Support
To be realistic, the pricing of monday.com can be slightly confusing because the monthly cost of each plan can fluctuate depending on how many team members will be using it. Make sure to read the terms thoroughly so you can properly compute the estimated cost if you are interested in subscribing to a plan.
Check out the summary of the monday.com packages so you can select the plan that works best for your business:
Individual: It is ideal for professionals who wish to keep track of their individual work.
Basic: This is suitable for teams who would like to collaborate on simple projects and shared weekly tasks.
Standard: It is widely used among groups that require visual tools and automation for intermediate project planning and monitoring.
Pro: We recommend this for teams that need professional and analytical tools and automation to manage complex projects.
Enterprise: It's best for teams that can benefit from enterprise-grade business workflows and analytics combined with Premium unlimited support.
monday.com Features
Let's take a closer look at the key features of the work OS in this monday.com project management review. We will discuss the user interface, multiple project views, time tracking, customizable templates, integrations, customer support, automation, and customizable dashboards features of monday.com.
User Interface
The UI of monday.com showcases building blocks which enables business teams to create or customize project plans in a visual way. It has adjustable tabs and color-coding options which let you organize your tasks into groups. Transferring and arranging data is a breeze because you can drag-and-drop or copy-and-paste content from table to table. Plus, this UI has a modern, trendy design that is aesthetically pleasing.
Multiple Project Views
monday.com lets you view multiple projects at the same time so you can stay updated on your team's progress. You can create a central timeline which gives you a handy overview of team members, activities, project details, deadlines, and milestones. The broad visibility options also make it possible for you to assess your projects through the Kanban board, Gantt chart, workload, or calendar.
Time Tracking
The time tracking feature of monday.com makes it possible for you to evaluate how much time each team member spends on specific tasks for particular projects.It can be used to measure boost productivity of employees in the office, but it is especially useful in gauging the efficiency of remote workers. This data can give you insight into how to streamline your work processes in the future.
Customizable Templates
The customizable templates are one of the foundational features of monday.com. You can adjust these ready-made guides for your business based on its size and type, as well as the industry you belong to. These templates can be helpful for various workflows, such as project management, marketing, design, software development, HR, sales professionals, and CRM.
Personalized templates make it possible for you to organize your existing contacts, gain new leads, and monitor sales within one central location. These tools motivate you to conceptualize and brainstorm marketing and advertising campaigns through visual techniques. The templates also allow you to oversee your content initiatives through a single calendar.
Integrations
Integrations are one of the notable advantages of monday.com. Aside from being highly functional in its own right, it grants you the opportunity to tap into a vast pool of features of multiple software programs. Its ability to integrate with more than 50 different applications is crucial since you need the combined power of a variety of systems to start and complete work projects.
Connect monday.com to simple programs you use daily to complete basic office tasks, such as Google or Outlook calendar and Gmail or Outlook email. It can also sync with certain Android and iOS apps on your smartphone even when you are on the go. You can use it to coordinate with your team through Slack, Todoist, Microsoft Teams, Salesforce, or Jira. Just take note that while basic integrations are available for all packages, advanced integrations are only accessible for plans with premium pricing.
Customer Support
monday.com offers 24/7 support to customers. Nevertheless, the speed of customer support may be considered as slow-paced by modern standards. On average, the support team of monday.com typically replies in less than an hour. However, you may need a quicker response because technical difficulties can hinder your work productivity.
Automation
monday.com lets you save time by automating some of your work tasks. As soon as one of your team members submits a project idea, the approval group gets a notification. Once the project budget is approved, the project owner gets informed right away. Your entire team gets a notification when the due date finally arrives, while the project owner is alerted in case a task becomes overdue.
Customizable Dashboards
The customizable dashboards of monday.com can be tweaked according to the requirements of your business projects. You can gain insights and big picture through the data that is strategically displayed via the dashboards. You can transform these insights into concrete actions by making informed choices that are based on solid facts, not just on intuition. It will be more convenient for you to access your data by consolidating them into a single, secure platform.
monday.com Customer Reviews
Overall, monday.com has fairly positive customer reviews from G2 and TrustRadius. G2 reviewers commend it for its task prioritization, due dates, and project creation features, although they acknowledge its limitations in terms of critical path and resource allocation. TrustRadius reviewers approve of its board sharing and information sharing capacity, while pointing out its lack of features and adoption features for some apps.
Alternatives to monday.com
You might be interested in other alternatives to monday.com if you are looking for project management software with a lower pricing. Discover how monday.com stacks up to the competition.
Microsoft Project
Microsoft Project is a project management app that is suitable for business teams who need to manage simple and complex projects. monday.com has an edge over Microsoft Project because it is more affordable and it has more collaboration features.
Pricing: $10-$55 per user / month
Wrike
Wrike is a project management software that is appropriate for entrepreneurs that require a simple UI, accurate time tracking, and customizable feature sets. Wrike has a broad range of features like monday.com, but the work OS is less expensive than Wrike.
Pricing: Free to $24.80+ per user / month
ClickUp
ClickUp is aproductivity platform that is ideal for professional teams with team management who wish to simplify the way that they handle work anytime projects. ClickUp is a competitor to watch out for since it has more functions than monday.com, plus it has a lower pricing scheme too.
Pricing: Free to $19+ per member / month
Frequently Asked Questions (FAQs) for monday.com Review
Find out the answers to the most frequently asked questions about monday.com.
Bottom Line on monday.com Review
Overall, monday.com is a work OS with impressive project management features, although it has a few limitations as well. You and your business teams create workflow apps and may consider monday.com as a viable option if you are serious about enhancing the way that you manage and keep track of your multiple work projects.