Many project management techniques were once reserved for large projects with lots of resources. However, many of those techniques can now be easily and painlessly accessed by anyone, using one of a range of cloud-based project management tools. Asana is one of the more popular options, with a reputation for being easy to use.
Being easy to use is great, but does it also offer all the important features you need to organize your project, at an affordable price? Check out our Asana review to find out if it's a good match for your needs.
5 Things That Make Asana Stand Out From the Crowd
Intuitive and easy to use.
Combines ease of use with high-powered tools for organizing projects.
Attractive, easy to assemble status updates, charts, and other reporting options.
Easily track the progress of several different projects.
Create or edit tasks from nearly any project view.
Where Asana Falls Short
More expensive than some other options.
You may need to pay for more expensive tiers of service for timely support.
Pricing
Asana may not exactly qualify as cheap project management software, but it provides value for money if you need a versatile project management tool. There is a free version that is great for organizing an individual or basic project. You'll need to upgrade to one of the pay plans for many important features, like task start and end dates, or business quality reporting and analytics. Options include:
Asana Basic: $0, up to 15 users.
Asan Premium: $13.49/user each month.
Asana Business: $30.49/user each month.
Asana Enterprise: Requires inquiry.
The prices are higher than some competitors, such as ClickUp, but you can get a discount if you choose to pay annually. It's also more complex than some options, such as Basecamp, which offers unlimited users and unlimited teams for a flat rate. However, each of the pay tiers offers a 30-day free trial, giving you a risk-free way to find out if it's worth the cost.
Team Management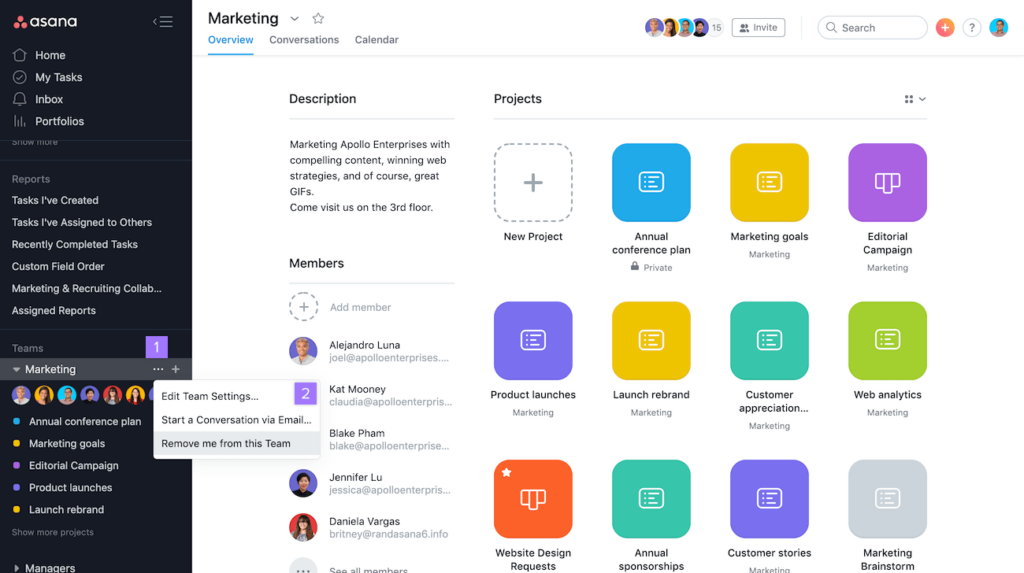 Keeping team communication simple is important, but the primary task of a team manager is often time management. The task scheduler Asana provides is intuitive and flexible, allowing you to assign team members, split off sub-tasks, or add everyone to create a team task. Doing so allows you to track progress, monitor deadlines, and use all of Asana's other features easily.
The resource management features Asana offers come in a task management tool within the Portfolios feature. The Workload tab provides a way to monitor your team's time commitments. You can also add the amount of effort a task requires by adding more weight to difficult tasks. Workload also provides access to the task assignments, so you can edit assignments without changing views.
Project Delivery Management
A project can be anything from planning strategic initiatives and company objectives to planning your next sprint. One reason Asana's project management features are so appealing is how painless it is to switch between multiple projects. There are also many ways to switch between viewing a task and project, whatever tab you happen to be on.
When creating projects, it's also easy to 'zoom out' instead, seeing each project progress percentage at a glance. Each project can also be examined in multiple project views, using bar charts, timelines, and burnup charts. Dependencies can be mapped out in the project Timeline, where milestones can also be used for major completion dates.
Asana lacks a time tracking function, though it has partnered with Harvest and integrates with several other options.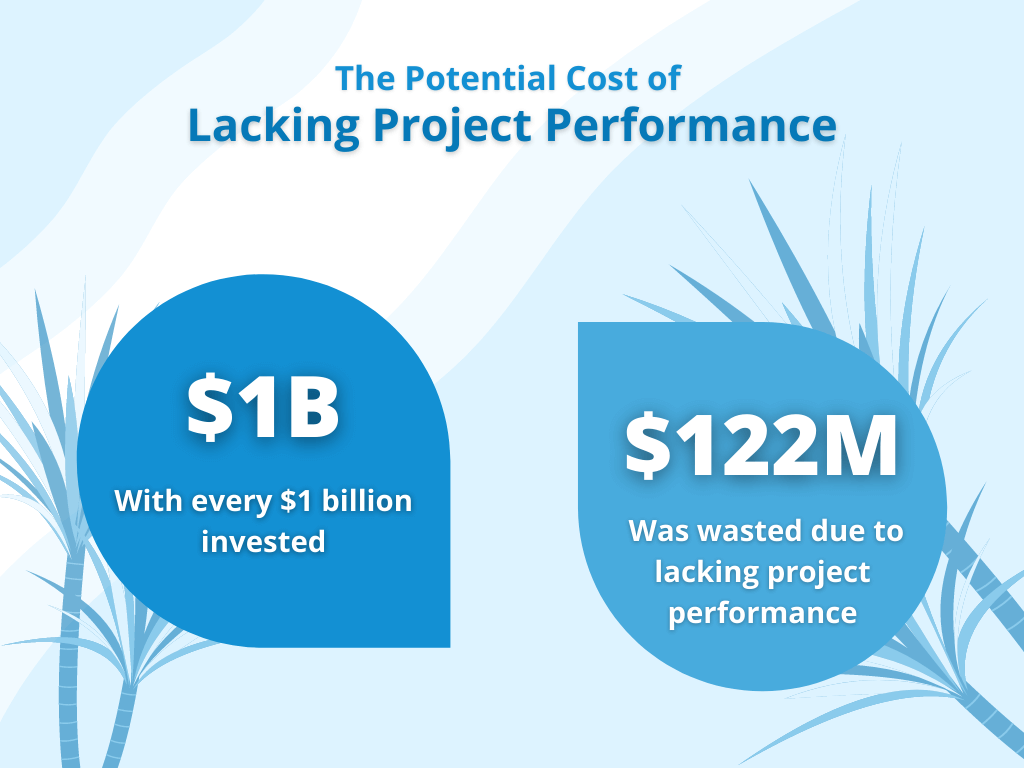 A survey by the Project Management Institute (PMI) shows more than $122 million is wasted per $1 billion invested by companies because of low or bad project performance.
Risk/Issue Management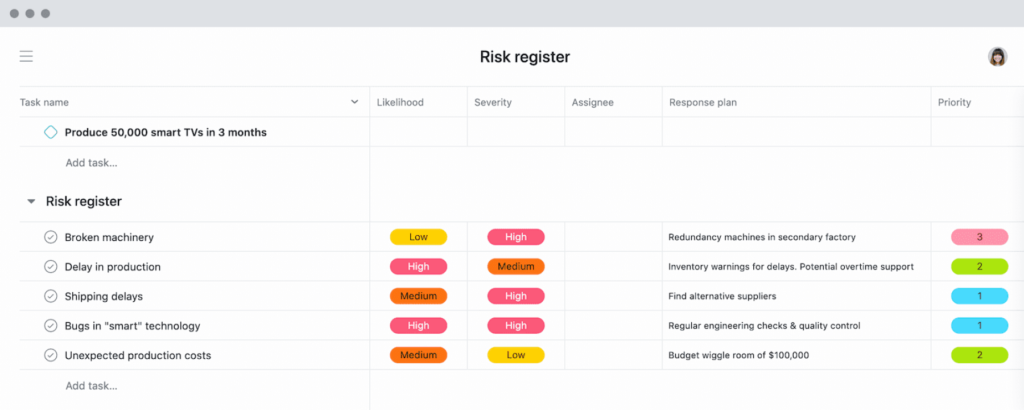 Asana provides a tool that allows you to label a project:
On track.
At risk.
Off track.
The tool is available to only the project managers, who can select who it's shared with as part of a regular status update.
Otherwise, there isn't a single tracking tool specifically for issue tracking, though there are tools that can work. The Timeline includes a customizable board, for example, into which troublesome tasks can be separated. The same tool can be set up with a range of automations and notifications. Of course, for a complex project, risk management may be split off into a project of its own.
Reporting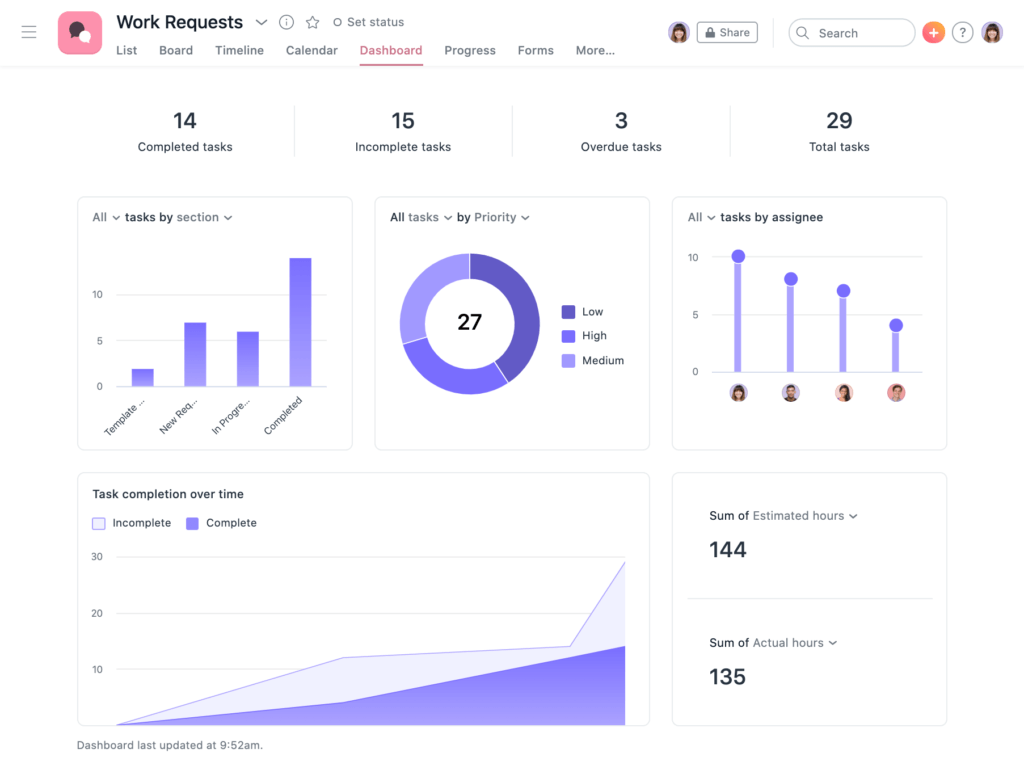 The center of each project is the project Timeline, where project managers can see daily tasks in the calendar view, view important messages, and monitor progress. It also provides the tool interface for most reporting features. The Overview provides just that, a quick look at team members, milestones, and objectives. The Overview also offers a simple way to create attractive project updates for even complex projects.
The customizable Dashboard has many reporting options for everyday needs, including burnup charts and other graphic ways of tracking tasks. The Timeline can provide Gantt charts for projects when dependencies are added to tasks. Finally, the Board tab can easily serve as a Kanban board, for Agile reporting.
Finance Management
Though project budgeting is a key aspect of project management, most software leaves that aspect to integrated apps focused on budgeting, invoicing, and so forth. That is an option, with Asana making it easy on a project manager in several ways. For example, integrating with a time tracking app allows for fairly straightforward timesheets, budgeting, payroll, and invoicing.
Asana integrates with another app, Power Bi, for more powerful finance management. It allows the creation of charts to track projected vs actual expenses. Power Bi also allows budget forecasting up to project completion.
Asana has some native tools, such as setting a custom fiscal year for the project.
Collaboration and Communication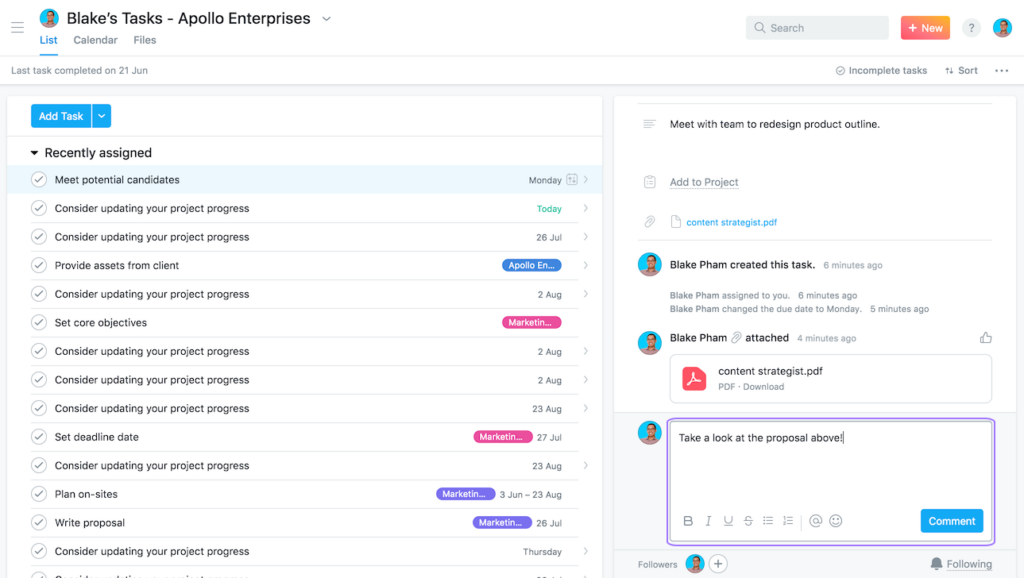 Like any other cloud-based project management tool, Asana puts a lot of effort into making communication easy. It's straightforward to work with multiple users, including client-project access, as you're able to grant different levels of permission. Status updates can be shared with the entire team, or just specific stakeholders.
Project collaboration is also easily fostered. Comments can be added at any level, to tasks and also to uploaded files such as a client contract or email campaign. File storage is easy to manage, as a single tab lists all the files uploaded anywhere within that project. Additionally, client-project access can be customized to the project's needs.
While it is an excellent collaboration tool, it doesn't have all the features some alternatives offer, such as real-time chat.
Integration With Other Apps
Asana offers a lot of options for task management and monitoring, with nearly every tool revolving around assigning, reporting, or communicating about a task. As we've already noted, some important project management tools aren't native to Asana and will require integrating with an outside app. We've mentioned two already, Harvest for time tracking and Power Bi for analytics, but there are many more.
Slack, Microsoft products, and Google products all are easy to integrate. There are many other options as well, with companies providing integrations to join Asana's partner program.
Artificial Intelligence
Automation of each repetitive daily task allows a project manager to focus on more important things, namely keeping their project organized. Asana offers a number of different ways to set up automatically recurring tasks or send free mail notifications to team members.
Notifications can be sent out when managers assign tasks, tasks are completed, or deadlines missed. You can also set up reminders for your daily social media project posts or other daily tasks.
Other types of automation are aimed at helping you stay organized. For example, the Kanban-style Board will move tasks from section to section automatically, with user-defined rules.
Automation also assists with reporting, allowing the easy creation and sharing of status reports.
Usability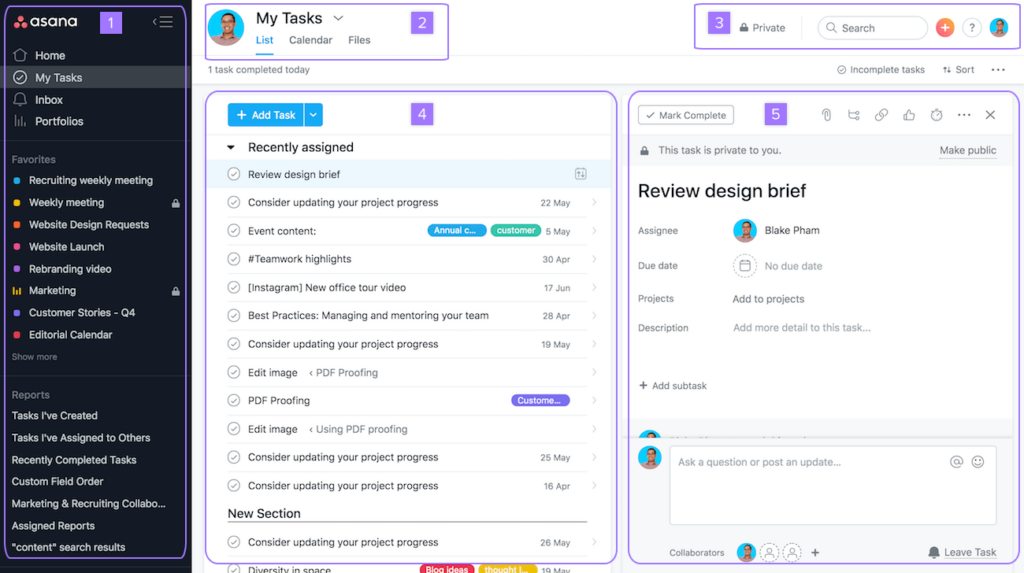 Everyone's experience will vary. Overall, most customer reviews share that the service offers a simple project management software that still provides vast capabilities for project planning. The user interface may take a little exploring to figure out, but there is plenty of guidance, including courses providing advice for specific use cases.
Otherwise, it's possible to assign tasks within moments of signing up. Project templates on offer provide an easy way to organize tasks. It's also possible to define your own templates, to keep projects consistent across your organization.
The ease of being able to manage tasks from any screen aids in making changes on the fly, allowing a user to track a specific task across Calendar, Board, or Timeline views. And, with their mobile app, you're never more than a ping away from your team.
Support
Asana is fairly intuitive to use and is supported by a medium-sized library of support documents and tutorials, so any given team member should be able to dive in without a problem. However, when there is a hiccup, it might significantly impact a team's productivity. When that's the case, you'll need to put in a support request and wait for a response.
If you opt for Asana Business or Enterprise, your request will jump to the front of the line, so it gets seen by Asana's support team more quickly.
Privacy
Security and privacy are some of Asana's company objectives, described in detail on their website. They make several guarantees, including that they will only share information with third parties you elect to work with. You can also remove or delete information at will. Perhaps most impressively, Asana also allows you to choose where in the world your data is stored, though only if you're an enterprise customer.
Methodology Suitability
With Asana, you can manage projects organized using either waterfall or Agile methodologies. The flexibility of the system, centered around task assignment, means that it can be built into more complicated projects. However, there are some features that might be better suited to an Agile approach.
In particular, the Board tab of the Timeline seems ready-made to be a Kanban board, tracking the progress of various tasks in a publicly visible way. The Dashboard/update system might work well into a Scrum workflow, detailing the most recent sprint.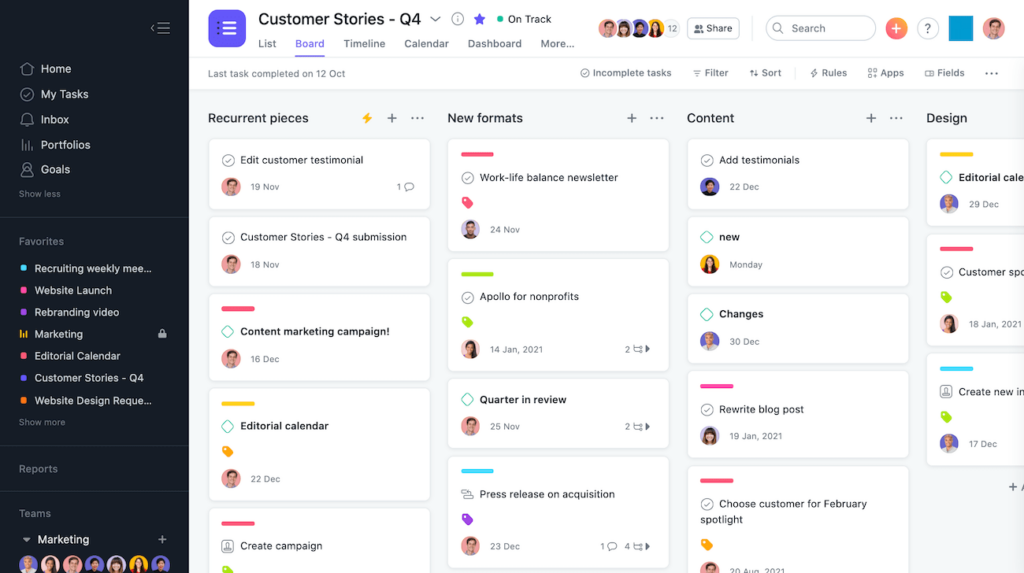 On the other hand, the Calendar tab allows dependencies to be mapped out, turning it into a Gantt chart. There are many ways Asana could be used to bring traditional methods into a modern project.
Asana Alternatives
The task-and-project model is one that is commonly used with cloud-based project management software. As a result, there are several similar options out there, with a different project management tool potentially better fitting your needs. Some other project management tools include: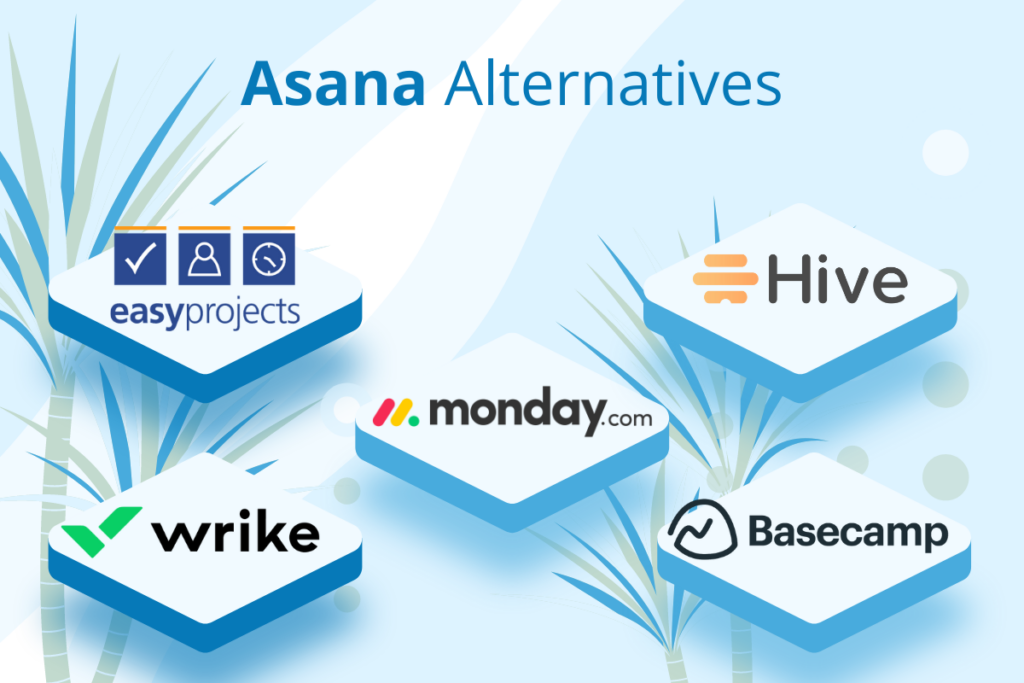 Most other options will also have a mobile app and several other standard offerings. However, other services may not offer all the tools Asana does. For example, Basecamp also uses a task-and-project approach. However, it uses a simpler payment structure, giving up some of the more powerful reporting and analytical tools in exchange. Find out more in our Basecamp review.
Frequently Asked Questions (FAQs) for Asana Review
Final Thoughts on Asana Review
Asana has struck a difficult-to-find balance, managing to both offer almost all the tools needed for a modern, sophisticated project while also being relatively easy to use. As we've seen throughout our Asana review, the result is a powerful tool for keeping your team and organization on task.
However, as the saying goes, you get what you pay for. Access to those powerful tools comes with a higher price tag than some PM software alternatives.