Managing a business or project is no small task. It's more like one human being against a never-ending mountain of work. Fortunately, there are tools out there that can cut out a lot of the mundane tasks while making the rest that much easier.
We want to look in more detail at some of the best project management tools out there, so we put together this ClickUp review to see what it brings to the table.
Our Verdict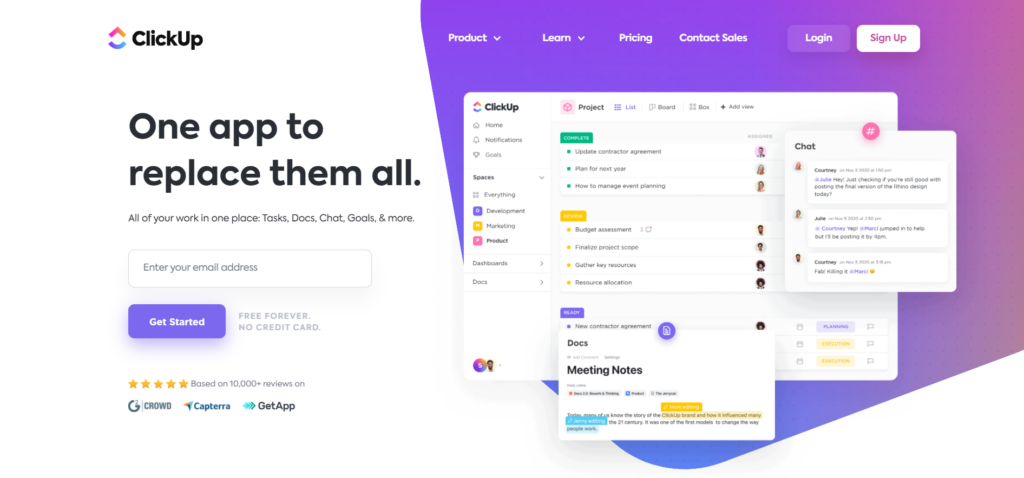 ClickUp is a versatile project management tool that can satisfy almost any project type and methodology. Use it for agile project management or the waterfall model. You can also change views to see a list, a Kanban-like style board, or a calendar view. ClickUp offers features to make it easy to collaborate in real time with your team, too.
There's a free version for budget-conscious small businesses, but it's a relatively affordable project management software option if you're considering upgrading. ClickUp works best for remote teams that need to work on projects together. However, it's suitable for almost any size business, thanks to the tiers of paid plans and the multiple apps and integrations ClickUp offers.
15 unique views for sorting out tasks, teams, and data
Fully customizable user interface
Built-in chat for public and private conversations
No video conferencing tools
The large number of features can be overwhelming for some
Pricing
ClickUp has several pricing options, so you can invest in whatever level makes the most sense for your team.
Free Version
ClickUp offers a free plan that allows users to make use of the project management tool, but only so many features are made available.
Although there's room for unlimited users, the free plan is best suited for solo users or small startups. Even solo users would make short work of the 100 megabytes of storage to work with. It's possible to create unlimited projects, but there's limited access to views and other ClickUp features.
Paid Versions
Should you opt to upgrade from the free version to a paid plan, ClickUp offers a 100% money-back guarantee during the first 30 days of use. If you're not satisfied with ClickUp's features, just shoot them an email for a full refund.
The project management system has four paid versions beyond its free plan with increasing levels of functionality. It is not cheap project management software, with ClickUp pricing varying whether you pay monthly or annually. An annual subscription is going to provide the most value for money.
Paid Plans at a Glance
Unlimited Plan: $5 per person per month if paid annually, $9 if paid monthly
Business Plan: $9 per person per month if paid annually, $19 if paid monthly
Business Plus Plan: $19 per person per month if paid annually, $29 if paid monthly
Enterprise Plan: Contact Clickup's sales team for pricing
The Unlimited Plan adds in unlimited storage, users, and the views missing from the free plan. You can level up to the Business Plan, making it even easier to manage projects with advanced features and some customization options. The Business Plus Plan adds priority support, personalized testing, and even more customization to the software.
Finally, the Enterprise Plan has all the features ClickUp can throw your way. Enterprise customers have access to API tools and a dedicated account manager alongside white labeling and managed services. If your business needs this all-in-one solution, contact ClickUp's sales team for more information.
Team Management
ClickUp features an Activity View that lets you see all the actions taking place in any List, Folder, Space, or your entire Workspace. You can also view team member profiles to see what they've been up to.
The Timeline View looks similar to Gantt charts but is sorted by users instead of projects. At a glance, you can see what specific team members are working on with projected task completion dates.
For resource allocation, the Workload View and Box View allow you to see multiple team members at a glance and what each is working on. It shows a day-by-day visualization of each user's workload and how it compares to their capacity. From there, it's simple to reallocate tasks to less burdened users through dragging and dropping.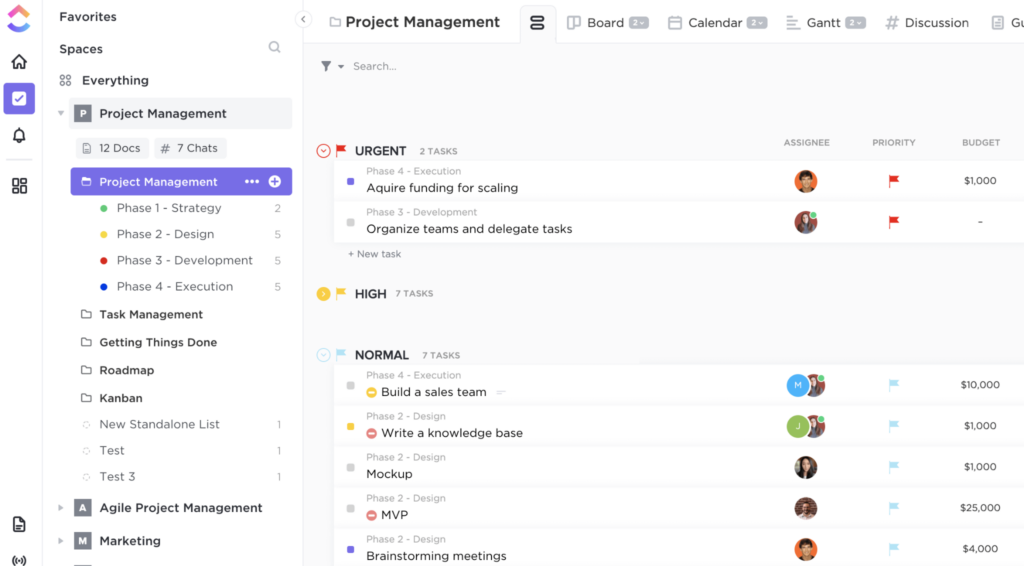 Project Delivery Management
ClickUp is project management software with time tracking built-in, even at the free level. You can track time across single or multiple projects and also view timesheets for each user. Once enabled, time tracking allows users to log hours spent on tasks with the click of a button. You can use ClickUp's time reporting to filter and view data any way you want to.
It's possible to build your project timeline by providing estimates for the amount of time a project should take. You can compare this information against actual user progress to ensure goals are met.
Furthermore, you or your team can create subtasks to define more detailed criteria for parent tasks. You can also assign comments to a task that behave like simple subtasks for the sake of accountability. Each subtask or comment can have its own assigned user and due date.
Milestones
ClickUp features milestones to display important events or deadlines. These visual tools are flagged in bold and with a diamond shape, making them stand out among multiple tasks. Changing a task to a milestone does not remove the ClickUp user or duration already assigned to it.
You can see milestones in several ways, including Gantt view, Board view, and even on your dashboard.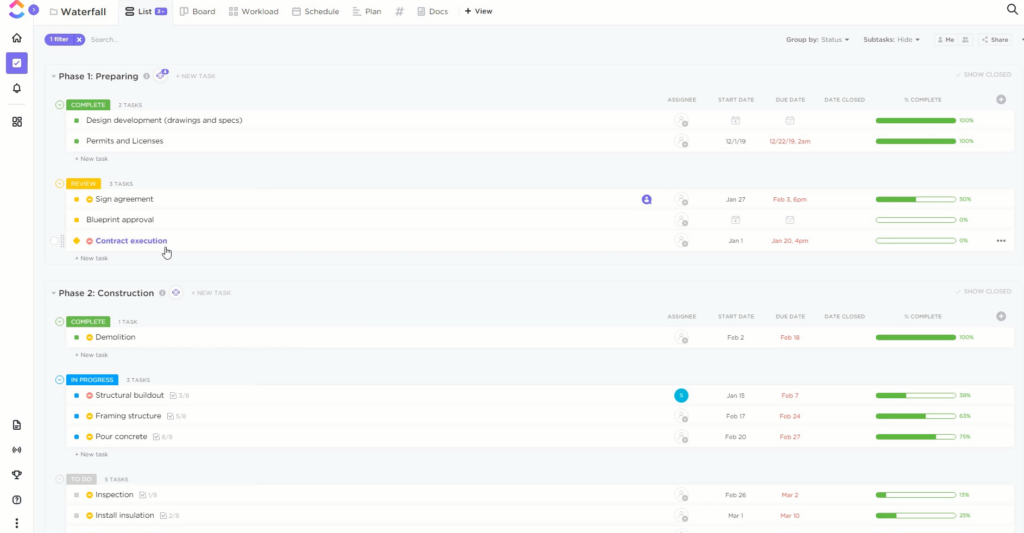 Sprints
ClickUp helps your team race to the finish line on old or new projects through the use of sprints.
Sprints are easy to create from the dashboard, where you can break projects into bite-size pieces. You can assign tasks to users alongside deadlines for each. You can prioritize tasks through ClickUp's unique points system.
There's a specific list dedicated to sprints that's easy to navigate and provides to-the-minute updates on the status of each goal. You can also set up the task management software to automatically roll over unfinished work to your next sprint.
Sprint Features
Each sprint provides burnup and burndown charts to see how your team members are pacing against your target. You can create either chart with a few clicks, and they will be accessible from your sprint on the dashboard.
Velocity charts in ClickUp show the amount of work your team has accomplished on sprints in a given week. You can compare this information against the amount of work ClickUp estimates should have been done for the week.
The information appears in bar graph format, and you can choose to view the velocity of your team over one, two, three, six, and 12-month intervals.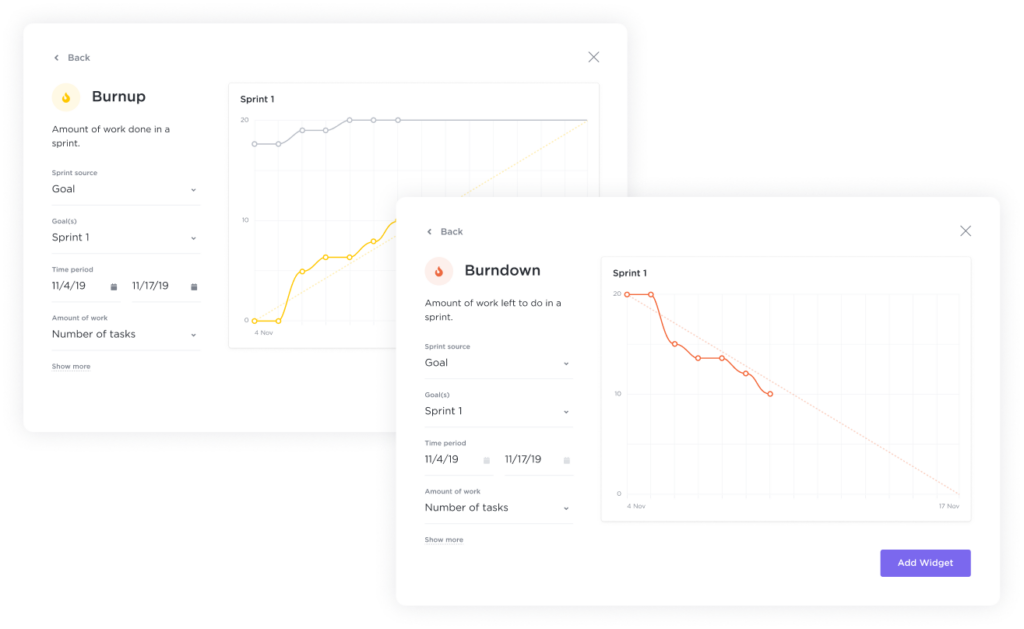 Dependencies
Another of ClickUp's best project management tools is dependencies. Dependencies indicate tasks that are either blocking or being blocked by another task to clarify which ones need to be completed first. ClickUp will automatically change the start and end dates of a blocked task if the task it depends on gets adjusted.
Within Gantt View, you can draw lines between tasks to automatically link them as dependent. A drop-down in either List or Board view is another way to add dependencies between two items. These changes appear simultaneously across all boards.
Risk/Issue Management
Risk management in ClickUp is best handled by using Gantt charting and the Timeline View, which help you see if tasks are on track or falling behind. Due dates in the List View will show in red if an assignment is overdue. Similarly, you can check who on your team is overburdened in Workflow.
Reporting
ClickUp is a very visual project management software with several viewing options available. While the Free and Unlimited plans are somewhat limited, ClickUp contains over a dozen ways to peruse data, including Gantt charts, List View, Calendar View, and Mind Maps.
A banner at the top of the screen lists your favorite views, and a click allows you to move between them. ClickUp can even sync with your Google calendar. ClickUp's dashboard is full of rich customization options, making it a breeze to build a great user interface in no time flat.
ClickUp has recently done away with its reporting page in favor of becoming even more simple project management software. You can now do all your reporting directly from your dashboard.
At a glance, you can see time estimates that will help you deliver projects on time alongside what your established and new users have been working on. ClickUp can tell you who's ahead on task work and who is falling behind.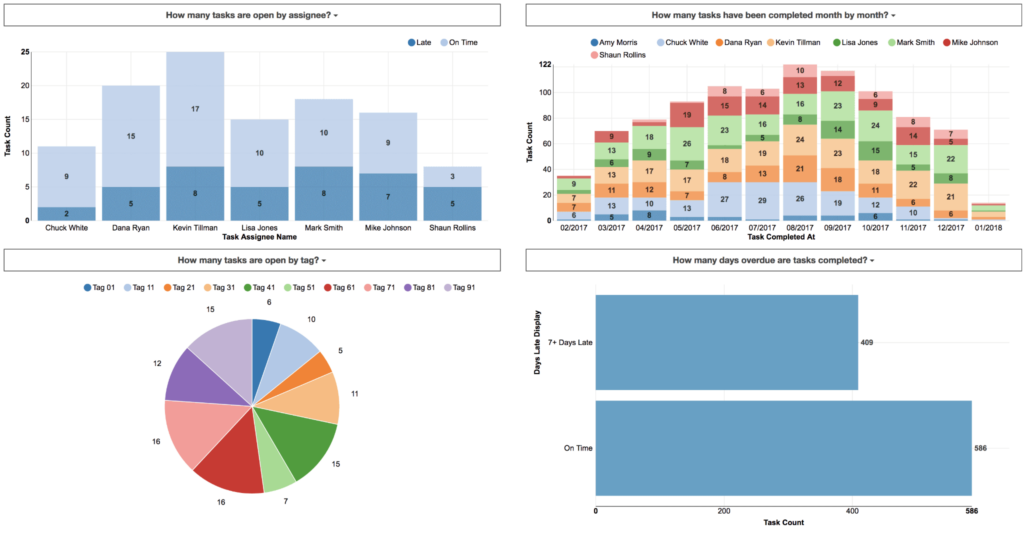 KPIs
Goals are ClickUp's way of creating trackable KPI metrics. The project management software has a long list of metrics you can track, and these metrics are just one of the things you can watch on your dashboard. You can use this data to generate operational, analytical, or strategic reports to share with your team.
Finance Management
There's no need to stop at task management. ClickUp has an array of tools you can use to keep tabs on finances as well.
You can track sales records, invoices, income, and even estimate revenue from within. By adding in expenses, the software can perform mind-numbing calculations with a click to see where money is going and to help allocate a budget.
ClickUp also has checklist templates for payments due, so you never miss a single one. It will automatically create future checklists based on those payments so you don't have to.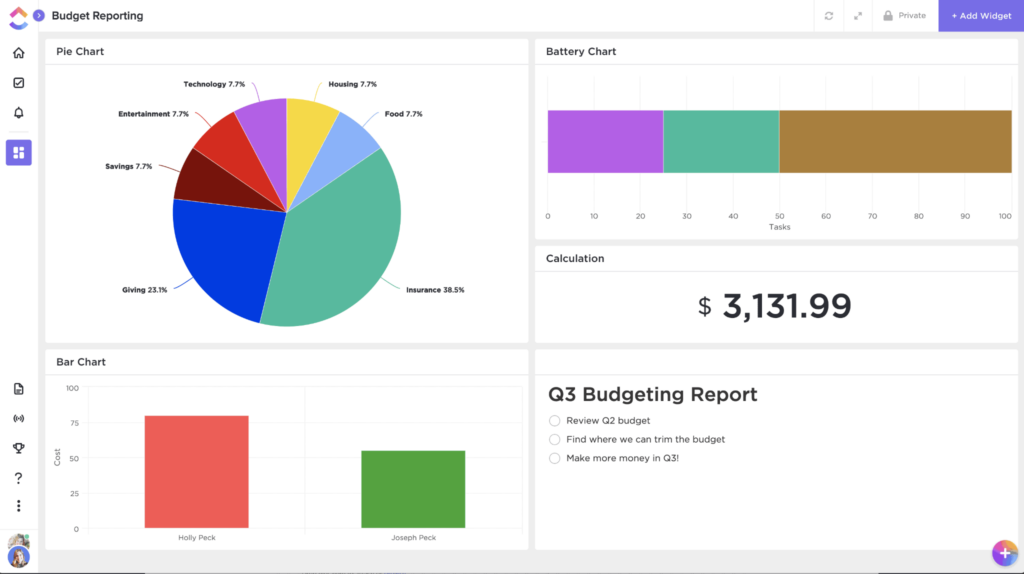 Collaboration and Communication
One of ClickUp's key features is Docs, allowing users to create and share documents. You can leave files as public access or choose who can view them through shareable links or permissions.
Real-time collaboration allows your team to edit documents together in Docs. Documents can be linked to workflows where you can assign tasks a deadline.
Another of ClickUp's collaboration tools is the chat feature. In addition to chatting in real-time, you can mention team members, create reminders, or embed files for others to look at. Once you create a chat, you can assign whichever users you want to participate and leave unnecessary members out.
Whiteboards are in beta testing and are currently available to all ClickUp plans. The digital space is malleable and easy for teams to develop ideas in real-time. You can save whiteboards for review somewhere down the line.
Roles
It's possible to assign each user one of four roles within a workspace: Member, Admin, Owner, or Guest. Roles are easy to assign from a drop-down when a user joins the team. Note that Enterprise users can create custom roles for their teams.
Accessibility
ClickUp advertises "one app to rule them all". They have an app for just about any device, including iOS, Android, PC, Mac, and Linux. Functionality is standard across all devices and works well no matter where you go. If an app isn't your thing, you can run ClickUp straight from a browser.
Integration With Other Apps
ClickUp allows external integrations with over 1,000 other software tools. Some of the most notable apps include:
Slack: Create ClickUp tasks right in Slack and add Slack notifications to channels of your choice.
Github/Gitlab: Create branches, pull requests, and perform bug tracking directly in ClickUp.
Google Drive/OneDrive/Dropbox: Quickly attach external files to tasks in ClickUp.
Google Calendar: Organize calendars and create events from ClickUp's Calendar View.
Zoom: Host meetings from within ClickUp tasks using Zoom.
Toggl/Harvest/Everhour: Advanced time tracking tools that assimilate with ClickUp tasks.
Artificial Intelligence
You can use a set number of monthly automation based on your ClickUp subscription plan, from 100 to 25,000. These automations remove the monotony of adding in recurring tasks that you're bound to lose track of over time.
What's more, you can program triggers to perform an action when a task is complete. With a simple interface, you won't need software advice to set up your automation conditions.
Usability
To decipher how usable this project management software is, we turned to sites like G2 and Trustradius to look at feedback from thousands of ClickUp reviews.
After poring over ClickUp reviews, the majority of subscribers state that ClickUp's learning curve is relatively gentle, but can be steep at times. The general consensus is that it's easy to get started, but the large number of features is overwhelming for some.
To help hit the ground running, ClickUp offers a platform demo and video tutorials. You can use a ClickUp specialist to help with onboarding, or the site has a FAQ and several documents explaining each feature.
Support
ClickUp has 24/7 customer support with even its most basic plan. Business Plus and Enterprise plans receive an enhanced level of support to get issues resolved even more quickly.
All ClickUp's paid plans come with a 30-day money-back guarantee. If you're not satisfied within the first month, email ClickUp for a complete refund.
Privacy
ClickUp states in its privacy policy that it doesn't disclose any information to third parties. The task management software uses Amazon Web Services for data security and encryption alongside two-factor authorization to ensure only the right people log in.
Methodology Suitability
There are a few popular approaches to project management, and ClickUp makes use of them all. Whether your method of choice is Scrum, Waterfall, or Agile, you'll be good to go here. The software lets you customize your dashboards however you choose and has built-in templates to maximize your effectiveness with a preferred method.
ClickUp Alternatives
ClickUp uses a proven method to streamline projects through tasks, collaboration, and views. The platform does a great job of this, but it may not be for everyone. Here are a few viable alternatives:
Each tool has its own pros and cons that you may choose to weigh against ClickUp's wide range of features. For instance, Asana is known for its ease of use alongside high-powered tools and a pleasant interface. You can read more about it in our Asana review.
Frequently Asked Questions (FAQs) for ClickUp Review
Here we look at answers to some additional questions you may have about ClickUp.
Final Thoughts on ClickUp Review
The right project management software can make all the difference in running an efficient business. It's essential to be able to track team members, projects, and finances in a single platform. Just as important is a tool that won't break the bank.
Considering the features we've outlined in this ClickUp review, we believe it gets the job done and then some. The platform also isn't afraid of rolling out new features to stay ahead of the competition.