Project managers often struggle to find the one software that will fill their needs. It's not uncommon for team leaders to try out one software, only to migrate to another one. In this Confluence review, we analyze the project management software so you can find out if it's the right fit for your team.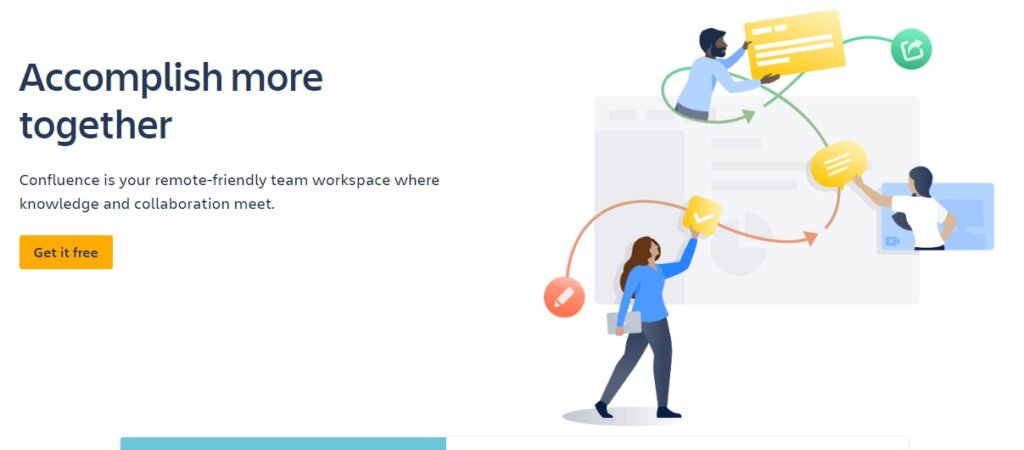 Our Verdict
Confluence is a remote-friendly workplace collaboration software that enables teamwork, participation, and knowledge sharing. It keeps track of a team's discussions, decisions, and information. Confluence serves as a company's primary knowledge management software tool to organize, capture, and preserve your most important assets.
Integrates with major software (Google Docs, Jira, Microsoft Teams)
Intuitive user interface
Supports simultaneous edits of documents
Free version allows the creation of unlimited spaces and pages
75+ page templates all organized according to team roles
Supports data encryption both in transit and at rest
No updates in real-time when documents are being edited
One standard view of projects
Users cannot chat in real-time unless they integrate an app like Slack
The primary feature Confluence offers is its collaborative editor. This tool gives you the power to create project plans, meetings notes, and product requirements. Other users can edit the file simultaneously and view all of your changes.
Other notable features include Confluence's accelerated feedback loop, collaboration tools, best-practice templates, and organized workspaces. In terms of pricing, Confluence offers four different plans depending on your team's size and which features you want.
Confluence is used by all types of functional departments of any team size. From project management groups and marketing teams to HR, legal, and finance, all teams can use Confluence to collaborate and succeed.
Who Confluence is Best For
Confluence is for teams of any type and size. The software is dynamic and adaptable to optimize the workflow of all teams. From those with critical, high-stakes projects to those that want to build a strong team culture, Confluence is perfect for both teams. Confluence helps your team make quick decisions, engage openly with one another, and align on the same page and direction.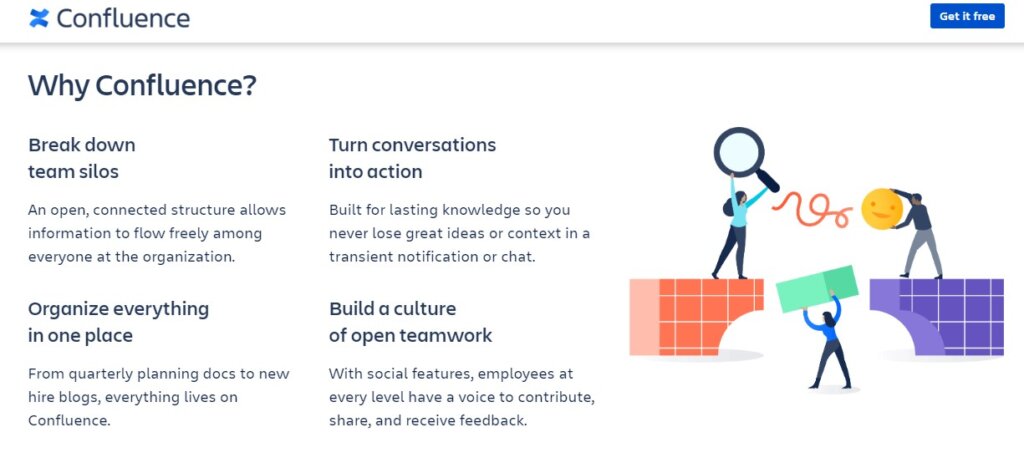 Pricing
Confluence is completely free for individuals and teams with under 10 users. Free users have access to many features, including unlimited spaces and pages, page trees, version control, and unlimited files. However, they cannot access page permissions, page archiving for future reference, and insights.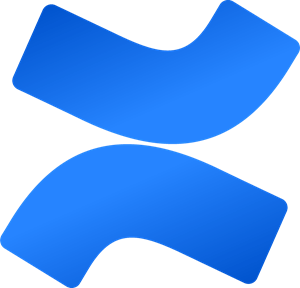 Plan
Free (up to 10 users)
Standard
Premium
Enterprise
$55/month and $5/user per month
$105/month and $10.50/user per month
Starts at $97,500/year at 801 users
Unlimited spaces and pages
























Alongside the free version, Confluence offers the Standard, Premium, and Enterprise plans. The Standard plan costs $5.50 per user monthly, while the Premium plan costs $10.50 per user monthly. They cost $4.58 and $8.75, respectively, when billed annually. The Enterprise plan is customized, billed annually, and begins when you add more than 801 users. You'll have to contact sales to get an Enterprise pricing plan.
These paid versions of Confluence have access to almost all of the features, but only the Enterprise has the Single Sign-On feature included by default. The Standard plan does not have access to bulk page archiving, page insights, admin insights, testing strategies, and automation.
Confluence offers a seven-day free trial during which you enjoy all the features that come with the plan you chose. There's also a 30-day money-back guarantee.
Confluence Features
Team Management
Confluence provides a way for teams to keep track of what everyone is doing. The basic model in Confluence is Spaces and Pages, which create hierarchy lists in terms of priority.
A space is created for a team or a project. In that space, a page is created to describe tasks. Creating a task is simple, almost like writing a post-it note and sticking it up on a board. It involves mentioning a team member, writing their task, and adding the due date. A team member can find their tasks by visiting team pages, their profile, or full task reports.
Confluence has resource filters that help team managers decide who to assign and how much work to assign to them. The filters are teams, users, and roles.
Confluence pages can be personal or public. Team members on a page can see when tasks are assigned to everyone, comment on current projects, and share the company's documents. Users with the proper permissions can easily update internal documentation. Also, team managers can publish blog posts and create a notification system.
Lightweight Project Management
Confluence is one of many project management tools that does not track time by default, unlike Jira. Instead, the team manager has to install any of the apps in the Confluence marketplace for successful tracking.
The main way to manage projects is to create pages and assign these as tasks to team members with due dates. To map workflows or dependencies, you'll need to install third-party apps from the Confluence marketplace.
There is only one standard view of pages, but installing macros can present them from slightly different perspectives. To view projects as mind maps, tables, or Gantt charts, install macro functionality from the Confluence marketplace.
Risk & Issue Management
Risk and issue management in Confluence are done by using the Page Properties macro and labels. When you are creating or editing a page, you can use the Page Properties macro to decide if issues are high, medium, or low impact. The macro doesn't have any custom fields except the Page Properties ID field so that you can label a page to detail potential risks or issues.
Reporting
There is one default Confluence project view—the page view. To be able to view projects in different ways, you have two options. Either build a View page using page properties macros or install a macro from Confluence marketplace. For this reason, Confluence is not the most visual project management software option out there.
Building a view page involves labeling all the pages in your Confluence space and then creating another page that organizes pages using the table functionality according to their labels and page properties.
Confluence offers users a global dashboard that all team members can see. Team managers can customize the dashboard to show the latest announcements, graphics, Gantt charts (if they have an installed macro), blog posts, and so on. A team admin can even modify the layout of their dashboard, although they lose those modifications and have to reapply them if they upgrade their Confluence plan.
The Confluence dashboard is user-friendly. On the left-hand side is the navigation menu where you move to new updates or assigned work, and on the right is all your project information. It's not possible to have multiple dashboards, but a team member can select a particular page as their dashboard when they first open the app.
Confluence has a project status report template, but it works in conjunction with Jira. To create a project status report, you must create a new page and select the Status Report template. Embed your Jira Report to fill in the details automatically. If your team doesn't use Jira, you'll have to build a new page using the Page Properties macro.
Finance Management
Finances are a critical part of project management. Confluence does not create and send invoices by default, but it does integrate with Jira Core to cover the financial management of a company.
With Jira Core, the financial team manager creates invoices and assigns tasks to those invoices. You can then set the due date and track their progress.
Jira Core creates financial project reports in tabular forms. There are also budgeting apps available in the Confluence app store.
Communication and Collaboration Platform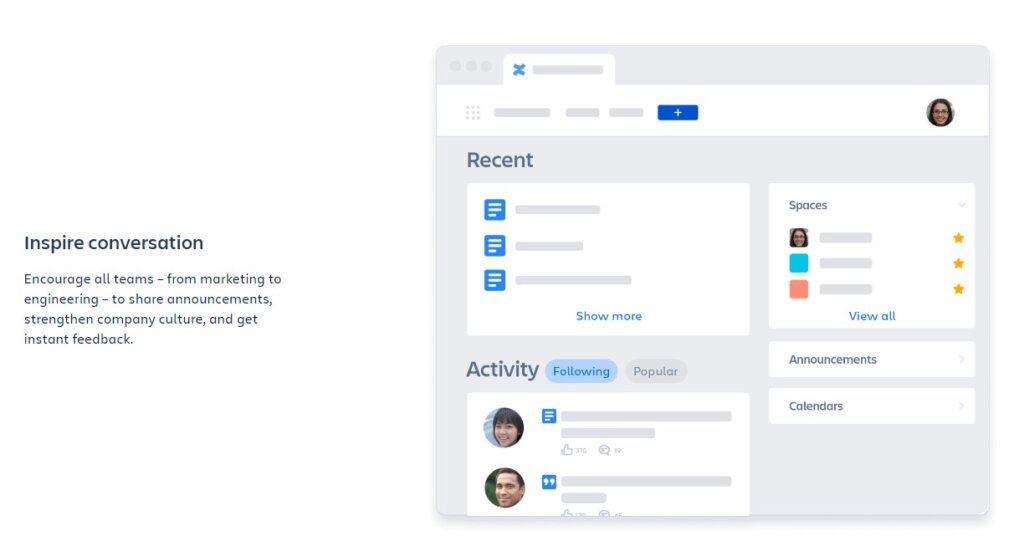 It's easy to drag and drop files on the same page in Confluence. While adding a file to a Confluence page, you decide who to share the file with. All team members who have access can view and download them.
In Confluence, files are versioned so that you can see all the steps taken in each file. The default file size limit is 100MB, but the limit can be modified.
For all the Docs articles and Word files used, team members can view, edit, or comment directly in those files. For image files and PDF file types, users must comment on the Confluence page they're attached to. A good benefit of the software is that multiple users can work simultaneously on the same files.
The only default chat feature is the comment option on pages. For real-time communication, Confluence integrates with apps like Slack and Google Hangouts.
Confluence also integrates with Zoom for video conferencing. You can embed Zoom links in Confluence pages so that team members can join meetings or watch recordings.
Team managers control permissions to decide who gets added to a page, who is assigned a particular task, and who can edit a file. You can invite guests or clients to take a look at certain projects in your Confluence space, and they will have limited access to information. For instance, they can't search for users or mention someone in the comments on the same page.
Confluence is web-based, but there are free mobile apps for Android and iOS. There is no native PC application, but you can use Confluence FX to install a desktop app.
Integration With Other Apps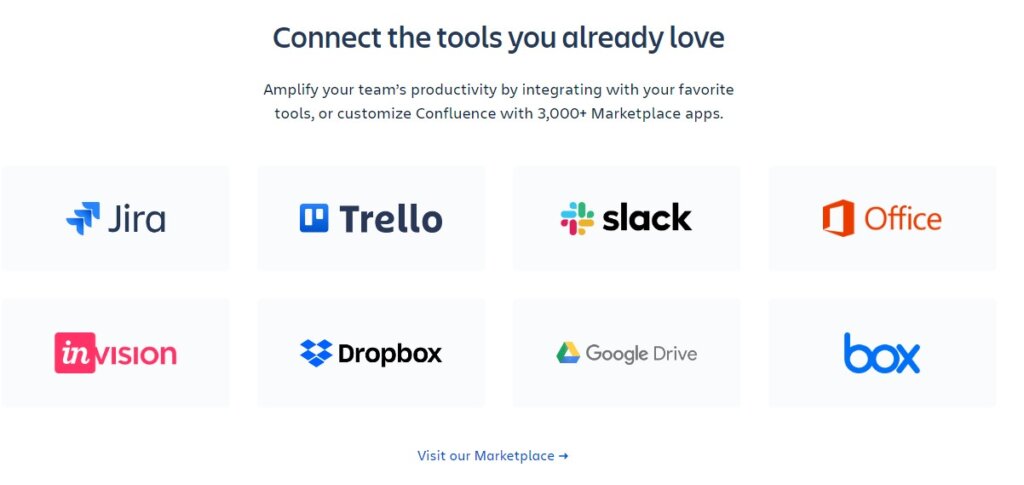 One of the reasons Confluence stands out from other collaboration tools is the deep integration opportunities. Integrating with many apps is important because it increases customization abilities, making the software the only app a team needs to run a project from start to finish.
The first option is Jira—Confluence was originally built for Jira teams. Confluence also features integration with Google apps and multiple MS software like Office 365, and Scroll Word Exporter. It works with Gliffy and Draw.io for charts and diagrams, and other apps that Confluence integrates with include Google Analytics, Command Line Interface, Advanced Tables, Presenter, Trello, Microsoft Teams, Slack, Polls, and Asana.
Artificial Intelligence
Confluence has several AI-powered tools that automate the ordinary tasks of users. One example is the smart search functionality, a search engine AI that improves searching algorithms within Confluence to achieve accurate search results.
Another is the intelligent filter feature. It decides, based on past activity, which filters a user is more likely to select. According to Atlassian, users choose to use these filters 89% of the time.
Usability
Confluence is intuitive, and the web interface is easy to navigate. A user can see what tasks are assigned to them, and the availability of so many documentation templates allows a user to create a page tailored to their role.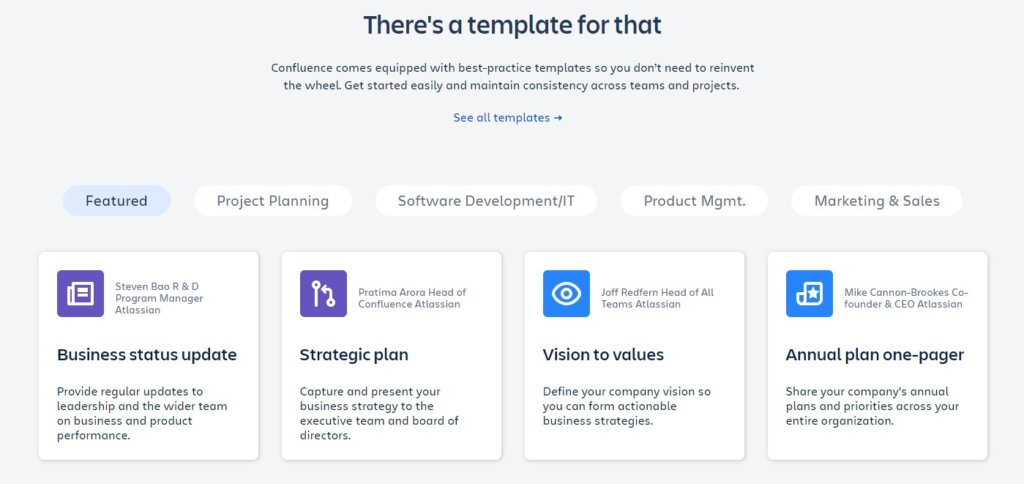 However, new users have a steep learning curve to fully understand creating pages, installing macros, and assigning tasks. For users who have no coding experience, some training and box solutions may be required.
Luckily, Confluence has an in-depth guide and solution documentation. There are hundreds of help articles that detail everything you need to know about managing teams on the software. There's also a forum where people ask questions, and approved Confluence moderators or fellow users answer them, and a YouTube channel with tutorials.
Support
Confluence offers a variety of customer support options—a huge library of knowledge base, email support, community support, 24/7 phone, and live chat services.
Free users have access to just the community, and Standard plan users can only reach customer support during business hours. Premium and Enterprise users have 24/7 access to more complex support.
Privacy
Confluence is GDPR compliant and respects your data and privacy. Your data is secure with data encryption and password policies for all users of the platform, free ones included. The SSO and SCIM policies make the platform extra-secure, but only Enterprise users have included access to these policies; other plans have to pay to subscribe.
Methodology Suitability
Confluence is a fairly cheap project management software that uses the Agile methodology. In particular, it operates the Scrum framework. This is because Jira operates using Scrum, and Confluence was initially built for software development teams.
The most basic features on offer, such as project plans, meeting notes, knowledge bases, and endless templates, make Confluence an ideal workspace for an agile team.
Alternatives to Confluence
Other tools and web-based project management apps similar to Confluence include:
What the product is
ClickUp is a comprehensive project management suite. It allows you to track project progress at a glance, create custom workflows, and view a visual representation of workloads.
Who the product is best for
Teams of all sizes use ClickUp, from startups and small businesses to Fortune 500 companies. It helps to organize your team's tasks and optimizes project management.
How it compares to the product being featured here
ClickUp is a multi-functional platform that has project management and team collaboration capabilities. ClickUp's free version is more comprehensive than Confluence's.
Pricing
Free Forever: Free
Unlimited: $9 per user/month ($5 if billed annually)
Business: $19 per user/month ($12 if billed annually)
Business Plus: $29 per user/month ($19 if billed annually)
Enterprise: Contact sales department of ClickUp
Unlimited tasks and members even on the free tier
30-day satisfaction guarantee
Two-factor security on all tiers
API for wide customization
Some useful integrations not available on the free tier
Pay per workspace or project
What the product is
Asana is a web and mobile application that helps teams track, organize, and manage their work. It used a Kanban-style list-making
Who the product is best for
Asana has a broad feature set and is ideal for small teams following agile project management. It offers several management styles such as task lists, Gantt charts, and Kanban boards.
How it compares to the product being featured here
Asana shouldn't be confused with a full-scale project management platform like Confluence. This is because Asana doesn't offer resource management tools.
Pricing
Basic: Free
Premium: $10.00 per user/month
Business: $24.99 per user/month
Enterprise: You need to contact Asana
Offers workload management
Smart project-focused interface
Various management features
No financial management tools
Assigns tasks to one user only
Steeper learning curve
What the product is
Trello specializes in organizing tasks into forums. Trello offers an extensive view of who's working on what, which responsibilities are ongoing, and which tasks are complete.
Who the product is best for
Smaller teams that are looking for Kanban-style project management.
How it compares to the product being featured here
Trello is more task-oriented than Confluence. Confluence offers more collaboration and engagement among team members.
Pricing
Free: $0
Standard: $5 per user/month
Premium: $10 per user/month
Enterprise: $17.50 per user/month
Very simple to use
Visual project progression
Easy to onboard new members
Offers basic management features
No financial management tools
Not viable for large projects
What the product is
monday.com is a cloud-based platform that allows companies to create their own applications and work management software.
Who the product is best for
monday.com is ideal for teams who want an evolved version of collaborative spreadsheets. You can imagine monday.com as Google Sheets in the hands of a genius designer.
How it compares to the product being featured here
monday.com is more similar to Asana and Trello than Confluence in terms of project management capabilities.
Pricing
Individual: Free (2 seats maximum)
Basic: $6 per seat/month
Standard: $10 per seat/month
Pro: $22 per seat/month
Enterprise: Contact monday.com for pricing
Unlimited boards and docs on the free tier
Wide range of common integrations
Customizable automations
Several ways to view info
Free tier limited to two users
What the product is
Basecamp is an online collaboration app that allows users to manage their work together and communicate with one another.
Who the product is best for
Basecamp is ideal for teams that need a tool to collaborate and engage with each other.
How it compares to the product being featured here
Basecamp is extremely similar to Confluence because of its focus on communication. However, Confluence also offers more project management tools.
Pricing
Personal: Free
Business: $99/month
Extremely easy to set up
Flat monthly price for unlimited users
Supports integration with many apps and services
Communications feel slightly siloed
Limited reporting functionality
No proofing tools
Frequently Asked Questions (FAQs) for Confluence Review
Below we answer commonly asked questions about Confluence.
Bottom Line on Confluence Review
Confluence is a solid tool that teams of all sizes can use to work together on projects and internal processes. The number of apps that Confluence integrates with makes it possible to customize forms, dashboards, meeting notes, and pages at great lengths. To get the most out of it, Agile teams may want to use Jira alongside it.