Hostinger, formally known as Hosting Media, is a popular web hosting service that offers cloud, VPS, and shared hosting. Since its rebranding in 2011, it has given brands like Bluehost a run for its money. Affordable pricing, user-friendly interface, and solid performance are just a few of the things we cover in this Hostinger review.
Our Verdict
Hostinger is a reputable web hosting service known for its competitive pricing and fast loading time. The company accommodates both simple and complex, picture-heavy websites, and you don't have to worry about a high bounce rate caused by a slow website loading pace. However, you will have to contend with low storage space especially in the basic plan.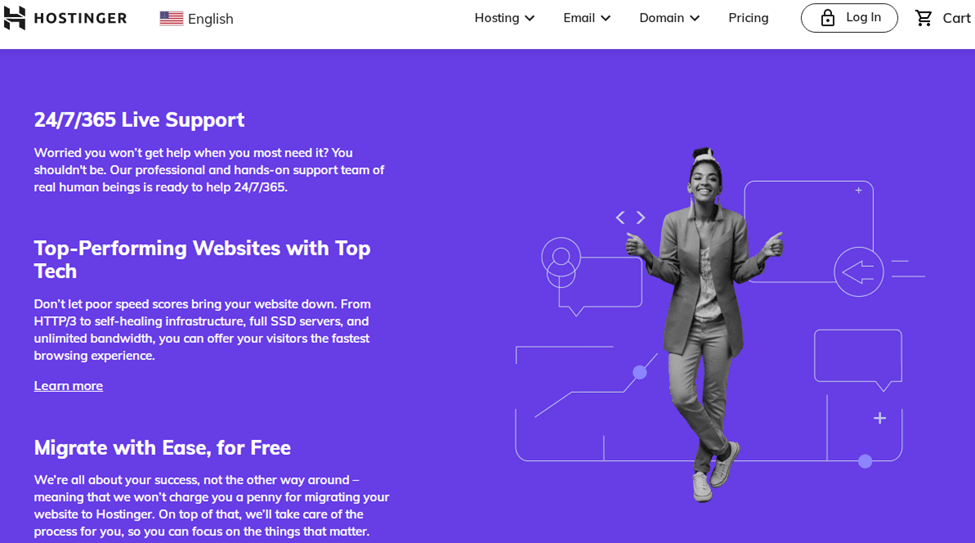 Low prices and a free web builder (Zyro)
Fast server speed and 99.9% uptime guarantee
Effective cache manager for faster loading speeds
User-friendly and intuitive dashboard
Unlimited bandwidth in top-tier plans and free domain name with higher priced plans
30-day money-back guarantee and responsive WordPress support in over 20 languages
No free daily backup in single and premium plans
Money-back policy has exceptions not available for refund
Free domain name only for one website
Hostinger at a Glance
Hostinger, formally known as Hosting Media, was formed in 2004. In 2007, the company launched a free web hosting service and then rebranded in 2011, when it began offering paid hosting plans.
Today, it is one of the most popular brands that offers complete web hosting services. Through Hostinger, you can build, manage, and run a website quickly, affordably, and conveniently.
Who Should Use Hostinger?
In our Hostinger review, we found it's an excellent option to consider if you are looking for well-balanced web hosting and want value for your money. The service provides the perfect blend of fast server speed, well-thought-out features, reliable customer support, and affordable plans.
Hostinger Pricing & Features
For a first-timer building a website, choosing a service package can be confusing. The company offers four unique services to ensure you can get all your hosting needs catered for under one roof. You only need to choose a web hosting type and plan that suits your business needs.
The four primary Hostinger services include:
Shared Web Hosting
WordPress Hosting
Cloud Hosting
VPS Hosting
Hostinger Shared Web Hosting
Shared web hosting involves sharing the resources of a single server with multiple websites. This makes the service plans more pocket-friendly and ideal for small and medium-sized websites.
Depending on factors such as whether you have a picture-heavy website or a simple site that only requires limited bandwidth, or whether you need one or multiple professional email addresses, you can choose from the Single, Premium, or Business shared web hosting plans.
Hostinger offers a tier-based service where the introductory prices are pretty enticing. For example, the basic Single Shared Plan costs $1.99 per month for the first year and $3.99 once you renew the service. The Premium and Business plans offer nearly identical specifications and performances as other web hosting services but for roughly half the cost.
Who Is Shared Hosting Best For?
Hostinger's shared hosting service is an affordable option ideal for beginners. The only catch is that you share server resources with other websites. If you run a small or medium-sized site, you are likely to find one of the three plans suitable for your business needs.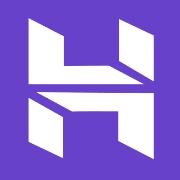 Plans
Single Shared Hosting
Premium Shared Hosting
Business Shared Hosting
Free Domain Name (1 year)
Hostinger WordPress Hosting
The WordPress Hosting service is optimized for maximum WordPress website performance. The service offers machine-level plugins, adjustments, and memory enhancements to ensure your WordPress site works more flawlessly.
WordPress hosting is ideal for bloggers, small and medium-sized stores, big ecommerce stores, and entrepreneurs with picture or video-heavy websites. You must first choose a plan that best suits your website needs. The main difference between the plans is their pre-configured settings that make top-tier packages ideal for sites with more significant demands.

Who Is WordPress Hosting Best For?
If you have a WordPress site, the WordPress Hosting option is likely to best align with your needs. The service has plans tailor-made to ensure your website's running smooth and gets maximum performance.
WordPress Single
WordPress Starter
WordPress Business
WordPress Pro
Hostinger Cloud Hosting
With the Cloud Hosting service, you enjoy dedicated server resources, which reduce the risk of downtime. Hostinger uses CloudLinux with LVE containers to make setting up the cloud hosting service, managing it, and account migration simple.
Even first-time website owners with little or no training in web development don't have to worry about bumping into unexpected technicalities. Hostinger's admins manage the back end and significantly reduce your workload.
Generally, the Cloud Hosting service is a worthwhile step up from Shared Hosting if your website demands have grown bigger, calling for more server resources. They are ideal for entrepreneurs who want enough resources to power multiple heavy ecommerce websites and still be assured of dependable speeds.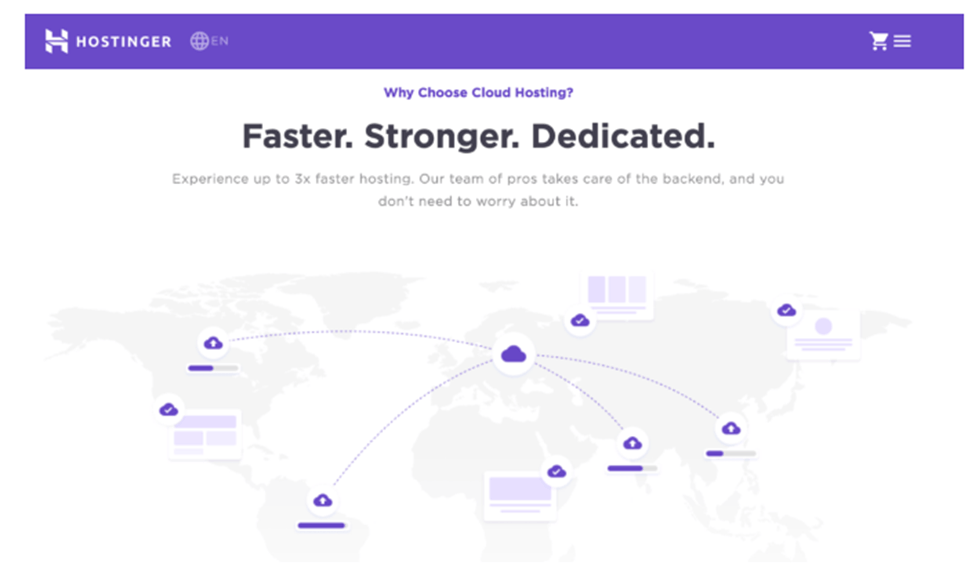 Who Is Cloud Hosting Best For?
An upgrade from the shared hosting option may be imperative if your website requires more resources. The Cloud Hosting service is powerful, user-friendly, and best for resource-intensive projects like large ecommerce stores.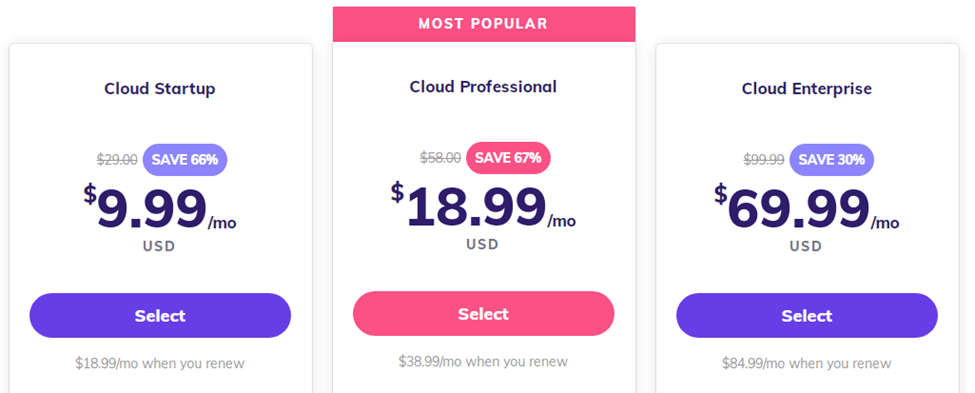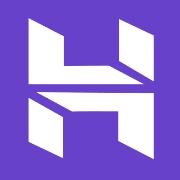 Plans
Cloud Startup
Cloud Professional
Cloud Enterprise
Renewal With 1 Year Commitment
Dedicated Server Resources


















VPS (Virtual Private Server) Hosting
If you are looking for speed and no downtime, Hostinger's VPS Hosting is an option you should consider. Cloud and VPS Hosting are similar, only that the latter is not a fully managed service.
You can manage your back end for enhanced customization, which is a major plus point if your company relies heavily on your websites to generate profits or run other resource-intensive projects. Having access to your back end also means you must have some tech know-how or an in-house tech specialist to handle server updates and maintenance.
Who Is VPS Hosting Best For?
If you have ample technical knowledge, you will like the flexibility offered by VPS hosting. With access to your back end, you will have complete management freedom to take on larger, resource-intensive projects.
Alternatives to Hostinger
Hostinger is well-known for its low prices, fast servers, and reliable customer support. While these aspects make it a popular option for entrepreneurs with small and mid-sized websites, it might not be right for you. If you still haven't found what you're looking for after reading this Hostinger review, here are some alternatives you might want to consider.
InMotion is a top choice for first-timers using web hosting services. The platform offers a host of website tools to make it easy to get your personal or business site up and running. Each service package is reasonably priced, and users enjoy excellent uptime and customer service.
InMotion Pricing
InMotion Hosting prices highly depend on the type of hosting you need. Shared Hosting will cost you $2.29 monthly, while Managed WordPress hosting costs $4.99 per month. The VPS hosting option, ideal for high-traffic sites like online stores, will cost you $17.99.
If you want more customization flexibility, you could opt for Reseller hosting for $15.39 monthly. The most advanced hosting option is the Dedicated server, which offers the highest customizability levels.
Also, you can choose a plan depending on the number of websites you want to host and the resource intensiveness of your projects. The Core plan costs $2.29 monthly, where you can host two websites and have up to 10 email accounts. The Launch and Power plans cost $4.99, while the more advanced Pro plan goes for $12.99.
Who Is Inmotion Best For?
InMotion is best for those looking for reliable enterprise solutions with dedicated and VPS hosting options. While the company does not offer the cheapest web hosting services, it is a top choice for entrepreneurs who want to enjoy the security and convenience of having a host with their own-operated data centers.
How InMotion Compares to Hostinger
Hostinger and InMotion may provide nearly similar services. However, there are differences in the performance and pricing of both companies. Hostinger offers more competitively priced services. In terms of performance, InMotion offers 99.98% uptime while Hostinger provides 99.99% uptime. This could be a make or break factor, especially for ecommerce sites.
Excellent uptime and fast page loading time
Dedicated and VPS hosting are available
Shared and WordPress plans come with unlimited data transfers
Unlimited emails with all plans
90-day refund guarantee and user-friendly website builder for WordPress (BoldGrid)
Prices are on the steeper end of the spectrum
No free automated backups
Some plans lack a monthly subscription option
Bluehost is a reputable web host best known for its solid plans that are ideal for beginners. With the basic plan, you get a free domain name registration, a free drag-and-drop page builder, automatic WordPress installation, and detailed guidance to get your WordPress up and running.
Bluehost Pricing
Bluehost is designed to give WordPress users an all-rounded experience. The company offers dedicated Hosting, shared hosting, WordPress hosting, and multi-tiered plans to suit the needs and budgets of diverse personal and business site owners.
The Shared Hosting plan ranges between $2.95 per month and $13.95 under a 36-month commitment or $4.95 and $18.95 under a 12-month commitment. Bluehost also offers an Online Store plan where the standard package costs $15.95 per month under the 12-month option or $12.95 on the 36-month commitment option. The premium package costs $32.95 or $24.95, depending on the terms you choose.
If you go for the Managed WordPress Plan, you can choose from the Build, Grow and Scale packages. These cost $9.95, $14.95 and $27.95 respectively. Dedicated Hosting plans range between $79.99 and $119.99, depending on the package you choose.
Who Is Bluehost Best For?
If the process of setting up a WordPress website feels daunting, you should give Bluehost a try. Even the basic plan comes with all the essentials to build, run and manage a website. If you are not a tech-nut, the slightly steeper price is just a small price to pay for a more simplified web hosting experience.
How Bluehost Compares to Hostinger
Although Bluehost isn't a free web hosting service, it offers a broader range of free features with each hosting plan than Hostinger. For instance, even the basic plans provide a free website builder, automatic WordPress installations, free WordPress themes, free domain name registration, $200 Marketing credits, and free CDN.
Also, Bluehost's basic plans come with 50GB SSD storage, while Hostinger's basic plans provide as low as 10GB SSD. As we pointed out in this Hostinger review, it offers relatively lower prices to compensate for the few shortcomings. Read the Bluehost review to learn more about its features and pricing.
Easy-to-use platform
Fast site load speeds and server response time
High-performance servers maintain 99.99% uptime and highly responsive support reps
Excellent security features like CodeGuard Basic, SiteLock and SpamExperts
No uptime guarantee
Site migration isn't free
A2 Hosting is a web host best known for speed. While "Blazing Fast Hosting" is arguably nothing more than a marketing gimmick, real users claim that the brand offers pretty dependable and fast servers for all their plans. A2 Hosting has extra Turbo, and Turbo Boost servers that play a fundamental role in making the service rank as a speedster.
A2 Hosting Pricing
A2 Hosting has five types of web hosting services. The Shared Web Hosting service costs between $2.99 and $14.99 per month, depending on your plan. A2 Hosting's WordPress Hosting service also offers a Tier-based plan, with the basic Startup costing $2.99 and the advanced Turbo Max plan going for $14.99.
Also, the company offers a VPS Hosting service for $5 to $50 monthly. The Reseller Hosting service costs between $13.19 and $40.91. If you want more freedom for customization, you could opt for the Dedicated Server Hosting, which costs between $99.59 and $290.49 monthly for the Mach plan.
Who is A2 Hosting Best For?
A2 Hosting is best for enterprises that emphasize page loading speed. If you want the best chance of maintaining a low bounce rate and giving your visitors a smoother user experience, A2 Hosting is a service you could consider.
How Does A2 Hosting Compare to Hostinger?
A2 Hosting and Hostinger are a close match in terms of performance. However, Hostinger plans go for nearly half the price. Even though A2 Hosting offers slightly more enhanced security and more storage space, these added benefits hardly justify the exorbitant cost of the top-tier plans.
Fast page load speed and 99.9% uptime commitment
Free daily backups
30-day money-back guarantee
Expensive top-tier plans
No unlimited SSD storage and free daily backups with the Starter Plan
Frequently Asked Questions (FAQs) for Hostinger Review
The following are some common questions about Hostinger.
Final Thoughts on Hostinger Review
So, is "cheap" web hosting worth it? We can confidently conclude from our Hostinger review that the brand's competitive pricing is a smart business strategy that genuinely sets it apart. Hostinger offers dependable web hosting solutions where you don't have to worry about your site's speed, performance, downtime, or hefty recurrent fees.