Thanks to modern technology, starting an online store has never been easier. Shipping companies make it possible to get products anywhere in the world in a flash. Web hosting platforms educate even the untrained in how to build the website of their dreams. Follow the steps below to learn how to start an online store yourself.
Step 1: Choose Your Concept/Product
Before you start building your ecommerce business, you need to have something to sell. It's essential to approach your online store with a unique selling position. What is it about your merchandise that will stand out among the competition? Of course you'd rather sell products you're excited about, but you don't want your business to get lost in the vast reaches of the internet.
When choosing what you want your own products to be, consider the following questions:
Are you going to sell something physical or offer a digital product?
If you're making it yourself, can you keep up with demand?
Can you locate a quality manufacturer for components or the product itself?
Do you have the space to keep inventory if you have multiple products?
How narrow or broad will your product category be?
Is this a product you'll still be excited about down the road?
Before spending any money on your online business, make sure that you've researched and tested your concept. Don't hesitate to bounce the idea off a few friends or others who will give honest feedback.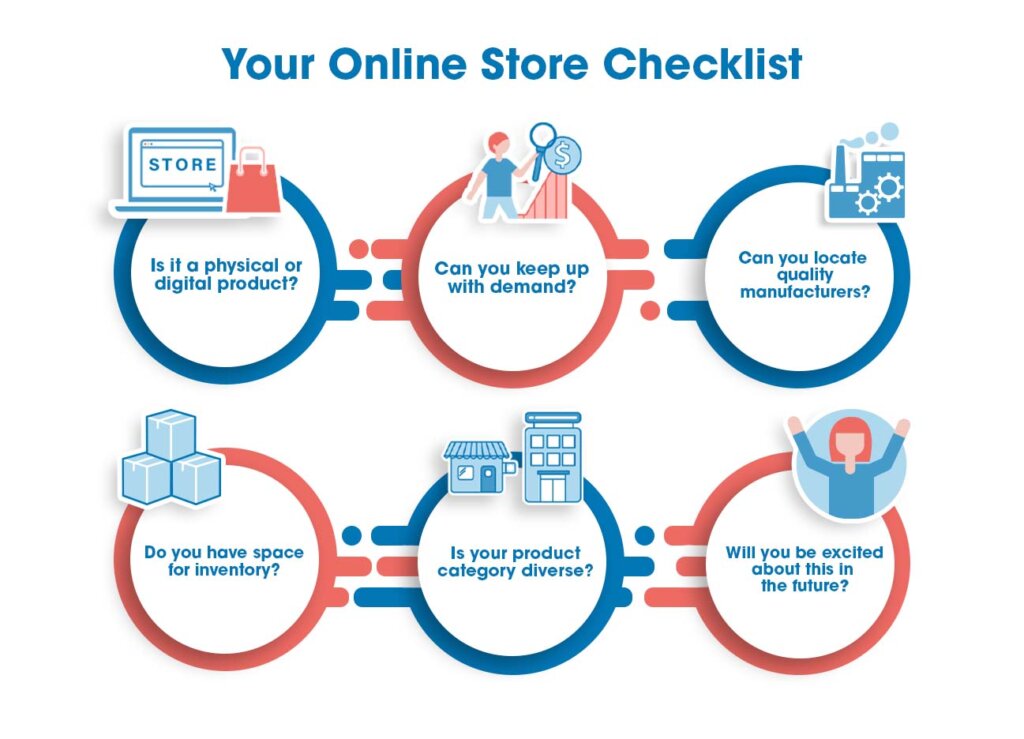 Step 2: Create a Business Plan
As you're working through the details of your store, you'll need to make a business model that encompasses the costs that will appear along the way. A sound business strategy goes a long way toward lessening bumps down the road.
Register Your Business
Depending on the state (or country) you're setting up in, check to see if there are any business or sales tax licenses. Each region can have very different regulations when it comes to ecommerce stores and how you store inventory.
Should you bring a never-before-seen product to the internet, you'll want to see if there's anything patentable. Don't let your great idea get ripped off because you didn't take the time to protect it.
Whether you're starting out solo or with a friend, you'll need to define your business structure. For example, sole proprietorships link your business and personal assets together, whereas a limited liability company (LLC) lets you keep the two separate.
Partnerships are set up for two individuals starting a business together. Within a partner agreement, you'll define each of your roles and responsibilities. If this process seems daunting, consider bringing in a business lawyer to help with the fine print.
Count the Costs
Your product is going to come from somewhere. Even if you make it with your own two hands, there will be costs associated with the materials you'll need for a finished item.
Dropshipping or shipping (if you don't pass costs to the consumer)
Domain name
Web hosting platform
Sales tax and income tax
Salaries for additional help
After you've chosen a shipping method, there may be fees for a dropshipper or even to send directly if you don't pass along those costs to the consumer.
There will be recurring fees to keep your domain name and hosting platform up and running. These costs depend on the plans you choose for a site builder or web host you use to create your website.
Quarterly, you're going to have to pay sales tax and income tax on what's coming in and going out. Some tools can help you understand these expenses and keep you advised on what you'll have to pay when the time comes.
You might be a one-person operation as you bring your own business online, but that may not always be the case. Should you hire additional help, you'll need to budget for that as well.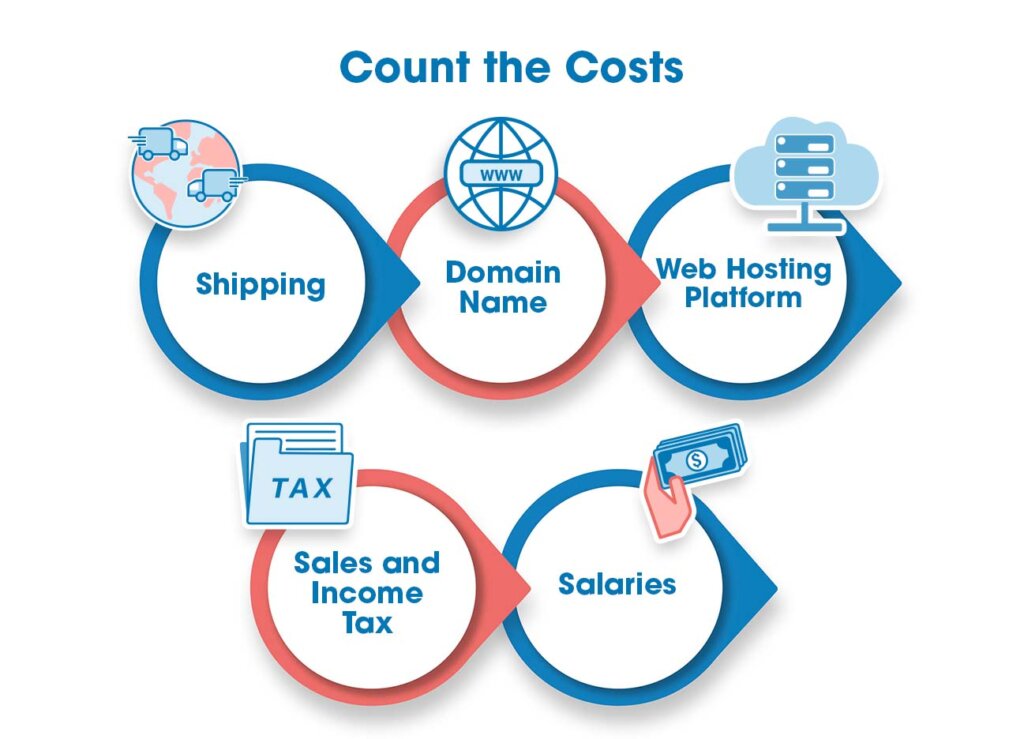 Step 3: Come Up With a Name
Once you've worked out the details of what your online store is going to sell, you need to build the actual ecommerce website. To do so, you'll need to create a business name that will represent you online. Make sure it's something catchy and unique that will stick in a consumer's head so they can remember it the next time they're in the market for your product.
With a business name established, your ecommerce site will also need a domain name. This domain name is the unique access point to your own site and must be different from all other websites out there. Choose something that compliments your name and brand.
Since domain names have to be unique, your first choice may not be available. Should this happen, play with hyphens, move words around, or spell out numbers. Keep it simple, ideally to three words or less.
Step 4: Choose Your Online Platform
With a domain name in tow, you'll need to make use of a web hosting service to turn your domain into a new online store. Some of the best Ecommerce platforms include a domain name with your plan, but you might prefer the do-it-yourself route.
Most website builders offer free trials, so you can try them before you buy. Each platform comes with different tiers of service, so study the features of each to determine which works best with your online store. Be sure to pick something that can grow with your small business.
Shopify
Shopify is a well-known ecommerce platform that doubles as an online store builder. Once you've created an account, you can choose from pre-constructed templates or build your own. Since you're one of many online stores on Shopify, take the time to make yours stand out as much as possible.
WordPress + WooCommerce
WordPress, with the WooCommerce extension, is another website builder to consider. While the platform itself doesn't cater solely to online shopping, WooCommerce adds all the tools you'll need to create content for your online store.
Wix
Wix similarly has an ecommerce builder that online businesses can use to sculpt the site of their dreams. Although Wix is another hosting service that covers a range of niches, it has robust sales features for selling online.
Choosing the DIY method? Bluehost offers some of the lowest prices for web hosting–starting at $4.95 per month.
Step 5: Build Your Site
Your website speaks loudly to potential customers, and a successful online store will make it as appealing as possible. Give yourself a unique identity to share who you and your products are while increasing the customer experience. First impressions are crucial and help develop a sense of brand loyalty.
Don't immediately shy away from paid templates or taking the time to build (or program) the site yourself. Any personal touches will go a long way toward that unique appeal you need to succeed.
When building your site, determine your target audience and work around that niche. This target market should be an area you're familiar with that you can inject your own personality into.
Keep Mobile Users in Mind
There's been a trend of more sales coming from mobile devices, and you don't want to neglect this group of shoppers. Not every template or style available on your site builder will run or look good on a smartphone or tablet, so be sure to choose one that offers mobile-responsive sites, which automatically resize and optimize your site for mobile.
Add Products and Set Pricing
With a template created, it's time to start building product pages. When users shop online, they want to be able to quickly navigate to whatever they're looking for and then be on their way. This is an important point to remember when deciding on a layout.
Your product descriptions need to capture the essence of what you're selling in a minimal number of words. You'll be lucky if potential customers get through a paragraph or two of text before losing interest. To go along with your concise description, quality photos are essential since customers can't view things on a rack or try them on.
When first starting out, it may be better to start with a small number of items to test the proverbial waters. This will also help with initial inventory management. As you find success, you can open up your site to a more diverse selection of wares.
Step 6: Set Up Payment Methods
Now that your online business is fleshed out with the items you're going to sell, you'll need to choose how you'll be accepting payments. While often overlooked, set the currency to use for each purchase. Your e-commerce business may reach international shores, and you don't want any confusion about pricing.
The online store builders referenced earlier provide ways for customers to pay you. Depending on which hosting plan you choose, you may be able to accept payments from a check or bank transfer directly from the platform.
Customers will likely prefer to use a credit or debit card for purchases, so having this option available is key. For credit card payments, you'll want to link up your site to a secure payment gateway. These payment gateways add the security necessary to process card charges online.
The most popular options to consider are:
It's not a bad idea to give customers access to multiple payment gateways, as your clients may have a preference. Having multiple options is also a benefit in the event one of the gateways goes down. Be sure to verify that your hosting platform integrates with whichever gateways you choose.
Step 7: Think About How To Ship Products
If your ecommerce store is selling a physical item, you'll want to work out shipping details for getting the product into your customers' hands. There are two routes to pick from here.
Dropshipping
You can hire a dropshipping company to handle all your shipping for you. These businesses will take a portion off the top of each sale but will deliver your product for you. Alternatively, you can choose products from a marketplace, such as AliExpress, to sell in your online store and never have to store inventory.
Ship It Yourself
Should you wish to handle your deliveries yourself, you'll need to be able to handle any and all demands. You'll also have to set shipping costs and work with your preferred shipping provider to ensure items arrive at the right location and on time.
Step 8: Ready for Launch
With all these steps complete, your ecommerce website is finally on the verge of launch. Run through your links, check product descriptions, and make sure everything works as it should.
With one last click of a button, publish your online store. Congrats, your site is now live! You're on your way to making your first sale.
Step 9: Create Online Marketing Strategies
Whether or not your products start flying off the shelves, you can't rest on your laurels. You'll need a good marketing strategy to retain existing customers and keep bringing in new ones.
Social Media Marketing
For new businesses, social media platforms such as Instagram and Facebook are the biggest paid marketing channels to promote through. Each advertising platform offers inexpensive ways to get the word out about your site. Strategic social media posts can pique interest in no time flat. Plus, you can sell products through your social media channels.
Offer Incentives
Shoppers will admittedly come and go, but don't overlook what you can do with your marketing strategy. A structured email marketing campaign can remind people just what they're missing. Getting the word out about daily deals or flash sales will likely bring clients back and boost the customer lifetime value (CLV) of your site.
Utilize Search Engine Optimization (SEO)
Many customers will use search engines, such as Google or Bing, to find your site for the first time. Focusing on your site's SEO can make all the difference between your site and a competitor's simply because one of them is optimized in Google and the other isn't.
Step 10: Allow for Customer Feedback
Customers are the lifeblood of your business, and a wise business owner will listen to what they have to say. Be sure to create a means to hear back from your shoppers, whether it be from a survey or a place for reviews. You may glean helpful tips to improve aspects of your business that would have gone otherwise overlooked.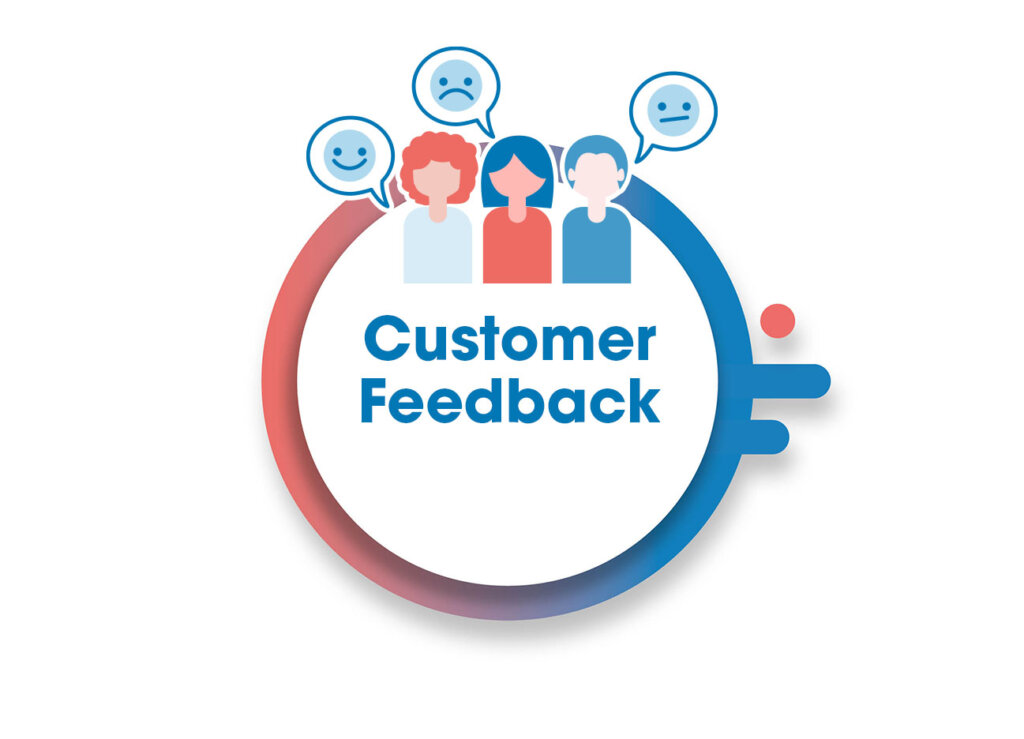 Frequently Asked Questions
Final Thoughts on How to Start an Online Store
Ecommerce only continues to grow over time as more people turn to the internet for product consumption. The online space makes it possible for beginners to have success selling products without the need for a costly physical space.
Turning your business idea into a thriving online store isn't an easy task, but it doesn't have to be difficult either. If you're willing to put in the work, the steps covered in this article can set you on the path to a profitable business in short order.