As the name says, Namecheap offers cheap domain names, but you'll learn in this Namecheap review that it offers much more. This web host also provides affordable shared hosting, managed WordPress, reseller, VPS, and dedicated server hosting solutions. Namecheap is the perfect inclusive website solution for small businesses, entrepreneurs, and startups.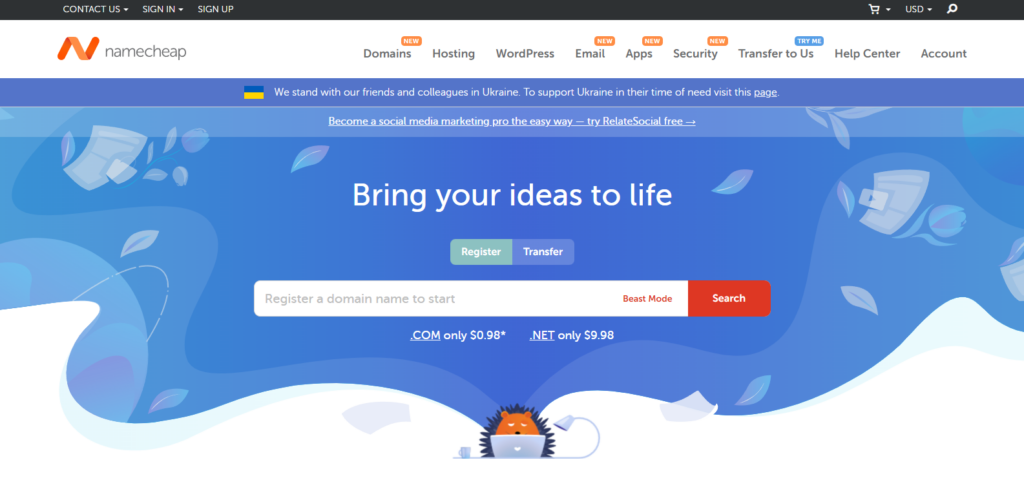 Our Verdict
Namecheap is known as a domain name registrar, but it also offers affordable web hosting plans. Namecheap also offers a stack of additional features that allow you to create a new company website from start to finish. This means that Namecheap is the perfect all-in-one website creator and hosting provider for small businesses and startups.
Affordable domain names and hosting
Website migration and transfer services
Easy to use cPanel interface
No telephone customer support
Price increase upon renewal
Low storage for basic plans
Namecheap is an excellent hosting provider because it provides precisely what the name suggests. Affordable domain and hosting plans are what Namecheap is known for. However, it doesn't end there. Most inexpensive hosting providers offer the bare minimum. This is how Namecheap differentiates itself.
Even with the most basic plans, Namecheap offers a few features you'd need to pay extra for with other hosting providers. From unmetered bandwidth and a free SSL certificate to free backups and ample storage space, Namecheap ensures a healthy and optimized website.
Namecheap's .com domain registrar service starts at $0.98 for the first year and then $13.98 per year thereafter. This means that your website domain costs less than $1 per month for the first year. Furthermore, Namecheap's cheapest shared hosting plan starts at $1.88 per month for the first year and then increases to $3.98 per month thereafter.
The cheapest shared hosting plan, called Stellar, offers 20GB SSD storage, unmetered bandwidth, and allows you to host three different websites. For just under $2 a month, this amount of value for the price is unbeatable.
Who Namecheap is Best For
Companies of all types of sizes and industries use Namecheap to host their domains. This is because Namecheap offers plans for every type of business. However, Namecheap is exceedingly popular among small businesses, entrepreneurs, and startups. Namecheap makes it easy to get your website up and running without needing any previous website experience.
Pricing
Namecheap's domain pricing varies based on what type of domain (.com, .net, etc.) you purchase and the length of your subscription. However, .com domains start at $0.98 for the first year if you subscribe for one year and .net domains start at $9.98 for the first year. Namecheap's shared hosting plans range from $1.88 to $4.98 for the first year and $3.88 to $9.88 thereafter if you choose an annual subscription.
Here's the pricing chart for Namecheap's shared hosting plans.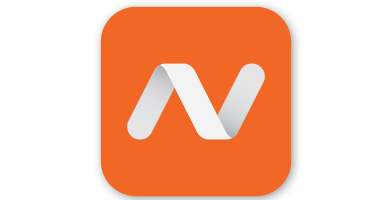 Plan
Stellar
Stellar Plus
Stellar Business
$1.88 per month for the first year, then $3.88 per month
$2.98 per month for the first year, then $5.88 per month
$4.98 per month for the first year, then $5.88 per month
Twice a week & Autobackup
Twice a week, Autobackup, and Cloud Storage
Namecheap Review: Features
NameCheap offers all the standard features you want in a comprehensive web hosting provider. From ample storage space and unmetered bandwidth to free backups and inexpensive pricing, NameCheap will satisfy your business's needs. Let's take a closer look at what separates NameCheap from its competitors.
Feature-Rich Basic Plan
For $1.88 per month on the Stellar plan, you get access to 20GB storage space, unmetered bandwidth, and free backups twice a week. These are more than enough features to get your small business's website active and fully functional.
Furthermore, Stellar Plus and Stellar Business are only slightly more expensive than Stellar. As your business grows, you can easily and affordably upgrade your plan if needed. Having the option to upgrade your plan to access more sophisticated features is a necessity in a web hosting provider.
Ease of Use
As far as ease of use is concerned, Namecheap is straightforward and simple to use. In our Namecheap review, we found it uses a combination of its native management panel and cPanel. Both dashboards are uncluttered and easy to understand. For this reason, Namecheap is an excellent domain name registrar and web hosting provider for beginners.
Namecheap also offers access to a website builder on all of its hosting packages. This website builder features over 200 templates to help you find the perfect setup for your new website. Although the templates are not as modern as professionally designed contemporary websites, they give you a good starting point to get your website running.
In essence, Namecheap is easy to use for both beginners and veterans. Its clean dashboard and cPanel access remove all the challenges of learning how to use a website hosting provider.
Free Domain and Migration
If your website is currently hosted on another domain, Namecheap offers free migration from your current host to Namecheap. Namecheap guarantees a complete cPanel migration in less than 24 hours and only up to 15 minutes of downtime on your website. This ensures your customers still have access to your website as you migrate hosts.
Namecheap also offers a 61% discount on .com domains if you purchase a Stellar Plus or Stellar Business shared hosting plan. These discounts also apply to .co, .live, and .shop domains.
Website Speed and Reliability
Your website's load time heavily impacts the user experience for your site visitors. Namecheap guarantees a 100% uptime with its shared and dedicated server plans and 99.99% uptime on its reseller and VPS hosting plans. This means you never have to worry about your website going down when you sign up for Namecheap hosting.
Furthermore, Namecheap offers excellent website loading speeds comparable with similar plans from other hosting providers. Since Namecheap is affordable and offers fast load speeds, it's one of the best web hosts for small businesses.
Customer Support
Namecheap offers 24/7 customer support to help you out whenever you need. Although Namecheap doesn't offer a live call center, it does offer a live chat system with real customer service representatives.
You can submit a support ticket at any time, and Namecheap will connect you with a live customer support agent via live chat. Then, the agent will thoroughly answer your questions and offer as much guidance as possible.
If the agent cannot solve your issue, they will forward the problem to somebody else who can provide a solution. You will then receive an email from the representative with the answer to your question.
Alternatives to Namecheap
If you've read through this Namecheap review and you're still not sure about using Namecheap, let's compare it to a few alternatives.
Bluehost is another popular domain name registrar and hosting provider. Similar to Namecheap, this web host offers affordable packages and a complete website creation process from start to finish.
Who Should Use Bluehost
Bluehost is the best web hosting provider for complete beginners. This company offers an easy setup process, excellent performance, and great pricing plans for every type of business. Read our Bluehost review to learn more about its features and pricing.
How Does Bluehost Compare to Namecheap?
Bluehost stands out because it offers specialized ecommerce hosting solutions as well as website hosting and domain name registration.
Pricing
Bluehost has four different shared hosting pricing packages:
Basic: $2.95/month for the first year, then $9.99/month
Plus: $5.45/month for the first year, then $13.99/month
Choice Plus: $5.45/month for the first year, then $19.99/month
Pro: $13.95/month for the first year, then $28.99/month
Affordable domain names and shared hosting packages
Lots of storage space
Ecommerce integration
Obnoxious marketing upsells
Speed needs improvement at times
Limited features on entry-level plans
HostGator is a beginner-friendly web hosting provider that offers a free domain for one year when you register. Even though HostGator provides domain registration services, this platform focuses on web hosting.
Who Should Use HostGator
Although HostGator offers shared hosting plans, this platform is best suited for midsize to larger companies that want the best hosting services possible. With HostGator's VPS or dedicated server hosting, you'll get access to the fastest website speeds available.
How Does HostGator Compare to Namecheap?
HostGator is unique because it focuses on web hosting first and domain registration second. This company offers an incredible customer support team that helps you succeed when you're stuck. If you're interested in their services, check out our in-depth HostGator review to learn more.
Pricing
HostGator offers a variety of pricing packages depending on what type of hosting you want:
Shared Web Hosting: $6.95/month to $16.95/month
WordPress Hosting: $9.95/month to $91.95/month
VPS Hosting: $19.95/month to $149.95/month
Dedicated Server Hosting: $189/month to $289/month
Unmetered storage space on all plans
Unmetered bandwidth on all plans
Free email marketing features
Bulky dashboard
Less affordable than other web hosts
Unreliable customer support
Similar to all the other products mentioned above, Ionos also offers domain registration and web hosting services.
Who Should Use Ionos
Ionos is the best web hosting provider if you want the most affordable pricing plan available. Small businesses can use Ionos at a price of $0.50 for the first 12 months and the $10 per month afterward. Read our complete Ionos review to learn more about this service.
How Does Ionos Compare to Namecheap?
What separates Ionos from the pack is its affordability. Along with its low price tag, Ionos provides various hosting options, SSL security, and WordPress and ecommerce integrations.
Pricing
Ionos offers one of the most affordable hosting packages available:
Essential: $4/month for 12 months then $6/month
Business: $0.50/month for 12 months then $10/month
Expert: $8/month for 12 months then $16/month
Provides a personal success consultant
30-day money-back policy
Extremely affordable
Not beginner-friendly
No free trial
Only the expensive plans offer the quickest load times
Frequently Asked Questions (FAQs) for Namecheap Review
Here are a few more questions and answers you may have about the Namecheap review.
Bottom Line on Namecheap Review
Although the lower price may cause people to be suspicious, Namecheap is one of the best domain name registrars and hosting providers out there. If you're building a new website for your small business, Namecheap is an excellent solution to get you up and running.