Bluehost makes it a breeze for you to build and manage business websites, whether you're a beginner or a pro. It matches any level of web hosting budget and needs, thanks to its flexible options, easy to use features, and strong customer support.
Get ready to dive deeper into the pricing, features, pros, and cons of this famous, flexible web hosting service in our Bluehost review. Discover if Bluehost is the perfect fit for your business.
Our Verdict

Bluehost is a potential match for your business no matter what your web host requirements are, due to its versatility, user-friendly interface, and solid support. First, it provides a broad range of plans which you can choose from.
Plus, the platform is easy to use and navigate whether you're a newbie or a veteran of web hosting. Last but not least, you gain access round-the-clock customer service regardless of your package.
While Bluehost comes with a lot of perks, it does have certain limitations too. For instance, the pricing presentation isn't straightforward so it's challenging to figure out how much exactly you'll pay each month. Also, the low-tier plans lack some advanced features of high-tier plans. Lastly, all plans only come with one free domain, even the expensive ones.
Overall, Bluehost is one of the best web hosting companies for small businesses that you can find in the market at present.
Pricing: Starts at $9.99/month
Wide variety of available plans
Simple, streamlined UI
24/7 support for all plans
Confusing pricing
Limited features of basic plans
Single free domain only for all packages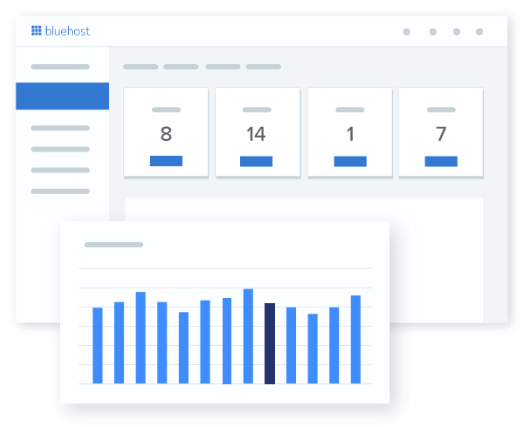 Bluehost is a popular web hosting provider that offers multiple levels of hosting services. It guides you in the various stages of the website creation and maintenance process. To start with, it equips you to register a domain name and design a business site. Afterwards, it enables you to manage your website via insightful analytics and data protection. Moving forward, the scalable tools allow you to upgrade your site as your business grows.
In 2003, the web hosting company was established by Matt Heaton and Danny Ashworth in Provo, Utah. Today, Bluehost powers more than 2 million websites all over the globe. Plus, the Bluehost team is currently composed of over 750 employees who are committed to meeting the hosting needs of customers.
Bluehost shines among web hosting sites because its flexibility gives you room to pick the perfect plan. You can benefit from its features, such as website hosting, domain registration, server support, traffic management, bandwidth, storage, speed, website tools, security certification, and customer service.
Who Bluehost Is Best For
Bluehost is actually a viable option for a wide range of business users because of its versatile alternatives, unlike other hosting services that cater to certain users only. At the end of the day, it all boils down to which plan and tier is suitable for you.
For example, the Shared Hosting packages are ideal for startups and small businesses that have a limited budget for hosting solutions. Aside from this, the VPS Hosting plans work well for mid-sized or growing businesses with developing hosting needs. The Dedicated Server Hosting packages are ideal for large companies and corporations who can afford premium services for advanced hosting requirements.
Pricing
Bluehost offers three main types of web hosting plans, which are divided into several tiers with different rates and features. Check out the chart below to get an overview of the hosting packages.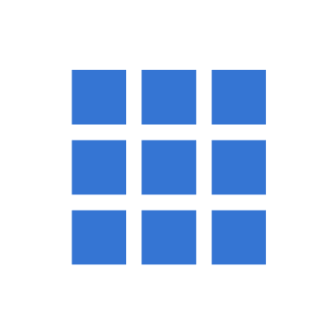 Plans
Shared Hosting
VPS Hosting
Dedicated Server Hosting
1 free domain registration
1 free domain registration
1 free domain registration
Dedicated single-tenant server
Low-traffic websites & blogs
Expanding websites w/ growing traffic
50 GB to unmetered website space
30 GB to 120 GB SSD SAN Storage
2 x 500 GB to 1,000 GB RAID Level 1 Storage
Standard to high performance
WordPress website builder + Custom themes
Free SSL certificate + SpamExperts & CodeGuard Basic for higher tiers + Premium SSL certificate for highest tier
Free SSL certificate + Premium SSL certificates & SpamExperts as add-ons
Free SSL certificate + Premium SSL certificates & SpamExperts as add-ons
24/7 customer service + Dedicated, expedited support
To sum things up, Bluehost has three main categories of hosting plans. Each category has its own range of tier levels:
Shared Hosting

Basic: $9.99/month
Plus: $13.99/month
Choice Plus: $18.99/month
Pro: $28.99/month

VPS Hosting

Standard: $29.99/month
Enhanced: $59.99/month
Premium: $89.99/month
Ultimate: $119.99/month

Dedicated Server Hosting

Standard: $124.99/month
Enhanced: $169.99/month
Premium: $209.99/month
Aside from the varied tier alternatives, Bluehost is also generous when it comes to contract length options. Bluehost contracts can be as short as one month or as long as 36 months, unlike most providers which only give you a choice between monthly or annual arrangements. The current rates we included in this review are applicable for annual billing agreements. Lower rates are available for longer contracts, while higher rates apply for shorter contracts.
Just be careful as you review the pricing terms of the Bluehost plans you're interested in. The pricing scheme can be confusing because the Bluehost website usually highlights the promo price for each package, even if this discounted rate is only applicable to the first month. Head to the list of regular rates to learn how much you'll really pay on a regular basis.
Bluehost Features

Bluehost is a well-balanced hosting provider because it's got most bases covered when it comes to hosting services. In this Bluehost review, let's take a closer look at the most important features of this hosting solution. These features include website hosting, domain registration, server type, traffic management, bandwidth, storage, speed, website tools, security options, and customer support.
Website Hosting
Through website hosting, Bluehost provides you a secure virtual space where you can post your business site so internet users can access it. There's probably a fitting Bluehost website hosting service for you, no matter what kind or how many websites you're planning to put up.
The cheapest tier of the Shared Hosting plan includes hosting for a single website, while the pricier tiers allow you to host unlimited websites. Similarly, all tiers of the VPS Hosting package come with hosting services for as many websites as you like. Finally, it's up to you how many websites you wish to host via Dedicated Server Hosting since you have full control over the system.
Domain Registration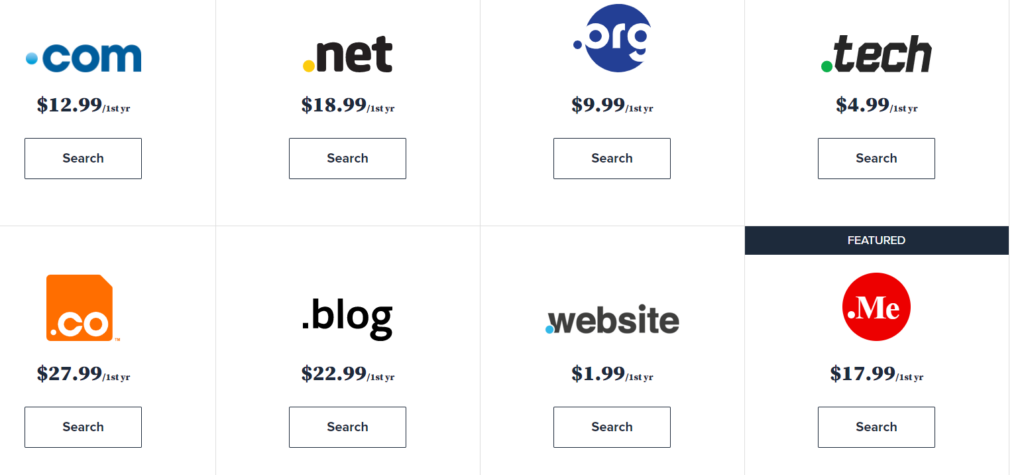 The domain name is the URL address of your website which is associated with an IP address. All the plans and tiers of Bluehost uniformly come with a single free domain registration. While it's a good perk for the low-end plans, it's a shortcoming for the high-end plans since you won't get more free domains even if you're paying more expensive rates.
Server Type
The type of server which hosts your business website is the main difference among the Bluehost plans. For instance, the Shared Hosting plan entails sharing a server with other websites. While it's a clever way to cut down on expenses, it means you'll be splitting server resources with other users.
As an alternative, the VPS Hosting package gives you the advantage of your own virtual server. Although it costs more than shared hosting, it does come with fully dedicated server resources and computing power.
Last but not least, the Dedicated Server Hosting plan grants you the benefit of your very own single-tenant server. Just be prepared to shell out major bucks for dedicated hosting. Still, there's no limit to the ways you can optimize or customize your exclusive server resources.
Traffic Management
The level of website traffic your business websites can handle will depend on the Bluehost plan you sign up for. For example, the Shared Hosting plan is meant for simple websites and blogs, which typically encounter fairly light traffic.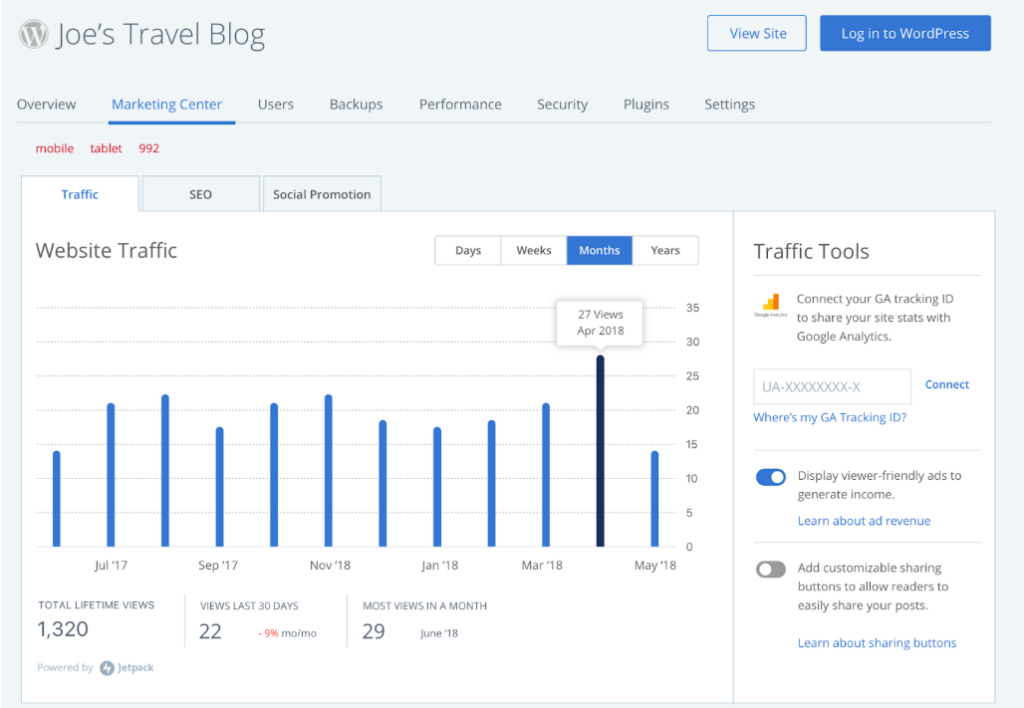 In addition to this, the VPS Hosting package is appropriate for expanding sites with growing traffic that require more control and power. Finally, the Dedicated Server Hosting plan is designed to handle high traffic for complex sites that call for maximum performance and speed.
Bandwidth
Bandwidth describes the maximum data which can be transmitted over the internet during a particular period of time. The bandwidth capacity of Bluehost varies based on the plan you select.
On one hand, the Shared Hosting package has an unmetered bandwidth within reasonable use so there's no need to worry about overage fees. On the other hand, both the VPS Hosting and Dedicated Server Hosting plans have bandwidth limitations. The monthly caps of VPS Hosting ranges from 1 TB to 3 TB, while the limits of the Dedicated Server Hosting extend from 5 TB to 15 TB.
Storage
Bluehost provides storage for your websites so you can upload and store data like text, media, documents, and files. However, both the amount and type of storage differs according to your plan and tier.
The Shared Hosting plan comes with 50 GB or unmetered website space, but you can only keep a maximum of 200,000 to 300,000 files. While the VPS Hosting package only includes 30 GB to 120 GB space, you get faster access to your files because of the snappy SSD SAN storage. To round things up, the Dedicated Server Hosting gives you 2 x 500 GB to 1,000 GB RAID Level 1 Storage which makes data recovery possible.
Speed
Speed matters when it comes to web hosting since it determines how productive you are in web maintenance and how engaged your audience is in site browsing. Bluehost assures users that the Shared Hosting plan is capable of standard to high performance, although it doesn't give exact speed measurements.
With better detail, the VPS Hosting package promises lightning fast performance because it combines a 2.2 Ghz CPU and a quick SSD hard drive. To top it off, the Dedicated Server Hosting plan is built for extremely swift performance because it's powered by 2.3 to 3.3 Ghz CPU. Also, you have the flexibility to upgrade the system for more impressive performance in the future.
Website Tools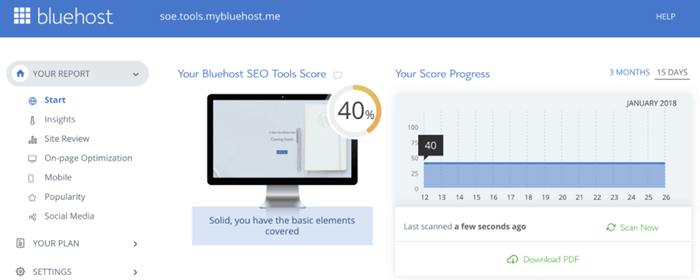 Bluehost equips you to create your own business sites through website tools, although the platform you'll be using depends on your plan. On one hand, the Shared Hosting package comes with an intuitive WordPress website builder. On the other hand, both the VPS Hosting and Dedicated Server Hosting plans come with cPanel plus WebHost Manager (WHM) with root access.
Security
All Bluehost plans have security features which protect the privacy of your websites. The lower tiers of Shared Hosting come with a free SSL certificate, while the highest tier includes a premium SSL certificate. Also, the upper tiers give you limited access to SpamExperts and CodeGuard Basic services.
You might be disappointed to learn that both VPS Hosting and Dedicated Server Hosting only grant you a free SSL certificate, especially if you're expecting more because of the premium pricing. As a consolation, you do have the option to purchase premium SSL certificates and SpamExperts as add-on security options.
Customer Support

Bluehost has exceptional customer service because all plans come with 24/7 hosting support. If you signed up for Shared Hosting, you may call or chat with the support team anytime if you have questions about your website or account. On top of this, VPS Hosting comes with expert VPS support, while Dedicated Server Hosting includes expedited support from agents who specialize in dedicated hosting issues.
Alternatives to Bluehost
Bluehost works well as a web host provider for you if you prioritize elasticity when it comes to selecting a hosting plan. Still, there are other options you can consider if other factors are more important to you.
Amazon Web Services (AWS) is a cloud web hosting provider which boasts over 200 web services. Our AWS Web Hosting review explains how it lets you build your own personalized plan by mixing and matching hosting services. Plus, it supports many platforms like WordPress, Joomla, Drupal, Java, PHP, Ruby, .Net, and Node.js.
AWS Web Hosting is ideal for business owners that prefer a pay-per-service arrangement. You only have to pay for the services you use, in contrast to Bluehost which has bundled features per plan. Nevertheless, AWS requires more technical skills than Bluehost since you must know how to put together the right services to optimize your plan. Also, Bluehost has an edge over AWS in terms of 24/7 customer service and built-in cPanel support.
Scalable pricing
Customizable services
Multiple platform compatibility
Technical expertise needed
Payment needed for advanced customer service
cPanel tools only available as add-ons
Pricing:
Amazon Lightsail: Starts at $3.50/month
AWS Amplify: Starts at $0
Amazon S3: Starts at $0
Amazon EC2: Starts at $0
WP Engine is a WordPress hosting solution for small businesses and enterprises. Our WP Engine review elaborates how it equips you to maintain websites, boost performance, and safeguard your privacy. On top of this, it showcases ecommerce solutions which prepare you to start an online store so you can sell products and services over the internet.
WP Engine is appropriate for entrepreneurs who exclusively use WordPress to create websites. Although Bluehost does support WordPress, WP Engine has a greater focus on this web platform. However, Bluehost is better than WP Engine when it comes to free domains, affordable hosting pricing, and number of plan options. Other than WP Engine, here are other web hosting services for ecommerce.
Specializes in WordPress
Dedicated ecommerce services
Strong security features
No free domain registration
Higher starting price than Bluehost
Limited plan alternatives
Pricing:
Managed WordPress: Starts at $25/month
eCommerce Solutions: Starts at $30/month
Advanced Solutions: Contact WP Engine to get quote
*Rates for annual billing
InfinityFree is one of the best free web hosting services for startups. After all, you don't need to pay anything to take advantage of website hosting with PHP and MySQL. Aside from having no time limits, you can also set up as many ad-free websites as you wish.
InfinityFree is suitable for small business owners who have little to no budget for web hosting. It offers a completely free web host plan without hidden charges, compared to Bluehost which only has paid packages. Still, Bluehost is miles ahead of InfinityFree in terms of storage space, server power, and advanced features.
Free web hosting platform
Unlimited websites
Zero ads
Small 5GB disk space only
Limited server resources
Lacks features for power users
Pricing:
InfinityFree: $0
Super Premium: $3.99/month
Ultimate Premium: $6.90/month
Frequently Asked Questions (FAQs) for Bluehost Review
Bluehost gives you the chance to tailor your plan selection based on your specific web hosting needs. Find out the answers to basic questions about Bluehost and web hosting if you're interested in hosting services.
Bottom Line on Bluehost Review
Bluehost gives you freedom to create and maintain websites for your business according to your basic or advanced hosting needs. It's easy for you to pick a plan that perfectly suits your hosting requirements and budget, given the abundant plan alternatives, intuitive features, and reliable support.
We hope our Bluehost review has enlightened you if this famously flexible and flexibly famous web host service is the best match for your business or not.