U.S. Bank offers a range of business checking accounts, which makes payments, purchases, and deposits easy for business owners. It also offers investment options ideal for anyone wanting to grow their wealth. This detailed U.S. bank review will analyze what makes this best bank for startups and small and medium-sized businesses.
Our Verdict
U.S. Bank offers a range of business-friendly products, including five different checking accounts, savings accounts, Money market accounts, CDs, credit cards, loans, and a business line of credit, among other financial products. The wide array of offerings allows easy scaling. Entrepreneurs can upgrade their business banking packages as their ventures grow.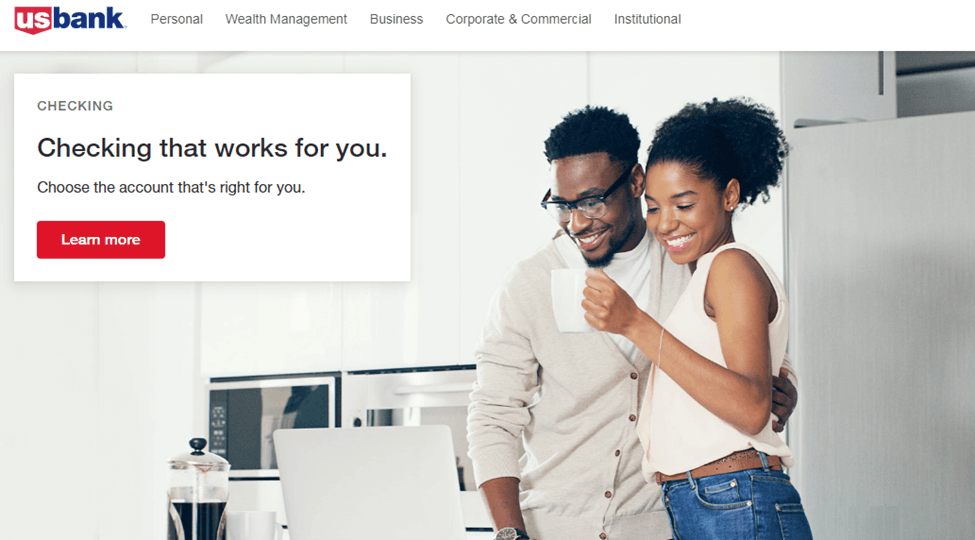 Available in all 50 states
Easy access to physical branches for in-person banking
5 unique business checking accounts to suit different business needs
Physical branches are not available in all states (only 26 states)
Overdrafts attract a hefty fee
Middling APY on most accounts
U.S. Bank ranks as one of America's top five biggest banks. It offers a good variety of business accounts and financial services and boasts over 3,200 physical branch locations in 26 states, 5,000 plus ATMs, and a convenient mobile app.
Through web support and in-person visits to any of the bank's branches, users enjoy comprehensive financial solutions. Unfortunately, US bank also has some significant drawbacks, like a lack of extra features even for premium accounts. Also, the bank offers middling interest rates, making it wiser to save your money elsewhere.
Who Is U.S. Bank Best For?
U.S. Bank is one of the best options for small businesses looking for friendly starter accounts. It offers a range of products designed to suit businesses with relatively low transaction volumes and inconsistent balances. More established companies needing advanced banking packages, more features, and better APYs on their balances can find better deals elsewhere.
Pricing
U.S. Bank offers five checking accounts, with the Silver, Gold, and Platinum accounts being the most popular. While the Silver package offers enhanced simplicity and convenience for smaller firms, the Gold package is best for medium-sized businesses that want both flexibility and value.
The Platinum package offers better rewards and benefits but is more suited for well-established businesses that maintain higher balances. U.S. Bank also offers a Premium business checking account for larger businesses. This is ideal for companies with more complex banking needs that want to enjoy credit rates on qualifying balances.
If you want to open a fee-free business account, here is a thorough BlueVine Review, Bank of America Review, and Novo Review with information on the benefits, drawbacks, and alternatives.
Here's a simplified comparison chart of the most popular checking accounts to help you pick the best option for your business needs.
Features
Silver
Gold
Platinum
Number of free monthly transactions
Number of free cash deposits monthly
50% discount on first check order



Free mobile check deposits









Overdraft protection transfer fee
Account Basics
The popular U.S. Bank checking accounts are not interest-bearing products. Even though the Platinum Checking account offers interest rates, they are way below the national average of 0.05%. If you want more attractive interest rates on your business's balances, you should consider CDs, savings, or money market accounts.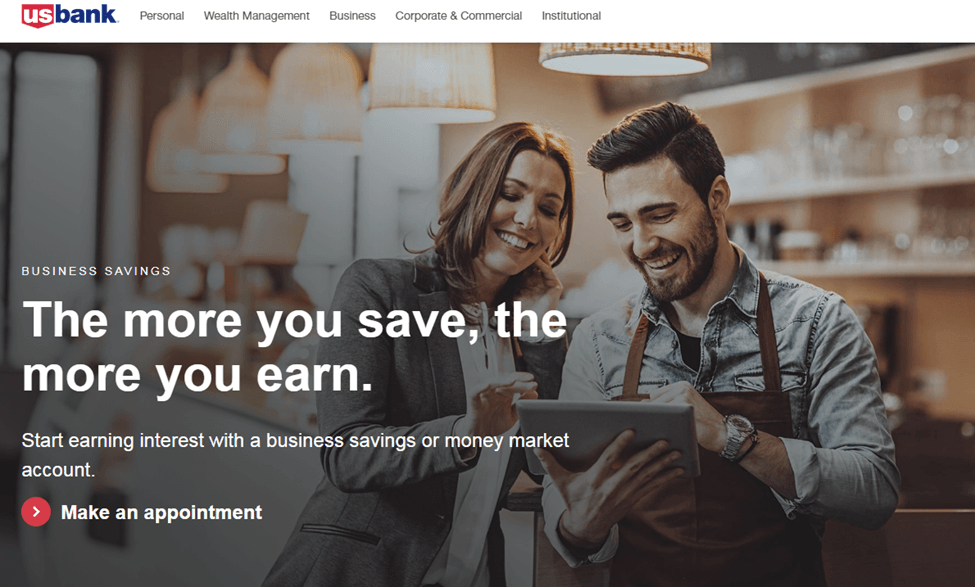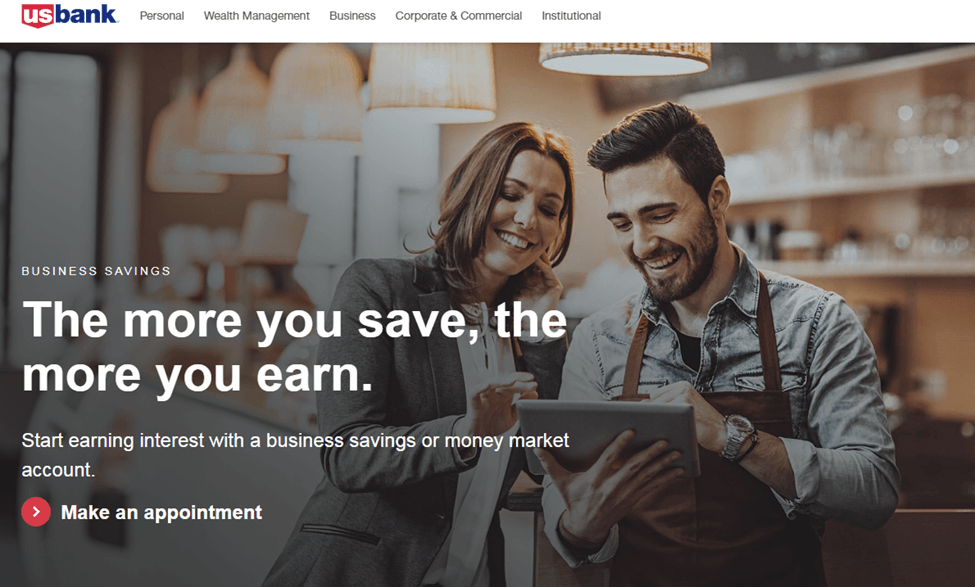 Here are the APY rates to expect:
Checking accounts
Savings accounts
CDs
Money market accounts
U.S. Bank Features
U.S. Bank does not offer the most feature-packed banking solutions. However, you'll get access to all the essential services for the smooth running of your business. The following are some things to expect.
Mobile Banking
U.S. Bank offers a user-friendly mobile app packed with secure digital banking tools. The app simplifies everyday banking by giving you the power to pay bills and transfer funds at your fingertips. You can also check on your current balances, deposit checks, access your tax documents, and view your e-statements from your Android or iOS.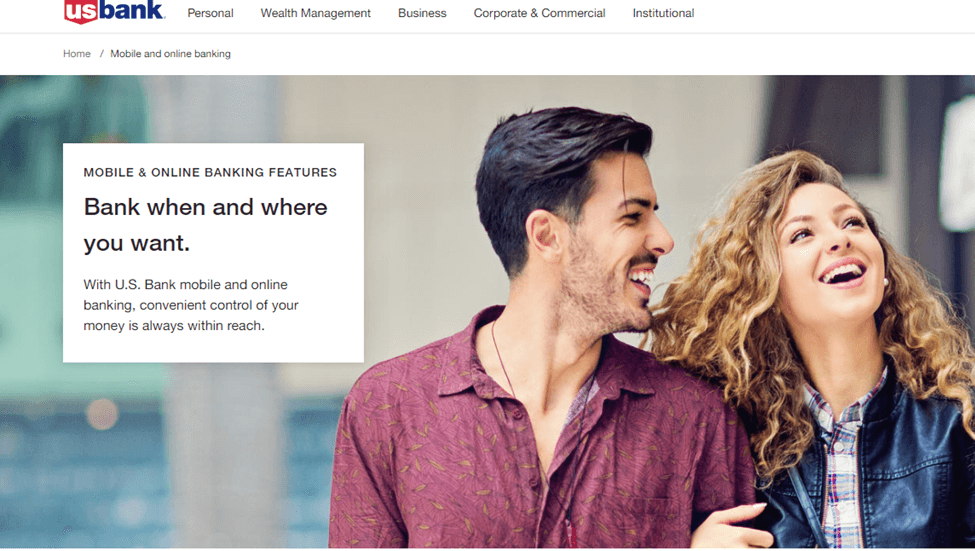 Fraud Protection
U.S. Bank is keen on fraud protection. For example, they have put in place measures for securing credit cards, check payments, and all transactions conducted through the mobile app. Also, during digital banking, the bank keeps all wireless communications encrypted to minimize the risk of information, money, or identity theft.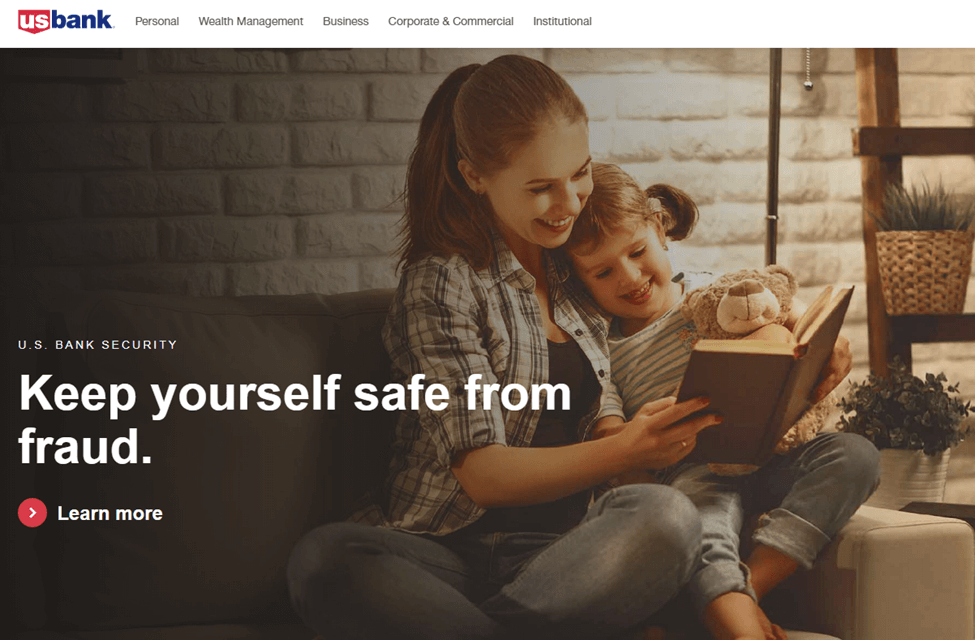 Remote Deposit
Another key feature of all U.S. Bank accounts is remote deposit. This allows you to dodge the hassles of sending paper checks. You only need to capture checks with your smartphone and send the images to the bank for deposits.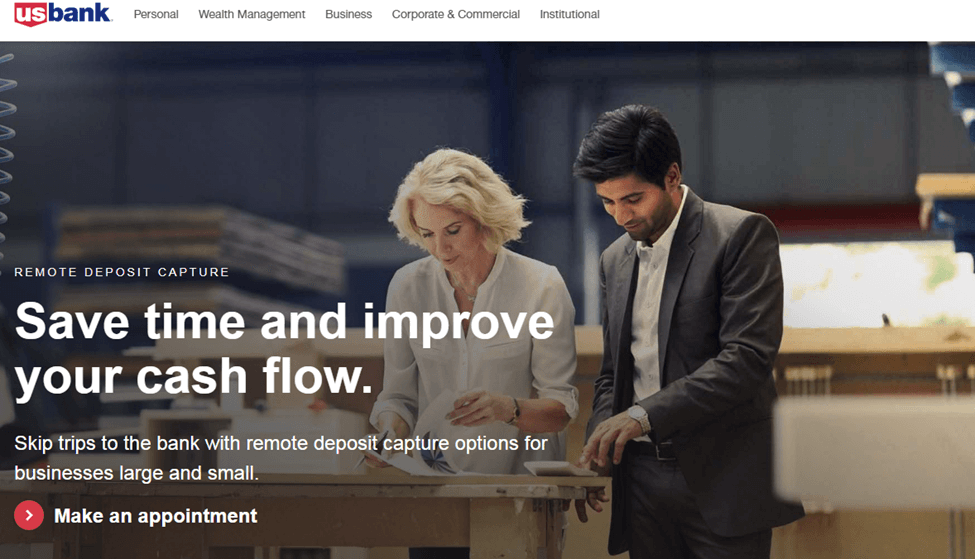 EZ Switch Kit
The EZ switch kit makes switching from your old bank a breeze. U.S. bank provides reliable assistance throughout the process to make the transition smooth, fast, and easy. Through the five-step process, you can conveniently open a business account with U.S. Bank and close your old account without your company experiencing any downtime.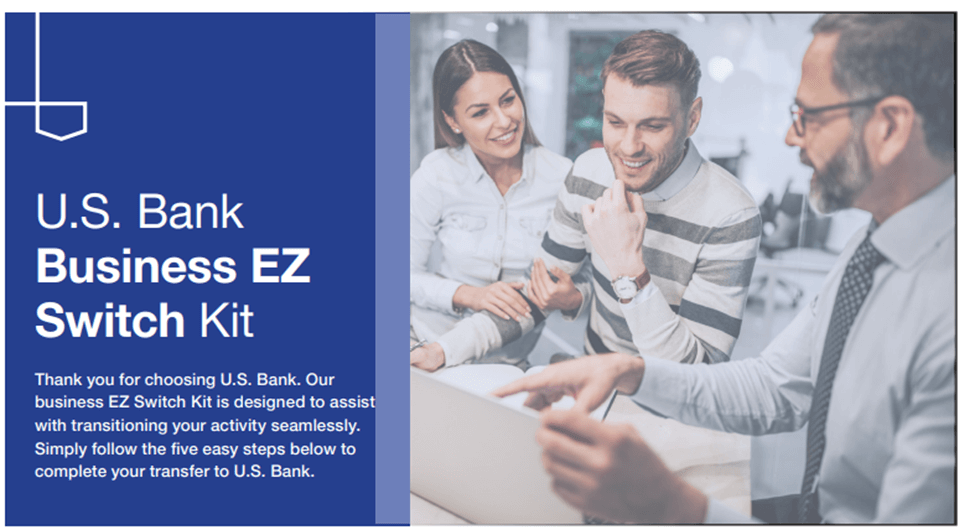 U.S. Bank Alternatives
If you put high emphasis on the reputation and stability of a bank, U.S. Bank is undoubtedly an excellent option to consider. However, if you want a bank that comes with more features and higher APYs on your balances, better options are out there. Let's look at three alternatives.
JPMorgan Chase Bank is one of the best alternatives to U.S. Bank because it is reputable and ranks as the largest full-service bank. It is arguably a better alternative because it offers a broader menu of financial services and products, including an extensive range of credit card offerings. The bank also provides decent APYs on business checking, CDS, and business savings accounts.
Who Is Chase Bank Best For?
Chase bank is a solid option for businesses that maintain high balances to waive the monthly fee. While the bank has a robust online presence and is one of the best mortgage lenders, it also has an extensive local presence with over 4,700 branches. This makes it ideal for entrepreneurs who prefer in-person banking.
Account Basics
Checking Accounts— 0.01% to 0.05% APY
Savings Accounts— 0.01% to 0.05% APY
Certificates of Deposit—up to 0.05%
How Does Chase Bank Compare to U.S. Bank?
Chase and U.S. Bank are large and well-established financial institutions. As expected, they share a lot in common. However, Chase bank is better for entrepreneurs that want an easier means of waiving their monthly account maintenance fees. On the other hand, U.S. Bank offers better CD APYs.
Easy access through the 4,700 branches & 16,000 ATM network
Enticing introductory bonuses for new customers
The monthly fee can be waived
Using ATMs outside the bank's network will cost you $2.50
No money market accounts
Lacks high-yield savings accounts
Citibank is your best bet if you are searching for a Chase and U.S. Bank alternative that offers all the perks of a big bank coupled with the benefits of a digital financial institution. Its interest rates on balances are more competitive, especially if you are regionally eligible for the high-yield savings account.
Who Is Citibank Best For?
If you live in any of the 41 out of 50 states eligible for Citibank's Accelerate Savings Account, you are likely to find this alternative ideal for your businesses. Citibank is also a good option for entrepreneurs that prefer digital banking because the institution has less than 700 branches in the U.S.
Account Basics
Checking Accounts—0.01 to 0.03% APY
Savings Accounts—0.04% to 0.50% APY
Certificates of Deposit (CDs) — 0.05% to 0.25% APY
How Does Citibank Compare to U.S. Bank?
Both Citibank and U.S. Bank are large financial institutions better known for their convenience over high APY rates. Both banks use top-shelve technology to provide a reliable online banking experience.
However, Citibank has fewer local branches making U.S. Bank better if you prefer in-person banking. Citibank is a top choice for businesses looking for better interests in their savings account balances.
An extensive network of over 65,000 fee-free ATMs
High-yield savings account
Account service fees are easy to waive
The high-yield savings account is only available in 41 out of 50 states
High monthly fees for those that don't meet the minimum balance requirement
Less than 700 physical branches in the U.S.
Wells Fargo is a long-standing bank founded in 1852. It is the fourth largest bank in America and has been in the industry for over 170 years. While it has a somewhat tainted image because of the high-profile fraud scandals reported in the mid-2010s, the bank remains a top choice for many businesses because of its technological innovations, reliable customer service, and convenient financial products.
Who Is Wells Fargo Best For?
Wells Fargo is best for entrepreneurs that prioritize convenience over high-interest rates earning potential. The option works well for businesses that prefer in-person banking and are located close to a Wells Fargo physical bank.
Account Basics
Checking accounts—0.00% or 0.01% APY
Savings Accounts— 0.01% to 0.02% APY
Certificates of Deposit— 0.01% to 0.02% APY
How Does Wells Fargo Compare to U.S. Bank?
Wells Fargo is yet another megabank with a massive network of branches and ATMs, just like U.S. Bank. Also, it does not offer the best APYs on savings, making it an ill fit for businesses that maintain high balances. While Wells Fargo provides an easier means to waive monthly fees without maintaining the minimum balances, U.S. Bank offers a lower deposit requirement for CDs.
A massive network of branches (4,900) and ATMs (12,000)
Easy to waive monthly service fees
Tech-forward mobile app
You can find better APYs on your balances elsewhere
Accessing funds through out of network ATMs attracts a fee
Hefty overdraft fees ($35)
Frequently Asked Questions (FAQs) for U.S. Bank Review
If you are considering opening a U.S. Bank business account, you will likely find the answers to the following frequently asked questions helpful.
Final Thoughts on U.S. Bank Review
U.S. Bank offers some of the best business bank accounts and is a decent option for small business owners who prefer in-person banking and easy access to thousands of fee-free ATMs. It is also a solid option for entrepreneurs interested in digital banking because it embraces technology and has a well-rated mobile app.
Generally, you can expect a reliable range of financial products that allow enough wiggle room to accommodate growing businesses. The main tradeoff is that most accounts have high fees and low-interest rates, making them unsuitable for larger companies. We hope this comprehensive U.S. Bank business account review helps you make an educated decision.
Best Business Bank Accounts by State
Below you will find an interactive U.S map that can help you locate and compare different banks and financial institutions that offer business accounts in your area.