Bluevine Review is an online lender and financial tech company with several free features that make it easy to manage business funds. Its business checking and business loan services work separately or in tandem to provide you with opportunities to help your venture grow. Find out in this Bluevine review if it's the right place to open a business bank account.
Bluevine Business Checking – Our Verdict
Bluevine works well with budding business owners who desire to keep personal and business funds apart. It's hard to top 2.0% APY for up to $100,000 on a business checking account, but this rate loses some appeal once your account grows any larger. Several free features add to the appeal, but there are limitations on monthly deposits and withdrawals that you'll want to keep your eye on.
It's quite easy to sign up for a checking account, and anyone from sole proprietorships to corporations can do so. You can even open a business bank account with an EIN only to keep your personal information out of the picture.
High interest rates
Very few fees
No minimum deposit required
Monthly transfer limits
Checking accounts only
Fee for cash deposits
Bluevine at a Glance

Bluevine provides business checking accounts or business loans. Business checking accounts are free to open and include several free features, including no overdraft fees and unlimited transfers. Best of all, there are no monthly fees and no minimum requirements to keep your account open, which makes it one of the best banks for startups.
It offers an impressive 2.0% interest on balances up to $100,000 and is among the highest on the market. Fees do bubble up periodically for things like outgoing wire transfers and cash deposits.
What makes Bluevine stand out are its business loans, hence earning it a spot on our list as the best bad credit loan for startups. The lender will spot you up to $250,000, considering you meet its requirements. It usually takes no more than a few minutes to get approved, and interest rates are a respectable 4.8% for payback.
Who Bluevine Business Checking is Best For
Bluevine is best for anyone starting a small enterprise that needs a specific location for business funds. Within the software, you can track expenses, transfer funds, and more without spending a penny. You may find yourself outgrowing Bluevine as your company expands, but it is a great place to start.
Bluvine Business Checking Pricing
It's free to sign up for a business checking account with Bluevine. Furthermore, you don't have to pay monthly fees or keep a minimum balance to keep your account open. You'll incur fees only with cash deposits, outgoing wire transfers, or using out-of-network ATMs.
2.0% on balances up to $100,000
Business checking and business loans
$0 in-network,
$2.50 out of network
Being the best business bank account for LLCs, Bluevine makes banking easy with no monthly fees and no minimum deposit required to keep your account open. They don't even charge fees for account overdrafts. In addition, you don't have to worry about ATM fees from Bluevine itself so long as the ATM is in-network. Anything out of network will set you back $2.50 per use. Keep in mind that you may still receive a charge from a bank for using their ATM.
There's no maximum number of transactions you can make with Bluevine as long as you stay within monthly withdrawal and deposit limits. For instance, you can make as many direct deposits as you'd like, but cash transfers cap at $7,500 per month. You can only take out $2,000 per day from ATMs as well.
Anyone with Bluevine's business checking account receives 2.0% interest for balances up to $100,000. To activate this rate, you'll need to either spend $500 per month with a Bluevine Business Debit Mastercard or receive at least $2,500 per month into your account from outside sources. If you fail to meet one of the requirements, you won't earn any interest that month. Subsequently, any money in your account over $100,000 does not receive interest either.
Bluevine does have a few fees to keep on your radar. Cash deposits incur a $4.95 charge for hitting your account, and you'll be billed $15 for any outgoing wire transfer. Incoming transfers are free.
Bluevine Business Checking Features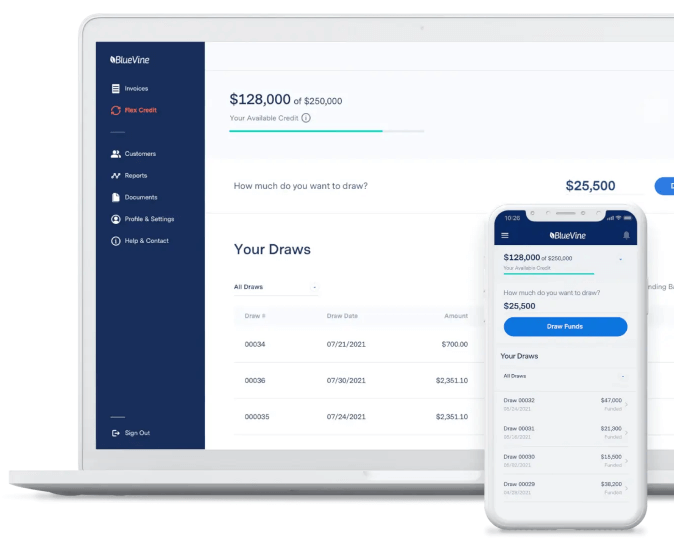 Bluevine has several enticing features that make it stand out as an online bank for business. Let's take a look at them in more detail now.
Bluevine Business Checking Account
If you're looking for a free business checking account, you've come to the right place. Because business checking is where Bluevine focuses a majority of its attention, the company does it really well. Members have access to several free features and interest incentives that most other banks can't offer.
Business Loans
In addition to checking, it's also possible to tap into a business line of credit for up to $250,000 for those big purchases. Interest rates here are as low as 4.8%, and you may even get approved in a matter of minutes.
You'll need at least a 600 FICO score, $10,000 in monthly income, and at least six months in business incorporated or operating in a U.S. state. After a few additional questions and access to current bank statements, Bluevine will make a decision about your loan. Check out the best options available if you're considering a bad credit business loan.
Minimal Fees
With so many free services, one might wonder how Bluevine makes any money at all. There are no fees for starting up an account and no minimum balances you have to maintain. You won't receive a charge if your balance drops to zero, and you won't incur any penalties for trying to overdraw your account.
You won't receive a charge whenever you use one of the 37,000+ ATMs that Bluevine is in-network with. It's easy to locate these, thanks to the online ATM locator. Should you need to use an out-of-network ATM, you will incur a $2.50 fee for doing so. You can deposit cash into these ATMs as well, but Bluevine will charge $4.95 for the service.
Unlimited Transactions
Bluevine boasts unlimited transactions, which is true to an extent. You can deposit as much as you'd like from another financial institution, but you're limited to $5,000 per month on transfers from the website or mobile app. The online bank caps cash transfers at $7,500 per month but places no limit on incoming wire transfers. You can't take out more than $2,000 in cash from an ATM or cash back service in a single day, but there are no limits otherwise.
High Interest Rate
Opening a business checking account with Bluevine gives access to its 2.0% interest rate for amounts up to $100,000. Any funds in your account above $100,000 will not generate any interest.
You'll have to meet one of two requirements to be eligible for this interest rate. You can either spend at least $500 per month with your Bluevine Business Debit Mastercard or have at least $2,500 coming into your account each month from outside sources. Should you not meet either of these requirements, you won't receive any interest on your account.
Bill Pay
With Bluevine, you can manage and pay bills straight from the Dashboard on the site or mobile app. Keeping all your bills in one place helps with management, and it's possible to link one of 40,000 payees to make the process even easier.
The software gives the option to pay from your checking account or credit card to help keep track of cash. You can schedule one-time or recurring payments within the system to ensure you never miss a bill.
Sub-accounts
If you need to separate funds into different categories, Bluevine lets you open sub-accounts with unique account numbers at no extra cost. These sub-accounts can do everything the primary account can do, minus having access to a debit card.
Transfers
It's easy to transfer funds between primary and sub-accounts with the click of a button. Similarly, you can send wire transfers anywhere for a flat $15 per transaction. There's no fee or limits if you receive a wire transfer from an external source.
Mobile Banking
Bluevine members can make use of a mobile app on Android or iOS to bank from anywhere. These apps are free to use and have all the same features you'll find on the website.
Free Checkbooks
Using Bluevine, you'll receive up to two checkbooks each year at no cost to you. If you use more before the year is up, you will have to purchase them through the website.
Bluevine Contact Info
Bluevine doesn't hide its customer service information, listing everything you need to know on its "Contact Us" page. There's a link to an email form, or you can call support at (888) 216-9619. The team is available from 8 am to 8 pm EST Monday through Friday.
Alternatives to Bluevine Business Checking
If Bluevine doesn't speak to you, perhaps a similar service will. Below are some of the top online business checking alternatives to consider.
Novo is a top alternative to Bluevine and similarly only offers checking accounts for business purposes. It's free to sign up and there are very few fees for using any aspect of the service.
Unlike Bluevine, you'll get stuck with a $27 penalty any time you overdraw funds. However, you're not required to keep a certain monthly balance, and the bank refunds ATM fees no matter where you use them.
Banking on the go is easy with Novo's mobile app. You can download the software to either Android or iOS devices. Novo does fall short when it comes to cash, since you can't deposit even a single physical dollar into your account. Read our in-depth Novo review to learn more about its accounts and fees.
Zero monthly fees or minimum balance required
Mobile app
Refunds all ATM fees
Cannot deposit cash
Fee for overdrawn accounts
No savings accounts
Lili raises the stakes with a free tax optimizer to prevent over or underpaying. You can automatically set aside funds for tax time so there are no surprises when the time comes. The app also helps you sort through personal and business expenses so you know what to write off.
There's no fee or minimum amount required to sign up for Lili, and a majority of its services are free to use. There are some monetary limitations on deposits and withdrawals though that may not suit larger businesses. It's not possible to perform any wire transfers through Lili either.
If you're saving up for a big purchase, Lili allows you to open up an account for such a purpose. Unfortunately, none of your money accrues any interest while using Lili's free version.
Those looking to generate 1% interest or unlock additional features such as overdraft protection may wish to consider Lili Pro. This service costs $4.99 per month and should pay for itself through interest alone. Read our complete Lili review to learn more about its accounts.
Tax optimizer
No minimum balance or monthly fees
Can place money in savings buckets for future use
Several features are locked behind Lili's paid membership
No APY in the free account
No wire transfers
Like most online business checking accounts, Kabbage doesn't charge fees for the setup process. You also won't have to pay any monthly fees, and you never have to keep a minimum balance. To go above and beyond, Kabbage doesn't charge any fees whether you're accessing an in-network or out-of-network ATM.
For amounts of $100,000 or less, you'll receive a 1.1% APY each month without prerequisite. Anything in your account over that limit won't receive any interest, though. You're limited to a sole owner since Kabbage doesn't do joint accounts.
Kabbage doesn't have many fees, but they do charge upwards of $4.95 for cash deposits. Outgoing wire transfers will set you back $25 anytime you need to send one out. When using the mobile app, take note that deposits can take several days longer to clear. Read our in-depth Kabbage review to learn more about its accounts and fees.
If you are interested in opening a business account, here is a detailed Bank of America Review, NBKC Bank Account Review, and Chase Bank Review packed with information about the pros, cons, and alternatives that help you choose the right business account.
No monthly fees or fees for signup, no minimum balance
High interest rate
No Kabbage fees for out of network ATM withdrawals
Cash deposit fees up to $4.95 per transfer
No ability to make joint accounts
Mobile deposits take several days to clear
Axos goes beyond business checking accounts to offer business savings and personal accounts as well. Its basic business account has no fees for signing up or maintenance, and there's no minimum balance. This account will reimburse you for any ATM fees you incur wherever you find yourself.
Business owners can also partake in a savings account, although interest rates are quite low at 0.20%. Even if you manage to squeeze into the premium savings account with a $25,000 minimum opening deposit, the APY doesn't change.
In fact, Axos' rates across the board aren't that great. CD rates land at 0.20% as well, not offering much incentive to grab a certificate. You can even set up personal savings and checking accounts through Axos if you so choose. Read our complete Axos review to learn more about its accounts. If you are interested to more in-depth review for other banks, we have also US Bank Review, Capital One Review, and SoFI Review.
Several checking account options
Unlimited domestic ATM fee reimbursements
No monthly maintenance fees or balance requirement for basic checking
CD rates aren't great
Low APY on business savings accounts
Some accounts require high deposits
Frequently Asked Questions (FAQs) for Bluevine Business Checking Review
Opening a business account with Bluevine can generate a plethora of questions. Read on to find answers to some of the most common ones.
Bottom Line on Bluevine Business Checking Review
Bluevine business checking brings a lot to the table with a long list of free features and services. Having access to both a free business checking account and a line of credit puts young businesses in a good place to succeed. If you're careful about how you use your money, this impressive service may never even cost you a dime.
Best Business Bank Accounts by State
Below you will find an interactive U.S map that can help you locate and compare different banks and financial institutions that offer business accounts in your area.