SoFi is a financial technology company individuals and businesses alike can use to safely store and grow funds. This SoFi review spells out all the pros and cons of the service to help you decide whether or not to give it a go.
Our Verdict
SoFi offers a slew of products, stretching from loans to banking and insurance. Sole proprietors, partnerships, and LLCs looking to separate business and personal funds will likely find something of interest here.
Its bank account keeps fees to a minimum while providing high-interest rates and the flexibility to move money around as you see fit. When a project calls for large-scale investment, SoFi has financing options so you don't have to miss a beat.
Up to 1.25% APY for savings and checking
No minimums or monthly fees
2-3% cash back on credit card purchases
Only one savings/checking account is available
All business loans come from a third party
Limited features for business owners
SoFi at a Glance
SoFi is a financial platform with savings, checking, and lending options for small business owners. It's free to set up an account, and outside of loans, members never have to worry about monthly fees along the way. This lack of fees extends to cash deposits, transactions, and overdraft charges that other institutions typically charge for.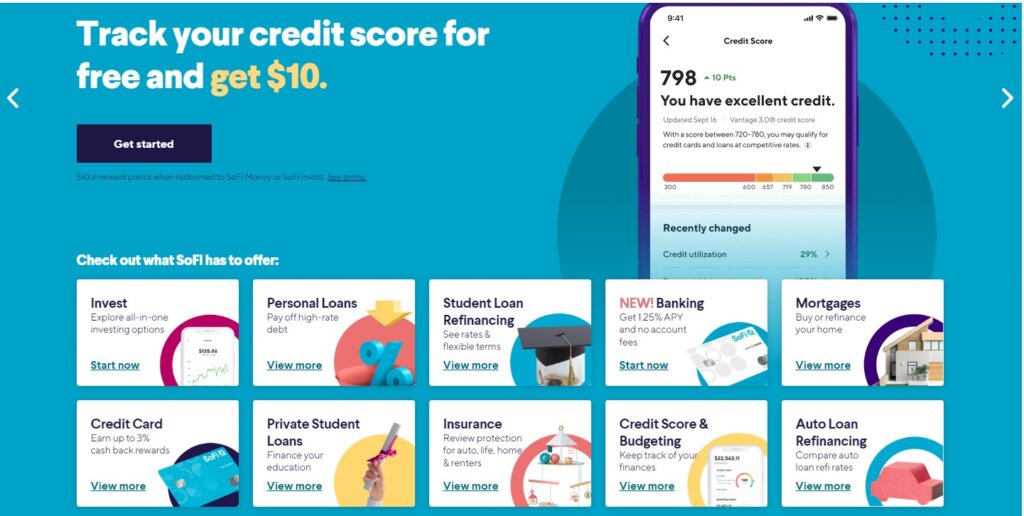 The platform's 1.25% APY for both checking and savings is among the highest available, requiring no more than a direct deposit to lock in the rate. Sofi's sole credit card comes with 2-3% cash back to bolster income.
Perhaps best known for its personal loans, SoFi adds business financing options through its Lantern Credit service. While SoFi does not provide these loans itself, it gives access to several top-tier options business owners can choose from.
Who SoFi is Best For
Smaller business owners will get the most out of SoFi's services. Its banking services are geared more toward personal use, but individual business owners can get just as much use out of a bank account. It's also possible to get up a joint account for duos sharing the business load. If you're able to pay yourself with direct deposit, you can maximize the interest rate for checking and savings.
Pricing
SoFi stands firm on its desire to minimize fees anywhere it can. It also holds one of the highest interest rates among online and physical banks around the country.
Checking and Savings Account
Minimum Deposit to Open Account
Minimum Balance to Maintain Account
Unlimited free transfers to other bank accounts or through point of sale
No fee when using 55,000 in-network ATMs to deposit cash
Free from over 55,00 in-network machines
$25 to $30 for outgoing domestic transfers, $45 to $50 for outgoing international transfers
SoFi is somewhat new to the banking scene and has but one savings and checking account available. There's no minimum deposit required to set things up. You also don't need to worry about monthly fees or maintaining a minimum balance.
To tap into SoFi's 1.25% APY, you simply need to link up a direct deposit to either checking or savings. If you're unable to do so, you'll still earn 0.70% on both accounts, a number still much higher than the industry standard.
The banking platform really has an aversion to fees, making money transfers between bank accounts free. Business owners will enjoy $0 point of sale transitions both domestically and internationally. SoFi looks the other way for up to $50 in overdraft fees as long as you've linked up a direct deposit.
You won't get charged for using any of the 55,000+ ATMs in SoFi's network. Its website makes no mention of charges for using out-of-network ATMs, but you should always expect a charge from the ATM itself.
Sofi's wire transfer fees are standard at $25 to $30 for an outgoing domestic rate. Those looking to send funds internationally will have to pay closer to $50 per transfer.
SoFi Features
SoFi has several impressive features that make it an online bank worth pursuing. Let's take a look at them now.
Credit Cards
SoFi offers a solitary credit card for business owners to use when making purchases. The MasterCard earns 2% cash back on purchases you can put back into your finances or save for a particular project. If you can link up a direct deposit, you'll earn 3% cash back instead.
The card has no annual fee but can charge anywhere between 13.74% and 25.74% APR depending on your credit score. There's no mention of being able to obtain multiple credit cards from one account to hand out to employees.
Checking and Savings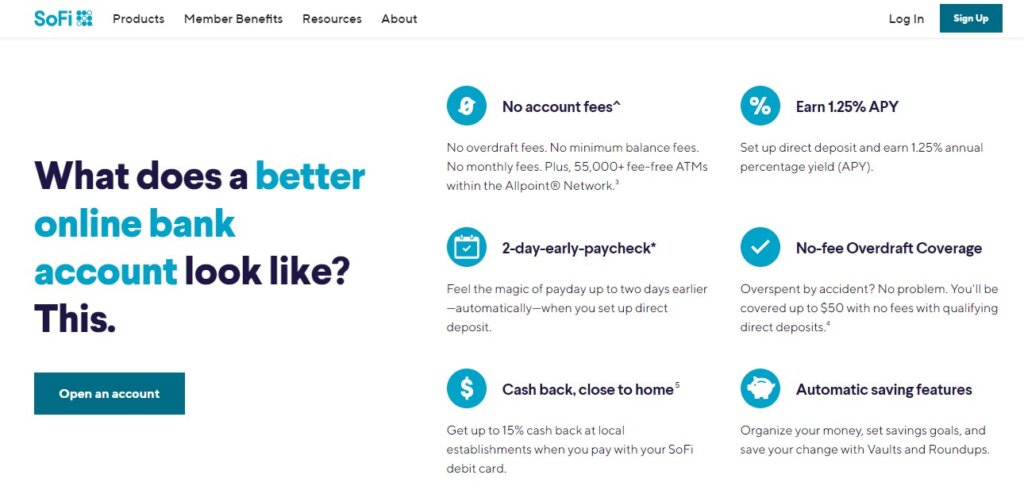 Should you choose to bank with SoFi, you'll open up both a checking and savings account at the same time. It's not possible to open up one or the other. Both accounts earn the same interest rate, either 0.70% or 1.25% if you can link up a direct deposit.
Neither account has monthly account fees or minimum requirements. You can move cash fluidly between them, but you'll want to be careful not to overdraft your checking account by more than $50 when making purchases. There is an option to create a joint business bank account if you have more than one business owner.
Insurance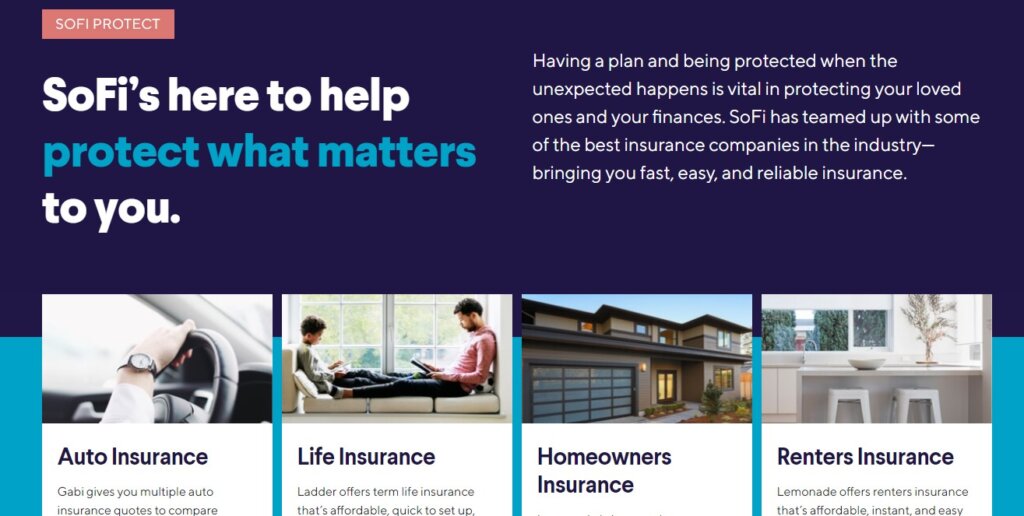 Small business owners need a source of insurance, and SoFi has options available that suits for startups or any small businesses. The online back currently has plans for auto, life, renting, and homeowners. Although these types of insurance are available for the SoFi account holder, you won't be able to offer them to your employees as well.
Student Loan Repayment
SoFi takes a unique approach to business incentives, offering business owners the means to help employees pay off student loan debt. With SoFi, you can contribute up to $5,250 tax-free each year toward your employees' student debt. Employers can deduct this amount while offering an incentive to hire young talent from the graduate pool.
Mobile Banking
SoFi's mobile app allows you to transfer and receive funds with nothing more than a smartphone. For anyone using SoFi's app, transfers occur in real-time. The app also makes it easy to pay bills online or set up recurring payments to vendors or employees. You can deposit checks right from your phone by snapping a photo and listing where you want the money to go.
Minimal Fees
You won't find many fees when you sign up for SoFi. Account setup is free, and you won't ever see a monthly fee come across your desk. Alongside overdraft forgiveness and zero charges for transferring or depositing cash, you can use SoFi without having to spend a cent. You'll only run into fees with outgoing wire transfers and any time you have to use an out-of-network ATM.
If you want to open a business account with minimal fee, here is a thorough Oxygen Review, Capital One Review, and Lili Review that includes information on the pros, cons, and alternatives.
Loans and Lines of Credit
SoFi's Lantern Marketplace helps business owners view and compare the top loans currently available. SoFi does not offer these loans directly but facilitates the process of locating the loan your business needs. After supplying information about how much you need, what you'll use the loan for, and what state you're in, Lantern will find the best options for you.
Security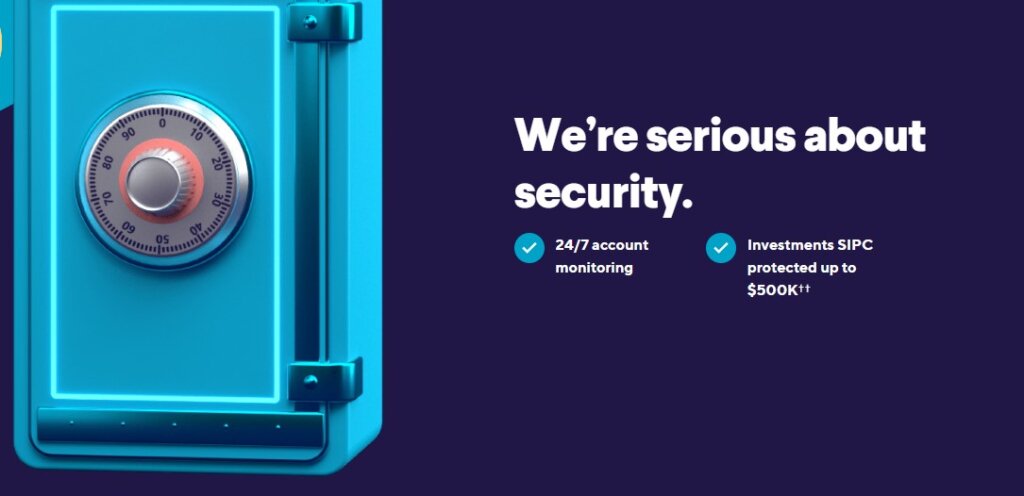 Should something happen with your credit card, you can freeze it with the push of a button on the SoFi app. SoFi watches your account for suspicious activity and will let you know the moment they sense something amiss.
The online bank further keeps your account secure through two-factor authorization, requiring a fingerprint or additional passcode to access your information. Each card chip generates a unique transaction code to identify purchases and add in extra security. All money in your SoFi account is FDIC insured for up to $250,000.
Alternatives to SoFi
SoFi gets along well with business owners but may not contain everything you're looking for. Check out these SoFi alternatives to see if they're more your style.
LendingClub is an online banking service offering quite a bit more variety than SoFi when it comes to accounts. Business owners can choose from ten different checking and savings plans strictly for businesses. The mobile app tracks transactions in real-time and allows users to transfer funds or make check deposits.
Among those accounts, you can find 1% cash back on debit card purchases and rebates from ATMs anywhere in the world, whether they're in-network or not. Interest rates are meager, topping off at 0.10% for accounts with $5,000 or more. If you're unable to maintain a balance of $5,000, you'll also incur a $10 monthly charge.
LendingClub specializes in loans for small businesses, no matter the need. Flexible loans can climb as high as $500,000, whereas loans for property and equipment can reach $10 million if needed.
1% cash back on debit card purchases without limit
Worldwide ATM rebates
Several loan packages
Monthly fee on accounts with balances under $100
Low interest rate
High requirements for cash back
BlueVine provides loans and checking accounts for small businesses looking to get a leg up on the competition. There are very few fees across the board, but it is unfortunate to see charges for cash deposits.
If you can keep up with BlueVine's requirements, it's possible to earn 1.5% APY on your checking account. This amount eclipses SoFi's 1.25% but is not quite as easy to attain. Similar to SoFi, BlueVine doesn't necessitate a minimum balance or charge a monthly fee. What's worse, any money in your account above $100,000 doesn't receive interest, and there's no savings plan to dump excess into.
BlueVine has lines of credit up to $250,000 and rates as low as 4.8% to pay them off. These numbers fall in line with the third-party lenders SoFi uses as part of its Lantern network. When depositing money to keep up with loan payments, keep in mind that BlueVine has monthly limits on how much you can put in your checking account.
High interest rates
Very few fees
No minimum balance or monthly fees
Monthly deposit and withdrawal limits
Does not offer a savings account
Fee for cash deposits
Kabbage empowers small businesses with a monthly fee-free checking account. Although its interest rate is a little lower than SoFi, Kabbage does not have prerequisites for earning 1.10% on funds up to $100,000.
Unlike SoFi, there's no way to create joint bank accounts with Kabbage. As a result, it's best bank account for sole proprietorships or LLCs with a sole owner. On the plus side, Kabbage doesn't charge ATM fees, whether in-network or not. You will get charged $4.95 every time you deposit an amount of cash into your account.
When you're ready to take your business to the next level, Kabbage offers easily accessible lines of credit for just such a purpose. The approval process takes no more than a few minutes. Once approved, you can transfer money from the line of credit to your checking account in real-time.
No monthly fees or fees for signup, no minimum balance
High interest rate
No Kabbage fees for out-of-network ATM withdrawals
Cash deposit fees up to $4.95 per transfer
No ability to make joint accounts
Mobile deposits take several days to clear
Axos has a handful of checking and savings accounts for business owners to choose from. Its Interest Checking plan grants a 1.01% APY for up to $50,000, with rates decreasing from there. You can transfer extra money into a savings account, but these accrue 0.20% interest at best.
Most of these accounts require a high initial deposit to open and a substantial balance to avoid monthly fees. This is a sharp contrast to SoFi, where no such fees exist. There aren't many fees if you can keep up with balance requirements, and Axos will reimburse you for any ATM fees you may encounter.
The platform has both loans and lines of credit to help businesses grow. Loans and lines start at $10 million and demand at least two years in business.
High APY with an interest checking account
Unlimited domestic ATM fee reimbursements
No monthly maintenance fees or balance requirements for basic checking
Monthly fee with higher-tier accounts
Low APY on business savings accounts
Some accounts require high deposits
Frequently Asked Questions (FAQs) for SoFi
SoFi is a popular option for banking and lending. Here are some lesser-known answers to questions surrounding the service.
Bottom Line on SoFi Review
SoFi is a great opening strategy for small businesses looking to build interest on available funds. The only thing required to benefit from SoFi's highest rate is a direct deposit, so long as you can pay yourself. The financial service provider also helps you find loans from a handful of third-party companies instead of being shoehorned into one option. Minimal fees make it possible to make the most of your money without draining it in the process.
Best Business Bank Accounts by State
Below you will find an interactive U.S map that can help you locate and compare different banks and financial institutions that offer business accounts in your area.