Oxygen's business bank account motivates you to grow your financial assets as a small business owner or freelancer. This Oxygen review reveals why it's a cost-effective banking option, thanks to the free tier, cashback incentives, and savings interest. We'll also go over Oxygen pricing, features, pros, cons, and alternatives.
Our Verdict
Oxygen is one of the best business bank accounts for startup entrepreneurs and independent contractors who wish to earn more money. You may not expect it from the fun, flashy design of the website, but it's actually serious about equipping you to generate extra income through banking.
The most important advantage is that it offers a basic tier without annual fees or minimum deposits. Plus, you can get cashback rewards on purchases from approved merchants. Also, you have a chance to gain interest every year, no matter which tier you select.
However, Oxygen has its disadvantages too. For instance, the initial deposit and spending requirements for paid tiers can be intimidating if you're on a tight budget. There's also a cap to the amount of in-app ACH transfers you can pull from external accounts. Lastly, you must pay a costly transfer fee whenever you deposit cash to your Oxygen account via Green Dot.
Here's a summary of the strengths and weaknesses which we'll discuss in this Oxygen business account review:
Free business account available
Generous cashback rewards
APY for all tiers
High spending requirements for paid tiers
ACH limit for all account types
Expensive external cash deposit fees

Oxygen is a financial technology company which provides banking services through Bancorp Bank. It offers business and personal accounts to keep your professional and individual assets distinct from each other. This innovative financial platform was founded by Hussein Ahmed in 2017. At present, the company is based in San Francisco, California.
Oxygen is a cut above the competition because it opens the door to multiple earning opportunities. We'll delve into various features in this Oxygen review, including APY, cashback, ATM services, physical debit card, virtual debit card, deposit options, ACH transfers, savings goals, mobile banking, extra services, security certification, and customer support.
Pricing: Starts at $0 annual fee
Who Oxygen Is Best For
Oxygen works for freelancers and small business owners who want to boost their professional funds simply by performing banking transactions. After all, you will receive cashback if you buy items from certain sellers using your debit card. Plus, you can look forward to annual interest, whether you sign up for the free tier or the paid ones. You should consider Oxygen if you plan to open a business bank account that encourages you to earn profits in different ways.
Pricing
Oxygen offers four tiers of business bank accounts which you can choose from. This pricing chart gives you an overview of the differences between the tiers: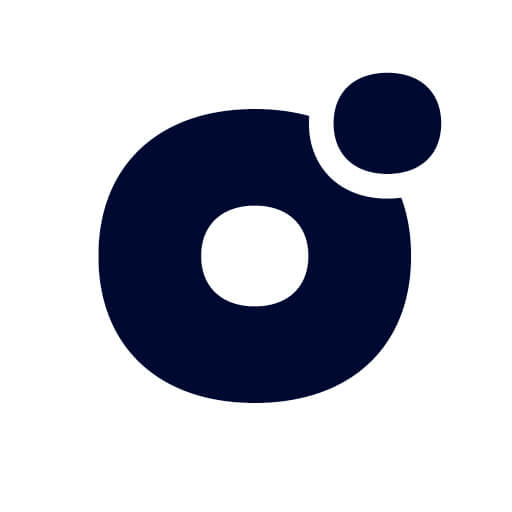 Plans
Earth
Water
Fire
Air
Annual Deposit & Spending
Mechanically engraved all-metal card
Direct deposit + Green Dot cash deposit
Direct deposit + Green Dot cash deposit
Direct deposit + Green Dot cash deposit
Direct deposit + Green Dot cash deposit
Limit of $1,000/day + $10,000/month
Limit of $1,500/day + $15,000/month
Limit of $3,000/day + $30,000/month
Limit of $6,000/day + $60,000/month
10 a.m. – 6 p.m. EST daily
10 a.m. – 6 p.m. EST daily
10 a.m. – 6 p.m. EST daily
10 a.m. – 6 p.m. EST daily
To sum things up, there are four tiers of the Oxygen business bank account:

Earth ($0): It's absolutely free because you don't need to pay any annual fees. Plus, there's no minimum initial deposit, initial spending, or annual deposit and spending requirements.
Water ($19.99): It only comes with a small annual fee. Nevertheless, you must deposit a minimum of $1,500 and spend $500 during the first month after you open an account.
Air ($49.99): The annual fee is a little larger for this higher tier. Also, you should deposit at least $3,000 and spend $1,000 on your first month as a depositor.
Fire ($199.99): The highest tier requires you to pay a hefty sum for the annual fee. In addition to this, you need to deposit a minimum of $6,000 and spend $2,000 during the first month that you start an account with Oxygen.
Take note that there's a 12x cumulative qualifying deposit and spending requirement per year for the three paid tiers, namely Water, Air, and Fire. However, Earth account users are exempt from this obligation.
Oxygen Features
Let's explore the major features of the business account in this Oxygen review. We'll evaluate the APY, cashback, ATM services, physical debit card, virtual debit card, deposit options, ACH transfers, savings goals, mobile banking, extra services, security certification, and customer support.
Savings APY
What's remarkable about Oxygen is that it gives you the chance to earn interest regardless of the business account type you pick. All tiers provide an annual percentage yield (APY) on your savings, although the interest rate grows as the level goes higher.
The free Earth tier starts at 0.5% APY, while the yield of the paid Water, Air, and Fire tiers progressively increases from 1%, 2%, and 3% respectively. Just be aware that these amounts only apply to balances of $20,000 or less. While you can still gain interest for funds beyond $20,000, the percentage is lower for the excess amounts.
Cashback
Oxygen motivates you to spend money by promising attractive cashback rewards. If you buy products and services from approved merchants, you can claim up to 2%, 4%, 5%, or 6% cashback if you have an Earth, Water, Air, or Fire business account. Plus, you can get $1 worth of cashback whenever you order food or coffee from selected sellers.
On one hand, cashback is better than points since you can quickly benefit from the money that's returned to your account. After all, there's no need for you to collect points which you need to convert first before you can use them.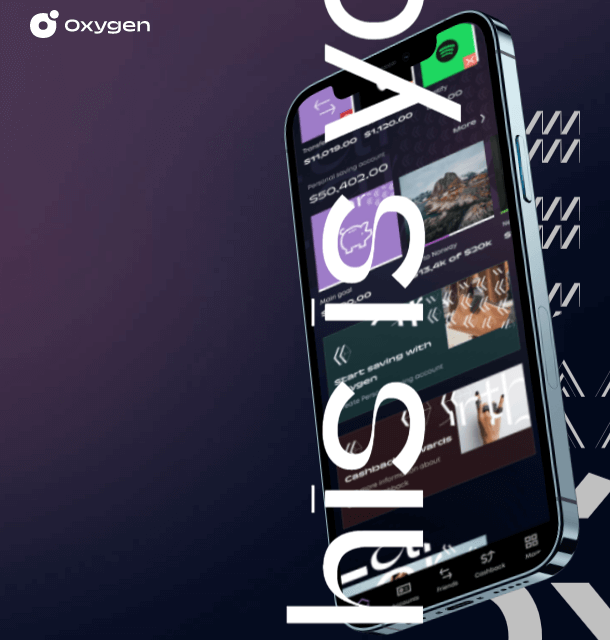 On the other hand, cashback privileges aren't automatic. Instead, you must perform some manual steps first before you can start earning cashback. Make sure to click on the offer in the cashback menu of your Oxygen mobile app so you can load the terms to your card. Afterwards, you can monitor the value of your rewards in the same menu.
ATM Services
Oxygen formed a partnership with Allpoint Network so you can conveniently withdraw your money from nearby ATMs. You don't have to worry about ATM fees since you can freely use any of the Allpoint ATMs within the U.S.
At present, there are more than 40,000 ATM machines which are commonly located in popular retail stores like Target, Walgreens, and Safeway. You can locate ATMs in your area by tapping on the ATM menu of the mobile app.
Just keep in mind that you need to shell out for international, out-of-network, or third-party fees whenever you conduct special transactions. Also, you can only withdraw a maximum of $500 per day and up to three times daily.
If you are interested in opening a business account with minimal ATM services, here is a detailed Axos Review, Lili Review and Novo Review packed with information about the pros, cons, and alternatives.
Physical Debit Card
You will get an Oxygen Visa Debit Card no matter which business account you pick. However, the material which the physical debit card is made of depends on your tier. On one hand, you will receive a basic but serviceable PVC foiled card if you open a free Earth account.
On the other hand, you can expect premium card materials to match the paid tiers. For example, the Water account comes with an embedded metal card, while the Air tier includes an all-metal card. Still, the Fire account trumps them all by showcasing an engraved all-metal card.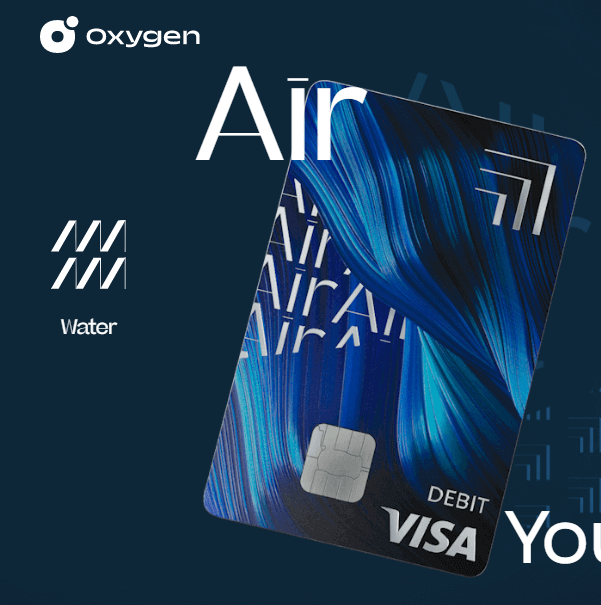 To be realistic, the material of your physical debit card won't significantly affect its practical functions, except for marginal sturdiness. Nevertheless, it's an aesthetic bonus that can add a touch of class to your professional image.
Virtual Debit Card
You may be wondering why you need virtual debit cards if you already have a physical one. The answer is: extra security. Oxygen lets you create single-use cards which allows you to make online purchases without needing to provide your physical debit card details. Plus, you can set a maximum spending cap per merchant so you can control your spending.
All tiers come with virtual debit cards, although the level will determine how many or how few cards you can generate. You're restricted to three cards by the Earth account, while you're capped at 15 cards by the Water tier. However, the sky's the limit with the Air and Fire tiers since you can create an unlimited number of virtual debit cards.
Deposit Options
Early direct deposit is one of the benefits of Oxygen. The company typically posts direct deposits on the very day the transaction is performed. As a result, you can potentially receive your funds up to two days earlier than the scheduled payment date.
In contrast, making cash deposits via Oxygen isn't as simple compared to old-fashioned depositing via traditional banks. Since it's a financial technology company instead of a bank, there aren't any physical branches you can visit to deposit your paper bills.
Thankfully, it offers a workaround solution to this dilemma. While you can't make deposits via Allpoint ATMs, you can deposit cash via Green Dot, the third-party payment platform Oxygen has teamed up with. In this aspect, Oxygen one-ups other financial companies because some don't have any cash deposit options at all.
ACH Transactions
Oxygen enables you to transfer funds via the Automated Clearing House (ACH) system. To top things off, it won't even charge you any ACH fees. Just be aware that there's a limit to the amount you can pull from external accounts via ACH.
To begin with, the Earth tier restricts you to $1,000 per day and $10,000 per month. Next, the Water account limits you to $1,500 each day and $15,000 every month. Also, the Air tier permits you up to $3,000 per day and $30,000 per month. Finally, the Fire account allows you ACH transactions up to $6,000 every day and $60,000 each month.
Savings Goals
Oxygen is like your banking cheerleader that encourages you to save money for the sake of your business growth. The free Earth account permits you to set three savings goals, while the Water tier lets you aim for 10 goals. Both the Air and Fire accounts grant you freedom to pursue unlimited savings goals.
These savings goals involve interesting challenges you can participate in. For example, "Round Up Spare Change" automatically deposits small amounts to your savings account whenever you make eligible purchases using your debit card. In addition to this, "Save When You Get Money" enables you to save a set percentage or amount of your deposits that are worth $50 or more.
Mobile Banking
You can experience the perks of online banking while on the go via the Oxygen mobile app. Just download and install the free Oxygen app in your Android or iOS smartphone. In terms of first impressions, the user interface (UI) has a sleek, modern design that's pleasing to the eye.

Even more importantly, the mobile banking app equips you to perform banking transactions anytime, anywhere. Plus, it helps you keep track of your balance and earnings. Lastly, the large block-style icons make it easy for you to find the menus you wish to access.
Additional Services
Aside from its main features, Oxygen also provides other useful banking services. For instance, it simplifies the online payment process through Bill Pay. It allows you to send money to your friends as well.
To top things off, it's got you covered when it comes to different types of insurance. It offers coverage for mobile phones and lost or delayed luggage. Also, it guarantees protection against auto rental collision and hotel theft.
Security
Security is integral to financial services because the safety of your business funds is at stake. The good news is that Oxygen safeguards the privacy of your business account by achieving Payment Card Industry Data Security Standard (PCI DSS) certification.
Plus, you can add an extra layer of defense against hackers by setting up two-factor authentication (2FA). It shields your account by requiring you to verify your credentials both by password and by phone.
Last but not least, Oxygen's partner Bancorp Bank is a member of the Federal Deposit Insurance Corporation (FDIC), which protects your assets from potential losses.
Customer Support
Oxygen provides daily phone and email support to all business account users. This handy access to live agents is valuable because it's easier to ask questions and request for technical assistance directly than via self-research help centers. Thankfully, you can call or message the customer support team every day of the week, except holidays. Take note that these service options are only available from 10 a.m. to 6 p.m. EST.
Alternatives to Oxygen
Oxygen is the clear winner when it comes to cashback potential, as you can see from this Oxygen review. Still, you can check out alternatives that excel in other areas of business banking that may be more important to you before you open a business bank account.
Bluevine is one of the best free business banking accounts that streamlines the way you make check payments. It doesn't charge you monthly or overdraft fees, although it does ask for Bill Pay fees for credit card transactions. Also, it allows you to perform an unlimited number of banking transactions, but there are caps to the monthly deposit and withdrawal amounts.
Our Bluevine review explains that it's ideal for owners of small businesses who need a free checking account to manage business funds. It specializes in economical checking solutions, compared to Oxygen which doesn't provide checking services. Nevertheless, Oxygen offers more interesting ways to gain banking profits than Bluevine.
Pricing: Starts at $0 monthly fee
Free basic checking account
No overdraft or monthly charges
Unlimited transactions
Bill Pay fees
Deposit & withdrawal amount limits
Less creative income-generating solutions than Oxygen
Kabbage is a business checking account that presents flexible funding options. It can provide you with a line of credit ranging from $2,000 to $250,000, as long as your application is approved through the quick process. Just be ready to generate a personal guarantee for each loan you take. While there's no monthly maintenance charges, you must pay funding fees if you have an outstanding loan balance.
Kabbage is a useful bank for startup entrepreneurs or independent contractors who need credit services to expand their business. After all, it concentrates on credit services, in contrast to Oxygen which only offers debit card services. However, Oxygen has better customer support than Kabbage because it offers daily assistance, unlike the weekday-only customer service of Kabbage.
Pricing: Starts at $0 monthly fee
Credit line options
Fast approval process
Zero monthly maintenance fees
Funding loan fees
Personal guarantee requirements for loans
Limited weekday support
Chase for Business is a business checking account that enables you to supervise your cashflow and payroll. It makes it simple for you to make deposits and receive incoming wires. You can make unlimited Chase ATM and debit card transactions, while you're allotted a maximum of 20 teller and paper transactions. There's a mobile app too, although it only works with selected devices.
Chase for Business is handy for small business owners or freelancers who prefer traditional banking services. That's because it's a conventional bank with physical branches, unlike Oxygen that's a financial technology company. Still, Oxygen is more budget-friendly than Chase because the free tier has no monthly fees or minimum deposit amount.
Pricing: Starts at $15 monthly fee or $2,000 minimum daily balance
Basic checking solutions
Paper money transactions
Physical bank branches
Mobile app not universal
No free plan
High daily balance required to waive monthly fee
Frequently Asked Questions (FAQs) for Oxygen Review
Oxygen levels up the way you generate income through business banking. Before we wrap up our Oxygen business account review, let's tackle common questions on Oxygen and learn the right answers.
Bottom Line on Oxygen Review
Oxygen empowers you to earn income by maximizing the potential of your business savings, as we learned in this Oxygen review. That's why we dubbed it the cost-effective champion of business bank accounts.
To sum things up, Oxygen is a financially rewarding option for small business owners and freelancers because of the free account, APY, and cashback offers. We hope this Oxygen business account review helped you figure out if it's the best match for you.
Best Business Bank Accounts by State
Below you will find an interactive U.S map that can help you locate and compare different banks and financial institutions that offer business accounts in your area.