SiteGround is a popular web host that caters to the needs of both simple and resource-intensive websites. It offers a wide range of services and plans with growth in mind. SiteGround provides a 99.9% uptime guarantee, security features, and reliable customer support. This SiteGround review will help you decide if it's right for you.
Our Verdict
SiteGround is a Linux-based web host that offers multiple hosting options. Apart from WordPress hosting, the company also provides dedicated and cloud hosting. Users enjoy beginner-friendly-to-advanced features that ensure they don't go through the inconvenience of changing web hosts once their websites grow.
Also, the company has numerous helpful in-house tools like WP Migrator, SuperCacher, and SG Optimizer to make it easier to run and build a website. There is also an impressive range of software solutions designed to improve your site's performance, minimize traffic surges and tighten security.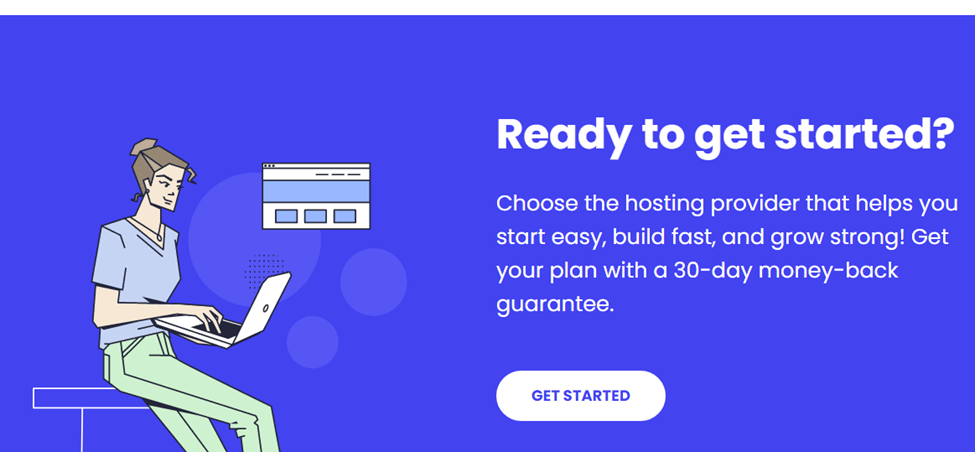 Attractive introductory prices with all plans
User-friendly interface and above-average load time
Plenty of freebies, including convenient one-click to install free features
Reliable uptime and 99.99% uptime guarantee
Limited accounts in shared hosting plans
Free daily backups included in all plans and free SSL certificate
Pretty secure with free Cloudflare, AI-bot prevention tool
Responsive customer service plus a no questions asked 30-day money-back guarantee
No advertising credits
No Windows server options
Comparatively low storage
No VPS plans
Price increases upon service renewal
SiteGround is a web hosting platform founded in 2004. It is headquartered in Sofia, Bulgaria, and boasts data centers and servers in the United States, Singapore, and Europe. Users enjoy fast load time, a 99.99% uptime guarantee, and tons of features ideal for both simple and resource-intensive sites.
Moreover, the platform uses unique Site Tools instead of the traditional cPanel for enhanced ease of use. It also provides resources to help users develop and run their sites. The 24/7 technical support team is helpful and pretty responsive, so you don't have to worry about getting stuck.
Who Is SiteGround Best For?
If you prefer big box web hosts, SiteGround is probably not the ideal company to choose. It is best for entrepreneurs looking for a personalized connection with their web host. SiteGround offers hosting solutions developed in-house. The service is generally ideal for budding web developers, bloggers, and entrepreneurs who want to host their websites on WordPress.
Pricing & Features
Price-wise, SiteGround may not suit those with tight budgets. The pricing ranges from the medium-to-higher end of the spectrum. And the lower-tier plans lack advanced features.
On the bright side, beginners can take advantage of convenient features like the Weebly website builder with just one click. You'll also get fast and easy integrations with WordPress and helpful apps like Joomla. 
As your site grows, you could consider the top-tier plans with advanced features like phpMyAdmin, SFTP, SSH, and WP-CLI. SiteGround offers four primary web hosting services. They include:
Standard shared web hosting
WooCommerce hosting
Cloud hosting
WordPress hosting
The pricing tiers remain the same across different SiteGround services, except for cloud hosting. This uniformity makes it easy for users to compare a range of offerings and choose a package that suits their needs instead of focusing on a plan that saves them money.
The available plans include:
StartUp: Ideal for smaller websites
GrowBig: Best for mid-sized businesses with more than one website
GoGeek: Shared hosting plan ideal for ecommerce stores and tech geeks who want more control over their sites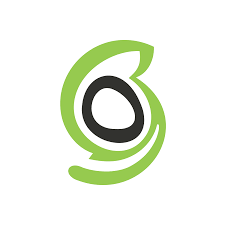 Plan
StartUp
GrowBig
GoGeek
Free WordPress Installation, Migrator and Autoupdates





















30-Days Money-Back Guarantee



Standard Shared Web Hosting
The standard shared hosting service is ideal for online store startups, bloggers, and small business websites. Websites share the server's resources where they are hosted, meaning you may experience more downtime if you have high website traffic.
With this option, you'll have access to a range of website solutions that allow you to build and launch your website with Weebly or WordPress. You can use an existing domain name or purchase one from SiteGround. Also, the company offers assistance with website migration from another host.
WordPress Hosting
The WordPress hosting service is similar to standard shared web hosting. The main difference is that it boasts SiteGround's in-house WordPress optimization for enhanced site performance. It is worth mentioning that WordPress even recommends this service.
One of the significant perks of SiteGround's WordPress hosting is that it comes with features that automate WordPress installation. You'll also have access to a Starter kit once you log into your new site. The kit has everything you need to set up your site in just a few minutes. Again, users can use the free SiteGround Migrator plugin to move their existing websites from another web host.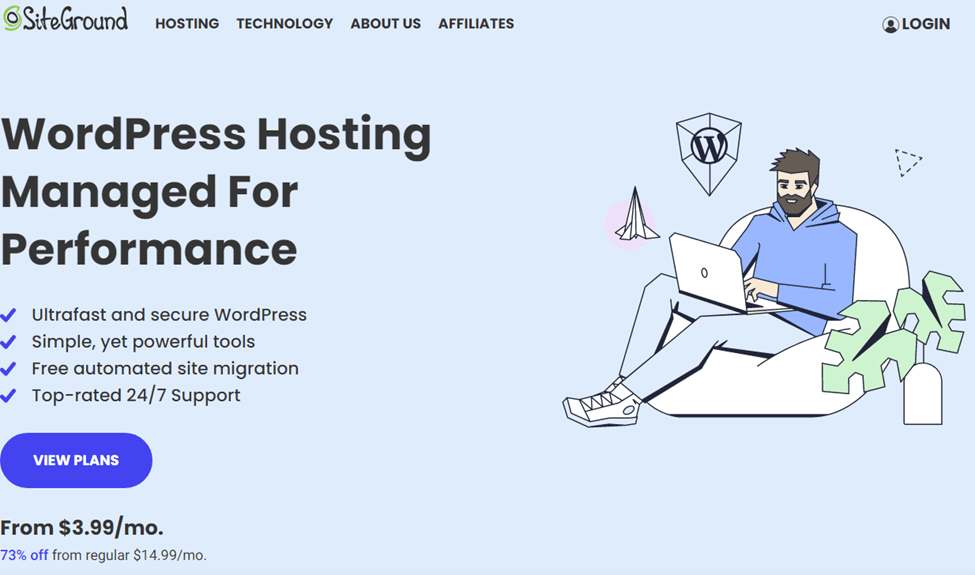 WooCommerce Hosting
The WooCommerce hosting service is uniquely optimized to ensure improved site performance if you have an online store. You'll have access to WooCommerce pre-installed, which allows you to set up your store in minutes and begin uploading your merchandise.
Even with the WooCommerce hosting StartUp plan, SiteGround provides a reliable range of security features, including a custom Web Application Firewall (WAF). The two top-tier plans also provide a staging tool, which allows you to evaluate any changes or updates to your website before going live.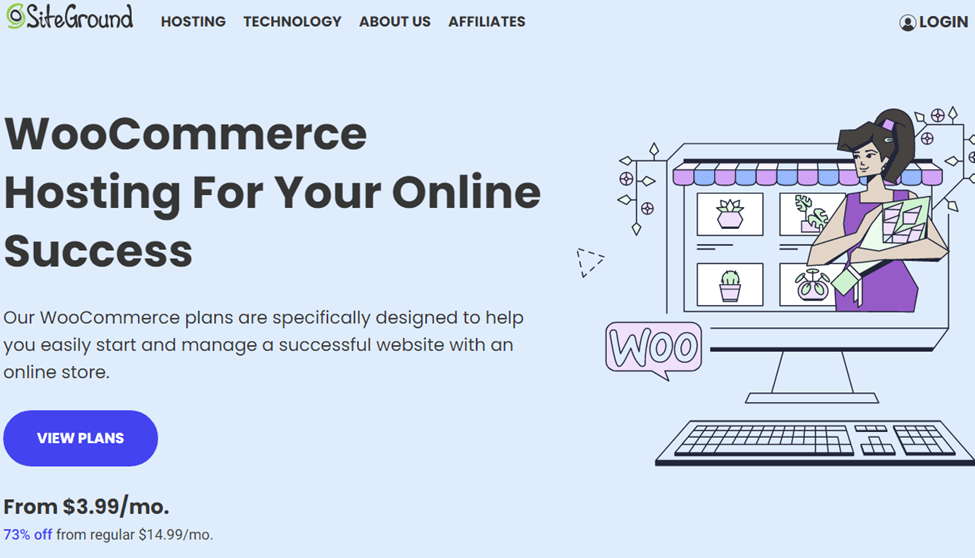 Cloud Hosting
If you run a large or resource-intensive website, the Cloud Hosting service is an ideal option for you. It is a step up from the typical shared hosting where SiteGround uses cloud architecture to give each user of a specific server a predetermined share of dedicated resources. This also means you will have a free dedicated IP for enhanced website security.
The Cloud Hosting Service has a unique pricing tier because of the broader range of features users enjoy. For instance, you'll have access to an auto-scaling feature that helps to prevent unexpected downtime or traffic surges. The Cloud Hosting service also has a 14-day, no questions asked money-back guarantee.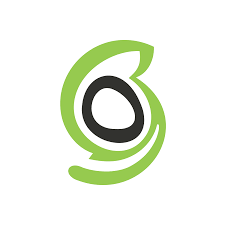 Plan
Jump Start
Business
Business Plus
Super Power
Advanced Priority Support
SiteGround Alternatives
SiteGround maintains commendable performance with its cloud hosting service. Shared hosting performance is also pretty decent, especially on the top-tier plans. Also, the company improves its products continually and offers top-notch customer support.
You may want to consider other web hosting alternatives if you find the service plans too expensive for your budget. Web hosts like Bluehost are cheaper, yet they offer similar or perhaps better services and you can also consider free web hosting providers.
It would also be ideal to check out other options if you prefer a cPanel dashboard or don't want to switch to a Linux-based platform. Here are some alternatives you could consider:
DreamHost is an independently owned hosting company established in 1996. It uses open-source technology to offer a suitable array of packages ideal for all types of websites. The company even has a competitively priced, WordPress-focused service.
Some of DreamHost's features that genuinely stand out include unlimited visitors with all plans, automatic daily backups, and automatic WordPress updates. You could go for the month-to-month pricing arrangement or commit to a service and enjoy massive savings regardless of your chosen plan.
DreamHost Pricing
DreamHost has two shared plans. The starter plan costs $6.99 monthly or $2.59 per month if you commit to the service for three years.
If you have more than one website, you could opt for the Unlimited Plan, which allows you to set up an unlimited number of websites. This option will cost you $11.99 per month or $4.95 monthly under a three-year commitment.
DreamHost also offers VPS Hosting for $10 to $80 monthly, depending on your plan. The Cloud Hosting service costs between $4.50 and $48 per month, while the Dedicated Hosting service goes for $149 or $279 per month for the Standard and Enhanced plans.
Who is DreamHost Best For?
DreamHost has a stronger focus on the individual needs of different users. It can accommodate the needs of both small and large websites and still provide good performance speed and reliable uptime.
Generally, the web host is best for beginners and tech-savvy bloggers, site developers, and entrepreneurs who want personalized support running their sites.
How Does DreamHost Compare to SiteGround?
DreamHost and SiteGround offer almost similar site speed and load performance.
However, you are likely to save a decent amount of money by hosting on DreamHost, especially if you have a heavyweight website layout, theme, or design.
SiteGround's higher pricing is still justifiable because of the numerous extra features like WordPress optimization plugin, Site Staging Tools, and in-house WordPress caching. Read our full DreamHost review for an in-depth look.
100% uptime guarantee and good basic plan features
Top-tier plans offer a wide range of advanced features
Unlimited bandwidth and data storage
Free WordPress website builder and a 97-day money-back guarantee
No massive difference between month-to-month and yearly pricing
Too many upsells
No traditional cPanel
GreenGeeks is one of the few web hosts that guarantee 99.99% uptime and 100% customer satisfaction. The company is the brainchild of Trey Gardner, who founded it in 2008 after working for eight different web hosting companies.
Some of the most impressive perks of choosing GreenGeek include a solid uptime performance, above-average load speeds, and reliable customer support.
GreenGeek Pricing
GreenGeek offers a range of services that come with tier-based plans. The Shared Hosting service has three tiers — Ecosite Lite, Ecosite Pro, and Ecosite Premium, which cost $9.95, $14.95, and $24.95, respectively, on regular monthly rates.
You can save a substantial amount by making a 12-month, 24-month, or 36-month commitment. For instance, the Ecosite Lite plan that goes for $ 9.95 on regular monthly rates will only cost you $2.95 per month under a three-year commitment.
GreenGeek also offers VPS Hosting for $39.95 to $109.95 per month, depending on the plan you choose. The pricing for WordPress Hosting services is similar to the Shared Hosting plans while managed wooCommerce hosting costs between $2.95 and $10.95 per month.
Who Is GreenGeek Best For?
GreenGeek is your best bet if you are serious about saving the planet and want reliable web hosting services at affordable rates. The company stands out for upholding a no-waste mindset. It is a 300% green platform that generates three times more renewable energy through the Bonneville Environmental Foundation for every amperage it pulls from the grid.
How Does GreenGeek Compare to SiteGround?
GreenGeeks and SiteGround score high in terms of their uptime guarantees and site loading speed. They also provide solid customer support and a 30-day money-back guarantee.
However, GreenGeeks offers more economical solutions if you want to create multiple websites.
Some of the enticing bonus features offered by GreenGeek include a free domain name and free search engine optimization (SEO) and marketing tools.
Additionally, you get unlimited web space and data transfer. On the other hand, SiteGround is your best bet if you need a reliable managed web hosting solution for WordPress.
Environmentally friendly web-hosting option
Reliable and secure server infrastructure
Built-in website builder plus automatic data backups
Latest technology for faster server load times
Free domain name and site migration
100% customer satisfaction plus 30-day money-back guarantee
No refunds for account setups and domains
Somewhat confusing price points based on the commitment terms you choose
Flywheel is an excellent alternative to SiteGround if you are looking for a reliable managed WordPress host. Like SiteGround, the company offers reliable performance and a decent range of premium features at competitive prices.
Some of the top performance features include Google Cloud hosting infrastructure, In-built server-level caching, and Nginx server for enhanced scalability.
Flywheel also provides security features like Free SSL certificates, free malware removal, and WAF for solid protection from threats and DDoS attacks. Users also commend the well-designed custom dashboard that allows one-click feature installs.
Flywheel Pricing
Flywheel has a pretty straightforward pricing structure free of promo rules and higher renewal rates. Users can pay month-by-month for their plans or commit for one year to get two months free.
Apart from the tier-based plan, users can go for add-ons to personalize the service and ensure it matches their needs. Flywheel also offers an agency-focused plan ideal for web developers.
The four-tier plan includes the Tiny, Starter, Freelance, and Agency packages that go for $15, $30, $115, and $290.
If you are a web developer, you can opt for the uniquely priced Freelance package for $135 per month. Freewheel also offers a package for agencies at $330 per month.
Who is Flywheel Best For?
If you want a premium managed WordPress host, Flywheel is your best bet. It offers premium services and delivers a good blend of ease of use, performance, and features. This sweetens the deal and is quite convenient, especially for web developers working as freelancers or agencies.
How Does Flywheel Compare to SiteGround?
Both Flywheel and SiteGround are popular web hosts known for their quality hosting products. However, Flywheel is your best option if you want premium performance and support from your web host and are willing to pay a premium fee.
On the other hand, SiteGround is a better or more economical option if you want to host multiple sites. You need to set your goals straight before choosing between the two companies.
Reliable overall performance and SSL certificates included with each plan
Well-designed custom dashboard with plenty of features
Dependable customer support, including 24/7 live chat support
Superb deals for web developers (both freelancers and agencies)
Automatic WordPress updates and automatic daily backups plus an option to do manual backups
Compared to SiteGround, the plans are more expensive
Limited Freebies
No email hosting service
Frequently Asked Questions (FAQs) for SiteGround Review
If you are still unsure whether SiteGround is the ideal web host for you, check out these questions commonly asked by prospective users.
Final Thoughts on SiteGround Review
SiteGround offers multiple tier-based service plans making it easy for anyone with a website to find a suitable package. Their uptime guarantee with each plan further sweetens the deal, assuring bloggers, small businesses, and large ecommerce stores of no significant downtime. Also, users enjoy good site speed and a range of complementary security features.
So, is this web host right for you? From our SiteGround review, we hope you can confidently draw your conclusion. You only need to remember that the web host is a Linux-based platform with no free domains. Also, it has slightly higher service renewal rates.