Hosting more than 8 million domains, HostGator is one of the oldest and most popular web hosting service providers out there. It primarily offers different types of hosting but has also added a website builder and domain registration to its services. If you've come across one of HostGator's cheeky ads and are wondering whether it's a suitable option for you, here's all you need to know.
Our Verdict
With shared hosting plans starting from as low as $2.75 per month, HostGator offers affordable hosting services with some quality features. These include unmetered bandwidth and disk space, one-click WordPress installation, a 99.9% uptime guarantee, and 24/7 live chat support.
HostGator is a reliable web host as it performs well if you're getting high traffic. Its plans comprise shared, WordPress, VPS, reseller, and dedicated hosting so there are options for businesses of all types and sizes. When it comes to page load time, HostGator sits at 660 ms which isn't the fastest but isn't bad either.
Solid uptime
24/7 support
Unmetered storage and bandwidth
Higher renewal prices
Relatively slower site speeds
Aggressive upselling
HostGator at a Glance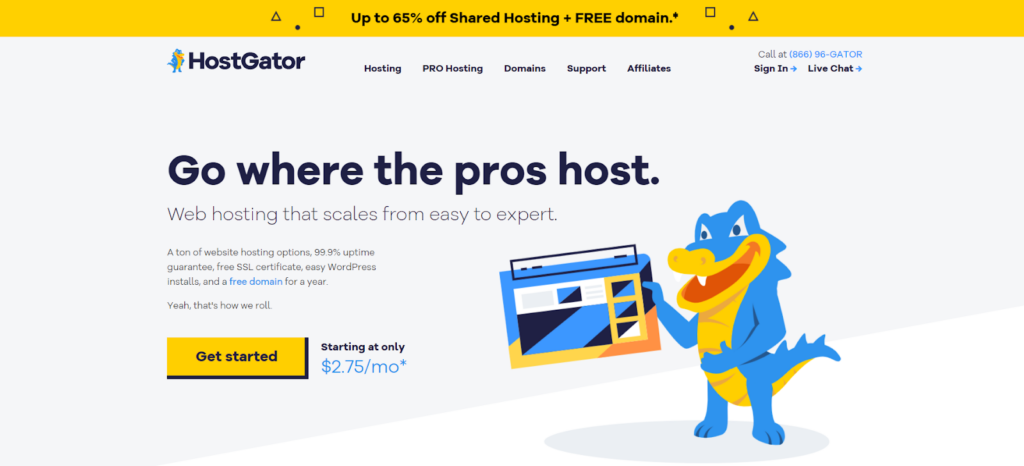 A jack of all trades is a master of none. HostGator seems to do reasonably well in all aspects from uptime and site speed to pricing and customer support. However, it doesn't stand out from the crowd for any particular feature.
HostGator has been in the web hosting game since 2002 and has developed a reputation for being a reliable service provider. It has some of the best shared hosting plans that give you more features than the industry standard and at an affordable price.
You get a free domain name, SSL certificate, professional email, $150 and $100 worth of Google Ads, and Microsoft Advertising credit with the cheapest HostGator plan. Although HostGator's plans look low-cost, they're only affordable if you're in it for the long haul.
The attractive monthly prices you see on their site apply if you commit for three years. If the lowest tier (Hatchling plan) costs $2.75 per month in the 36-month plan, the price hikes up to $10.95 for the 6-month plan.
Who HostGator is Best For
HostGator has hosting plans for all types of websites. It also has a website builder package that gives users an all-in-one solution to create ecommerce sites. With its data centers located in Utah and Texas, HostGator is best if you want to attract primarily US traffic to your site.
That said, HostGator is a good choice if you're willing to make a long-term commitment i.e. three years. You can always check if it works for you risk-free as it offers a 45-day money-back guarantee for its shared, reseller, and VPS hosting plans.

Pricing – HostGator Review
Although HostGator offers shared, VPS, reseller, and dedicated hosting, we're going to focus on the most widely-used shared hosting. This comes in three plans: Hatchling, Baby, and Business.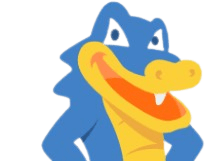 Plans
Hatchling Plan
Baby Plan
Business Plan
Price (Total initial payment for 36-months)









$150 Google Ads spend match credit



$100 Microsoft Advertising credit



Cloudflare CDN with up to 2.5x faster page load times






FREE Positive SSL upgrade



Note that the quoted prices apply if you pay for three years upfront. They increase significantly if you pay for a shorter period.
The Hatchling plan is an amazing choice if you're new to website development and want to create one site only. But if you want web hosting for ecommerce, the Business plan is a much better option.
HostGator also offers VPS and dedicated hosting. Check out the pricing plans for other hosting types on its website if you're interested.
HostGator Features
Let's take an in-depth look at HostGator's features and how they match up to some of the best web hosting sites out there. As we mentioned above, HostGator is the jack of all trades so you'll see it doing reasonably well in all departments but no stand-out performances.

HostGator Review of Performance – Loading Time and Uptime
Your website's loading time plays an important role in your rankings and user experience. Expert webmasters prefer web hosts that offer optimal page loading speeds to maximize site performance.
The average page loading time for sites hosted by HostGator is 660 ms. This is not as fast as Bluehost or A2 Hosting, but it's definitely not a bad speed. The Business plan comes with Cloudflare CDN with up to 2.5x faster page loading times.
When it comes to uptime, HostGator upholds a 99.9% uptime guarantee. The guarantee says if your site experiences an uptime of less than that, you may receive a month of credit on your hosting package. We can conclude that the web host maintains pretty solid uptime with a 99.98% average uptime over the last four years.
HostGator Server Network
HostGator has two data centers in Provo, Utah and Houston, Texas. While there are no servers located outside the US, this web hosting service is a good choice if you're targeting an American audience.
The data centers are equipped with modern infrastructure that includes strong cybersecurity as well as physical security, advanced cooling systems, and backup power. HostGator uses powerful servers that users can rely on. The servers maintain their performance even if the traffic spikes to 50 users using a site simultaneously.
Unmetered Disk Space and Bandwidth
Note that unmetered doesn't mean unlimited. You get unmetered disk space and bandwidth with all HostGator plans, but it just means that it doesn't track how much data you upload or bandwidth you use.
While this sounds like unlimited disk space and bandwidth, HostGator doesn't forget to mention it 'requires all customers to be fully compliant with their Terms of Service.' It says customers using more than 25% of their system resources for more than 90 seconds would be violating their ToS. Such users are often sent an email requesting them to reduce usage.
Site Security
HostGator offers basic website security on the Hatchling and Baby plans. You get a free SSL certificate with all plans, so that's something to start with. There's also a server-level firewall, but that's about it as far as the basic plans are concerned. If you want advanced security like a positive SSL upgrade, SiteLock, or automatic backups, you'd have to lighten your wallet.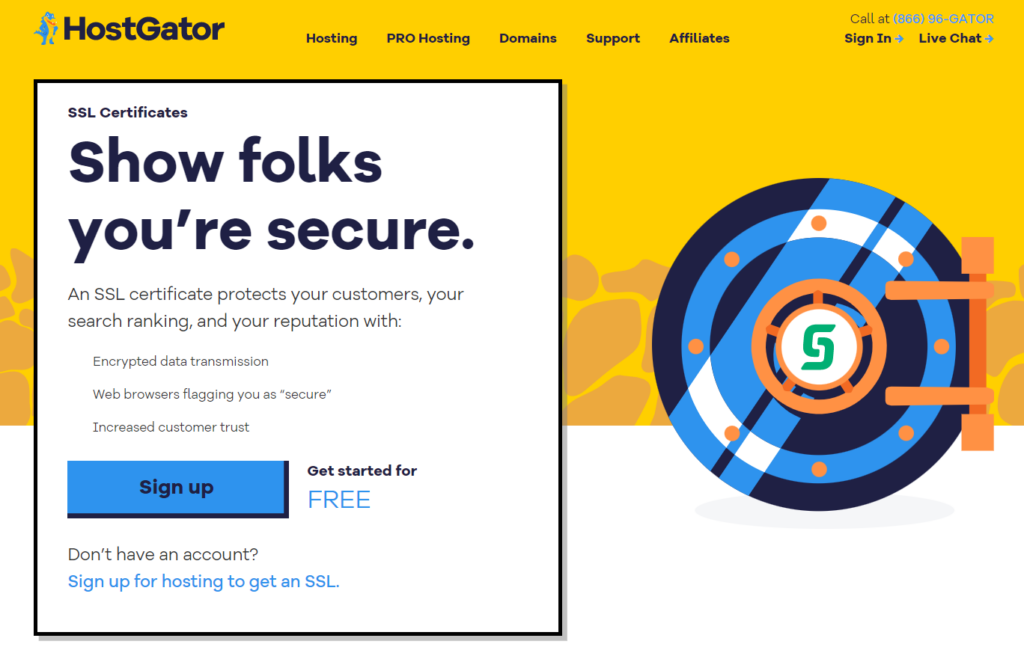 Positive SSL is set to cost you $39.99 a year, but it comes free with the Business plan. The SiteLock feature, starting at $5.99 per month, keeps your site safe from malware and other forms of cybercrime. You can get automatic backups starting at $2.75 per month with CodeGuard.
Ease of Use
If you're a beginner, HostGator is a good choice for you as it offers a resourceful knowledge base you can use to figure stuff out. You get access to a lot of tutorials and walkthroughs, plus live chat support is always available to help you out.

Features like one-click WordPress installation make it easy to set your site up with ease. But not just WordPress, it's as easy to set up other platforms like Magento, Joomla, Drupal, and phpBB.
The HostGator website comes with an intuitive interface. It's easy to navigate between different pages and find what you're looking for. When it comes to site management, HostGator uses the cPanel which is very simple and functional, but has a few snags.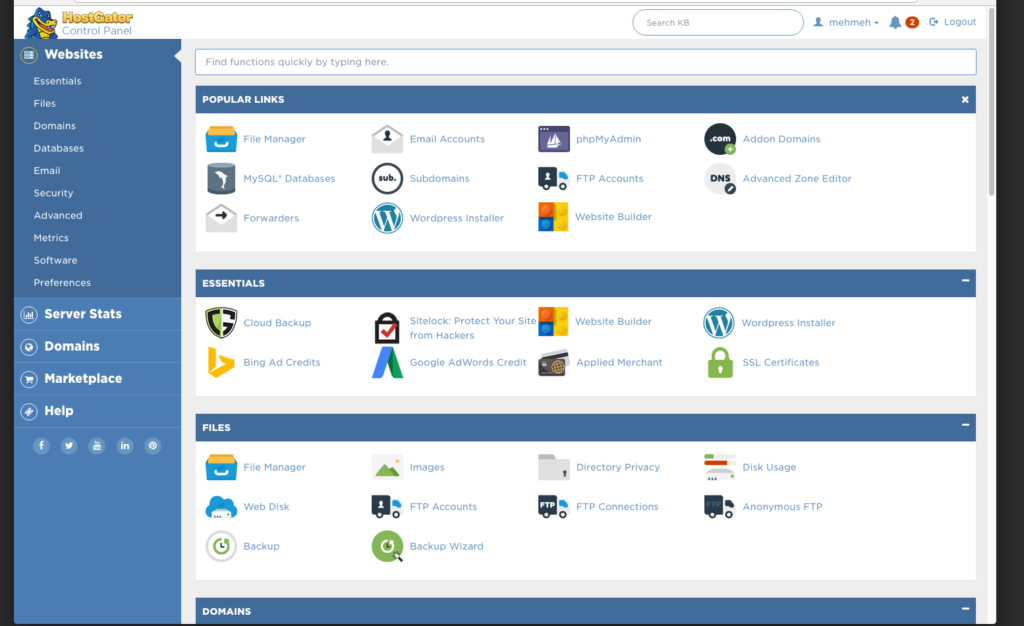 HostGator Customer Support
Apart from 24/7 live chat, phone, and ticket-based email support, HostGator has a robust knowledge base full of helpful articles and video tutorials. Most customers are happy with its customer service as it has quick response times and the support agents almost always have the answers you're looking for.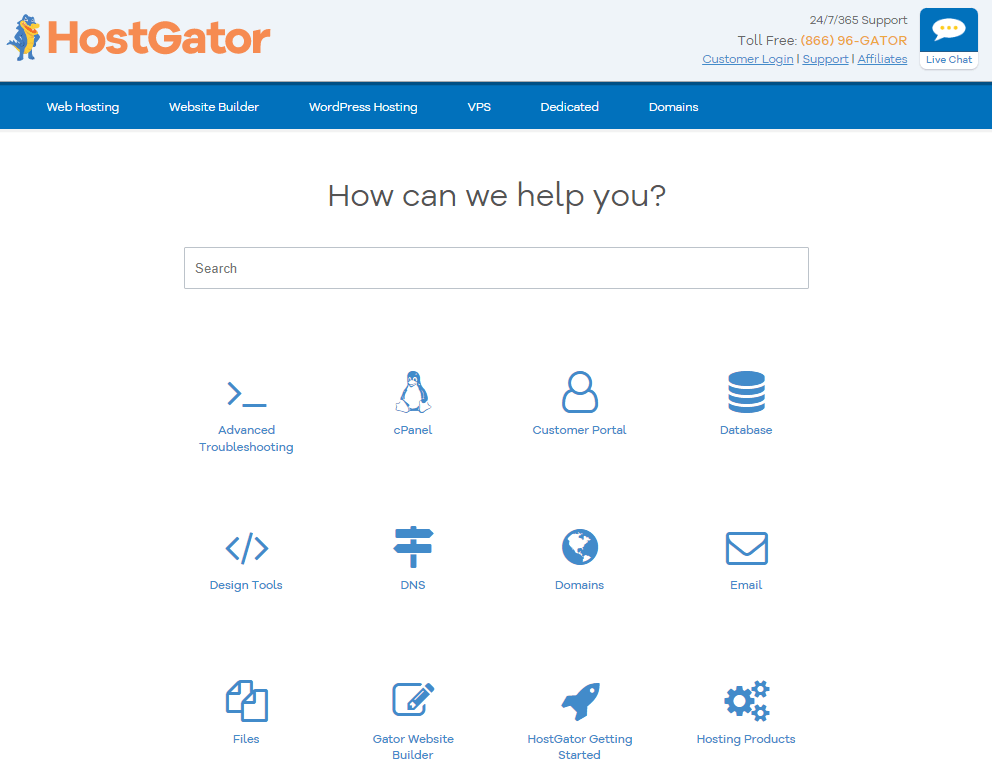 Since HostGator's customer service is outsourced, we found some customer reviews expressing discontentment with the help they received. Not all support agents are fully invested in solving customers' problems and not all of them have fluent English skills. But this is rare and can be disregarded. Overall, HostGator does a good job in this department.
Alternatives to HostGator
HostGator is good, but it's not the best web hosting company. Can you find a better set of features at an even more affordable price tag? You very well can if you look in the right place. You could even go for free web hosting services if they meet your requirements.
Here are some of the best alternatives to HostGator, how they compare to it, their pros and cons, and pricing:
Just like HostGator, Bluehost is one of the most popular hosting providers. It offers premium quality features at affordable prices making it a worthwhile choice. With shared hosting plans starting at $2.95 per month, Bluehost offers almost the same feature set as HostGator plus free CDN and its website builder in the most basic package.
Bluehost is best for hosting WordPress websites. What makes it a better option than HostGator is that its per month cost is the same if you buy a one year plan. So while HostGator offers its basic plan for $2.75 if you buy a 3-year plan, you can get a similar deal from Bluehost without having to commit for that long.
24/7 customer support
Reliable uptime
Best for WordPress & WooCommerce
Additional costs
Higher renewal prices
Servers are located in Utah, US only
We've ranked Hostinger the best hosting service as it delivers the most value for your money. Starting at $1.99 per month, it has one of the cheapest hosting plans in the market, but that doesn't mean it lacks features.
Hostinger gives you ultra-fast page load speeds with an average page loading time of 143 ms. This is truly remarkable given the low price. It also boasts a reliable 99.99% uptime. The most basic includes free SSL, Titan email, and 30GB SSD storage. Read our Hostinger review for an in-depth look at its services.
Fast page load times
Very affordable
Easy to use
No phone support with basic plan
Slows down in high traffic
Doesn't use industry standard cPanel
As the name suggests, WP Engine is specifically designed to host WordPress websites. Its user-friendly interface and handy workflow tools allow you to set up stellar websites even if you're a complete beginner.
It's not as affordable as HostGator. The most basic plan will cost you $20 per month, and the price only goes up if you go for more advanced plans for ecommerce or any other large website. Check out our WP Engine review to find more about it.
Intuitive drag-and-drop interface
60-day money-back guarantee
24/7 customer service
Expensive
No free domain
Caters to WordPress sites only
Frequently Asked Questions (FAQs) for HostGator Review
Bottom Line on HostGator Review
HostGator hosts over 8 million domains, and for good reason. It has all the features of a quality web host and offers them at a very low cost. With solid site speeds and uptime, HostGator is known for its reliability. Plus, it has plans for all types of websites and businesses. If you're looking for a simple and trustworthy hosting for your site, jack of all trades, HostGator is not a bad choice at all.