GoDaddy is a web hosting platform that goes above and beyond with a slew of additional tools. From website creation to online payments and social media connections, GoDaddy seems to have it all. In this GoDaddy review, we'll go over the good, bad, and everything in between.
Our Verdict
GoDaddy's web hosting service has caught the eye of many entrepreneurs and is currently the world's largest domain registrar. Business owners across the globe are using GoDaddy to construct online companies and start selling. Just about anyone can take advantage of its simple interface and friendly website builder with no previous experience required.
Built-in tools for online selling
Domain included in a paid subscription
Comes with an easy-to-use website builder
Plans are on the expensive side
Prices increase significantly when you renew
Software offers a lot of upsells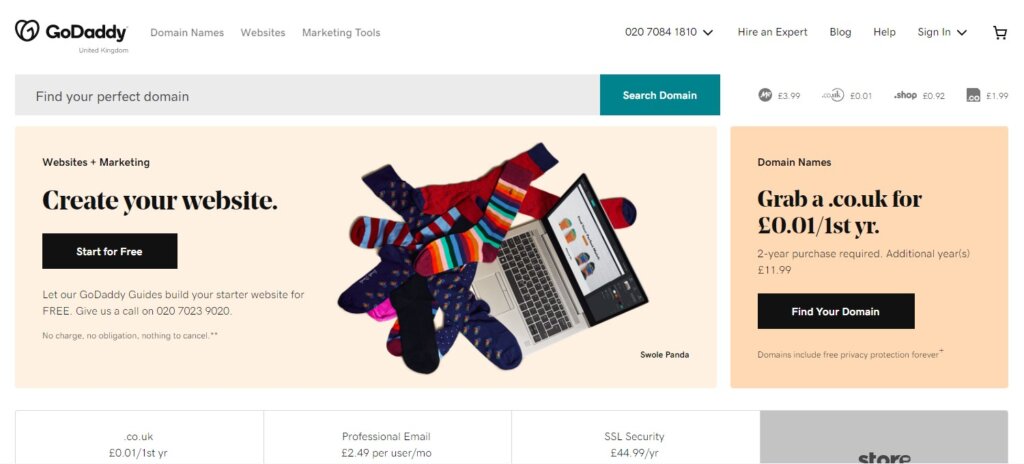 GoDaddy knows how to do web hosting well, with a ton of features to kick your online business off in the right direction. Each plan comes with an SSL certificate to keep your clients safe, and all but the free plan throw in a custom domain for the first year.
It shines in the payment department, allowing customers to pay with credit card, debit card, or link up through PayPal. If you have a physical store, GoDaddy's payment systems extend there with smart terminals. Higher-tier paid plans allow you to sell on Amazon, eBay, Etsy, or Google.
Pricing for each tier is a bit on the expensive side to begin with, and these introductory rates disappear when it's time to renew. Keep in mind you'll have to start paying for your domain at this point also. In the midst of fee confusion, GoDaddy seems quick to try to upsell add-on features you may not need.
The platform really stands out with its website building software, making it easy to create the site of your dreams. Drag and drop systems simplify the process for anyone, with no programming skills required. You'll also receive a professional email address for the first year to make your business look that much more legit.
Who GoDaddy is Best For
The web hosting service has a plan for everyone, from new entrepreneurs to veterans of the business world. It's easy to choose the one you need and upgrade as you need more functionality. GoDaddy also offers smart terminals and card readers for brick and mortar businesses looking to sync seamlessly with an online store.
Pricing
GoDaddy has five different pricing models for its plans, each adding a bit more sustenance as the price point goes up. It is possible to sign up for a free version with limited functionality, but this trial lasts only 30 days. Beyond monthly fees for paid plans, you'll pay online or in-person credit/debit card rates and costs for in-person terminals if necessary.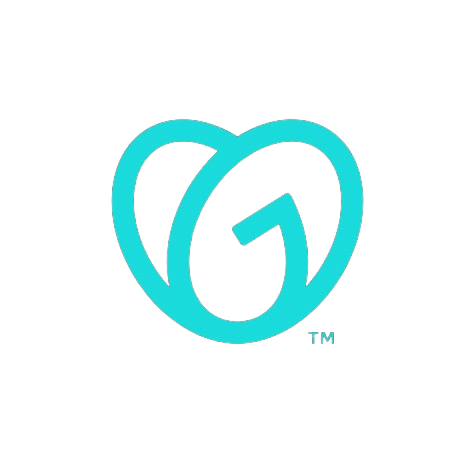 Plans
Free
Basic
Premium
Commerce
Commerce Plus























Post to Social Media (Facebook, Instagram, Twitter)





Five different plans can make signing up feel like an overwhelming process, but each tier has unique features you can use to gauge your purchase. Each plan comes with GoDaddy's stellar website builder, but you'll have to shell out some cash to get a custom domain.
Free, Basic, and Premium plans work best for businesses offering a service, as these platforms allow minimal online payment options. You can make use of GoDaddy's marketing emails at any price point, although the number you can send goes up significantly once you hit premium.
The Commerce Plans are all about online sales. You can list a large number of products on your online store and extend these listings to popular eCommerce sites like Amazon and Etsy. GoDaddy makes it possible to take advantage of marketing and sales opportunities on social media as well.
GoDaddy Review: Features
GoDaddy has a long list of features contained in its web hosting plans. Let's look at what the web hosting service does well with some of its top tools.
Website Builder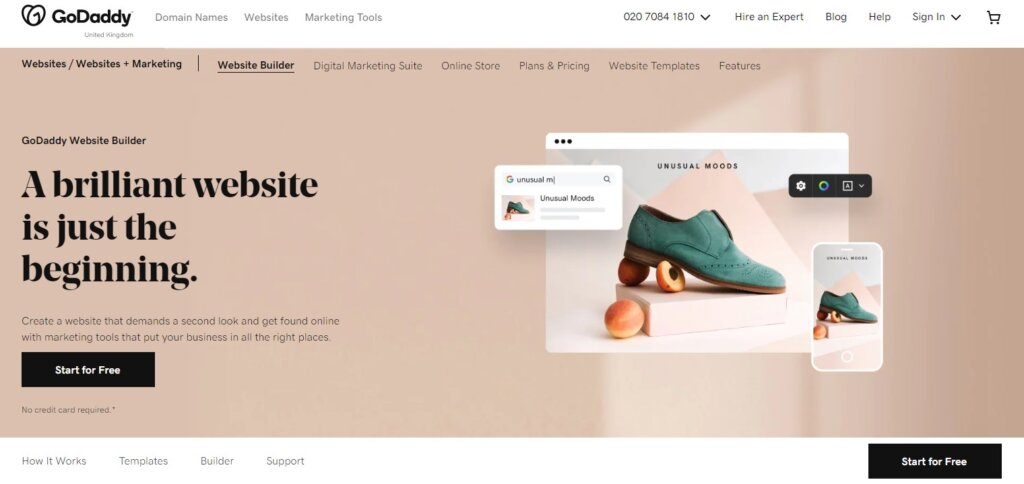 One of GoDaddy's premiere features is a comprehensive website builder that starts with one of a long list of available templates. From there, you can add your products, services, and business information to personalize it just the way you like. Thanks to a drag and drop approach, it doesn't take much computer know-how to set up the perfect site. Linking between pages and adding in sales information is a breeze.
Bandwidth and Disk Storage
In our GoDaddy review, we found it doesn't overtly share information about disk storage or bandwidth on its pricing page. However, there's no limit to the amount of data you can upload when building your site. All GoDaddy plans offer unmetered bandwidth, so all your clients can shop without fear of your site reaching a monthly limit.
Domains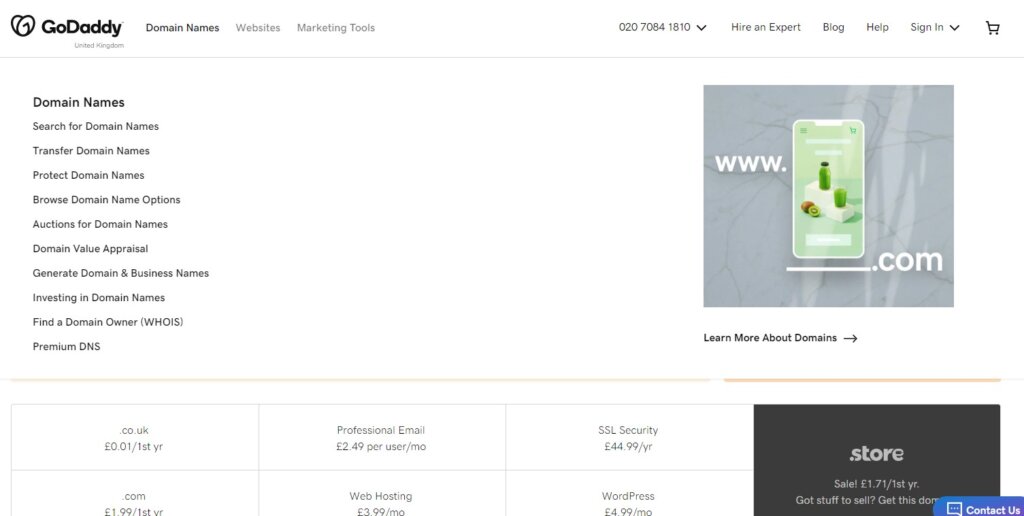 All paid plans include a year of domain service at no extra charge. After that year is up, you'll have to pay an average of $20 to keep the address. Through this single domain, you can build up to 100 subdomains to fully flesh out your site.
Analytics
GoDaddy has a dashboard you can use to track all your important metrics in one convenient place. From this command center, it's possible to view website traffic and engagement from social media. You can also see orders and sales to discover what's selling and what isn't.
Payment Options
An online business isn't much without payment options. Even with the limited free plan, you can send payment links directly to your customers for payment on goods and services. You'll need to upgrade your service to accept credit or debit card purchases through your site. GoDaddy does subject you to credit card rates for these purchases.
If you have a physical store, you can connect payments with your online business through GoDaddy smart terminals and card readers. These devices handle multiple payment types and have the capability to print receipts.
Marketplaces
Certain tiers allow your online business to sync up with popular social selling marketplaces like Amazon, Google, Facebook, and Etsy. GoDaddy communicates across all these platforms to ensure inventory numbers remain accurate from location to location.
Marketing Tools
You can use GoDaddy's built-in marketing campaigns to reach current and potential customers with sales, new products, and the like. While you're limited to 100 emails with the Basic plan, more expensive tiers allow up to 100,000 each month. You can generate more business credibility with GoDaddy's professional email directly tied to your domain name.
Social Media Connections
Because GoDaddy links up with social media applications, you can create and launch social ads straight from the web hosting platform. As you upgrade, you can customize these posts more and add in shoppable links.
Customer Support
GoDaddy uses 24/7 web chat and phone service for customer support inquiries. Wait times can pick up during busy parts of the day, but the team is responsive and informative for the most part.
GoDaddy Review: Fine Print
GoDaddy's fine print isn't quite as hard to discover as other web hosts out there. To make things even easier, we've listed a few pertinent points below.
Refund Policy for GoDaddy
GoDaddy's refund policy differs depending on whether you pay for a monthly or annual membership. Month-to-month members can request a full refund within 48 hours of signing up, where those signing up for annual plans have an entire month to change their minds.
GoDaddy Contact Info
Many companies hide contact information behind forms or multiple layers of web pages, but GoDaddy isn't one of them. If you visit GoDaddy's "Contact Us" page, you can start a web chat or call 1-480-366-3550 for help.
Alternatives to GoDaddy
GoDaddy is a popular web hosting service with all-in-one functionality, but it may not appeal to everyone. There are some GoDaddy competitors that may work better for your business needs.
Bluehost looks to mirror GoDaddy with its new website builder, featuring over 300 templates to choose from. It similarly offers a free year of domain service and no cap on data or bandwidth usage. Bluehost has an impressive built-in gallery you can use to your heart's content if you're short on pictures.
You'll have email marketing at any price point, but you'll need to choose appropriately if you're hoping to generate an online store. Online payments happen through WooCommerce and its plugin.
Web hosting comes in cheaper, starting at only $2.95 per month. Tools for building an online store run $24.95 monthly but lack the reach to social media and online marketplaces that GoDaddy has access to. Read the Bluehost review to learn more about its features and pricing.
Budget-friendly basic plan
Website builder with over 300 templates
Built-in photo gallery
No social media connections
No access to online marketplaces
Online payments only through WooCommerce
HostGator rises to the challenge with its own suite of website building plans. It uses artificial intelligence to build a site for you based on answers to a series of questions you'll receive on sign-up. From there, throw on a logo and a few products, and you'll be on your way. Instead of hours, your site could be up and running in just minutes.
Along with web hosting, you'll receive a free domain name for a year and unmetered bandwidth. The service also includes email marketing campaigns and eCommerce tools to monitor inventory and orders.
Plans start as low as $3.84 per month, but you'll want to upgrade to the Store plan at $9.22 if you're building an online store. If you're not happy with your service in the first 45 days, you'll be able to cancel for a refund of hosting fees – no questions asked. To learn more about its features and pricing, read our HostGator review.
45-day money-back guarantee
Intelligent website builder
Budget-friendly plans
Upcharges for most features
No social media tools
Limited customer service hours
Wix has a free forever web hosting plan for those on the tightest of budgets. Unsurprisingly, there are several limitations regarding storage space, bandwidth, and eCommerce tools. You'll still be able to use Wix's website builder and hundreds of templates to create the website you're looking for.
Its comprehensive design features meld well with any type of business, from eCommerce to restaurants or an online photo gallery. When upgrading to a paid plan, you'll have at least 50GB of storage space to work with alongside unlimited bandwidth and a custom domain. Wix handles all payments securely through its dashboard.
With several plans to choose from, pricing can get a bit tricky. They're not a cheap hosting platform either, with the lowest eCommerce plan starting at $27 per month. If you want to maximize the feature set, monthly fees could total $59.
Easy to scale and upgrade as needed
Over 500 customization options
Drag-and-drop builder
Minimal storage and bandwidth
No custom domains
Wix ads
If you're hunting for a website you can design through programming software, look no further than InfinityFree. The web host supports Perl, PHP, Python, and Ruby on Rails alongside DNS management and mail support. The platform is entirely ad-free, and the only branding customers see will be your own.
InfinityFree's free web hosting provides unlimited bandwidth and 5GB storage space for your data. Should you need email accounts or more space, you'll need to consider switching to paid plans that top out at $6.90 per month.
Because of its open nature, InfinityFree doesn't have any built-in business features for you to use. The sky and your programming skills are the limit when it comes to what you want your site to be.
Unlimited domains and bandwidth
Ad-free
Can import a domain name
Limited server power
No email accounts
Maximum 50,000 daily hits
Frequently Asked Questions (FAQs) for GoDaddy Review
GoDaddy's extensive repertoire can be confusing for some. Here are answers to some of the most commonly asked questions about the service.
Bottom Line on GoDaddy Review
GoDaddy is an excellent foundation for any type of website, from informational to eCommerce. Beginners or otherwise, the web hosting service works for anyone who can stomach the costs.
Its website building tools stand out among the competition with hundreds of templates and a drag and drop system. Add in payment options and ways to connect to customers through email and social media and you have a well-rounded platform for your business to thrive.