Registering a domain name is one of the first few important steps in getting your website up and running. It won't take you more than a few minutes to register a domain name, but it does need some thought. Coming up with a suitable domain and registering it correctly ensures you get off on the right foot in building your online presence.
How to Register a Domain Name In 4 Steps
Domain name registration won't take you more than a few minutes, even if you're a beginner. That said, choosing a unique domain name and making sure it's available is the hard part. If you go with a quality domain registrar, it'll facilitate you through the next steps until you're ready to get started with web design. Here's a step-by-step guide to registering your domain name in just a few minutes.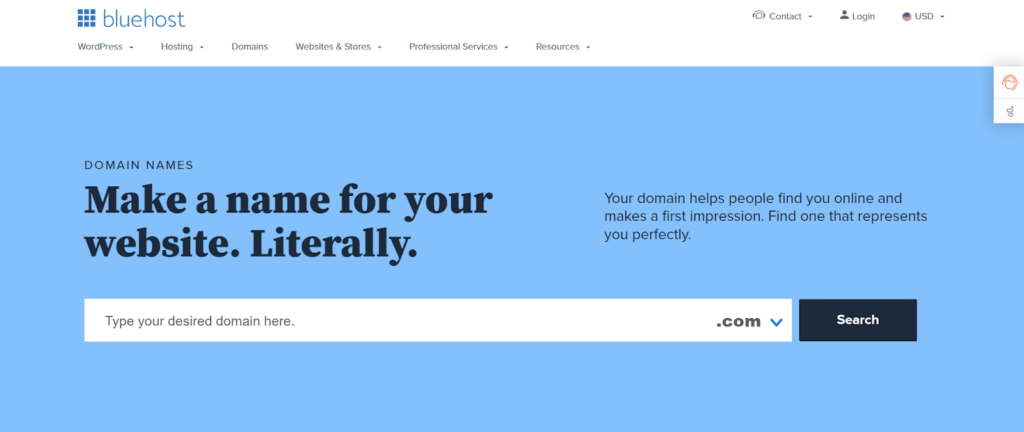 Step 1: Find a Suitable Domain Name Registrar
You can't register a domain name on your own. The ICANN (Internet Corporation for Assigned Names and Numbers) controls domain registration on the world wide web and has accredited private companies as domain registrars. These companies reserve, register and manage the domain on your behalf.
Finding a suitable registration service takes precedence over choosing a domain name because the right registrar will facilitate the domain finding process. You'll find hundreds of domain registrars out there, but you're better off sticking with the most popular ones. We've shortlisted three of the best domain registering services below:
1. Bluehost
Bluehost is a leading domain registrar that offers a vast range of services including web hosting, website building, and professional marketing services. You can buy a .com domain from Bluehost starting from $12.99/year. You might as well get a free domain with its shared hosting or website builder packages.
2. HostGator
HostGator is a web hosting service that also offers domain registration. You can register a .com domain with it for as low as $12.95/year. You can also transfer a domain you already own to HostGator. Like all quality registrars, HostGator offers a free domain if you buy one of its hosting plans.
3. Namecheap
Namecheap is one of the most popular and cheapest domain registration services out there. You can get a .com domain with this registrar for as low as $0.98. Namecheap also offers the most affordable hosting plans that come with a free domain name. Go for this one if you're working on a tight budget and don't want to compromise on quality.
Step 2: Choose a Domain Name
If you've already finalized your brand's name, your domain name should ideally be the same. But this is only possible if that domain name is available. In case it's already taken, you'd have to work around a similar domain with a few extra characters or a different extension.
But if you're starting a business and still deciding on a name, it's better to take both processes together. Your domain name should be short and sweet, easily memorable, and should be relevant to your business and what you represent.
Finding the perfect domain on the first search is rare. Consider yourself lucky if you do. If the domain you're looking for is already registered by another individual or company, you'd find yourself on a result page like this: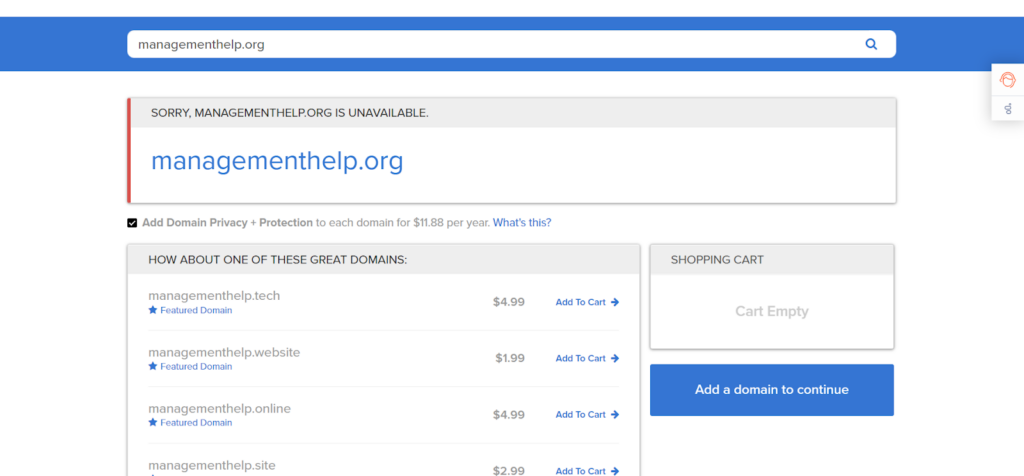 In this case, the registration service offers you similar domains with different extensions. Note that if you see a domain is unavailable on one domain name registration site, you won't be able to get it on another. All registrars use the same database from ICANN.
Step 3: Complete Domain Registration
If you've found an available domain, proceed to purchase it. This is one of the easier steps and you're only required to enter your credentials and make a payment.
The registration service asks you for your billing information and payment information. Click on the purchase button and voila, you've registered a domain name.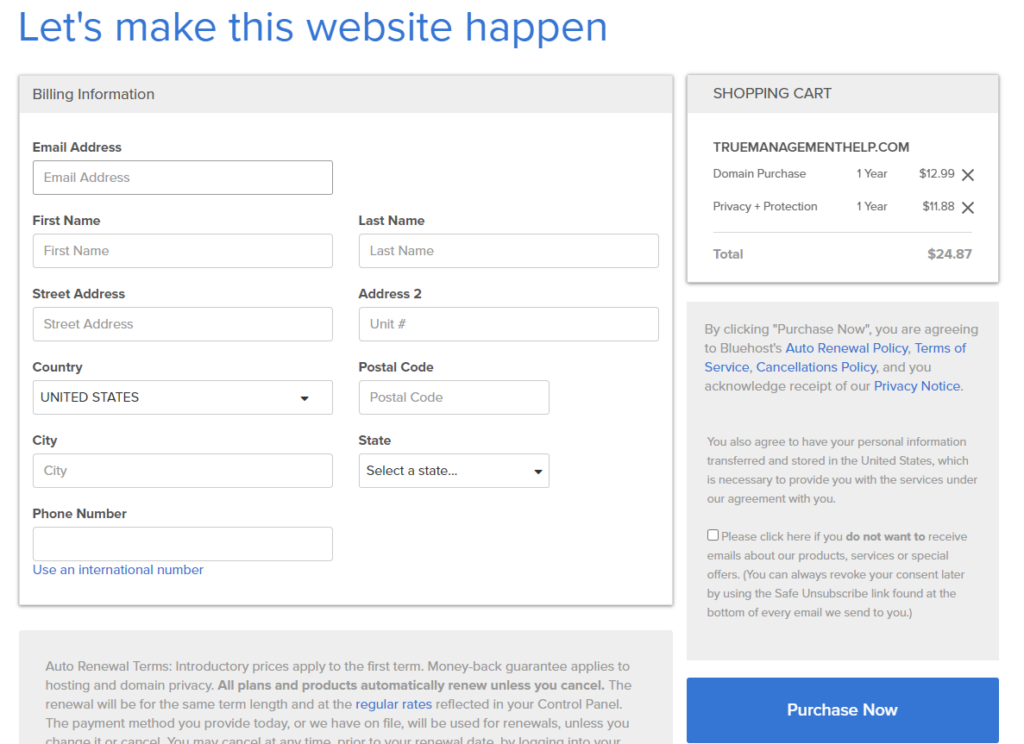 You need to remember that a domain is not a one-time purchase. It's more like you've rented that domain name for a year and will have to pay a recurring fee every subsequent year. At most, you can buy a domain name for 10 years by prepaying at once.
Step 4: Verify Domain Ownership
You can't get your website live on your domain immediately after buying it. It can take some time for the domain registrar to update the official domain registry before you can work on it. This may take a few minutes or up to seven days. The average waiting period is about two days.
Finally, you'll receive a registration confirmation email at your email address when the process is complete. Depending on your registration service, you may or may not receive a verification link inside the email. Click on the link to verify your contact details and complete domain registration.
Which Domain Registrar is Best?
Having trouble deciding which domain name registrar to go with? In this section, we've summarized the best features, pros and cons, and pricing plans for the top registration services to make your decision easier.
Bluehost isn't the cheapest option but if you're looking for the most reliable domain registrar and web host on the market, this is it. Apart from domain registration, Bluehost offers a vast range of services which makes it a one-stop solution to build your website from scratch.
Its current popular web hosting plan gives you a free domain for one year, and a free SSL certificate at just $2.95/month. However, the plan will renew at higher regular rates. Read the Bluehost review to learn more.
Low starting prices
Reliable uptime
Easy domain management
Higher renewal prices
Not the cheapest domain registrar
Constantly tries to upsell services
Pricing
If you want to purchase a domain only, Bluehost lets you register a .com domain at $12.99 for the first year. Expect the renewal rate to be higher. Of course, you can get a cheaper domain too but that will have a different extension. Here are the starting prices for different domain extensions offered by Bluehost.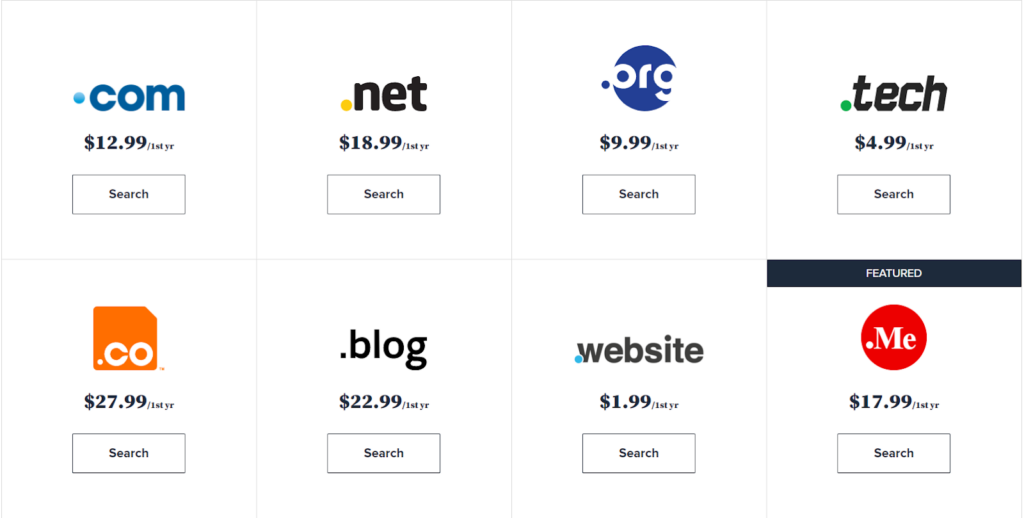 Hosting over 10 million domains, HostGator is one of the most popular names in the industry. It was originally a hosting service that gradually expanded its services to domain name registration and website building.
HostGator's all-in-one package includes hosting, a free domain, an SSL certificate, and easy WordPress installation starting at $2.75/month. Read our full HostGator review for an in-depth look.
Transparent pricing
99.99% uptime guarantee
Responsive customer support
Plans renew at higher rates
SEO tools, backups cost extra
Pricing
The starting price of registering a .com domain with HostGator is $12.95/year. This'll renew at $18.99 for subsequent years. These prices are slightly lower than those offered by Bluehost. Here are the prices for some domain name extensions from HostGator.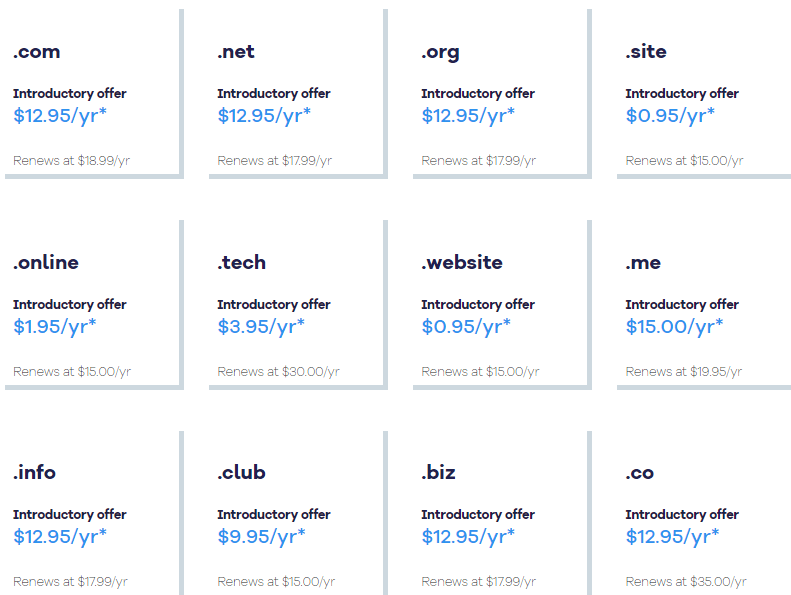 As the name suggests, Namecheap is essentially a domain name registrar and not just any registrar. It offers domain names for the lowest prices out there. Not just that, Namecheap also offers quality web hosting services now. Its web hosting plans are quite affordable too.
Namecheap's shared hosting plan offers a free domain, hosting, 20GB SSD storage, and free CDN. All this comes at a starting price of $1.88/month. You pay $21.88 for the first year, but this plan renews at $42.88. Read our complete Namecheap review to learn more about its features.
Most affordable domain registration
Transparent pricing
Quality hosting
Inconsistent customer support
Higher renewal rates
Charges domain transfer fees
Pricing
As mentioned above, NameCheap offers domain names at one of the lowest prices. You can get a .com domain name for as low as $0.98 with current promotions. However, the usual prices are higher. Here are the current domain registration prices from NameCheap.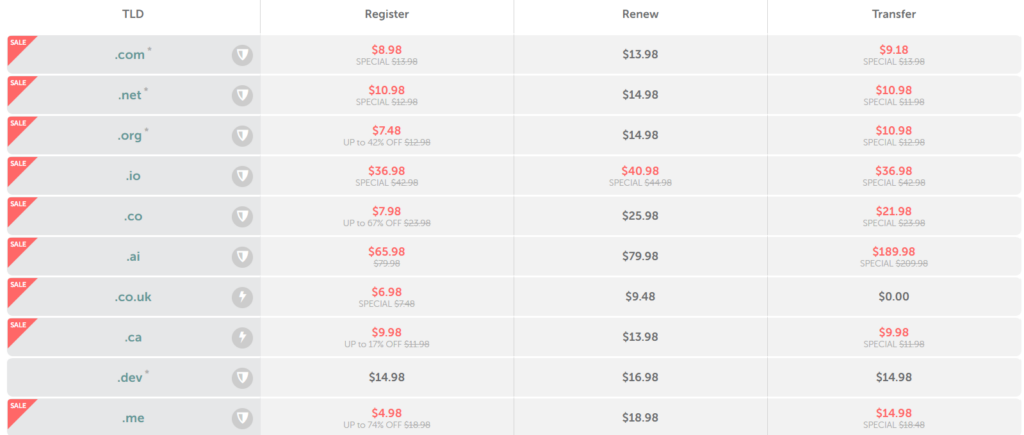 How to Choose the Perfect Domain Name
Your domain name shapes your brand identity. A well-chosen domain name serves you well in every department from branding to developing your site's SEO strategy. This is why we recommend putting time and thought into choosing the perfect domain. Here's a short guide just for you.
Your website domain should represent your brand: If your brand's name is Apple, then your domain should ideally be apple.com. We understand that this is not always possible, we'll come to that later.
Choose a short domain name: The shorter it is, the better. Longer names are difficult to remember and don't look as catchy. Aim for something in the range of six to 14 characters.
Include a keyword you want to target: Your domain identity contributes to your site's SEO. If you're starting an online store that sells tires, include the keyword "tires" in your domain to rank better.
.com is king: If you can find an ideal .com domain, it should be your first choice. This is simply because .com domains are the most popular. However, there are no technical or SEO reasons why you shouldn't go with a different extension.
Avoid numbers and special characters: Try to stay away from numbers and any other special characters in your domain. It's better to stick with letters only.
What to Do if Your Desired Domain Name Is Unavailable?
Fret not. There's always a workaround. If you are willing to change the domain a little bit, try the following:
Add a suffix: If the domain newyork.com is unavailable, try adding a suffix and searching for names like newyorkcity.com or newyorklove.com. Adding a short word and relevant at the end of your desired name can help.
Add a prefix: Similarly, you can try adding a word before the domain name. For example, if computers.com is unavailable, try techcomputers.com or thecomputers.com.
Try a different extension: This is a brilliant solution to keep the same words but with a different top-level domain. This also adds novelty and uniqueness to your website's identity. For instance, try switching tech.com with tech.io, tech.ai, or tech.org.
But if you're adamant about getting your hands on an unavailable domain, try searching for it on your browser's search bar. If it's up for sale, you will find yourself on a page that mentions the domain is for sale and gives you the owner's details so you can negotiate a price.
If a domain has an active website on it, it's unlikely the owner will sell it anytime soon. But you can try your luck by reaching out to them and proposing a deal.
When Should I Register My Domain Name?
The answer seems obvious: register a domain when you want to build a website. But it's not that simple. The thing is, good domain names are purchased quickly and you need to act swiftly in order to secure the perfect domain name for your business.
If you've come up with an excellent domain name for your website and you're not ready to build a site yet, you should still purchase it right away. You never know when someone else will buy it. Registration services like Namecheap are best for reserving your domain name at the lowest price.
Even if you're unsure about whether you'll be able to build a website in the future, you can still buy a good domain as an investment. You can always sell it at a higher price to someone who needs it.
Frequently Asked Questions (FAQs) for How to Register a Domain Name
If you have more questions about domain registration, here are some of the most common questions people ask about it and the answers to them.
Bottom Line on How to Register a Domain Name
Registering your domain is an essential but simple step in building a website. All you need to do is choose a suitable domain name, find a registrar and register it within a few minutes! Coming with the ideal name remains to be the toughest part where you have to consider multiple factors. You may have to go with an alternative because your first choice will not always be up for grabs.
That said, choosing the right registrar is also crucial. The right registration service can help you get a domain for free along with a free SSL certificate if you buy one of its hosting plans. We've shortlisted Bluehost, HostGator, and Namecheap for the best domain name registration services at a reasonable price.