The process of forming a corporation or LLC (Limited Liability Company) can be complex and time-intensive. Fortunately, an online business formation service like ZenBusiness can make the process easier. In this ZenBusiness review, you'll learn what else it offers beyond easy-to-use LLC services and competitive pricing.
Our Verdict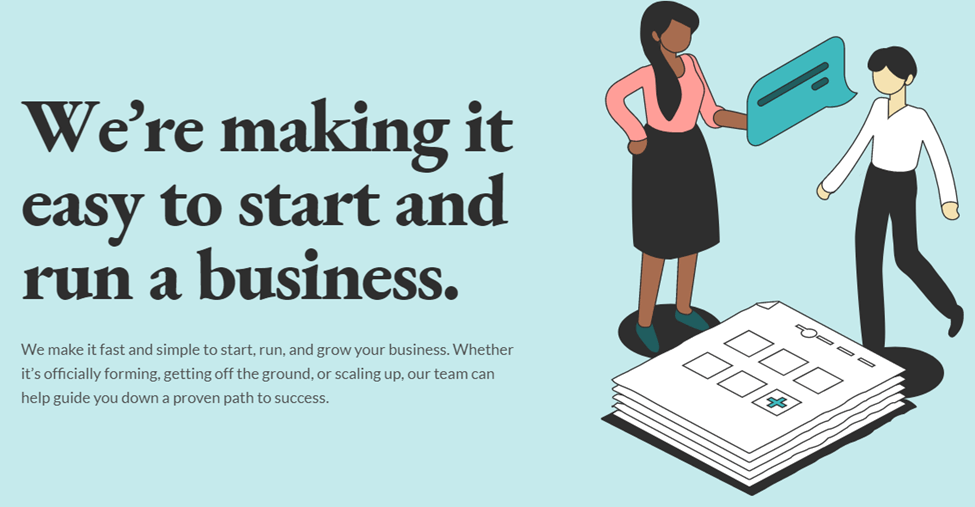 ZenBusiness provides a comprehensive set of business formation services ideal for small business owners who want to quickly and affordably register their businesses without seeking the services of an attorney. While not all of their services are cheap, you get to choose between a-la-carte options and tier-based plans. Compared to its top competitors, it offers the best value for money.
Reputable online LLC service with a commendable customer rating
User-friendly platform plus affordable tier-based plans
All essential services offered in all plans, including the starter plan
Top-quality customer support plus 60-day money-back service guarantee
Registered agent service auto-renews at $99 per year
Some services like web hosting and domain name registration are cheaper elsewhere
ZenBusiness has a transparent pricing model. You don't have to worry about any hidden costs, irrespective of the package you choose from the company's tier-based plans.
The basic $49 starter plan provides the four primary essentials to form a business: entity filing assistance, a registered agent service, an operating agreement, and annual report services. ZenBusiness compares well with other well-established online business formation services like LegalZoom, Swyft Filings, and Incfile, which have been around for longer.
Who Should Use ZenBusiness?
ZenBusiness is ideal for any entrepreneur looking for an easy way to register a company. You will find the platform ideal if you need guidance during the legal filing process but don't have the budget to hire a business attorney.
Pricing
ZenBusiness is a subscription-based service with three pricing tiers. You'll find three unique plans, each with a distinct set of features. The basic ZenBusiness plan caters to the essentials of business formation and function, while the premium plan comes with extras like a worry-free annual tax filing and compliance guarantee.
Multiple add-on services allow you to personalize your plan to suit your business needs. ZenBusiness has no free plan, although it offers one of the most transparent pricing structures with no hidden charges. You don't need to pay a dime more than the figure presented at checkout.
Tier 1-Starter
Tier 2-Pro
Tier 3-Premium



















Employer Identification Number (EIN)


Note: Users must pay for state filing fees separately.
ZenBusiness A-La-Carte
Apart from the tier-based services, ZenBusiness also offers the A-La-Carte package. The plan provides more flexibility, allowing users to build a personalized service package that meets their specific needs. Once you register your account and key in your personal information, ZenBusiness will provide a customized quote based on the level of assistance needed.
The stand-alone registered agent service is available at $99 per year. You could also get a registered agent and compliance service combo at $149. It's also worth mentioning that there are no penalties or fees for canceling your subscription after forming your business.
ZenBusiness Features
ZenBusiness offers a platform rich with features to make business formation fast and straightforward. Apart from receiving real-time virtual guidance throughout launching your startup, you will also have access to helpful tools within your service package. Moreover, ZenBusiness offers add-ons to ensure the service is in tune with your unique needs.
Here are some of their most notable services:
Entity Filing Services
Entity filing assistance is a standard service offered in all ZenBusiness plans. The company provides fast business entity formation assistance in all 50 states. After setting up your account and providing the needed information, ZenBusiness will handle the complex filing formalities based on the type of business you want and your state laws.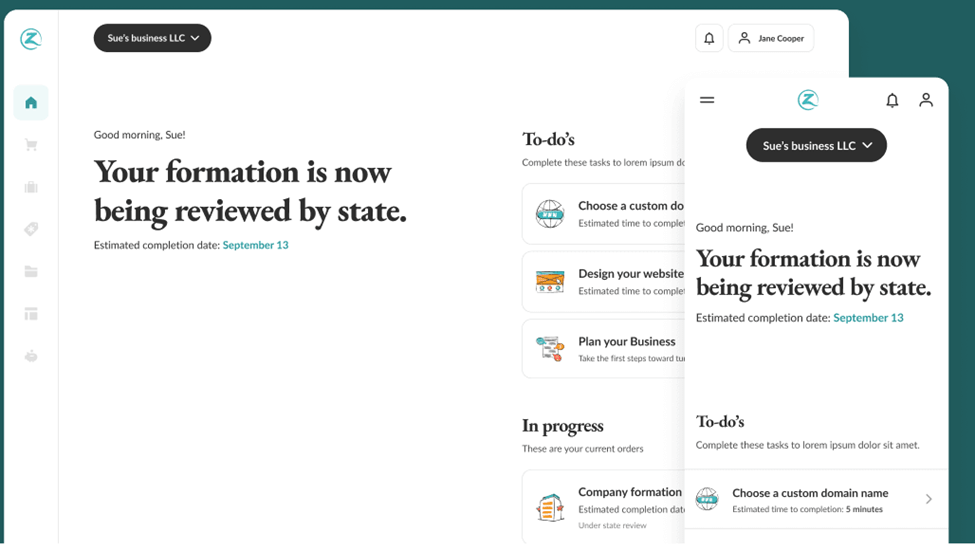 Registered Agent Service
A standard requirement that all companies must meet is that they must have a registered agent. ZenBusiness is a registered agent service and serves as the agent of businesses formed through the platform.
The legal definition of a registered agent is an entity or individual authorized to receive legal documents, notice of lawsuit, tax forms, and official government correspondence on behalf of a business.

Legal Document Templates
Forming a company typically involves creating numerous legal documents. Some of the most common document templates you can obtain from ZenBusiness include an Operating Agreement, a banking resolution, and corporate bylaws template.
Domain Name Registration and Web Hosting
The premium package includes domain name registration and web hosting services. Businesses that opt for the Starter or Pro package can use the website service feature for only $100. ZenBusiness conveniently allows you to register a domain name and set up your business website under one roof.
Registering your domain name will enable you to set up a professional email address. This can be beneficial if you want to use your email address as part of your branding. A professional email address makes it effortless to connect your company's face with your website and the official communication channel with your partners or clients.
Employer Identification Number (EIN)
The Employee Identification Number is also known as the tax ID number. It is a 9-digit number issued by the IRS that allows you to keep your personal assets and finances separate from your business. Irrespective of the business entity you form, the law requires you to obtain an EIN before hiring employees. ZenBusiness will receive the tax number from the IRS on your behalf.
Worry-Free Compliance
The worry-free compliance feature guarantees professional CPA assessments for your business finances. It is an excellent option for entrepreneurs who want to keep track of their cash flow and tax filing to remain organized and avoid unnecessary penalties or fines.
The worry-free compliance feature comes with the Pro and Premium package. However, you have to pay $119 to obtain it if you choose the Starter plan. The most significant perk it offers is the coverage of all costs necessary to retain good standing with the IRS in case of missed state requirements or filing deadlines.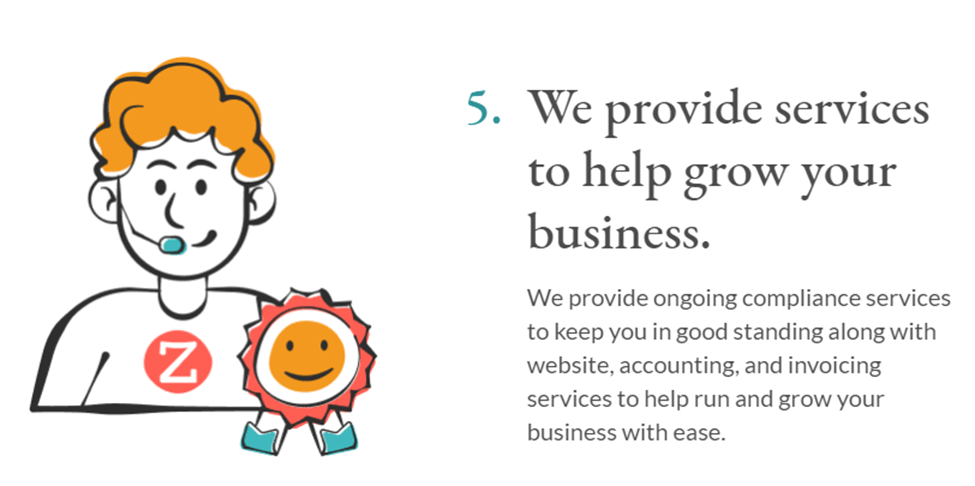 Customer Service
ZenBusiness offers top-notch customer service. The company maintains a team of highly knowledgeable and warm staff who are always happy to provide quick and clear guidance whenever you feel stuck. Whether you reach out to customer support via email, chat, or phone, you can expect to be met by highly responsive and helpful representatives.
ZenBusiness Alternatives
We ranked ZenBusiness as the best LLC service for its affordable pricing, top-notch customer support, and excellent ratings. However, it may not be the best option for all entrepreneurs. Here are the top three ZenBusiness alternatives to consider.
Hiring a lawyer to handle the business formation process is expensive. LegalZoom is a platform that fills the gap by providing affordable legal services through the business formation process.
It is one of ZenBusiness's top competitors and has pretty similar features. It is a long-standing company with a solid reputation and is the only online legal service that offers a 60-day money-back satisfaction guarantee.
LegalZoom Pricing
LegalZoom has a three-tier pricing structure that includes the Economy, Standard, and Express Gold packages. The Economy plan goes for $79, the Standard package for $329, and the Express Gold plan for $349.
However, you might have to incur additional costs. For instance, you have to pay $159 annually for registered agent services. Also, the packages do not include an operating agreement, which will cost you an additional $99. This, however, doesn't negate that LegalZoom is the least expensive service for entrepreneurs that need regular access to a skilled attorney.
Who Is LegalZoom For?
LegalZoom is ideal for entrepreneurs who want to work with a platform with a solid track record. It offers affordable legal services, including a fair, fixed-rate for business advisory. LegalZoom is your best bet if you require ongoing legal assistance yet don't have an in-house attorney.
How LegalZoom Compares to ZenBusiness
LegalZoom services are pretty expensive compared to ZenBusiness packages. Unless you need plenty of ongoing legal help, ZenBusiness offers a better deal. Again, LegalZoom's basic plan lacks all features essential for starting a business, making this a significant downside.
LegalZoom is time tested with a solid reputation
Affordable if you need regular legal help plus tax advice included in plans
60-day money-back satisfaction guarantee
Expensive, especially if you don't require ongoing legal help
Customer support services can be better
The platform makes starting a business fast, simple, and affordable. While Swyft Filings is not nearly as popular as LegalZoom, it is a well-established company offering its services in all 50 states and abroad.
Swyft Filings Pricing
Swyft Filings, like ZenBusiness, offers tier-based services. The available plans include the Basic plan for $49, the Standard package for $149, and the Premium plan for $299. It is worth mentioning that the Basic plan comes with a free 30-minute tax consultation, ComplianceGuard Company Alerts, and a free domain name.
On the downside, you need to pay an additional $149 as the Registered Agent Fee, or $596 per year. Also, the packages merely include essential formation services. If you need full business formation assistance, you need to part with $680.
Who Is Swyft Filings For?
Swyft Filings specializes in "swift" or fast business formation services. It is a perfect option for entrepreneurs who are well-acquainted with the business formation process and simply want to have their paperwork filed within the least time possible.
How Swyft Filings Compares to ZenBusiness
Swyft Filings targets an entirely different client base from ZenBusiness. While the latter is best for first-timers forming business entities, the former is best for entrepreneurs who already understand the complex processes of launching a startup.
Moreover, Swyft Filings services are expensive. Unless you badly want to cut the business formation turnaround time in half, it's best to stick to ZenBusiness.
Swyft Filings has a good reputation with an excellent customer rating
Excellent turnaround times plus reliable customer service
Flexible pricing models where you can add what is essential (like basic plan + expedited filing)
Users have the option of making an upfront or two-installment payment
Registered agent service is overly costly
Too much reliance on third-party service providers
Incfile is a well-established LLC formation service that has been around since 2004. The company offers online legal services, making it quick, affordable, and straightforward to undergo the business formation process without involving an attorney. You only need to pay a fraction of the cost of enlisting industry giants like LegalZoom.
Incfile Pricing
Incfile offers three plans. The Silver plan goes for $0 for the first year, and users enjoy registered agent services, lifetime compliance alerts, and tax consultation. The Gold plan costs $149, while the Incfile Platinum package costs $249.
Irrespective of the package you choose, Incfile offers a decent LLC business formation kit that is not bloated with unnecessary features that can inflate costs. The company maintains pricing transparency, so you don't have to worry about hidden costs.
Who Is Incfile For?
Incfile is one of the best business formation services to consider if you have a tight budget. The Silver Package is free, yet it offers essential features like a registered agent service and compliance reminders. You only need to pay the state fees and $40 for an Operating Agreement (if you need one).
How Incfile Compares to ZenBusiness
Incfile provides a tough-to-beat deal with a first-year free offer for the basic Silver package. However, ZenBusiness provides significantly better services, turnaround times, and customer care. Moreover, ZenBusiness has a higher customer satisfaction level than Incfile, and client complaints that are few and far between.
Affordable service
Fast checkout process plus one-day filing of LLC documents
Transparent pricing with no automatic service renewals
Limited legal services
Customer support reps are not always available
Frequently Asked Questions (FAQs) for ZenBusiness Review
The following are some common questions people ask about ZenBusiness and its services.
Final Thoughts on ZenBusiness Review
ZenBusiness is an online business formation service designed to simplify the process of forming a company. It is best suited for small business owners who cannot afford to have an in-house attorney to handle their legal filings. Whether you opt for the ZenBusiness LLC service or seek to form a corporation, you will receive detailed, step-by-step guidance through the entire process.
In this ZenBusiness review, we have equipped you with the service's pros, cons, pricing, and alternatives. We hope that this makes it a tad easier to get started on the exciting journey to forming the company of your dreams!