A registered agent is an individual or entity responsible for receiving official documents on behalf of your business. If you want to register your business in a state, you must also appoint a registered agent as mandated by state law. Continue reading to find out how to hire one or if you can be your own registered agent.
What is a Registered Agent?
A registered agent is also known as a resident agent, statutory agent, or agent for service of process. Its purpose is to be a business' official point of contact with government and judicial authorities. An agent can be an individual or company, and they receive and manage official notices for your business. These official documents include but are not limited to:

Official letters and government correspondence from the Division of Corporations, Secretary of State, or other state government agencies dealing with registered businesses
Federal government correspondence, information, and notifications
Service of process notices (these are legal notices and are issued if your business needs to appear in court)
Tax forms and requests for tax payment
Notifications to complete permits, business filings, or reports
The agent also must relay these documents to your business in a timely manner so you can take due action. Every LLC, corporation, or a non-profit organization, must appoint a registered agent at the time of registration.
Different states have different eligibility criteria for resident agents. So you can be your own registered agent if you meet the requirements. You have to give your agent's details on your articles of organization and file them with the state. This information then becomes part of public records. So, you can put your privacy at risk if you choose to be your own agent.
Why Do You Need a Registered Agent?
All registered businesses must appoint a valid registered agent if it wants to operate in a state. But why is that?
The primary purpose of an RA is to act as a reliable point of contact between a business and the general public, state and federal governments, and the courts. The requirement for companies to appoint a resident agent first came about as part of the due process of law.
If your business must deal with a lawsuit, legal proceedings cannot move forward unless you get proper notification. With an agent in place, it becomes easier for courts and other authorities to contact you. You also need to name your resident agent when opening a business bank account.
Who Can Be a Registered Agent?
Every state has a set of eligibility requirements for registered agents. Any individual or company that meets these criteria can be an agent in that state. That said, the general requirements are pretty similar for almost all states and they are:
Age: If you appoint an individual, your agent must be at least 18 years of age.
Residency: If you appoint an individual, they must be a resident of the state in question. If you use a company's services, it must be authorized to operate in the state.
Physical address: Your agent must have a physical address in the state in question to receive all documentation at.
Availability: They should be available at the registered address during business hours throughout the year.
Consent: Some states require agents to submit a consent form to be an agent.
These requirements can differ slightly for different states. For instance, Arizona doesn't require agents to be available at the registered office during business hours. Virginia only allows licensed lawyers, officers, or employees of your business to serve as registered agents.
Can I Be My Own Registered Agent?
Yes, you can. As a business owner, you can be the agent for your company as long as you meet the criteria set by your respective state. You can also appoint an employee or a fellow business member. But this begs the question, should you be your own registered agent?
On the surface, appointing yourself, a colleague, or a friend seems like the easiest solution. But it isn't as simple as it seems. Being an agent means you have to be available at your office during all business hours throughout the year.
If you or your agent is not available for some reason during a delivery, your business may face severe consequences. This is why most business owners and employees don't take this responsibility. Moreover, being your own RA means your name and contact information will be public. This may put your privacy at risk.
Smart entrepreneurs tend to hire registered agent services. These are third-party legal service providers that can be your agent in return for a reasonable annual fee. We recommend you hire a professional legal service for peace of mind, privacy, and to avoid legal issues.
Why Use a Registered Agent Service?
Hiring a professional registered agent service like Northwest Registered Agent or LegalZoom is a better choice than being your own agent. It's also better than appointing an employee as one. Here's why.
Saves Time
According to a recent study, 72% of small business owners say administrative tasks are the biggest time drain. This includes paperwork. If you take on the responsibility of being your own agent, you're adding to the never-ending list of managerial tasks and taking on more than you can handle.
It's always better to delegate tasks like these so you can focus on the things that matter while improving your work-life balance. Plus, when your contact information is public you're likely to receive a lot of junk mail. Save yourself the hassle of sifting through tons of junk mail and let a legal service handle it for you for an inexpensive annual fee.
Gives You Peace of Mind
With a professional legal service serving as your RA, you no longer have to worry about being available during business hours at your office. This way, you can focus on running your business or take a vacation when you want. Your professional registered agent is always there to receive documents on your behalf and inform you timely.
More often than not, a resident agent service provider is also a legal service and can give you invaluable advice on how to proceed with your tax and legal matters. This is just like hiring a business legal assistant but at a much lower price.
Gives You Flexibility
A registered agent service lets you have flexible working hours. And you can expand your business to multiple states with ease. Every state requires that your statutory agent must be at a physical address in the state you've formed your LLC. If you choose to be your own registered agent, it isn't possible to expand to another state without an official agent.
Professional registered agent services have physical addresses in all 50 states, so you can form an LLC in any state. If you're thinking about forming an LLC in multiple states, hiring a statutory agent is a must.
Protects Privacy
Hiring a professional service of process agent means that their address and contact information is public, not yours. If you're served a lawsuit, an RA service ensures to convey it to you in the most private manner. This saves you the risk of receiving a summons in front of people you know or your customers.
Legal Compliance
Last but not least, a professional agent helps you ensure your company stays compliant with the law. It sends you regular reminders to keep you updated with all state requirements. Plus, it files documents like annual report filings on time.
Plus, registered agent services also keep copies of important government and legal documents for safekeeping. If you lose your original documents for any reason, you always have a backup.
How to Hire a Registered Agent Service Company?
If using a professional agent service is a better choice for you, the next step is to choose one. The service costs anywhere between $100 and $300 per annum, with the majority of them charging $150 for a year. This is pretty inexpensive for the range of benefits that come with professional resident agent service.
Here are some of our top picks when it comes to registered agent services. Note that these are also part of our picks for the best LLC services.
Northwest Registered Agent is the second-largest registered agent service in the US. It offers the service in all 50 states and is an excellent choice for you if you're looking for high-quality customer service and strong privacy protection.
You get locally scanned docs, business address use, mail forwarding, mail scanning, annual report reminders, a company management system, and top-of-the-line customer support with Northwest. Apart from the agent service, Northwest also offers quality LLC formation services. Read our complete Northwest Registered Agent review to learn more about it.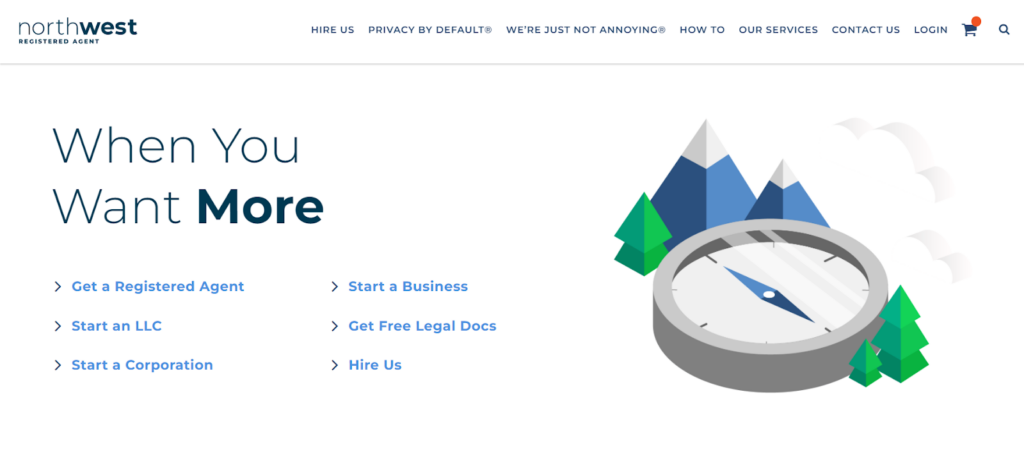 Offers privacy protection
Quality customer service
Transparent pricing
Limited features
Pay extra for EIN service
More expensive than alternatives
Pricing
$125/state per year
$5200 in all 52 jurisdictions
LegalZoom is a high-end online legal services provider that offers a registered agent service across the United States. With over 2 million businesses helped, LegalZoom is a well-known and reliable service provider, but it may charge you higher than other options.
LegalZoom alerts you whenever it receives important mail for you. With the Compliance Calendar, which comes at an additional $69, it can also email your business about critical tax and annual report deadlines. To top that off, you get unlimited cloud storage to store your documents safely. Read our complete LegalZoom review to learn more.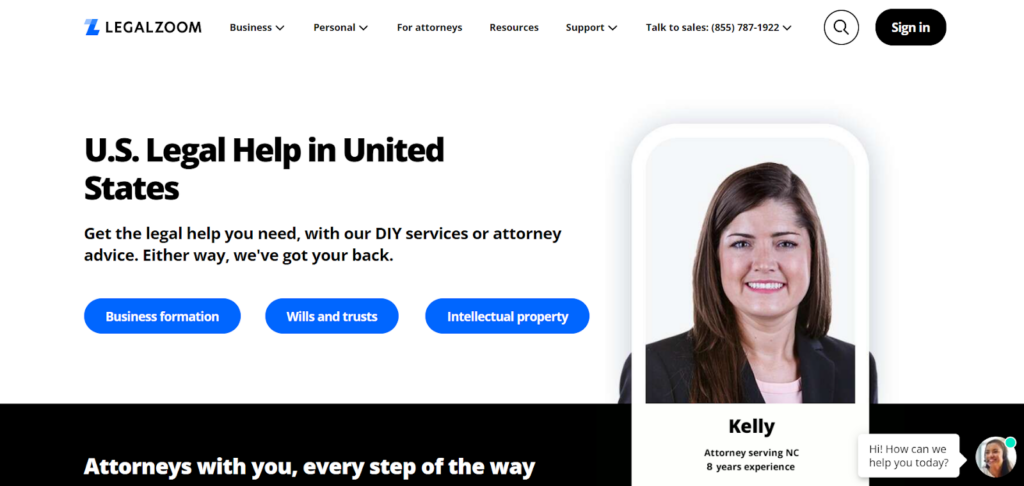 Well-established service with 2 million+ businesses helped
Offers a wide range of legal services
Robust customer service
More expensive than alternatives
Slow turnaround time
Excessive upsells
ZenBusiness is a top-quality registered agent service you can avail of at a much lower price. It has a transparent pricing plan with no hidden fees and is up-front about its other services like compliance documentation and annual report filing. However, getting to the pricing plan can be a painstaking process.
ZenBusiness has an online document management system and sends you regular compliance alerts to make sure you're up-to-date with all legal requirements. It also scans and uploads important legal documents to get them to you straight away and mails you physical copies if required.
Plus, if you use ZenBusiness for LLC formation, you get its agent service for one year completely free. To learn more about its services and pricing, read our complete review on ZenBusiness.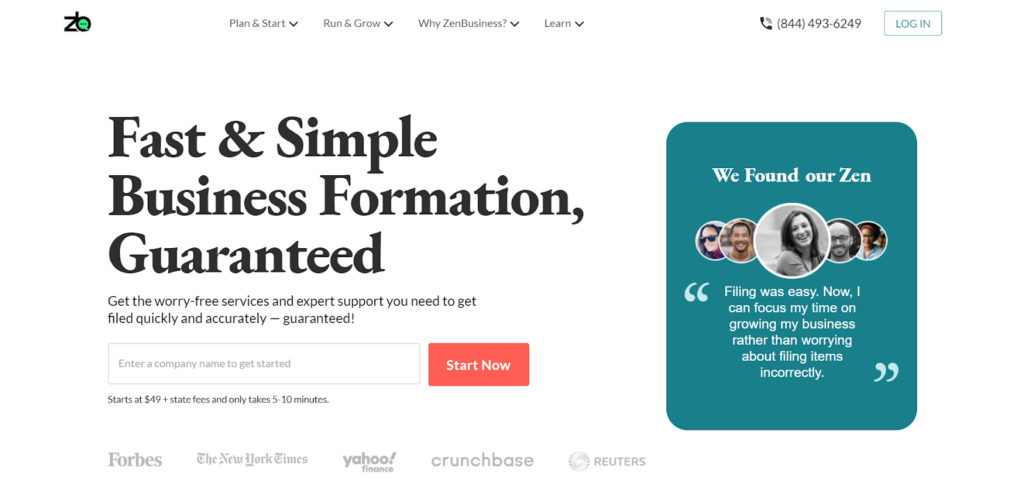 Inexpensive option
Transparent pricing
Free registered agent service with LLC formation
No free plan
Worry-Free Guarantee is not included with the regular agent service
Annual compliance costs extra
Pricing
Registered Agent – $99 per year
Registered Agent with Annual Compliance – $149 per year
Frequently Asked Questions (FAQs) for Registered Agent
Here are some frequently asked questions about registered agents to help you resolve any unaddressed questions.
Bottom Line on What a Registered Agent Is
Appointing a registered agent is one of the most important steps in registering your business as an LLC, incorporation, or non-profit organization. Luckily, understanding what an agent does is pretty straightforward. You can even do it yourself if you can stick around your registered office during normal business hours.
We still recommend you hire a professional registered agent to handle things on your behalf. It saves you time, protects your privacy, gives you peace of mind, and greater flexibility with your business.