TruthFinder is a background check service you can use to uncover information about those around you. With so much false information floating around, it's designed to help you decipher fact from fiction regarding a date, neighbor, or colleague. Read on to discover everything TruthFinder can do for you.
Run a Background Check with TruthFinder
TruthFinder is one of the best background check services allowing you to discover information on individuals you'd like to learn more about. It provides accurate details on a person's history, criminal status, and current whereabouts.
The tool does beyond rudimentary scans, diving deep into the dark web for data that may come back to haunt you. If you've been subject to identity theft, it's here your private information will come up for sale. Through routine self-searches, you can rest assured that your credit card and social security numbers are safe.
All searches are completely anonymous, and you can perform them from a computer or mobile device. TruthFinder's personalized user interface keeps the process simple.
Although TruthFinder isn't the cheapest option out there, the price makes sense for the amount of data you receive. You can't perform single searches, but a one-month membership only costs $28.01. If you're planning a lot of searches, you can save a few bucks by subscribing for two months at a time.
Run a Background Check with TruthFinder
Who TruthFinder is Best For
Anyone and everyone can use TruthFinder to uncover information about a particular person. At less than $30 per month, the price should be well within reach of the average searcher.
Because TruthFinder is not FCRA compliant, businesses, landlords, and financial institutions can't use the service to play favorites with candidates.
Is TruthFinder Legit?
TruthFinder is a legitimate people search service that began conducting business back in 2015. Search results often come back accurate, and the information listed is up to date. It currently has a 4.4 rating on Consumer Affairs, and reviews on both the Google Play Store and Apple Store speak highly of what TruthFinder can do.
TruthFinder Cost
TruthFinder only has monthly memberships and does not allow one-off searches. Its pricing is not evident at first glance, and even its about section doesn't reveal options.
You'll have to run your first search to discover monthly fees, and at this point, you'll be able to choose between a one-month or two-month subscription.
One-month subscription: $28.01 per month
Two-month subscription: $23.28 per month
If you hesitate on the membership screen, TruthFinder usually offers a special 5-day trial of all its services for just $1. After that, you'll pay the full price for a monthly membership.
The reverse phone lookup is a separate feature that costs an additional $4.99 per month.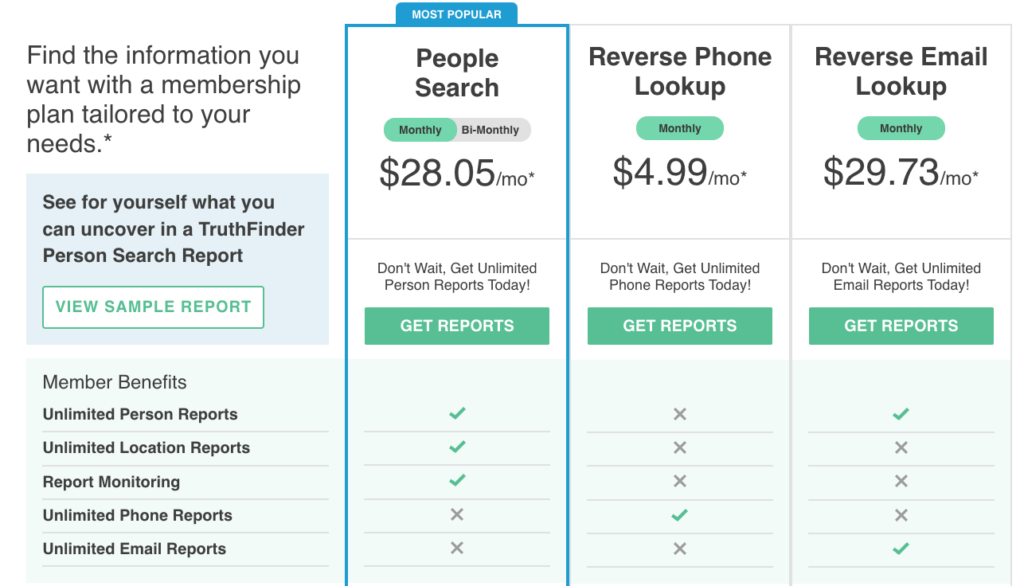 TruthFinder Features
TruthFinder has several cool features you can take advantage of as a subscriber. Let's take a look at them now.
People Search
TruthFinder works surprisingly well at finding a friend or family member you've fallen out of contact with. With its search feature, you can enter the name and last known location of a person in question and let TruthFinder do the work for you.
As it looks through data, TruthFinder often prompts questions about the individual's age, middle initial, or how you know the person. These pieces of information will help the service narrow its parameters and find what you're looking for. You'll need to stay close to your computer while the search is running in case a question pops up.
After a handful of minutes, you'll see a list of people potentially fitting your candidate. Clicking on one of those names sends you to your report once you've agreed you're not going to violate the Fair Credit Reporting Act.
On the other side of the search, you're greeted with a wealth of information on your target. In this solitary location, you'll uncover social media information, education and work history, past relationships, and even criminal records. It will also share any current addresses or contact information so you can get in touch.
You can use TruthFinder people search for more than just missing friends or relatives. The tool also works well for new neighbors or the love interest you met in person or online. Being in the know can help keep you and your family members safe.
Run a People Search with TruthFinder
Public Records Search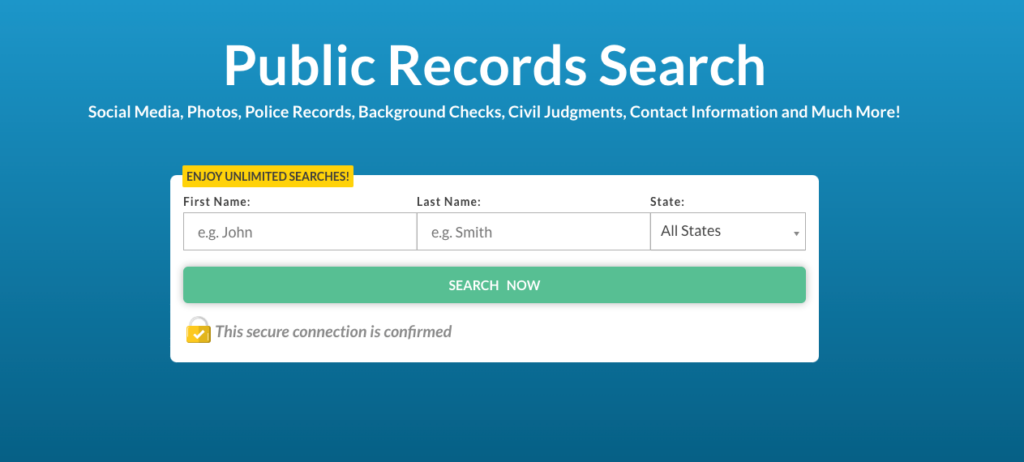 For a long time, the only way to look into public government records was through a formal request from your local courthouse. A single request could take days or even weeks to get one document from the county you're looking for information from.
With TruthFinder, you can search for public records on an individual and get access to information from any courthouse in the country, all from your computer. You only have to know the name of the person you're inquiring about. As with any search, the more information you have on someone, the better.
When your results come in, you'll be able to immediately see any criminal activity he or she has engaged in the past. This includes arrest and criminal records, court cases, bankruptcies, and even outstanding warrants. These records will also reveal if the person in question is a sex offender.
Reverse Phone Lookup

Cell phone numbers aren't as private as they used to be, leading to more frequent calls from unknown numbers. The TruthFinder reverse phone lookup lets you see who's trying to get in touch.
Getting your results takes a few minutes, and you'll want to stand by to click through various prompts and confirmations. Once on the other side of the search, you'll have access to the caller's name, location, and social media presence. If available, TruthFinder will even display satellite images of the person's house.
TruthFinder will also share any information it has on the caller's relatives or criminal record. If the phone number originates from a business, you'll receive the company's name, location, and any other data the site can dig up.
You can also use the TruthFinder reverse phone lookup to see who's on the other end of the number your significant other is in contact with. It's worth noting that TruthFinder doesn't have access to phone conversations or text messages, but you can see the name and locations of the person on the other end.
Dark Web Search

While there are other background check sites out there, few have the power of the dark web search. TruthFinder's comprehensive scan scours for any of your personal information out for sale on the dark web. The tool will let you know if you've been a victim of identity theft so you can lock down accounts and change information before it's too late.
Online identity theft is at an all-time high, and it's becoming increasingly easy for your private information to fall into the wrong hands. With one dark web search, TruthFinder will show you if your bank account, credit or debit cards, driver's license, passport number, and more are accessible to miscreants. If your information comes up in a search, you'll want to act fast to regain control of your identity.
Run a Dark Web Search with TruthFinder
Accurate Reports
Despite all the pomp and circumstance of getting your results, TruthFinder does an excellent job of finding accurate and up-to-date information on your search target. Just before you see your results, the site shows you an accuracy gauge based on what it could locate.
To that point, TruthFinder will always only be as accurate as the information found in the millions of databases it searches. It cannot come up with information that simply isn't there.
TruthFinder App
The TruthFinder App puts the entire service at your fingertips, no matter where you may be. You can quickly check who's on the other end of a phone call or look up the person you're meeting for lunch while you're on your way there.
You can download the app on both Android and iOS devices. TruthFinder reviews on each operating system receive high praise, with over 4.5 stars out of a possible 5.
Easy-to-Use Dashboard
No matter which device you prefer to run reports from, TruthFinder comes with a personalized dashboard for you to use. This layout makes it easy to run searches and track down information on the person in question. The interface is very intuitive, with specific search buttons laid out for you to choose from.
Search Anonymously
There can be some trepidation about running a search on someone online. After all, it could be catastrophic if that other person finds out.
Fortunately, TruthFinder lets you remain completely anonymous any time you run a report on an individual. The person will have no idea you looked them up or what information you were able to acquire. Such privacy when searching is a huge blessing, as many social media sites will inform others of your intent. Some platforms even require you to add the individual to your network to obtain information.
Protect Your Online Presence
If you can look up information on others, you'd better believe that people can look up information on you. TruthFinder allows members to opt out of searches by filling out an online form.
This means others using TruthFinder to look you up won't be able to dig up any information on you. Note that this does not remove your data from the millions of records TruthFinder scans.
Alternatives to TruthFinder
There's some strong competition for TruthFinder out there. If the service doesn't appeal to you, consider one of these alternatives instead.
TruthFinder Review – Frequently Asked Questions (FAQs)
In our FAQ section, we drill down on some of the most popular questions about the TruthFinder service. Have a look at the answers below.
Bottom Line on TruthFinder
TruthFinder offers an accurate look into someone's life, whether you're curious about a new neighbor or want to find a friend from high school. The site scours millions of data points to provide you with everything from education history to criminal records.
It can even help keep your information safe by checking the dark web for stolen credit card numbers or personal identifiers. Using TruthFinder is safe and easy. Just be sure not to use the site for anything that violates the Fair Credit Reporting Act.
Run a Background Check with TruthFinder Now
Best Business Bank Accounts by State
Below you will find an interactive U.S map that can help you locate and compare different banks and financial institutions that offer business accounts in your area.