Intelius is a background check service designed to locate information on specific individuals in your life. With a few keystrokes, the service pores over billions of data points to pull any and all available data about a person in question. What's more, the site has a similar feature for houses homeowners can use to buy with confidence. Keep reading to discover everything Intelius can do for you.
The Intelius people search tool allows unlimited searches with an active membership. Memberships fall into one of a handful of categories, and pricing options can be quite confusing. To complicate matters more, some add-ons can ramp the price up further.
Once you've paid for the features you need, it's quite simple to perform searches on a computer or through the mobile app. You'll encounter a few annoying prompts as your reports come in, but Intelius provides data faster than most other sites. Reports are usually good, but occasionally Intelius comes back with lackluster results.
Unlimited searches
The site is easy to navigate
Prepares results quickly
Other services come with additional fees
Hard to understand pricing options
Reports are sometimes lacking
Intelius is a stellar people search tool for locating information on people across the United States. Crunching through billions of records, the site can bring back tons of data on your subject if it's out there.
Alongside people searches, Intelius lets you scan addresses for past owners, and home history and equips you with knowledge about the community. Anyone looking to start a life in a particular neighborhood can use Intelius to affirm an option or provide you with a reason to say no.
Prices are quite reasonable, with people searching costing just $21.13 per month if you sign up for two months at a time. Unlocking the full range of Intelius's search spectrum runs $34.95 monthly. If there's room in the budget, you can also consider some add-ons from Intelius to round out your package.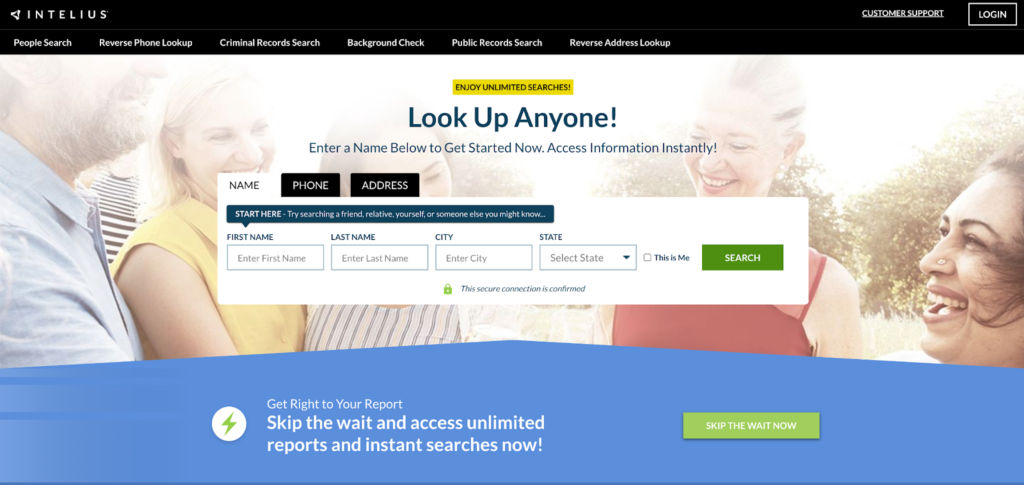 Who Intelius is Best For
Intelius works well for anyone hoping to uncover information on a new neighbor, look up a potential romantic partner, or track down a long-lost family member or acquaintance. As long as you have a name, location, or even an old phone number, Intelius will go right to work.
Intelius is not for employers, renters, or lenders, however. Because of the Fair Credit Reporting Act (FCRA), it is against the law to look up individuals for these means.
Intelius Cost
At present, there are three pricing options you can choose from with Intelius. Precisely what each plan gives in terms of reporting is a little confusing.
People Search
Address Lookup and People Search
Reverse Phone Lookup and People Search



Unlimited Address Reports



























There's a bit of overlap between Intelius's plans, and exactly what you're getting with each one isn't terribly clear. No matter which route you go, you'll be able to run an unlimited number of reports during your membership timeframe.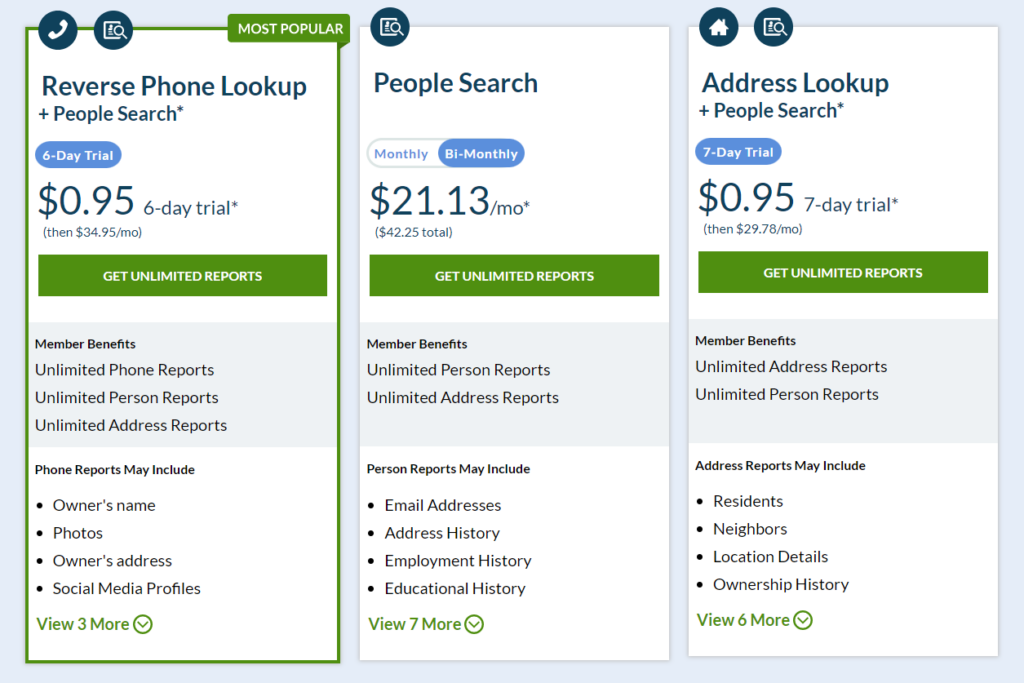 The Intelius People Search tier comes with two price options. Signing up for a single month of membership will set you back $24.86 while paying for two months at a time lowers the average to $21.13 per month. At this price point, you'll have access to a person's historical data, including criminal records and owned assets.
Address Lookup and People Search appear to add more detailed information about a particular area. You can still search for people, but it's also possible to load in an address and see what the neighborhood is like. Reports will come back with demographics, property values, and how bad crime is. You can also see a list of sex offenders living close by.
You can try out Address Lookup and People Search for $0.95 for a week to see if the service is for you. If you don't cancel within those seven days, Intelius will automatically charge you $29.78 for a month's membership.
The Reverse Phone Lookup and People Search tiers include everything the previous plans have to offer. It also lets you find out who's on the other side of that phone number. You can search solely by phone number to track down the caller's name, address, and any social media profiles they may have. If pictures are available, Intelius will show you who's calling and give you some clues as to why.
Similar to the previous tier, you can try Reverse Phone Lookup and People Search for six days for just $0.95. Because it contains the broadest range of Intelius's search capabilities, a membership costs $34.95 per month.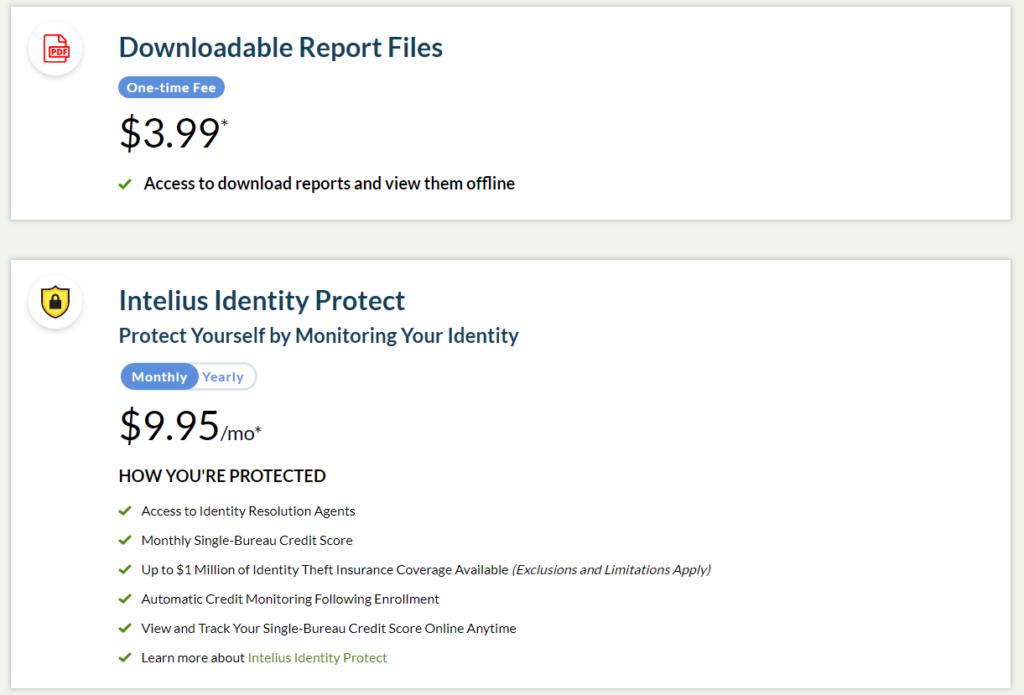 There are also a couple of add-ons you can pick up to bolster your Intelius package. For a one-time fee of $3.99, you'll be able to download any reports you run while an Intelius member and view them even when you're offline. Save important searches so you don't have to run them again.
At $9.95/month, Intelius Identity Protect monitors your credit and enables you to view your score online anytime. The service also watches your records for signs of identity theft and alerts you when something looks suspicious. If there is an issue, Intelius affords up to $1 million in identity theft insurance to combat it.
Intelius Background Check Features
This Intelius review lists a ton of great features you'll have access to the moment you sign up for a monthly membership. Here are some of the best tools you'll have right at your fingertips.
People Search

Many people come for the Intelius people search and stay for the many other features. With just a first and last name, Intelius goes through billions of records to locate all available information on your target. If you know of a city or state the person has lived, it makes searching that much easier.
As the search does its thing, Intelius may ask you a few poignant questions along the way to narrow down its results. The process takes several minutes, and some of the prompts seem unnecessary. When results roll in, you're rewarded with the person's history as well as current location and assets.
The Intelius people search tool can work wonders for reconnecting with friends from high school or a relative you haven't talked to in ages. It's also a great way to investigate your date for Friday night or the neighbor who just moved in down the street.
You can use the people search to look up anyone as long as it's for a personal reason. It's against the law to use Intelius to look up potential employees, tenants, or lessees because of the Fair Credit Reporting Act.
All of Intelius's plans include the people search as part of their package.
>>> Run an Intelius People Search
Intelius Reverse Address Lookup

The reverse address lookup zeroes in on a location instead of a person. If you're looking to buy a home, this is a great tool to learn about what happened there in the past. You'll see the current homeowner's information alongside any info available from previous residents. Data can be quite detailed, including the number of persons in the home and estimated income.
Intelius includes every recorded change and update to the house in question. Reports will show how home value has changed over time and what its current value should be.
You'll also obtain information on the surrounding area. A search reveals crime statistics and community demographics you can use to make a judgment on a potential place to live. Any sex offenders in the neighborhood will show up on your scan as well. Intelius will also try to provide data on neighbors with names and ages.
>>> Run an Intelius Reverse Address Lookup
Intelius Reverse Phone Lookup

Cell phone numbers aren't as private as they used to be. It's common to receive calls from numbers we don't recognize, and Intelius's reverse phone lookup can help you decipher who's calling.
With just ten digits, Intelius will locate who's on the other end of the line and report back to you. For those selling online, this search can help you determine if you're dealing with an interested party or a scammer. Since online daters often connect through the phone, you can look up who you're meeting with well in advance.
If it's a business calling, the search can reveal that as well. There's usually just a bot on the other end, so you can contact the company directly and get moved to a do-not-call list.
Run an Intelius Reverse Phone Lookup
Intelius Criminal Records Search

Reporting provides more than just demographic information on a person in question. The Intelius criminal records search will locate any offenses, whether felonies or misdemeanors, on an individual. As long as records exist, Intelius is good at finding them.
To find criminal data, you'll need your target's first and last name. Known whereabouts help Intelius find who you're looking for, but searches cover the entire United States.
Run an Intelius Criminal Record Check
Intelius Background Check
There's a tab specific to background checks on the Intelius site. These Intelius background checks go deeper than just a criminal records search will do. A scan reveals marriage and divorce history, lawsuits, bankruptcies, liens, and more. You'll also get any information typically included in a standard people search report.
Public Records Search
While public records are accessible by anyone, it can be arduous to track down the specific record you need. Intelius takes away the hassle, of combing through databases across the country for the information you seek. You'll have existing records in moments without ever having to leave your seat.
Confidential Inquiries
If you're using Intelius to dig up information on someone, there's a chance you may not want them to know. Luckily, all searches through Intelius are completely confidential. No matter what information you're on a quest for, your search subject won't be any the wiser.
Identity Protection
Your credit score sets the tone for loans, credit cards, and even landing that perfect apartment. Low scores indicate to banks and lenders that you may not have the ability to pay back what you plan to borrow.
An optional add-on, Intelius can monitor your credit score as an optional add-on so you know where you stand. If your score's low, you'll be able to put a plan in place to bring it up to a better level. Any dramatic changes to your credit may indicate a case of identity theft. Without identity protection, you may not find out until it's too late.
As part of this package, Intelius throws in up to $1 million of identity theft insurance for such an event. The site helps with the recovery process and provides these funds to return what you've lost.
Suppress Your Public Data
Just as you can find information on others, so too exists information on you among the billions of records Intelius searches. With a bit of help from Intelius, this doesn't have to be the case. The platform provides the means to remove your data from searches made by Intelius and similar people's search sites by walking through a handful of prompts. You will need to authenticate your identity before proceeding.
Intelius Mobile App
With Intelius, you're not limited to a computer to run your searches. The People Search site has a mobile app for both Android and iOS you can use to check numbers and look up folks wherever you may be. The mobile app packs just as much power as a computer search, so you can rest assured you're getting all available information.
Alternatives to Intelius
Should Intelius not speak to you for one reason or another, all hope is not lost. The services below are solid alternatives to anything Intelius can offer.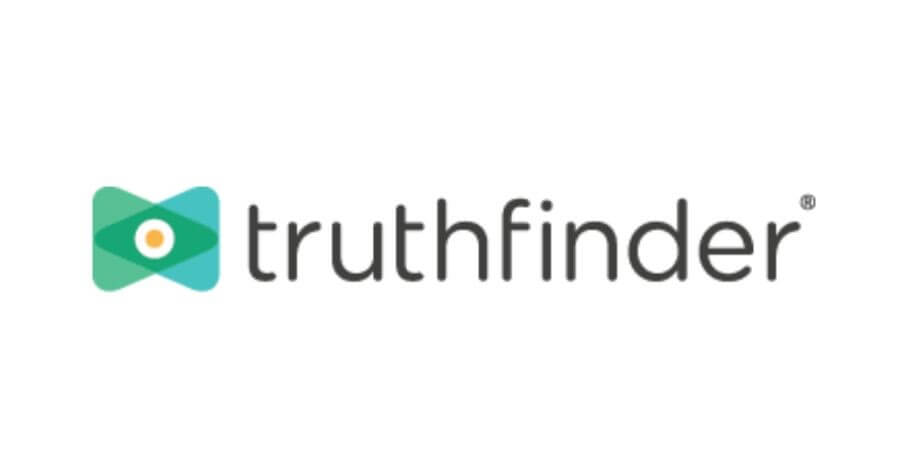 TruthFinder stands out thanks to its proprietary dark web scanning that's included in a standard membership. Having a window into this section of the internet will quickly tell you if you've been the target of an identity theft scam.
There's no limit on the number of reports you can run with TruthFinder, and results seem more accurate than other people's search providers. The process to get your results is time-consuming and feels way over the top.
Prices for TruthFinder come very similar to what Intelius brings to the table. People searching can be as low as $23.28 per month if you subscribe for two months at a time, but this does not include the reverse phone lookup. You'll have to tack on an additional $4.99 to look up phone numbers.
Unlike Intelius, TruthFinder doesn't have the option to look up data based on a physical address. Potential homeowners wanting to learn about a neighborhood will have to learn residents' names and search that way.
Proprietary dark web scanning
Reasonable pricing for phone number lookup service
Very accurate reports
Must get a monthly subscription, no individual reports
Only includes results from the United States
Over-the-top process to obtain results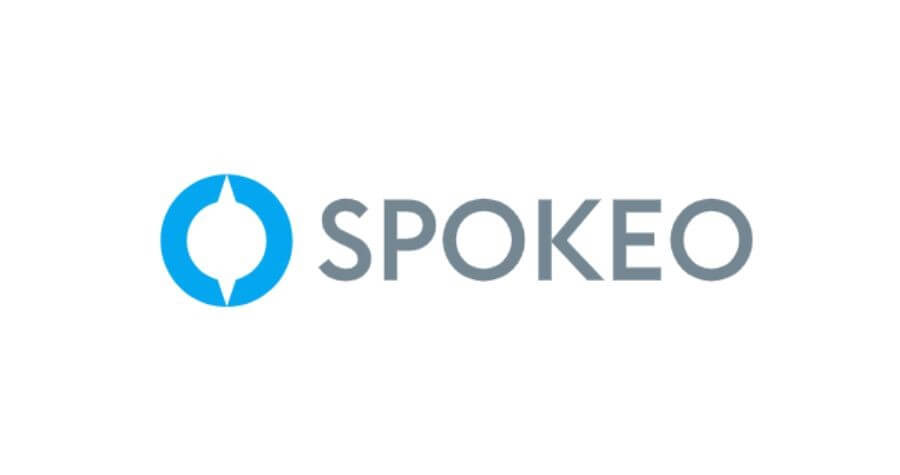 Spokeo boasts of having over 12 billion records to race through for a complete and thorough report. Once you have that data, you can download it to your computer to view at any time for no additional cost.
The site may pull from a multitude of locations, but some government sites don't make the list. If you're checking for arrest records or a lawsuit against someone, you may be better off with another search tool.
Membership costs are some of the lowest in the business. Short-term users can purchase a month of searches for $19.95. Anyone planning to use Spokeo for several months can pick up a three-month subscription and get that price down to $14.95 instead.
With Spokeo, you can search by name, physical address, phone number, or even email address. Other sites often omit digital mail when trying to track down information on someone.
Reasonably-priced plans
Pulls from over 12 billion records
Unlimited PDF downloads
Lacks some government search information
Available in the US only
Reliant on social media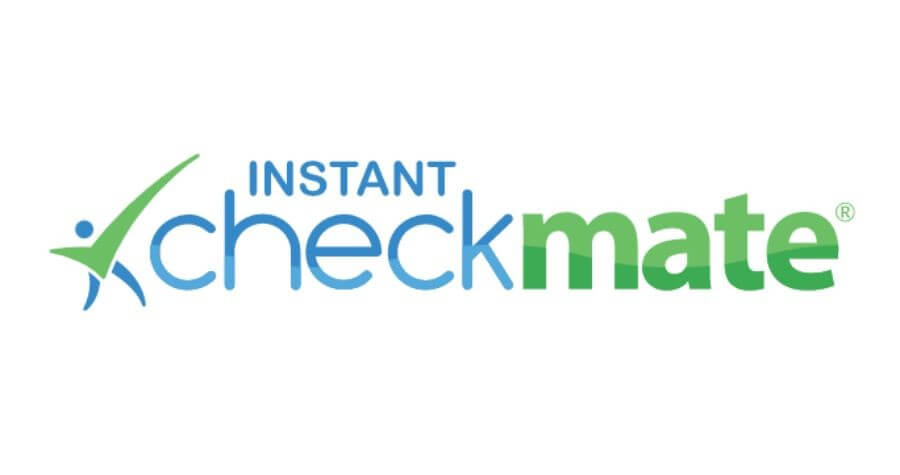 Instant Checkmate is the winner for government record searches, providing accurate criminal and background check data on your search subject. There's even a section dedicated to looking up inmates in all 50 states.
With advanced search filters, Instant Checkmate is perhaps the easiest to narrow down a search to a specific person. The process is still over the top, taking several minutes of questions to get you where you want to be. It serves to get the best results, but there has to be a more streamlined method.
Searches often come with detailed property data rivaling Intelius's address lookup feature. The platform also has dark web scans if you're willing to pay a little more.
The pricing structure for Instant Checkmate is the highest of any site we've reviewed. A single month of searches costs a whopping $35.12. If you're willing to buy three months at a time, you can get fees down to $28.09. Reverse phone searches are not included and add $5.99 to the total.
Accurate criminal and background checks
Searches come with property data
Advanced search filters
Overbearing search process
Expensive membership fees
No option to pay per report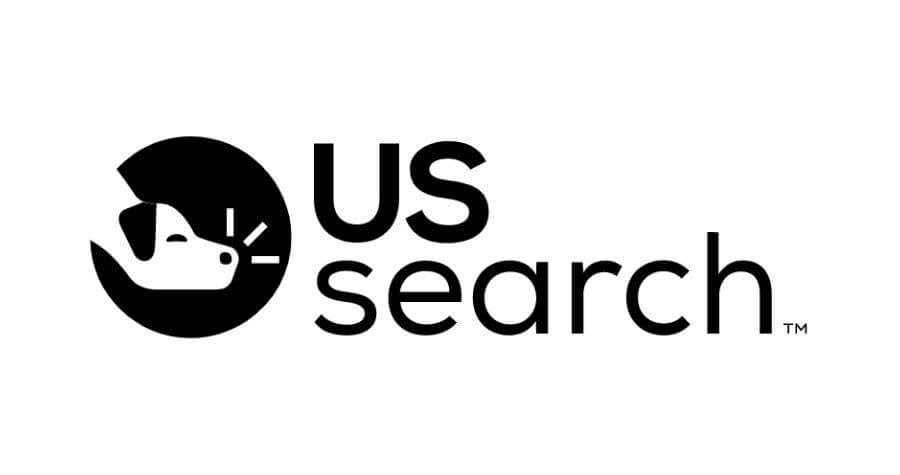 US Search is the muddiest people search service, at least in terms of pricing. Without a pricing page, it takes some careful digging to whittle down the costs. At our best guess, a month's worth of searches currently costs $19.86. Per report options are available but start at $3.
The site makes it incredibly easy to walk through search criteria with a quick-start wizard. Questions are specific, to the point, and don't take much time to answer like on other platforms.
Perhaps in an attempt to cater to new people searchers, everything on US Search's site is pretty basic. It's easy to navigate, but you won't find a ton of information or clarity along the way. If you're not happy using US Search, it is one of the few people search sites offering a refund.
Quick start wizard
Reasonable cost for membership
Fair refund policy
Basic presentation
Lack of transparent pricing
Available in the US only
Intelius Background Check Review: Frequently Asked Questions (FAQs)
People search sites like Intelius aren't always very transparent. Below you'll find answers to common questions about the service.
Bottom Line on Intelius
Intelius can work wonders for anyone in search of a long-lost family member or curious about the new family moving in down the street. If you have a reason to look someone up, Intelius can help you find the information you need.
Those searching for a home can use the address lookup to vet houses and neighborhoods. Since Intelius is not FCRA-compliant, you will have to limit requests to those personal in nature.
>>> Run a Background Check with Intelius Today!
Best Business Bank Accounts by State
Below you will find an interactive U.S. map that can help you locate and compare different banks and financial institutions that offer business accounts in your area.