Spokeo is a popular people search tool designed to track down old acquaintances or learn about the people around you. Through billions of records, the platform pulls together information to help you paint an accurate picture of others in your life. This Spokeo review thoroughly examines the platform's features and how it provides the results you need.
Unlike many other people search sites out there, Spokeo gets you results quickly. Even with 12 billion records at its disposal, you'll have a list of applicable search candidates in mere moments.
You can view basic information on a search subject for free, but the information here is somewhat sparse. Many fields are blurred out, and detailed data is unavailable. To see everything unabridged, you'll need to sign up for a monthly membership.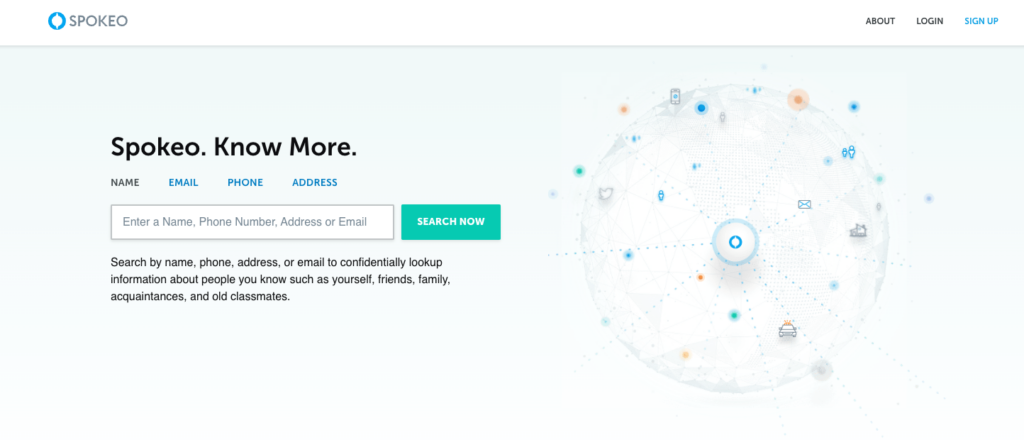 Spokeo has only one price point, a $24.95 package for name, email, phone number, and address searches. You'll start off with a $0.95 7-day trial and can cancel at any time.
The site's biggest downside is its monthly search limit. There's no clear answer on how many reports you can run per month or how much it costs to upgrade.
Who Spokeo is Best For
Having knowledge about those around you can keep you and your loved ones safe. Anyone can use Spokeo to look up information on neighbors, colleagues, or someone they met online. The site reveals questionable past behavior and criminal records that could be serious red flags. Spokeo can't be used to screen candidates for employment, tenancy, or financial services.
Spokeo Pricing
To find any price information on Spokeo's website, you first have to start up a search. After entering a search subject based on one of Spokeo's available criteria, the service will quickly track down your data. Clicking on one of the names meeting your search parameters takes you to some very basic information you can view for free.
If you want a detailed report, choosing "unlock profile" takes you to a payment page as a new user. From there, Spokeo informs you that a one-week trial membership costs just $0.95. In the fine print, the site lets you know that you'll receive a bill for $24.95 per month after the trial concludes.
Spokeo's help center mentions casually that a subscription has a maximum number of searches available each month. It goes on to say that you can upgrade your plan to increase this limit but reveals no potential costs for doing so.
Spokeo Features
There's a lot you can do with a Spokeo membership. Read on to learn about some of the platform's top features.
Spokeo People Search
The Spokeo search tool enables you to locate lost friends and family with no more than a name. It will find anyone in the United States with that moniker and reward you with a list of those individuals. If you have a previously-known location, Spokeo will be able to narrow down your search that much more.
Choosing a name reveals any phone numbers and email addresses connected to the individual, along with all the places they've lived. You're also made aware of any social media profiles the person has.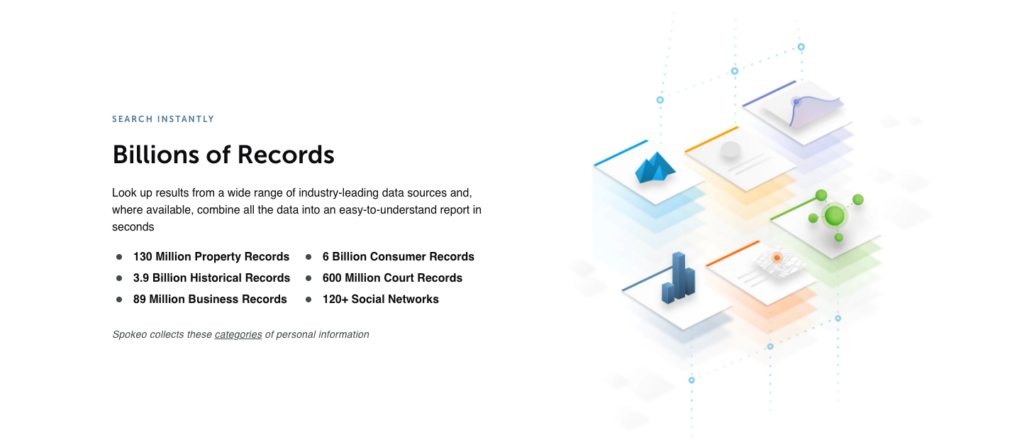 If you're looking for background information, Spokeo shows employment and education history. It will also show accessible court records from any state in the country, making it one of the best background check services out there. The people search can help you screen online connections and avoid going out with potentially dangerous individuals.
Keep in mind the Fair Credit Reporting Act (FCRA) doesn't let you use Spokeo for certain purposes. You can't use the site to make determinations on employment, lending, or selecting a tenant for your rental property.
Run a People Search with Spokeo
Spokeo Reverse Phone Lookup
Decipher the person or business calling you at all hours of the day with Spokeo's reverse phone lookup. With just a ten-digit number, the platform can provide the caller's name, location, and whether you're dealing with a cell phone, landline, or VoIP. If the system flags the number as spam, Spokeo will show you comments on the number from other Spokeo users.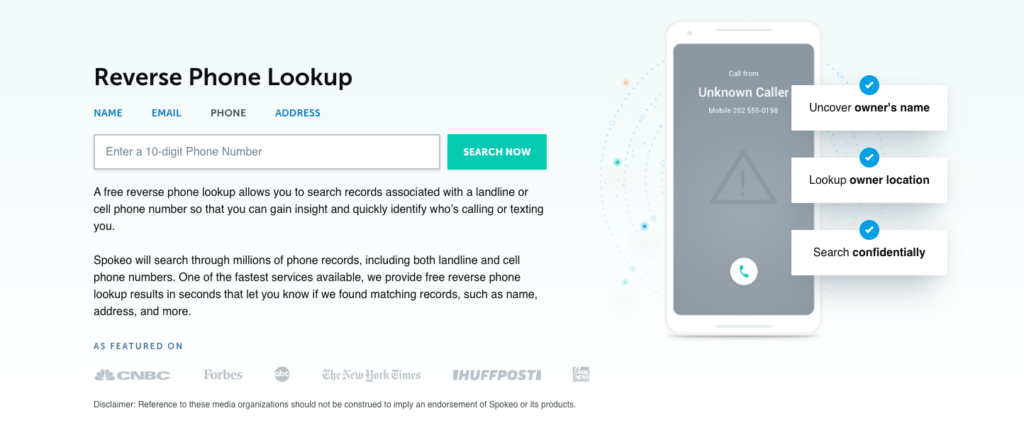 Run a Reverse Phone Lookup with Spokeo
Spokeo Email Search
An email search locates the name of the sender and any other available contact information for that person. The report will also link any social media accounts and personal details of the person on the other end of the message.

For individuals you've met online, the email search can discover if the person's being honest or fabricating parts of his or her story. It can also deter you from scams or see who a partner's been chatting with.
Run a Reverse Email Lookup with Spokeo
Spokeo Address Search
Spokeo's address search lets you obtain information on the inhabitants of a particular property. You can discover who lives at the location, contact info, and criminal records for anyone inside.

You can broaden searches to check your neighborhood for safety concerns or sex offenders living nearby. Knowing potentially dangerous areas can keep you and your loved ones out of harm's way.
The address search also helps potential homeowners learn the property details of a home in question. While real estate reports only provide so much, a Spokeo search can alert you to issues you weren't aware of. You can also get a feel for a neighborhood and whether or not it's a good place to live.
Free Basic Searches
Spokeo doesn't offer the option to pay upfront for searches. Instead, your initial search will lead you to basic information on the person or location in question. It will then point you toward the option of paying for more details.
You're more than welcome to remain on the basic information page and browse everything made available there. The snapshot blurs out some lines of text, but it may reveal enough to provide whatever data you're looking for. At a glance, you'll know some address history, family members associated with your subject, and whether they have a criminal record.
Fast Results
Most people search sites slog through data while up your search subject. Along the way, pop-ups ask additional questions you'll have to answer. These prompts may help narrow down results, but can delay the process if you're not paying attention. When all's said and done, it feels a bit over the top.
Luckily, this isn't the case with Spokeo. Type in your search criteria, and in seconds, you'll have results on your screen. You may have to scroll through a list to find the right John Smith, but at least this is something you can control.
Wealth Data
Wonder how much one of your coworkers makes? Spokeo is one of the few sites to share wealth data on a person in question. You can see income information from jobs alongside investments and financial interests your subject pursues. A search also shows any property the target owns and the approximate value of each place.
Mobile App
Users can download the Spokeo app to track down people while on the go. After installation, all of Spokeo's features are instantly available no matter where you may be. The app searches the same databases and will even locate any missing information from your phone's contact list. Through constant monitoring, you'll be the first to know if one of your friends changes emails or gets a new cell phone number.
The Spokeo mobile app is currently only available for Android devices. Support for other devices is coming down the line.
Alternatives to Spokeo
If Spokeo doesn't resonate with you, here are some alternative people search services to consider instead.
Spokeo Review – Frequently Asked Questions (FAQs)
Still have questions about how Spokeo works? This FAQ serves to answer some of the most common questions about the service.
Bottom Line on Spokeo Review
Spokeo can work wonders for anyone searching by name, address, phone number, or email. The platform looks through billions of records before providing a detailed report on its findings. You can see basic reports without paying a penny, but it will require a membership to have an unobstructed view of all available data. Since Spokeo is not FCRA-compliant, remember not to use the service for business-related inquiries.
Best Business Bank Accounts by State
Below you will find an interactive U.S map that can help you locate and compare different banks and financial institutions that offer business accounts in your area.