As businesses continue to grow, managing customer relationships becomes a daunting task. At this stage of the business, customer relationship management (CRM) software comes in. There are several CRM options on the market, but one that stands out is Zoho CRM. In this review, we'll take a closer look at Zoho CRM's pricing, features, and overall functionality. We'll discuss the software's benefits and drawbacks, as well as its suitability for various business sizes and types.
Zoho CRM is popular among small and large enterprises, because it guarantees efficient management of clients and business operations. In this review, you'll get a good understanding of why Zoho CRM is the right solution for your business's CRM needs. This is because we carried out an in-depth review of Zoho CRM, and what it has to offer. 
Zoho CRM Pricing Table
The different membership plans available on Zoho CRM offer a wide range of features. We will consider some of these features and the extent of the feature functionality on every membership category on Zoho CRM. To determine the Zoho plan that is best suited for your business requirement, it is crucial to compare the features and pricing of five available plans on Zoho. 
Zoho CRM Pricing Packages
To determine the Zoho CRM plan suitable for your business, go through this summary explanation of Zoho CRM packages.
Zoho CRM Free Plan – Free Forever
This is the plan for individuals and startups who are looking to test the waters in customer relationship management. This Zoho free plan offers limited basic features, but enough to provide good work for its user status. Some of the features offered by this plan include: Rename Tabs, Layout Editor, Standard List Views, Predefined reports, Email Templates, GDPR Compliance, etc.
The Zoho free plan is also meant for large corporations to try out the excellent offerings and customer relationship management of Zoho before they decide on the higher plan with more features they will purchase that serves the needs of their business. Here are other free CRM software to consider.
Zoho Standard Plan
The standard plan is for small businesses that have outgrown the free plan and have the need to use more features and more seats for team members or employees in the business. The standard plan is priced at US$18 /user/month which is billed monthly. The standard plan provides access to more features than the free plan, such as security features, marketing automation features, etc.
Zoho Professional Plan
The professional plan of Zoho CRM is suited for mid-sized businesses that have continually increasing patronage and have the need to manage their customer relationship. This plan offers a wide range of features more than what is available in the standard plan. This plan has more security features, better analytics and reporting tools, and better customization tools. The Zoho professional plan is priced at US$30/user/month which is billed monthly.
Zoho Enterprise Plan
The Zoho enterprise plan is the plan for much more established mid-sized businesses that are targeting to grow into large businesses with several locations across regions. This plan provides more advanced features in security and every other aspect of customer relationship management compared to what is offered by the professional plan and other plans lower than it.
Zoho enterprise plan offers Advanced dashboard components, Anomaly detectors, Webform analytics and several other advanced features that set it apart. The enterprise plan is priced at US$45/user/month billed monthly. The Zoho enterprise plan is the most popular plan on Zoho CRM software solid offerings.
Zoho Ultimate Plan
The Zoho ultimate plan is the plan for very large and established businesses looking to consolidate their positions through customer relationship management. Zoho ultimate plan offers all the available features on its platform to users who operate on the ultimate plan. The pricing of Zoho ultimate is placed at US$55/user/month for monthly billing. Zoho ultimate has the auto-responders feature exclusive to it meaning this feature and many others are available only on the Zoho ultimate plan.
Zoho CRM Features
We'll take a look at the major features offered by Zoho CRM. The features we will discuss include sales force automation, automation and process management, product customization, reports and analytics, and marketing automation.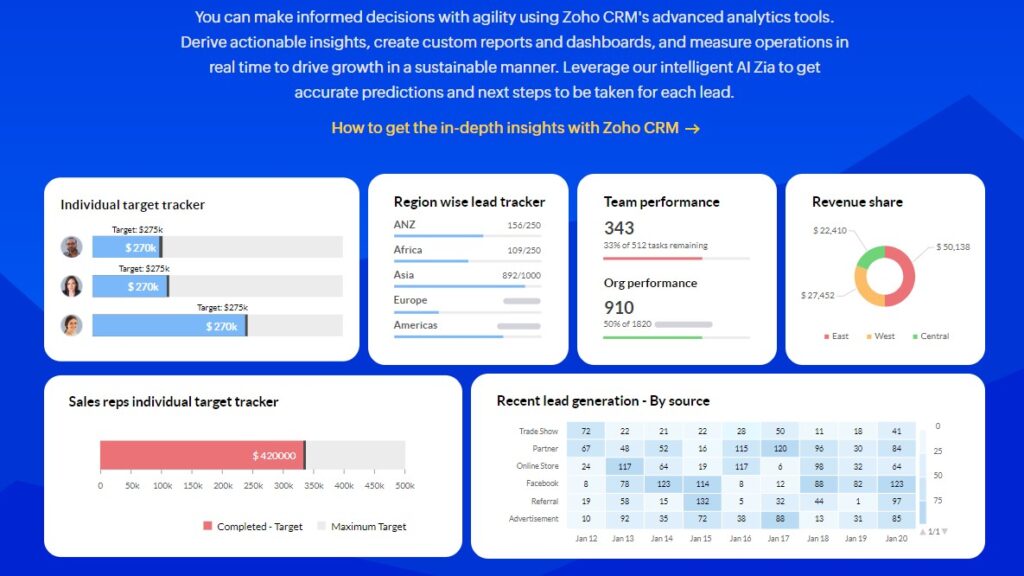 Sales Force Automation
Zoho offers a robust sales processing feature that is highly advanced with several functionalities within the sales force automation system. The sales force feature enables you to automate routine sales, marketing, and support functionalities that take up valuable work time. This gives you more time to concentrate on your customers. The sales force automation allows you to create optimized workflows that help reduce manual data entry and eliminate redundancies. This helps in increasing the speed of your business's overall process.
Automation And Process Management
This feature is the core feature that helps to automate the entire processes of your business sales team. This feature helps to make the functioning of the business sales seamless. This feature provides a blueprint of the business pipeline and structure, even if an employee or team member is not conversant with the system. With this feature, you can define your business sales process for your team.
Product Customization
This feature is a unique one with specialisation products as its main function. With this feature, you can combine various features to build a CRM that fits the specific needs of your business. This feature brings together all the needs of any business and builds a unique solution for your business.
Security
Zoho CRM takes the security of users very seriously hence security is a top priority at Zoho CRM. Zoho provides businesses with the top security protection for their user's data, and privacy while allowing employees the opportunity to carry out their work. With this feature, you are able to assign roles, define missions, define permissions, and control the information of your Zoho CRM.
Marketing Automation
This feature ensures that you get your marketing and sales teams on the same page for the growth of the business. This collaboration leads to new leads and the execution of targeted marketing on small companies. This ensures that startups can also get marketing leverage, the marketing automation is done by integrations.
Omnichannel
The omnichannel feature records and covers events in real-time, when handling customer projects, you will get notified whenever anyone interacts with your ads. This feature helps to provide businesses with more exposure and potential clients.
Zoho CRM Customer Review
Zoho is rated positively hence the over 250,000 clients that make use of Zoho CRM. Zoho is rated as one of the best CRM marketing software of 2023 by Forbes advisor. While G2 rated Zoho as one of the best global CRM software.
Forbes advisor reviewers commended the CRM features available on Zoho CRM, saying that they are one of the best in the industry.
G2 reviewers commend the Global customer relationship management abilities offered by Zoho CRM using its advanced features, especially the tons of customisation features offered on Zoho.
Benefits of Zoho CRM
Zoho offers a wide range of benefits that help increase your business value offerings. The benefits include: 
Automated Sales Process
Zoho offers a robust platform for you to manage your business sales process in an automated manner. Zoho CRM helps you in lead generation and helps you in closing deals for agreed deals. With Zoho, you are Guaranteed of giving your customers what they want, which helps them to stay loyal and come to buy again.
Automated Tasks
Zoho helps you to automate your business processes and management using the best process management tools. With Zoho your business is set to function optimally with little human intervention, this improves productivity in the long run.
Customizable Dashboards and Reports
With Zoho, you have access to customizable dashboards and tools for reporting and making analyses of your business output and operations. This feature provides you with up-to-date happenings in your business in real-time, if you wish to have a real-time report of sales activity.
Integration with Other HubSpot Tools
With Zoho CRM you have access to third-party integrations that enhance work productivity and cross-platform sharing and collaboration among team members. This feature helps your business sales team to reach out to other organisations when necessary seamlessly. This increases organisational structure and overall performance.
Methodology for reviewing Zoho CRM
In researching this review of Zoho CRM, we looked at the various sections of Zoho CRM and the platform as a whole, we then considered these features for our review
Marketing Automation
We examined the marketing features available on Zoho CRM, including Email templates, Email authentication, Mass email, Social profile integration, Email relay, and CRM for Google Ads. We examined the ease of use of these features, and the integration of Zoho with other third-party platforms, for business streamlining and sales growth through analytical capabilities offered by Zoho.
Sales Force Automation
We examined the working of Zoho CRM sales automation tools including Sales forecasting, Email insights, Multiple currencies, Macros, SalesSignals, etc. These sales tools were also tested for full functionality.
Automation And Process Management
We evaluated the workflow process management on Zoho considering the complexity of certain tasks, we determined that the automation of business process management offered by Zoho worked as stated by Zoho. Some of the features examined were Workflow rules, Blueprint, Webhooks, Record approval process, and Data review process.
Security
Zoho claims to put security a priority for it, hence we checked out the security features of Zoho CRM. The system did have a very positive response to the system security examination. Some of the security tools examined on Zoho include CRM audit logs, IP address restriction, and Field-level security.
Alternatives to Zoho CRM
If you are searching for customer relationship management alternatives to Zoho CRM that offer more features and better pricing than Zoho. Here are alternatives to Zoho CRM, you may want to have a look at.  
Frequently Asked Questions (FAQs)
Bottom Line
Overall, Zoho CRM offers a wide range of customer relationship management solutions as we have discussed. The tools available on Zoho CRM are amazing, even though Zoho has limitations like every other CRM solutions provider.
Zoho is a CRM solution provider you should consider because it is a viable option to enhance your business marketing and management efforts. With Zoho, you can continually grow your business relationship with your customers.