RingCentral is a voice-over-internet protocol (VoIP) communications service, providing streamlined calling to anywhere in the United States and Canada. The software helps businesses efficiently connect with consumers to improve sales and customer retention. Read on to see how RingCentral provides the tools you need to succeed.
Our Verdict
RingCentral is an excellent upgrade to any cloud phone system. Not only will it allow for faster and clearer calls, but the software also incorporates several additional features like video conferencing and collaborative tools to streamline business communications.
With several tiers of service, RingCentral is a solid option for any size venture. Price points and feature sets scale with your organization as it grows, making RingCentral viable for many years to come.
Unlimited calls within the U.S. and Canada
Several integration options
Built-in team messaging and document sharing
Can be overcomplicated for first-time users
Limited mobile features
Lacks some collaboration tools
RingCentral at a Glance
RingCentral's VoIP communications platform allows businesses to reach out over the internet instead of relying on traditional landlines. VoIP comes with several benefits, including better connectivity, lower costs, and clearer voice quality. Plus, more than 60% of businesses have already made the switch to VoIP, according to a Blueface research report.
The software doesn't stop there, adding several other features to an already impressive cell phone platform. With RingCentral, businesses can take advantage of tools like call recording, auto attendants, and integrations with other popular business apps. If that wasn't enough, RingCentral also includes audio and video conferencing for internal or external use.
You'd be right to think that all these features don't come cheap, but RingCentral is one of the more affordable options out there. It offers four different tiers that grow in features as the price goes up. This allows businesses to start at a level they can afford and scale accordingly.
Who RingCentral is Best For
RingCentral expertly scales alongside different business models, allowing companies of any size to make use of its many features. Small ventures in need of a VoIP phone system can use RingCentral to establish a business phone number and communication tools, while enterprises requiring video conferencing can find what they need as well. Even large businesses with call centers can build an infrastructure with RingCentral, taking advantage of the auto-attendant, analytics, and storage.
Pricing
RingCentral has four pricing plans that increase in price with additional feature sets. The prices listed below are annual rates, where you can save upwards of 33% of what you would normally pay monthly. You can tap into additional savings per user if your team reaches 100 people or beyond.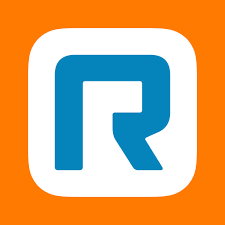 Features
Essentials
Standard
Premium
Ultimate
Business Phone and Toll-free Numbers




Unlimited Calls Within US and Canada




Voicemail to Text and Email




Team Messaging and Document Sharing




Video Meetings and Participants





Multi-level Auto Attendant

















RingCentral doesn't skimp on the features it includes with each tier of service. With four plans to pick from, chances are you'll find one that suits your needs.
At the low end, the Essentials tier kicks off at $19.99 per user each month with several VoIP-based phone tools to build your communications network. RingCentral gives each user a unique phone number that can call anywhere in the United States or Canada. If you miss calls, it's possible to receive voicemails to email or text, so they don't get lost in the shuffle.
The Essentials tier also has internal tools your team can take advantage of. Users can communicate through messages within RingCentral's dashboard and also share documents for easy viewing and modification.
If you can afford a little more, the Standard plan runs $27.99 per user and unlocks the ability to have audio and video conferences with your team or external clients. At this tier, you'll also gain access to 24/7 customer support via phone or online chat.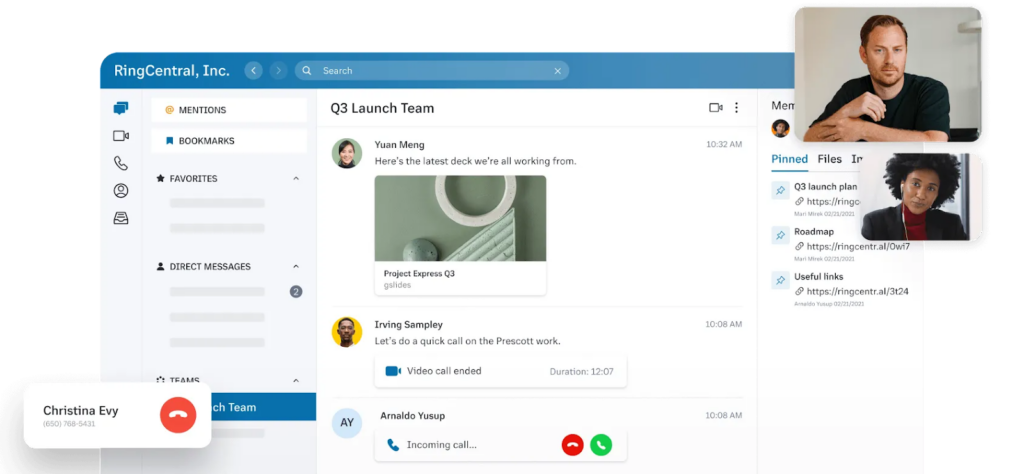 With Standard, you can also set up the multi-level auto attendant to field calls and distribute them right where they need to go. This feature saves your team from handling initial inquiries from customers, allowing them to stay in the area they excel. On-demand call recording allows you to save conversations for training purposes or improvement opportunities. Finally, you can link up RingCentral office with other popular apps such as Office 365, Google Suite, and Slack.
For $34.99 per user monthly, you can add real-time analytics to your repertoire of tools. These analytics report essential business data to help you identify areas of success and improvement. This Premium tier adds in several more integration options, such as Salesforce and Canvas that weren't available before.
Lastly, big businesses can make use of the Ultimate plan's unlimited storage to keep all the organization's files in one place. Be prepared to pay $49.99 per user to use such a feature.
RingCentral Features
RingCentral has a long list of features across its four tiers of service. Below are some of the standouts that really make the software shine.
VoIP Calling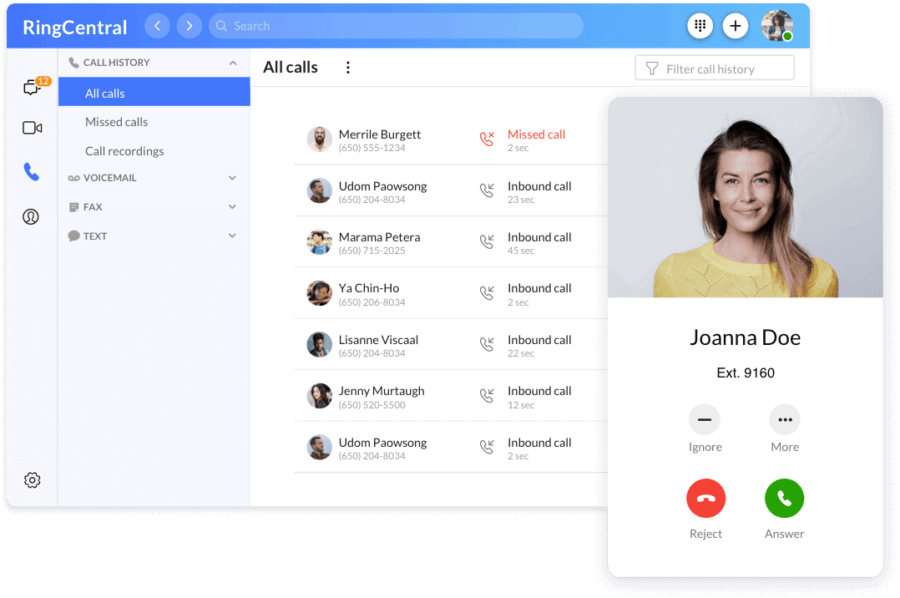 All incoming and outgoing calls run through the broadband internet you already use, helping to keep costs down and connectivity high. You can place an unlimited number of calls to anywhere in the U.S. or Canada for no additional charge. RingCentral gives a dedicated phone number to each user on your plan for efficient call routing, and the software is set up for SMS messages as well.
Call Recording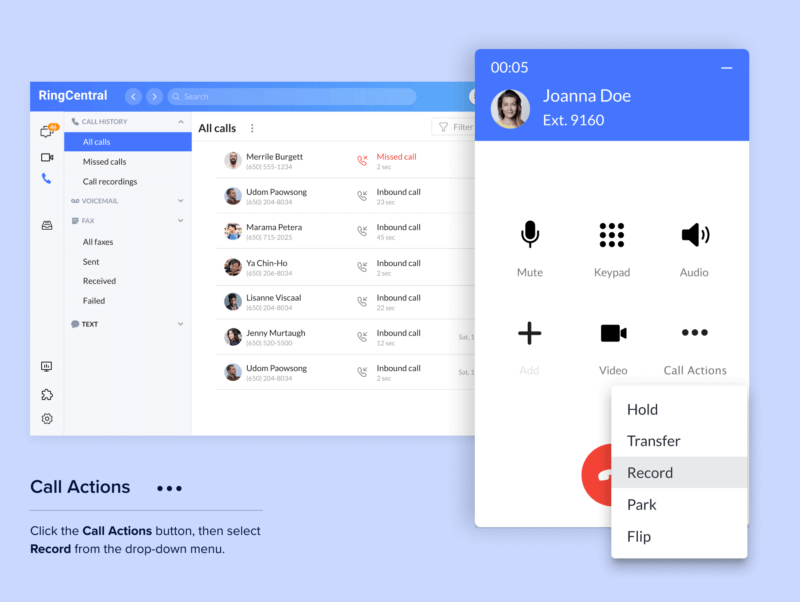 Most plans offer some form of call recording. On-demand recording allows you to manually capture conversations for training or improvement. RingCentral's higher tiers incorporate automatic call recording, where you can collect calls from individual users or departments as a whole.
Voicemail
At times, team members aren't available to answer incoming calls. RingCentral saves these messages to play back later. The software can automatically convert voicemail messages into texts you can read directly from your mobile devices. It's also possible to have voicemails sent to an email address or view them straight from the dashboard.
Team Collaboration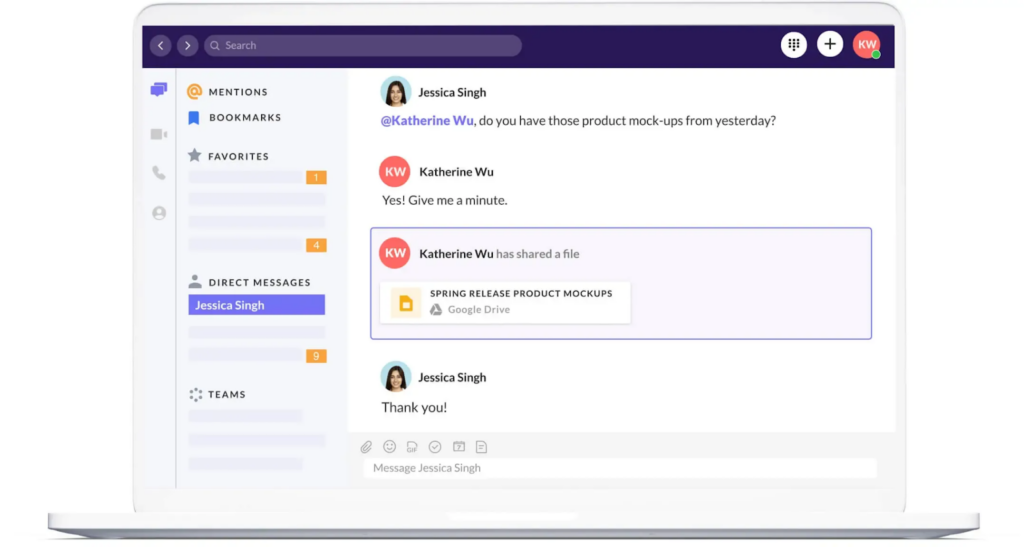 In addition to being a system for VoIP calling, RingCentral has RingCentral video offers several features teams can use to collaborate. Users can chat with colleagues, share calendars, see assigned tasks, and more within its dashboard. The software also allows team members to share and access files to keep communication in one place.
Conferencing
While other VoIP phone providers stop at calling, RingCentral goes above and beyond with conferencing tools. You can have audio conferences of up to 1,000 individuals, with each user having a unique login and access code. Video conferencing is also available for 100 or 200 participants depending on the level of service that you're using. These video meetings have built-in screen sharing and chat capabilities.
Auto Attendant
Auto attendants may very well be your hardest worker. These virtual receptionists answer every incoming call so no customer falls through the cracks. The assistant can share important information with anyone calling your main number and route clients to the correct department through button presses or voice commands. It's possible to record a unique message using a voice of your choice or build customized options for sending callers precisely where they want to go.
Using an auto attendant frees up an employee from having to answer incoming phone calls, allowing them to tackle more important tasks. Best of all, this feature is included with nearly all RingCentral plans.
Integrations
RingCentral gets along well with a host of other apps designed to make project management, communication, and marketing a breeze. Having software to communicate well saves time with data entry and converting information from one place to another. Lower tiers only allow integrations with popular apps like Office 365 and Google Suite. You can link up RingCentral with tools like Salesforce and Canvas at higher price points.
Alternatives to RingCentral
RingCentral has a lot of great features, but it isn't for everyone. Check out how some of the most popular alternatives compare to what RingCentral has to offer.
Nextiva is a VoIP calling platform designed to help businesses connect with clients and potential customers. As you move up the price ladder, Nextiva adds features that extend well beyond what a typical communications platform can do. Its mobile apps don't carry the same praise, often lacking features that appear on the P.C.
The service offers three tiers of service that somewhat mirror RingCentral. Starting at $23.95 per user, the Essential plan contains unlimited calling to the U.S. and Canada alongside a free local and toll-free number. It stands apart from the competition with an auto attendant and 24/7 customer support across all price points.
The Professional plan for $27.95 per user each month adds in video conferencing of up to 250 users, integrates with several other business apps, and showcases a multi-level virtual assistant. The Enterprise plan allows unlimited video conference participants and finally introduces call recording into the mix for $37.95.
This range of price points makes it possible for businesses to use Nextiva's tools for communication and collaboration at any stage of the game. Costs aren't too far off from RingCentral, but features are different. To learn more about Nextiva's features, read our complete Nextiva review.
Unlimited calling within U.S. and Canada
Free local and toll-free number
Customizable auto attendant
Call recording is only available in higher-tier plans
The Essential plan has no conference calling
Mobile apps lack features
Vonage is well-known for its phone service and has a three-tiered VoIP package for businesses. The platform stands out for its customization, offering API tools for voice, video, and more. The downside is that these coding options come with an additional cost.
There's no clear list of what goes into each of Vonage's price points, but costs per user decrease as you hire more individuals to your staff. If you're a business with over 100 employees, you'll need to call Vonage for a quote.
The Mobile tier is pretty basic, allowing for unlimited calls to the United States and Canada. Your team can access the messaging center through either desktop or mobile app, and its app center can integrate with over 20 third-party apps. Gaining access to these features will set you back at most $19.99 per user.
Sitting at $29.99 per team member, the Premium plan adds in unlimited video meetings for up to 100 attendees. Here, you can integrate with big names like Google and Microsoft, and Premium also contains a multi-level auto attendant. If you're looking for more, the Advanced plan at $39.99 per user monthly brings in call recording and visual voicemail features that RingCentral adds in at its lowest tier.
Several routing options to never miss a call
Apps for mobile and desktop
Very customizable with communications APIs
Limited customer support
Hard to understand which plans offer which features
API tools come with additional cost
Whether you're just starting out or have been in business for years, 8×8 has something for everyone with its six calling plans. High-end service tiers revolve around contact centers for high call volumes and large staff. The large feature set is beneficial but can muddy the dashboard when trying to locate the tools you need. Sadly, you won't have access to customer service with some of the lower-priced plans.
New ventures can pick up 8×8's Express plan for $15 per user each month, including voice, video, and messaging. Your team can call anywhere in the U.S. or Canada, and an auto attendant with intelligent call routing will get incoming calls where they need to go.
Moving to the X2 plan enables calling to 14 different countries, increased video conferencing size with high definition, and integrations for $24. The price jumps to $44 per user for the X4 plan, but you'll gain access to tons of analytic data and calling to 48 countries.
Tier X6 adds in basic contact center features, call recording, and intelligent voice response for $85 per team member. X7 adds social media and chat connections for $110, whereas X8 introduces speech analytics and multi-screen monitoring for a whopping $140.
Read our in-depth review on 8×8 to learn more about its features and pricing.
Voice calling for up to 48 countries
High definition video conferencing
Mobile and desktop apps
Limited protection from spam calls
Customer support isn't available on low-end plans
Complex dashboard
Grasshopper has a unique business model that targets smaller companies through flat rates for service. It's also quite easy to get set up and start running. However, any enterprise with over five or ten users will struggle to find use for this VoIP provider due to a minimal feature set.
All Grasshopper plans include a free business phone number, texting capability, and voicemail for storing missed messages. You'll also have access to basic reporting tools and the ability to transfer calls to another sales team member. There's no video conferencing, call recording, or auto-attendant to field calls for you.
For a flat $26 per month, you'll receive a single phone number and three extensions to transfer calls to. $44 nets you 3 unique numbers and 6 different extensions, while paying $80 per month allows for 5 numbers and an unlimited number of extensions and unlimited internet fax. It's worth noting that adding an additional line will set you back $10 per month. Read our Grasshopper review to learn more about its service.
Flat rate per month
Fast to set up and start using
Free vanity phone numbers
Lacks conferencing and call recording
Limited tools for larger businesses
Costly to add additional phone numbers
Frequently Asked Questions (FAQs) for RingCentral Review
RingCentral can become confusing with the many features it offers. This FAQ should answer some of the most popular questions about RingCentral and what it does.
Bottom Line on RingCentral Review
RingCentral is a powerful unified communications solution communications platform with an abundance of features businesses can use to reach that next level. Whether you're working to retain clients, collaborate better, or offer video training sessions, this phone app has what you need. With varying tiers of service, small enterprises to large corporations should have no trouble finding a price point that works for them.