Grasshopper is a popular cloud-based phone service that offers voice-over-internet-protocol (VoIP) solutions. In this Grasshopper review, we'll explain why the platform is ideal for small and mid-sized businesses that are cost-conscious. Among other things, users enjoy an easy and intuitive setup and plenty of team collaboration tools.
Our Verdict
Grasshopper VoIP services provide feature-packed plans to suit the needs of small and mid-sized businesses. Irrespective of your package, you can make unlimited business calls and texts. The service also allows you to use your existing business number or choose one from Grasshopper's inventory of local, toll-free, and vanity numbers.
There are numerous enticing features, including VoIP and Wi-Fi calling, custom greetings, multiple extensions, virtual fax, and voice mail, which are also available on mobile and desktop apps.
Furthermore, you will receive detailed call reports and timely notifications of missed calls and voicemails. Grasshopper has a 7-day free trial period, and your number is activated after you choose a plan.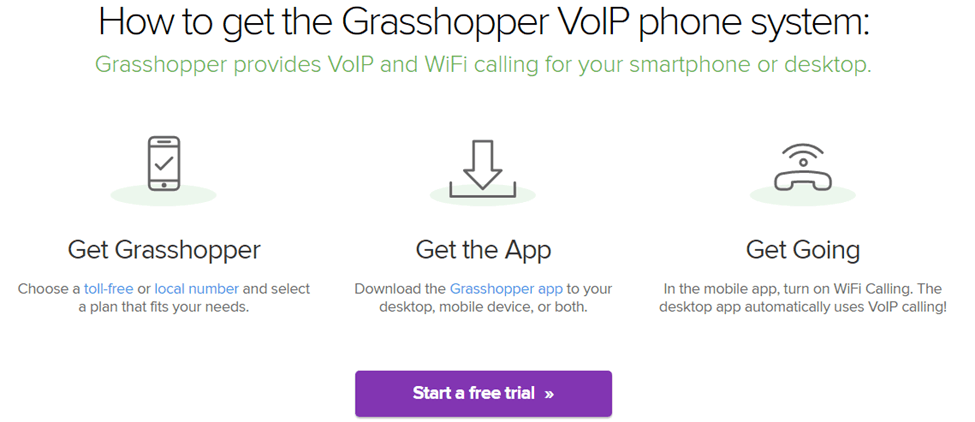 No need for special equipment or other phones
You can get a local, toll-free, or vanity phone number
Mobile and desktop app available (compatible with android and iOS)
No video conferencing feature (not a unified communications service)
No call recording
Lacks CRM integration capabilities
Grasshopper is a phone service that offers reliable VoIP solutions for small and mid-sized businesses. While it provides a whole array of calling features, including call transfers and extensions, it remains a far cry from a unified communications service that blends phone services with video conferencing and email.
This Boston-based phone service offers a professional way to handle communications, especially for companies with few or moderate communication demands. Grasshopper has a great desktop and mobile app, allowing you to communicate anywhere using any gadget!
Moreover, the service separates your business calls from your personal calls. Even if you stick to using the mobile app, you don't need to worry about embarrassing blunders where you lack professionalism by greeting a client casually.
Who is Grasshopper Best For?
Grasshopper offers a competitively priced tier-based VoIP service. Even though it has plenty of call management and collaboration features, it lacks CRM services and video conferencing software.
This makes it an ill-fit for larger companies with more significant communication needs. However, it is a solid option for entrepreneurs, startups, and small businesses with low or moderate communication needs.
Grasshopper Pricing
Grasshopper offers three unique plans ideal for startups and small businesses. These plans differ in price ranges, with the lower-tier package costing $29 monthly or $26 per month under an annual commitment. You can upgrade to the Partner or Small Business plans once your company grows and you need more phone numbers or extensions.
Something that stands out about Grasshopper's pricing is that the tier packages have a flat monthly fee. The billing process is straightforward, so you don't have to worry about hidden costs. Also, there are plenty of add-ons like professional voice studio and call blasting that you can include in your package to create a personalized VoIP service.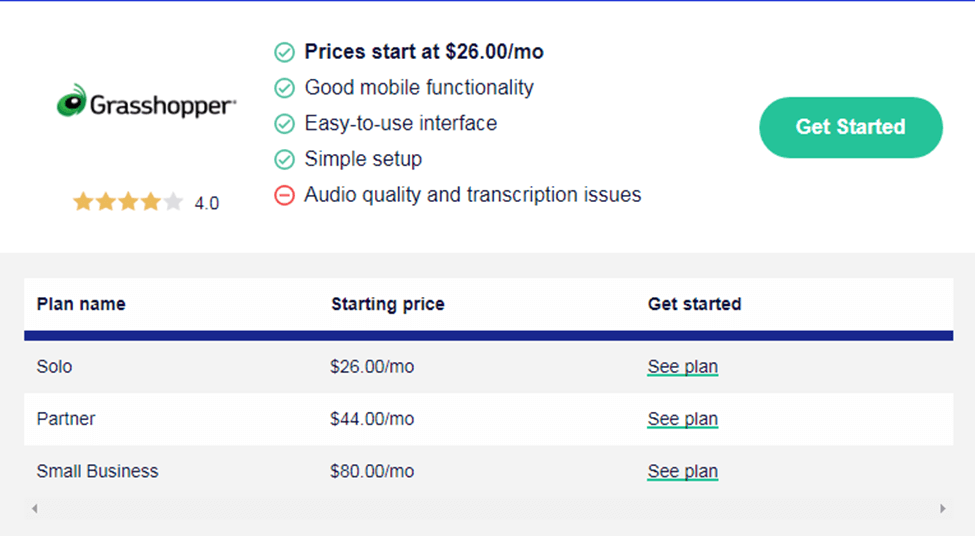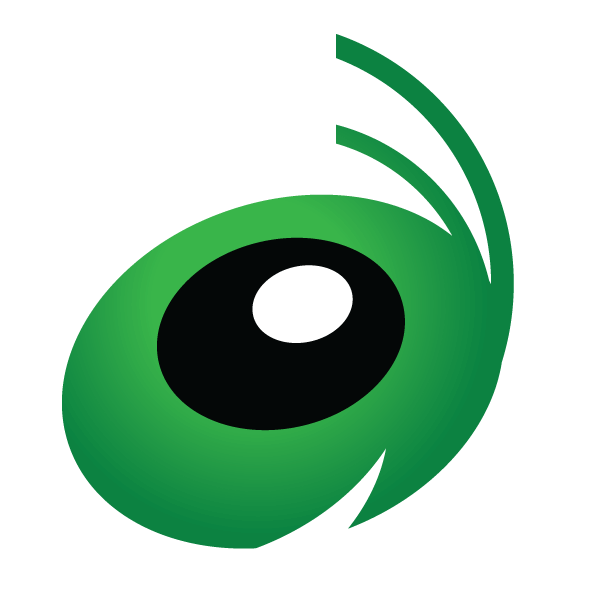 Plans
Solo
Partner
Small Business






Unlimited Calls and Texts


















Grasshopper Features
Grasshopper offers a reliable range of features that complement your existing phone systems. Because some features are standard in all plans, most startups and solo enterprises can choose the lower tier package and upgrade as their businesses grow. Here are some of Grasshopper's features.
Grasshopper Mobile and Desktop Apps
Grasshopper offers a desktop and mobile app that makes the phone service portable. You can make and receive business calls from anywhere as long as you can access your laptop, smartphone, tablet, or desktop.
These applications are compatible with Windows, Mac, Android, and iOS gadgets.
One of the significant benefits presented by the apps is that they allow you to separate your business calls from your personal calls.
There is also the convenience of having access to your call history to make timely follow-ups on any missed calls. The apps provide an all-in-one dashboard to view all your communications. This includes calls, texts, emails, voicemails, and video calls.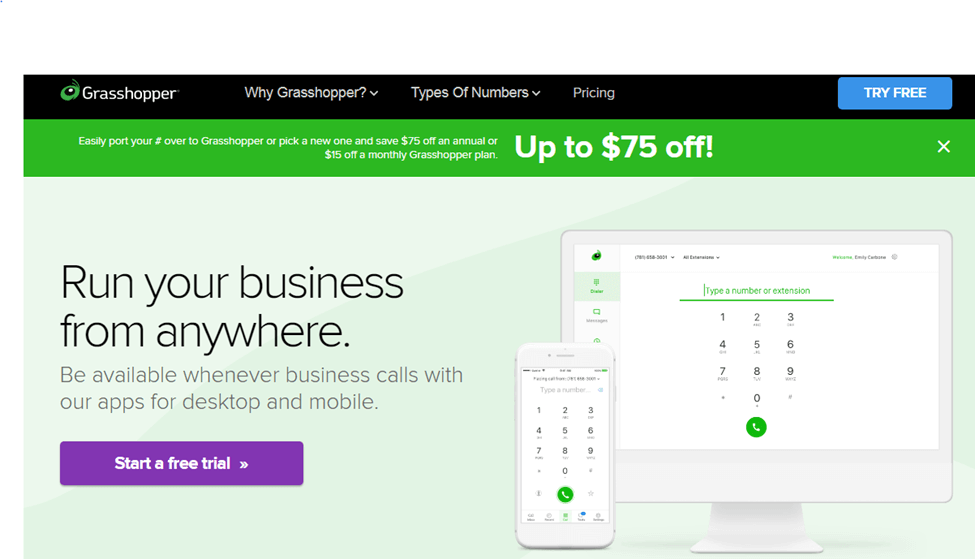 Virtual Phone Numbers
You can choose a custom phone number for your business through the virtual phone numbers feature. This allows you to further enhance your professional image by separating your business from your personal affairs. The available numbers include:
Local phone numbers—These boost your brand's presence within your area and make it easier for your business to attract a local client base.
Vanity phone numbers—Allow you to select a number based on a keyword's spelling. For instance, you can create a custom number with your brand or product name as the keyword. This makes it easier for your clients to remember your business number.
Toll-free numbers—Give you a more established and credible image by letting your clients reach out for free.
VoIP Calling
All Grasshopper plans allow users to make unlimited calls to the US and Canada. You can also make international calls at an added fee. Using Grasshopper's calling card feature, you can mask your personal number and instead display your business number. Other functionalities enabled by the calling features include:
Calls over Wi-Fi
Call transfers
Call forwarding
Phone extensions
Hold music
Number blocking
Voicemail Transcription
This service allows you to have your voicemails transcribed and sent to your business email. You can also send them to a virtual assistant or your text inbox. Better still, this feature allows scanning of business voicemails using keywords. This can be a real-time server, allowing you to sieve out the most urgent voicemails.
Automated Greetings
A professional greeting can enhance your brand's image and create a sense of being legitimate and more established. Grasshopper allows you to record your IVR audio greetings or pay a fee to access the professional voice studio service.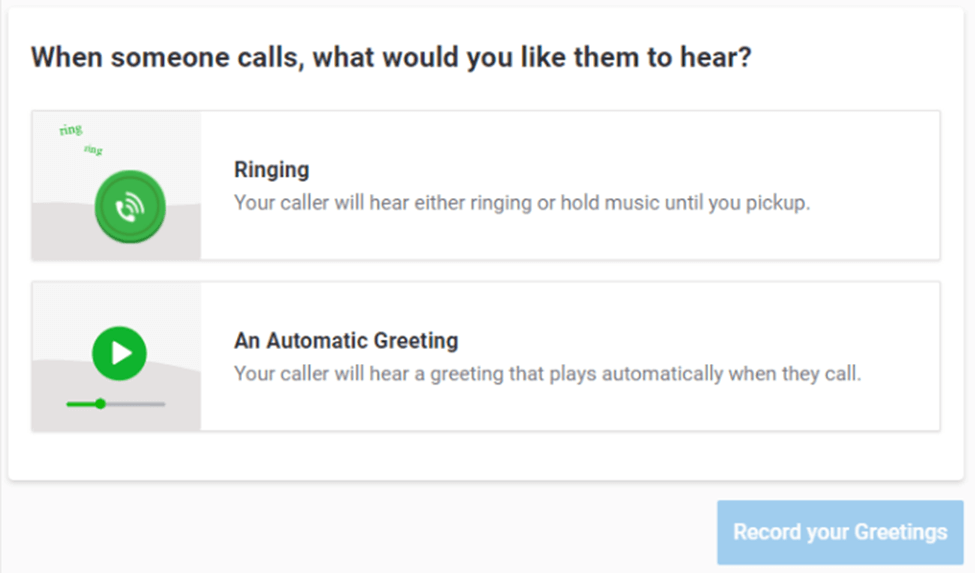 Instant Response
The instant response feature makes it easier to take advantage of all available business opportunities. The feature works by sending an automatic text each time you miss a call. This lets your caller know that:
They have reached the correct number
You are currently unavailable but will respond as soon as possible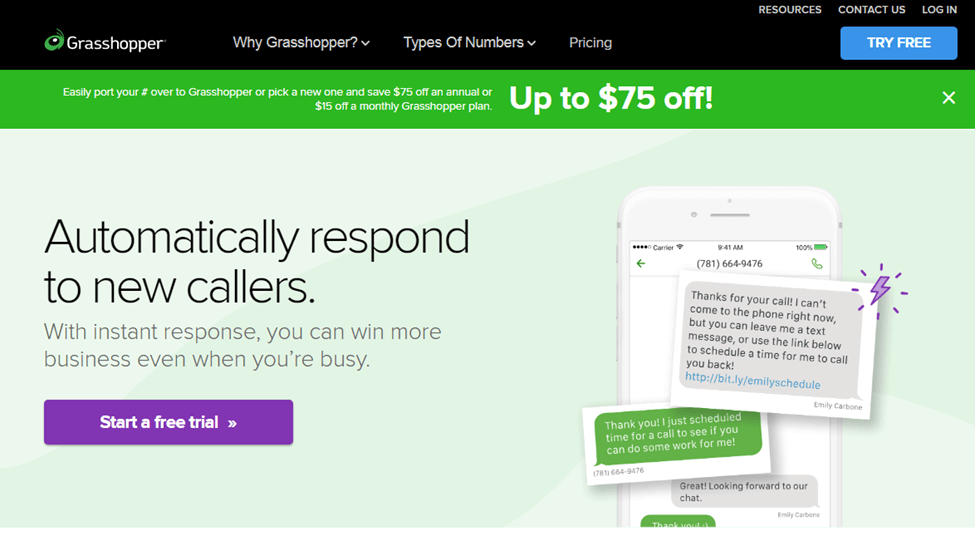 Add-On Features
Grasshopper offers the flexibility to scale up with add-on features. As your business expands, you can include the following services to ensure your company enjoys personalized VoIP solutions without changing your service plan.
Ruby Receptionists—Gives you a virtual receptionist to pick up incoming calls and give your callers a professional and personalized experience.
Video Studio—Allows you to hire a professional to create polished customized call greetings.
Call Blasting—Activates simultaneous calling to reduce call wait time and enhance customer satisfaction.
International Calls—Offers a personalized international calling plan and reach out to your clients beyond the US and Canada.
Extra Numbers and Extensions —Customizes your existing plan to include more business numbers or extensions without changing your service package.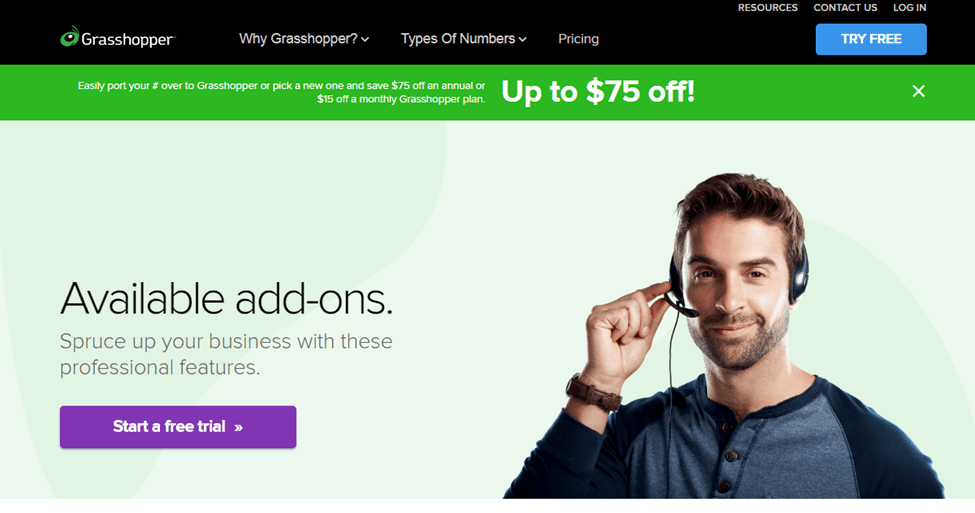 Grasshopper Alternatives
Grasshopper has competitively priced tier-based plans. While it is a solid option for startups and small businesses, there are better alternatives for solo entrepreneurs and larger businesses that require more robust software. Here are three of the top alternatives to using Grasshopper VoIP services.
RingCentral is one of the best alternatives to using Grasshopper. This VoIP service is well-known for its ease of use, reliable call quality, and range of pricing plans ideal for all business sizes.
RingCentral is a unified communications service, and its features provide more than just essential professional calling services. You can make phone calls, video calls, conference calls, and text messages using one platform!
RingCentral Pricing
RingCentral offers tier-based services and allows users to pay monthly or annually. An annual subscription makes you eligible for a 33% discounted rate. The platform's plans include:
Essentials—$29.99 monthly or $19.99 when billed annually
Standard—$37.99 monthly or $27.99 when billed yearly
Premium—$44.99/ month or $34.99 under yearly billing
Ultimate—$59.99/month or $49.99 under annual billing
Who Is RingCentral Best For?
RingCentral is a solid alternative to consider if you want a phone service with plenty of VoIP and collaborative features. The platform stands out for being an all-in-one communications service ideal for all businesses, including those with greater communication demands.
How Does RingCentral Compare To Grasshopper?
RingCentral offers more features, allowing it to cater to more than just startups and small businesses. Unlike Grasshopper, it is a unified communications service that will enable you to make video conference calls. Also, it has a clean and good-looking interface, which is a definite plus point above Grasshopper.
Video conferencing (HD quality)
Enhanced scalability with a wide range of add-on features
User-friendly desktop and mobile app
Limited interactive voice response options
Hard to navigate fax feature
Conference call greeting can't be customized
Google Voice is an excellent VoIP service to consider if you have a Google Workspace account and want to enjoy straightforward phone services. This cloud-based platform blends communication channels and provides comprehensive integrations and call functions. While it is quite popular among small and mid-sized businesses, it is rich in premium add-on features ideal for large enterprises.
Google Voice Pricing
Google Voice is one of the most budget-friendly VoIP services available. If you are a solo entrepreneur, you could even benefit from the platform's free plan. The three tier-based plans include:
Starter—$10 monthly
Standard—$20 monthly
Premier—$30 monthly
Who Is Google Voice Best For?
If you are searching for the best VoIP provider to help your business enjoy an international presence without overstretching your budget, Google Voice is your best bet. The platform offers call rates as low as a cent/ minute, making it ideal for large-scale companies with a global customer base. Read our in-depth review on Google Voice to find out if it's the best for you and your business.
How Does Google Voice Compare To Grasshopper?
Both Grasshopper and Google Voice are reliable VoIP services. However, Grasshopper offers customization with advanced features like instant response, simultaneous call handling, and custom greetings. Unless you desire a simplified phone service, it is better to stick to Grasshopper.
Unlimited domestic calls and texts
Allows call routing to multiple devices simultaneously
Smooth integrations with Google Workspace
No vanity or toll-free numbers
Limited advanced features
Google might have access to your confidential information
Vonage is an excellent alternative to Grasshopper because it is a unified communications provider. The VoIP service makes business communication and collaborations straightforward and cost-effective for startups and small businesses.
Vonage Pricing
Vonage offers three tier-based services. They include:
Basic—$19 per month
Premium—$29/month
Advanced—$39/ month
Who Is Vonage Best For?
Vonage is an excellent option if you want a competitively priced VoIP service that offers all the essentials you need to work from anywhere and on any device. It is also attractive for businesses looking for more scalability. The platform has numerous add-on features, meaning businesses can choose only the features they need.
How Does Vonage Compare To Grasshopper?
Both Grasshopper and Vonage are ideal options for startups and small businesses. The main difference is that while Vonage is a platform built on robust technology, Grasshopper mainly depends on its features to create a package ideal for the communication needs of different businesses.
Video conferencing feature
All plans allow unlimited calls and texts
Secure (FCC, HIPAA, PCI, and GDPR compliant)
The basic plan has limited features
Too many add-ons at an extra fee
No online faxing or toll-free numbers
Frequently Asked Questions (FAQs) for Grasshopper Review
Here are the answers to some frequently asked questions to help you further evaluate whether the service matches your business needs.
Final Thoughts on Grasshopper Review
Grasshopper is a VoIP provider with just enough features to suit the needs of small and mid-sized businesses. It also matches the expectations of solo entrepreneurs and small startups that want to set up a professional phone system cost-effectively. The 7-day free trial offers a risk-free means to sample the service and determine whether it suits your business needs.
So is it a good fit for your business? Hopefully, our Grasshopper review has helped you answer that question.