Google Voice is Google's Voice over Internet Protocol (VoIP) solution. It is a digital phone system that works for desk phones, smartphones, and computers. This system is completely integrated with Google Workspace's ecosystem and is an excellent tool for small to medium-sized businesses that need to level up their communications with customers. 
In this Google Voice review, we have narrowed down all the most important aspects of this VoIP service.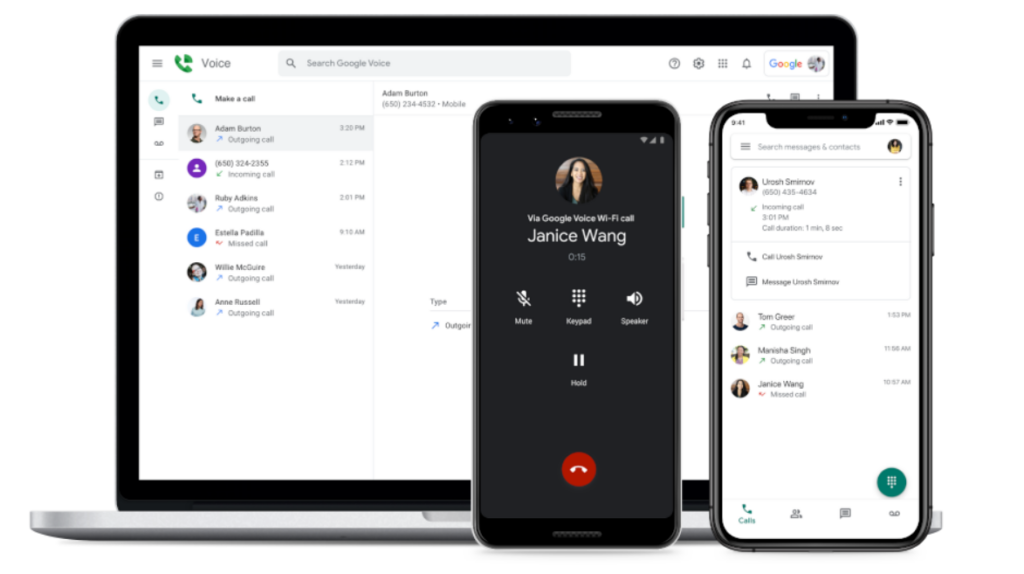 Our Verdict
Google Voice provides overall great VoIP service for small businesses. Because this is Google we are talking about, it seamlessly integrates with Google Workplace, especially Google Calendar and Google Meet. In addition, it also offers a familiar user interface, which makes it intuitive and easy to use. After all, who doesn't use at least one Google product on a daily basis? 
This VoIP service is also cost-effective compared with other alternatives in the market. With comprehensive features and prices starting at $10 a month per user in its Starter plan, Google Voice is perfect for small to medium-sized businesses. Also, the Standard and Premier plans offer an even broader set of features with prices as low as $20 and $30 a month, respectively. 
Fully integrated with Google Workspace
Works on desk phones, smartphones and computers
Syncs all devices
Delays and voice vibration at times 
Inaccurate voicemail transcripts at times 
SMS limited to the US
Google Voice at a Glance
Google Voice is the perfect VoIP service for small to medium-sized businesses. It offers comprehensive voice features at prices starting as low as $10 per month, making it one of the most cost-effective solutions. 
But what sets Google Voice apart from other solutions in the market is, well… Google. Since this is a Google product, it integrates with Workplace apps. Users can easily manage meetings in Google Calendar, receive calls from ongoing meetings on Hangouts Meet, and use Gmail to follow up on contacts made with Google Voice. 
Google Voice works perfectly on desktop phones, smartphones, and computers, meaning users can carry out phone calls from whichever device they prefer. Moreover, Voice also syncs all connected devices, allowing users to access their information from wherever they want. 
Most Google Voice users have reported being generally satisfied with the product. However, Google Voice fails in a few aspects. For instance, the SMS features could be broader: the unlimited SMS function is available only in the US, which can be a downer for companies doing business abroad. Google could also improve voice transcripts – users have reported delays and inaccurate voice transcripts. 
Who Google Voice is Best For 
Google Voice is the perfect VoIP service for small businesses because it provides a high-quality and user-friendly digital phone system that can help them lower costs and swiftly manage their contacts. 
It's a good fit for small businesses looking for affordable phone plans with other Google solutions as part of their daily work and can easily integrate with Google Voice. 
On the flip side, larger companies that operate with other software and need integration with other business solutions such as CRM software or customer support might not be a good solution, as Google Voice integrates only with Google Workspace apps. 
Pricing 

Pricing starts as low as $10 a month per user. Google Voice is also compatible with Google Fi – Google's mobile virtual network operator (MVNO) – and comes with a seamless Google Calendar and Google Meet integration. These features can come in handy for small business owners who use Google Meet quite often.
For businesses looking for an upgrade, Google Voice's Standard plan offers additional services such as a multi-level auto attendant, ring groups, desk phone support, and eDiscovery for calls, voice mails, and SMS at only $20 a month per user. The Premier plan offers what is included in the Standard plan, plus unlimited users in international locations and advanced reporting at $30 a month per user.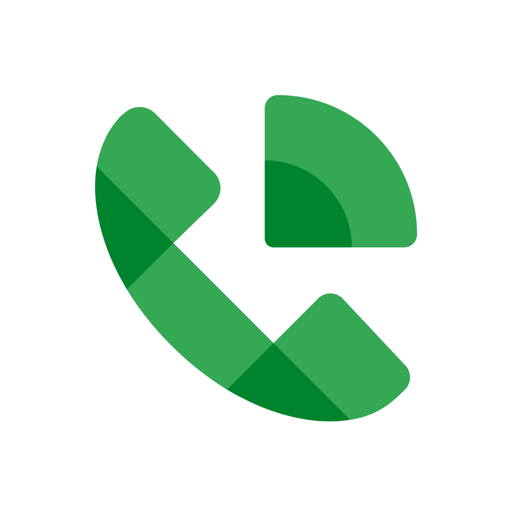 Plans
Starter
Standard
Premier
Starts at $10/month per user
Starts at $20/month per user
Starts at $30/month per user
Compatible with Google Fi






Integrated with Google Calendar & Meet









Multi level auto attendant






Google Voice Features & Integrations
Although it's a comprehensive tool overall, we found some features and integration that stand out in Google Voice during our analysis.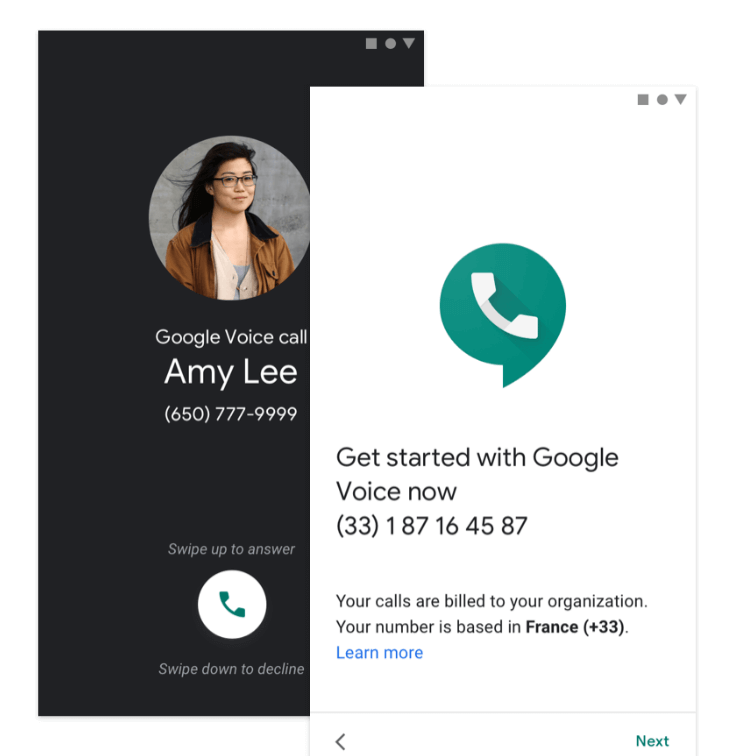 Make Calls From Gmail
Suppose you're in the middle of an email when you realize it will be too long or too complex to explain through a written text. Google Voice makes it easier for you – instead of writing a long and complex email, you can call for free, straight from your inbox.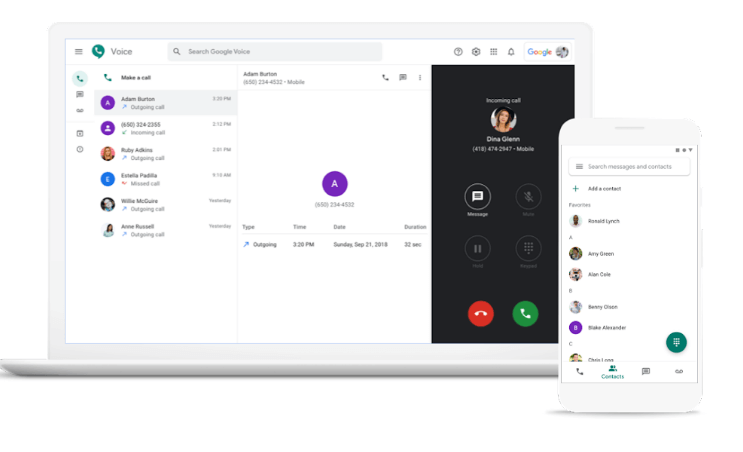 Voicemail to Text
If you need to transcribe a voicemail into text, Google Voice does it for you. Using advanced speech recognition technology, this great future not only turn voicemails into text but also allows you to scan the voicemail and check its content, just like you would with an email. 
Call Recorder
Get back to a call whenever you want with this great feature. Record calls from beginning to end and keep a record of important meetings and interviews that occur over the phone.
Google Calendar Integration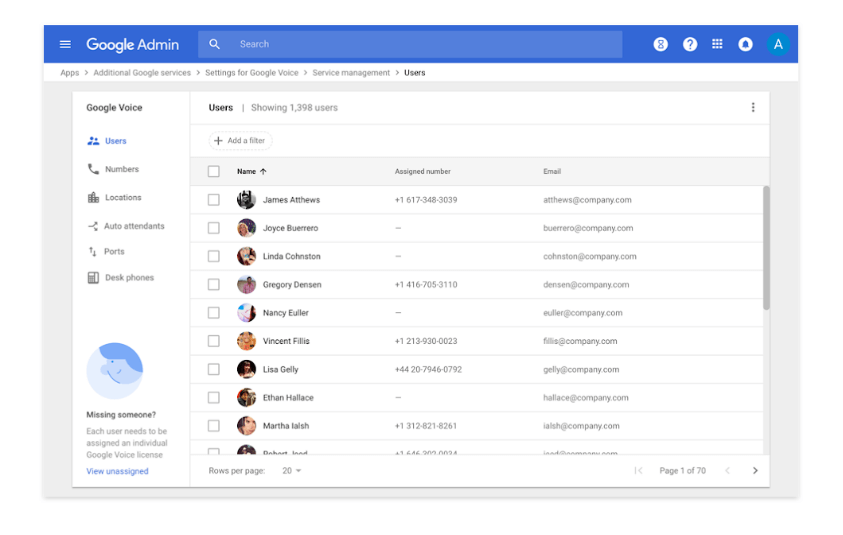 Google Voice integrates perfectly with Google Calendar and even lets busy business owners shut down from work by automatically sending calls to voicemail after business hours. It also enables this feature whenever the call conflicts with the events on the calendar. 
Google Meet Integration 
Like Google Calendar, Voice also integrates with Google Meet, making it easier for users to join meeting even when they are on the go. For instance, when users receive a call from Hangouts Meet, they can check what meeting is calling. 
Gmail Integration 
Although not listed as a feature on the official Voice page, we couldn't leave behind the Gmail integration provided by Google Voice. Voice allows users to unify their calling experience by providing a widget on Gmail that enables them to make and receive calls without switching tabs or apps. When using Gmail, Google Voice appears on the right side of the screen, allowing users to carry out calls from the computer. 
Alternatives to Google Voice
Not sure about Google Voice? There are other VoIP phone services are available on the market – below, we've listed our favorite options.
CloudTalk is possibly one of the most comprehensive VoIP tools and is very similar to Google Voice. It is known to provide the best Interactive Voice (IVR) system and comes with multiple integrations. In addition, CloudTalk also integrates call recordings as a standard service in all plans. However, the Starter plan doesn't come with text messaging and IVR. Also, SMS is only available via request.
CloudTalk might be a better fit for larger businesses, as it comes with additional resources that aren't very useful to small enterprises.
Compared to Google Voice, CloudTalk has more features, but it comes at a cost: its plans start at $30 a month per user, three times more expensive than Google Voice.
Provides the best Interactive Voice (IVR) system 
Call recording comes as standard service in all plans
Multiple integrations
Text messaging and IVR aren't available on the Starter plan 
SMS is only available via request
Audio conferencing is limited to three users
OpenPhone takes VoIP to the next level — or, more specifically, it takes CRM and text messaging to the next level. With OpenPhone, users can initiate a discussion thread with their co-workers based on a single interaction with clients or potential buyers. No more forwarding messages to random groups and losing track of unique interactions with clients. 
This feature makes OpenPhone great for teamwork, so medium-to-large-sized companies might benefit the most from it in comparison with small businesses. 
With prices starting at $10 a month per user, OpenPhone, like Google Voice, also offers voicemail transcripts — and also call recordings, which are not included in Voice. However, OpenPhone does not support group calling, has fewer integrations if compared to Voice, and has no international calling options outside the US and Canada.
Next-level text management: you can comment on inbound texts with co-workers and easily manage contacts 
Voicemail-to-text transcript 
Call recording
No group calling (coming soon)
Fewer integrations 
No international calls outside US and Canada 
Nextiva's Essential plan offers a comprehensive set of VoIP features, completely catering the needs of a small business. With 24/7 customer support, video calls, and integrations with Outlook and Google Contacts, Nextiva's Essential VoIP plan offers a good set of features. 
However, this might be a better option for companies foreseeing more team members and the need for a more robust solution. Its Professional plan offers an even more complete set of features — including team collaboration tools.
Compared to Google Voice, Nextiva offers similar features in its Essential plan, but at a higher price. The Essential plan starts at $18.95 a month per user, while the Professional plan starts at $22.95 a month per user. To learn more about Nextiva's features, read our complete Nextiva review.
24/7 customer support 
Integrates with Outlook and Google Contacts
Video calls included in all plans
More expensive
Fewer features in the Essential VoIP plan
No messaging available on the Essential plan
Frequently Asked Questions (FAQs) for Google Voice Review
We've listed the three most frequently asked questions about Google Voice. 
Bottom Line on Google Voice
Google Voice is designed to be simple, smart, and scalable. And it delivers on its promise: a comprehensive VoIP service for small-to-medium-sized businesses. 
Google Voice is fully integrated with Google Workspace and provides a seamless experience with Google Calendar and Google Meet. In addition, a widget available on Gmail lets users make and receive calls without having to switch tabs. 
The cloud-based service also syncs to all user's devices, letting them choose where they want their phone to ring. Apart from that, it also works on desk phones, smartphones, and computers. 
Finally, Google's AI carries out voicemail transcriptions and automatically blocks spam calls, allowing users to not be interrupted and focus on their business. 
Bottom line, compared with other VoIP solutions in the market, Google Voice offers a comprehensive, cost-effective service — and all for one at competitive prices, starting at only $10 a month per user.