From reliable in-house communications to conveniently reaching your customers, choosing the right VoIP provider is an important step to scale your business. In this Nextiva review, you'll see that it offers crystal clear calling and a comprehensive set of messaging and meeting capabilities to take your business to the next level.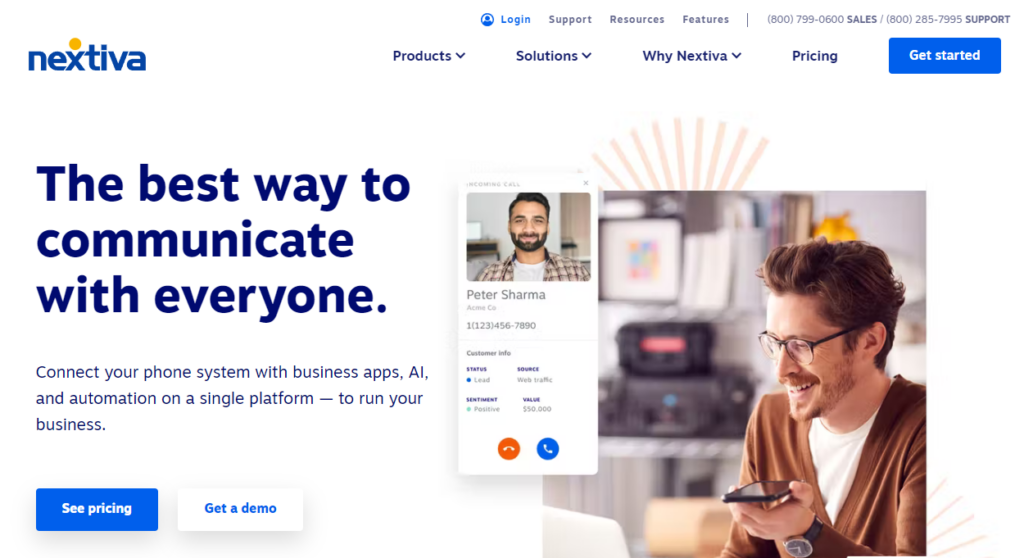 Our Verdict
Nextiva is one of the best VoIP providers due to its fully integrated voice, messaging, and video meeting capabilities. This VoIP software features everything you need in a business communications system. Even with the base plan, you get access to unlimited calling within the US and Canada. You also receive unlimited video calling and team messaging.
Unlimited voice calling and SMS across plans
Voicemail to email notifications
Outstanding collaboration tools on advanced plans
Call recording could be improved
Few software integrations with base plan
No SMS on desktop app
Nextiva is a cloud-based Voice over Internet Protocol (VoIP) phone system that provides a wide range of integrated voice, video, and team collaboration features. This VoIP provider stands out from its competitors by helping your business communicate on each channel your team or customers want to use.
From a mobile app and desktop app to unlimited voice and video calling, Nextiva is well-equipped to serve your business. As such, Nextiva is more than a stand-alone VoIP service. It's an all-in-one business communications solution that includes faxing, video conferencing, and team chat and collaboration capabilities.
In terms of pricing, Nextiva's packages are based on a sliding scale. The more users you have in your organization, the more affordable Nextiva is for your company. However, Nextiva has plans for businesses with one user to businesses with over 100 users. Therefore, Nextiva is adaptable to any sized business looking for a comprehensive business communications system.
Nextiva offers three plans to choose from, including Essential, Professional, and Enterprise. The base-level Essential plan includes unlimited calling in the US and Canada, unlimited video calling, and team collaboration tools. The Professional plan adds mobile SMS and MMS, unlimited conference calls, and voicemail to SMS notifications.
Who Nextiva is Best For
Nextiva is a VoIP provider suited for businesses looking for an all-in-one phone system solution. No matter how large or small your business is, Nextiva is adaptable to your needs. However, since Nextiva offers discounted pricing for larger teams, this VoIP provider is ideal for large organizations willing to spend more for a quality service.
Pricing
Nextiva's pricing model is based on how many users you have on your team. For example, teams with 1 to 4 users need to pay $23.95/month per user for the base level Essential plan on an annual subscription. The price drops to $18.95/month per user if you have 20 to 99 users on your team. Furthermore, the price is higher if you choose to pay monthly and not annually.
Plans
Essential
Professional
Enterprise
Starts at $17.95/user/month on an annual subscription
Starts at $21.95/user/month on an annual subscription
Starts at $31.95/user/month on an annual subscription
Unlimited Calling Within the US and Canada






Team Messaging, Collaboration, and Video



Free Local and Toll-Free Number






Unlimited Conference Calls



Voicemail to SMS Notifications



Enterprise CRM Integrations






Although not a free VoIP phone service, Nextiva provides a 7-day free trial for its Essential plan and free demos for its Professional and Enterprise plans. The Essential plan includes unlimited calling within the United States and Canada. It also features unlimited calling and team collaboration tools. The Professional plan adds mobile SMS and MMS as well as unlimited conference calls.
Nextiva Features
In this Nextiva review, we focused on some key features. These include its calling capabilities, auto attendant, user interface, advanced features, integrations, and customer support.
Calling

Nextiva offers one of the best VoIP apps on desktop and mobile, making calling exceedingly convenient for you and your team members. You can set up or attend conference calls from either app, send text messages, and take advantage of Nextiva's unlimited calling within the United States or Canada. Additionally, with the Nextiva mobile app, you can also share screens with your team members when working on collaborative projects.
Best of all, Nextiva offers crystal clear call quality, so you never have to worry about poor call quality, which causes inconveniences and miscommunications. Rather than having multiple phone systems and a cluttered desk, all your communication tools live together on the same mobile or desktop app.
Nextiva also offers call routing, which automatically sends inbound calls to the correct person with an easily creatable custom call route. Furthermore, this VoIP provider offers advanced voicemail features. You can manage, view, and listen to business voicemail messages from the mobile app or even from your email inbox.
One of the best features we want to highlight in this Nextiva review is Call Pop. Call Pop instantly displays important caller information on your screen. This information includes the sentiment of the caller's last interaction with your business, survey response, experience score, and customer's account value. When you answer the call, your screen switches to the caller's full profile.
This page shows all the caller's information as well as a place to take notes for the current call. When the call concludes, the customer is sent an automatic email that includes a survey asking them how the call went. Therefore, their most recent response will be shown in Call Pop next time they call.
Auto Attendant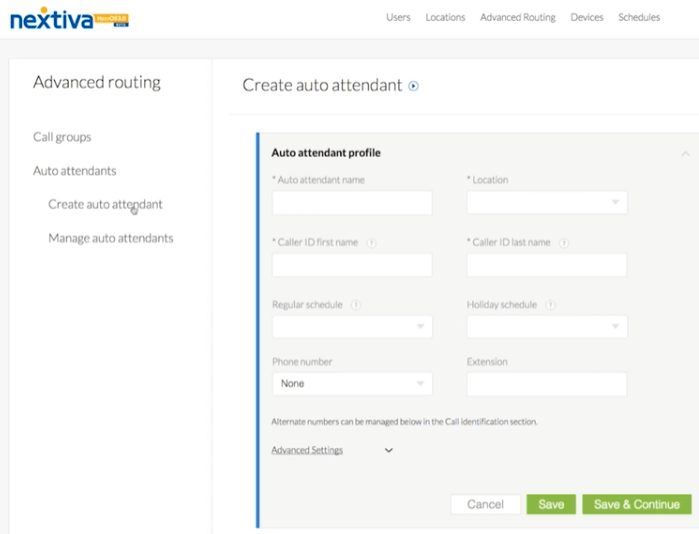 Nextiva includes the auto attendant feature in each of its pricing packages. The auto attendant is an automated answering service that directs inbound calls to the correct individual or department.
For example, when you call a company and are directed to use your keypad to reach the right department, you've essentially used an auto attendant. This way, your customers can easily find the right person to speak to without needing a live support agent directing them.
The auto attendant allows your business to scale because of the excellent customer experience it offers. It also improves trust because it makes your company appear more professional.
User Interface
Nextiva is a beginner-friendly VoIP provider because of its easy installation and setup process. Once you sign-up for Nextiva, you can access remote training webinars and one-on-one training opportunities.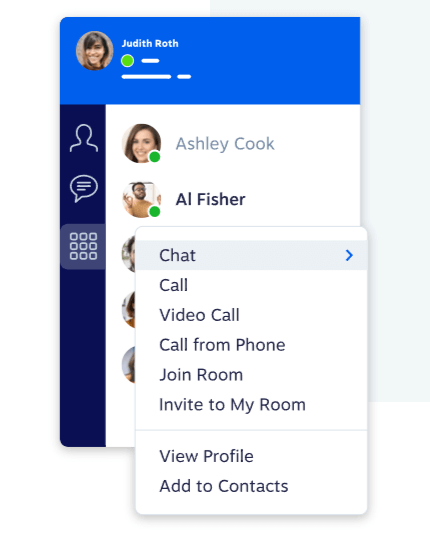 The mobile and desktop apps are well-designed and easy to use. If you're unsure of what is a VoIP caller, Nextiva provides all the resources you need to get your business communications system up and running.
Advanced Features

When you upgrade to the Professional or Enterprise plan, you get access to the best conference call service and unlimited SMS and MMS messages. However, the Professional plan limits the number of participants per conference call to 40. On the other hand, you can have unlimited participants on a conference call on the Enterprise plan.
These two plans also include unlimited video conferencing for up to 250 participants. The Enterprise plan is the only package that offers call recording and video conference recording. If your small business requires call recording, read our list of the best VoIP providers. Some of Nextiva's competitors offer call recording even at the base-level pricing plan.
Furthermore, the Professional and Enterprise plans offer team collaboration tools within the desktop and mobile app. If you opt for either of these two plans, you can access team messaging, private group messaging, and screen sharing.
Integrations

With Nextiva's Essential plan, you can integrate the VoIP service with Microsoft Outlook and Google Contacts. However, the Professional Plan includes integrations with Salesforce, HubSpot, Zendesk, Microsoft Dynamics, Sugar CRM, NetSuite, and Workbooks.
If you want the most integrations possible, you'll need to opt for the top-tier Enterprise plan. Nextiva's Enterprise plan includes integrations with Oracle Sales Cloud, Bullhorn, ServiceNow, Microsoft Teams, and Salesforce Lightning UI.
With an estimated growth rate of 3.8%, more and more businesses are opting for VoIP phone systems to replace their traditional landline systems. Therefore, it's important to find a VoIP provider that seamlessly integrates with your existing software.
Customer Support
Nextiva is a cut above its competitors regarding customer support, reliability and helpfulness. Each Nextiva VoIP package includes 24/7 email, chat, and phone support. No matter when or what time you need help, Nextiva has an agent available and willing to troubleshoot your issues.
Reliability
Nextiva offers one of the most reliable and best call center software because of its 99.999% uptime rating. Therefore, you can expect Nextiva to be up and running 24/7 and 365 days a year.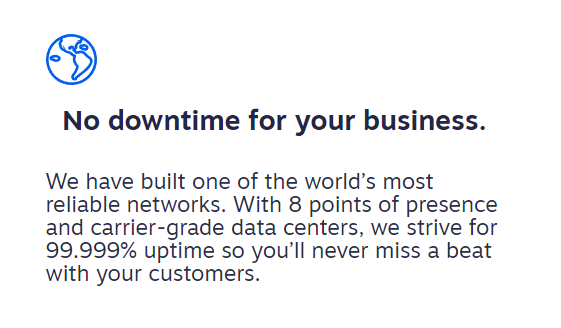 Additionally, Nextiva promises a secure network. Nextiva's scalable network was developed by over 1,500 engineers to provide top-notch reliability, quality, and security.
Alternatives to Nextiva
Picking the right VoIP provider with a strong support team can help your company cut costs, improve remote collaboration, and increase productivity due to the integration capabilities with other software. Hundreds of VoIP services exist, each with unique features and pricing. However, here are the top three alternatives to Nextiva you should consider before making your final decision.
Ooma Office is a cloud-based VoIP provider that offers comprehensive phone systems for small businesses and large enterprises. The Ooma Office base plan features a mobile app, call-forwarding, Ring Groups, and a virtual receptionist.
Ooma Office is suitable for small businesses or startups with many remote workers. Since there isn't a long-term contract requirement, you can choose to cancel your subscription at any time without any questions asked.
Ooma Office is another great VoIP for small businesses because of its comprehensive set of features and affordable pricing. However, Ooma Office only provides two pricing options for small businesses, whereas Nextiva offers three.
Pricing
Ooma Office carries two plans for small businesses and two plans for larger enterprises:
Ooma Office: $19.95/month per user, no contract required
Ooma Office Pro: $24.95/month per user, no contract required
Ooma Enterprise: $27.99/month per user with contract
Ooma Enterprise Call Center: $49.99/month per user with contract
Affordable pricing for small businesses
No long-term contract requirements on base plans
Excellent user interface and usability
Toll-free service is not free
Desktop app requires Ooma Office Pro
Lacks productivity features
RingCentral is a comprehensive VoIP service that features unlimited SMS messages, unlimited calling within the US and Canada, voicemail transcription, and team messaging. Furthermore, RingCentral's Premium and Ultimate plans offer workflow integrations with Slack, CRM integrations with Salesforce, and international calling to over 100 countries.
RingCentral is suitable for larger enterprises that need a comprehensive set of features. Although you can't go wrong with either VoIP provider, RingCentral offers more app integrations and messaging capabilities than Nextiva.
Pricing
RingCentral offers four different pricing options depending on what your business needs in a phone system:
Essentials: $19.99/month per user – Includes messaging and phone
Standard: $27.99/month per user – Includes messaging, video, and phone
Premium: $34.99/month per user – Includes messaging, video, phone, and open API
Ultimate: $49.99/month per user – Includes messaging, video, phone, open API, and unlimited storage
Offers mobile apps for iOS and Android
Unlimited calls to the United States and Canada
Built-in team messaging platform and document sharing
Takes time to learn and set up
Customer support could be improved
Only allows one user to monitor chat features for a phone line
Dialpad is another business communications platform that offers calls, messages, and video meetings. What sets Dialpad apart from other VoIP providers is its artificial intelligence (AI) capabilities. With Dialpad AI, you receive built-in speech recognition and natural language processing.
Dialpad is best for businesses looking to scale their sales and revenue through automated messaging. Nextiva and Dialpad are both cloud-based VoIP providers. However, Dialpad offers real-time transcription, sentiment analysis, and speed coaching through its AI software.
Pricing
Dialpad has three different business communications pricing packages:
Standard: $15/month per user, billed annually
Pro: $25/month per user, billed annually
Enterprise: Inquire with Dialpad for pricing
Free 14-day free trial
Unlimited SMS, calls, and group messages
Call recording and voicemail transcription on base plan
Limited integrations and support on base plan
Desktop app could be improved
Needs better onboarding materials
Frequently Asked Questions (FAQs) for Nextiva Review
Below are a few common questions surrounding our Nextiva review:
Bottom Line on Nextiva Review
When it comes to call management tools, voice quality, and customer support, Nextiva stands above most of its competitors. This comprehensive business VoIP provider is perfect for any size business looking for a communication platform to unite their employees and clients.