Voice over Internet Protocol, or VoIP technology, allows you to make and receive calls over the internet. Although the technology has been around for some time, VoIP has never been as popular in the business world as it is today.
The VoIP global market size was just over $30bn in 2020. According to a VoIP industry analysis by Global Market Insights, the global VoIP market is projected to hit $95bn by 2027 as more and more SMBs move toward this technology. If you're thinking about getting a VoIP number for your business, here's all you need to know about what it is, how it works, and where to get one.
What is a VoIP Number?
A VoIP number appears and functions just like a regular 10-digit telephone number. The primary difference is the mode of transmission. While traditional landline numbers use a network of telephone lines, VoIP uses the internet to place calls.
When you use a VoIP number to call someone, it appears like any other phone number to the receiver. This means they won't be able to tell the call isn't coming from an actual landline.
Unlike traditional phone numbers, a VoIP number isn't assigned to a specific device, location, or phone line. Instead, it's assigned to a person. This person can use their VoIP phone number to place a call from anywhere as long as they have an internet-enabled device.
Since Voice over Internet Protocol isn't location-specific, you can get the area code of your choice. This saves long-distance fees for callers. Getting a VoIP number is recommended for companies operating across the US.
How Does a VoIP Phone Number Work?
As mentioned above, VoIP technology works over the internet. It doesn't need copper wire telephone lines to facilitate communication.
Landline numbers use analog signals to transmit voice. When you place a call with a VoIP number, your voice and data are converted into digital signals before they're transmitted over the internet. If you call a regular landline, the digital signals are converted back into analog before they reach the receiver.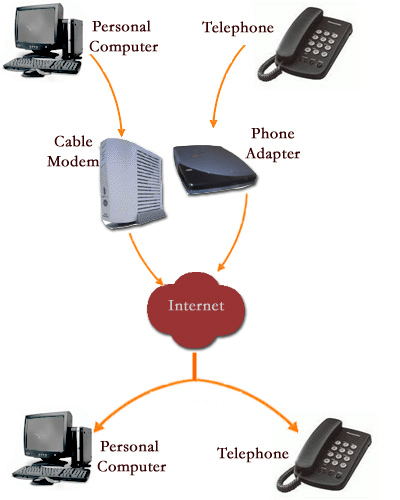 Using this technology, you can make and receive calls on your virtual number no matter where you are. All you need is an internet connection and an internet-enabled device such as a smartphone, computer, or tablet. Apart from voice calls, VoIP also supports text messaging and video calls if the receiver is using VoIP too.
Different Ways for Using a VoIP Number
You can make VoIP calls using three different methods. These include using an analog telephone adaptor, using an IP phone, or availing of the services of a VoIP caller.
Use an Analog Telephone Adapter on a Regular Phone
This method lets you use VoIP technology without fully switching from traditional to VoIP. Plug an Analog Telephone Adaptor into your traditional landline phone to connect it to the internet.
Use an IP Phone
Alternatively, you can get an IP phone. This is just like a standard telephone, but it comes with Ethernet ports to connect it with an internet router. These phones have built-in hardware and software to make and receive VoIP calls.
Use a VoIP Service Provider
If you want to make VoIP calls, signing up with a VoIP service provider, also known as a VoIP caller, is by far the most convenient and cost-effective solution. All you need to do is sign up, download and install the software, and start making Voice over IP calls from your computer or mobile phone.
If you go for a VoIP service, you don't need to get any extra hardware as long as you've got functional speakers and a microphone. Let's discover more about how to get a VoIP number from a service provider.
How to Get a VoIP Phone Number?
The easiest way to get a VoIP number is from a quality VoIP provider. The process is fairly simple. All you need to do is sign up with a service provider, and it'll guide you through the rest of the steps until you're ready to make and receive VoIP calls. Still, here's an overview of what you should expect when you go with a VoIP phone number service.
Step 1: Choose a VoIP Service Provider
Before you get a number, we advise you to research a suitable provider that offers affordable plans and suits your business's needs. Unfortunately, the VoIP industry is rife with scams, making it all the more important to pick the right service provider.
There are hundreds of VoIP services out there, each with unique pricing and features. We've reviewed some of the best VoIP service providers that you can use to get a VoIP phone number. Go through our top picks to make your choice easier.
Offering high-end features at an affordable price, RingCentral is indeed the leader in the VoIP market. It's a good choice for businesses of all sizes as it offers a variety of plans that address different needs. Its most popular plan type, RingCentral MVP which includes messaging, video, and phone gives you unlimited calls in the US and Canada, unlimited SMS, voicemail transcription, and team messaging.
You can get top-tier features such as toll-free numbers, voicemail capabilities, and a mobile app even with the most basic plan that starts at $19.99/user/mo. RingCentral isn't the cheapest VoIP service out there, but it's worth the price tag. A word of advice, you might face a slight learning curve when starting with this service. To learn more about RingCentral's features, read our complete RingCentral review.
Unlimited calls within the US and Canada
Mobile apps for iOS and Android
Built-in team messaging and document sharing
International calling costs extra
Overcomplicated for new users
A little expensive
Pricing
RingCentral MVP Essentials: $19.99/user/mo.
RingCentral MVP Standard: $27.99/user/mo.
RingCentral MVP Premium: $34.99/user/mo.
RingCentral MVP Ultimate: $49.99/user/mo.
If you're looking for a productivity-focused communication system, Nextiva can be a great choice for you. It comes with an abundance of features, however, the vast majority of them are locked in the more expensive plans. Still, the most basic plan gives you unlimited voice and video calling, single-level auto-attendant, internet fax, toll-free numbers, voicemail, and integrations with Outlook and Google Contacts.
Nextiva doesn't place any user restrictions so you can have as many users as you want even with the starter plan. Advanced plans offer a productivity suite that includes an internal communication system, screen sharing, private group messaging, a team calendar, and a voting system. To learn more about Nextiva's features, read our complete Nextiva review.
Unlimited calling within US and Canada
Mobile app to stay connected from anywhere
Customizable auto-attendant
Call recording is limited to higher-tier plans
Mobile SMS messaging is not available on the cheapest plan
Pricing can get a bit complicated
Pricing
Nextiva's pricing structure is a bit complex. The average prices go down if you purchase a plan for more users. Here's what you can expect the different plans to cost for users as less as 1-4 to 100+.
Essential: $17.95 to 23.95/user/mo.
Professional: $21.95 to 27.95/user/mo.
Enterprise: $31.95 to 37.95/user/mo.
If you want a mobile VoIP solution for remote work and traveling employees, Ooma Office offers what you need. It's one of the more affordable VoIP services and it isn't short on features either. A toll-free number, SMS, call logs, virtual fax, and multi-extension dialing are included in even the most basic plan. But a potential drawback is that Ooma's desktop app isn't included in it.
According to our in-depth Ooma Office review, what sets it apart is that each user gets a unique direct-dial number instead of an extension. This makes you look more professional as a business and also makes it easier for customers to reach your employees.
Desktop and mobile app
Unlimited calling in the U.S., Canada, Mexico, and Puerto Rico
Direct-dial numbers for each user
Desktop app is limited to the Pro plan
CRM and productivity integrations are not available on the base plan
Pricing isn't transparent
Pricing
Getting to the Ooma Office pricing page takes some searching, but we've already found out the plans Ooma offers and what they cost. It has two price points that vary significantly in features.
Ooma Office: $19.95 /user/mo. – one-time activation fee, for 1 user: $29.95
Ooma Office Pro: $24.95 /user/mo. – one-time activation fee, for 1 user: $29.95
Step 2: Select a VoIP Plan
Different service providers offer different plans. Choose the one that suits your needs best and fits your budget. Remember that not all service providers offer the same kind of plans. So choose your service provider in accordance with your business type, size, and VoIP needs.
Step 3: Get a VoIP Number
Your VoIP service provider will have an interface that facilitates selecting and purchasing a VoIP number. This is a fairly straightforward process but may vary between services. Most providers let you choose your area code to make it easier for customers from a specific area to contact you.
That said, you can also choose to port your existing telephone number to VoIP. To do so, you'd have to contact your previous phone provider to transfer it. This may take a few business days.
Step 4: Complete Setup
Once you have your VoIP phone number, all you need to do is set up the hardware and software to start making calls over the internet. The cheapest and most convenient way to go about this is simply to use your computer and mobile phones for VoIP calls. If you want to connect office phones to the system, you might need to buy some additional hardware.
Benefits of Using a VoIP Number
Businesses all over the world are switching to VoIP technology and for good reason. VoIP numbers come with a range of benefits that can help take your business ahead. They not only save you time and money but also give your company a more professional image. Here's what getting a VoIP number does for you.
Saves Money
Businesses can reduce their telecom costs by 50% if they switch to VoIP. This is primarily because VoIP uses the internet to transmit data. Not just that, but you also get additional features like auto-attendant, intelligent call forwarding, call queue management, and video calling with a quality VoIP service.
Offers Flexibility
The flexibility you get with a VoIP phone number is one of its biggest advantages. A VoIP number can be used on multiple devices at the same time, giving you the mobility and convenience traditional landline systems can't.
Offers Scalability
As your business grows, you'd want your communication system to grow along. However, this is not easy with standard phone systems. You need additional phone lines and hardware to scale.
VoIP lets you scale with ease. You can add as many users as your bandwidth allows, and this is more than enough for most growing businesses. As VoIP services are cloud-based, adding more numbers is pretty easy.
Offers Remote Access
A VoIP number is not assigned to a phone line. This means you can use your number no matter where you are as long as you've got internet. With the best VoIP apps, you can have your business number in your pocket at all times.
Gives You Choice of Area Codes
Unlike traditional phone numbers, you can freely choose your area code with a VoIP service. You don't have to be in a state to use its area code for your business phone number. Being able to choose your area code makes it easy for you to target customers from a particular area, and it also establishes your credibility as a local business.
Frequently Asked Questions (FAQs) for VoIP Number
Here are some of the most commonly asked questions about VoIP numbers, how they work, and the easiest way to get one.
So What Is a VoIP Number?
A VoIP number is a virtual phone number that lets you make calls over the internet. It looks and functions just like a regular number, but doesn't need any phone lines to operate. The best way to get a VoIP phone number is to sign up with a service provider.
Quality VoIP services like RingCentral, Nextiva, and Ooma Office give you a wide variety of features to facilitate communication between you, your employees, and customers. Plus, VoIP technology offers several benefits including low costs, flexibility, scalability, remote access, and the ability to choose the area code of your choice.