Ooma Office is a cloud-based VoIP (Voice over Internet Protocol) software platform that offers business phone service for small businesses to large enterprises. It offers better remote team communication since the software lets you make calls over the internet instead of a standard phone line. Learn if Ooma Office is right for your company. 
Our Verdict
Ooma Office is a VoIP provider that offers convenient voice communications for your team members and clients. The main difference between Ooma Office and its competitors is that each user receives a unique direct-dial VoIP number instead of an extension. Therefore, your company appears more professional, and is easier to reach by your customers.
Ooma Office is an excellent choice for your team if you're part of a small firm or business with a sizable number of remote workers. The affordable basic plan comes with a virtual receptionist, mobile app, call-forwarding, and a host of additional features.
Affordable plans for small businesses
No long-term contract required
Easy to set up and use
Toll-free service costs extra
Lacks integrated productivity capabilities
Desktop app requires upgraded plan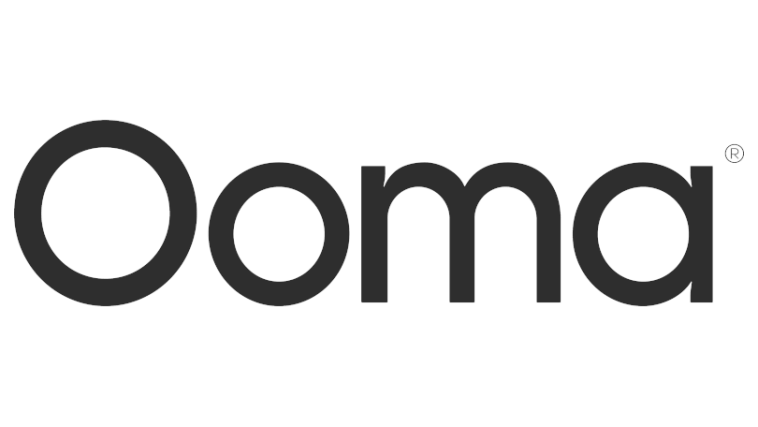 Ooma Office is a flexible VoIP service with reliable voice and video calling capabilities. Furthermore, Ooma Office combines the ability to easily set up your VoIP service while having unlimited lines for your business. Best of all, there are also no contracts or long-term commitments. You can even try Ooma Office for 30-days with a money-back guarantee.
There are two different pricing options for Ooma Office, both billed every month without needing a long-term contract. The base plan, Ooma Office, includes a user extension, a local phone number, and unlimited calling to the US, Canada, Mexico, and Puerto Rico. The advanced plan, Ooma Office Pro, adds video conferencing, voice recordings, and more.
Since there are no long-term commitments with Ooma Office, customers can save up to 50% compared to other providers' monthly plans. Therefore, Ooma Office is an excellent choice for small businesses and startups when committing to a long-term contract isn't reasonable.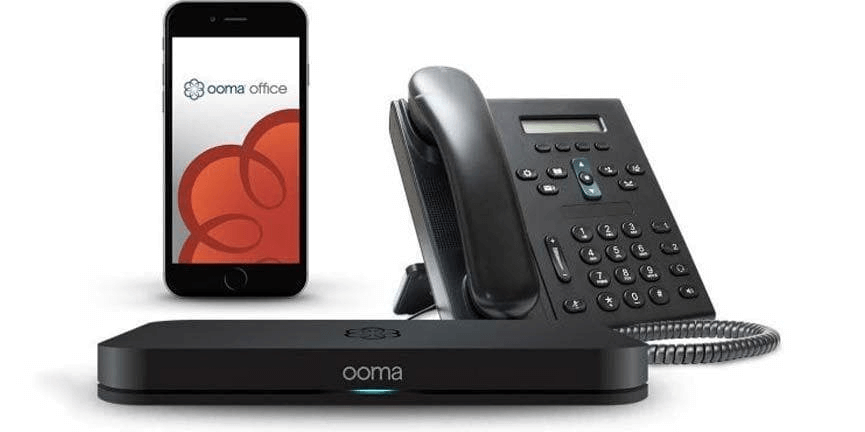 Who Ooma Office is Best For
Ooma Office is the best VoIP app for small and medium-sized businesses that need a comprehensive phone system to manage team and client communications. This software also provides robust enterprise solutions that can deeply support a growing business.
Pricing
Ooma Office provides two different pricing packages: Ooma Office and Ooma Office Pro. Ooma Office costs $19.95 each month per user. If you subscribed to Ooma Office and have a team of 25 employees, you would pay $498.75 per month. Furthermore, Ooma Office offers a 30-day money-back guarantee for both packages so that you can try the VoIP software risk-free.
Plans
Ooma Office
Ooma Office Pro
Ooma Enterprise
Ooma Enterprise Call Center
$27.99/month per user with contract
$49.99/month per user with contract
























Advanced Custom Call Flows




Custom CRM and Productivity Tool Integrations




Dedicated Customer Success Managers








Ooma Office Pro costs $24.95 each month per user and includes everything in Ooma Office, but it also offers video conferencing, a desktop app, call recording, enhanced call blocking, and voicemail transcription. Ooma Enterprise and Ooma Enterprise Call Center software cost $27.99 per user each month and $49.99 per user each month, respectively.
Ooma Office Features
Ooma Office offers a robust set of VoIP features which include call management, calling capabilities, and an intuitive user interface. Here's an in-depth overview of each of the core features Ooma Office provides.
Call Management
Ooma Office offers all the call management features needed in a VoIP service provider. In the base plan, you receive access to a mobile app, virtual receptionist, and ring groups. With the mobile app, your team can easily communicate from any location. Furthermore, the mobile app offers text messaging, picture messaging, and group messages.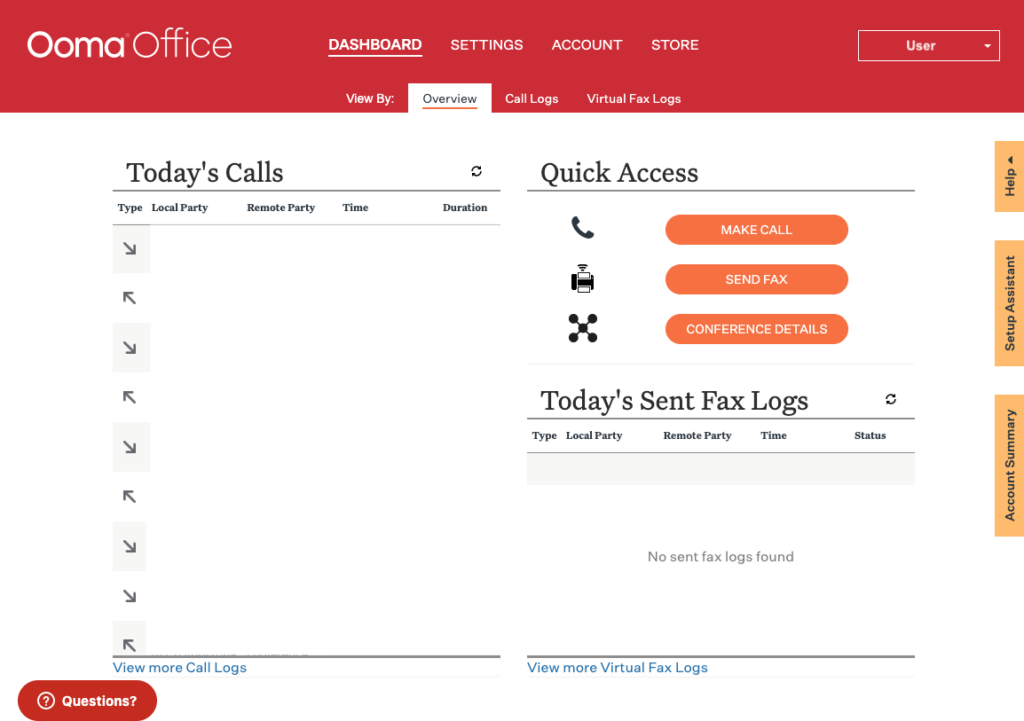 When your phone rings, you'll be informed that it's an Ooma Office call. This makes it easy to differentiate between business and personal calls. With the mobile app, you can also transfer calls to any phone number, extension, or voicemail.
Ooma Office's virtual receptionist allows small businesses to direct incoming calls and share essential information. The virtual receptionist guides the caller through a series of options, including selecting their preferred language or choosing a specific department. This way, the caller reaches the right person the first time they call.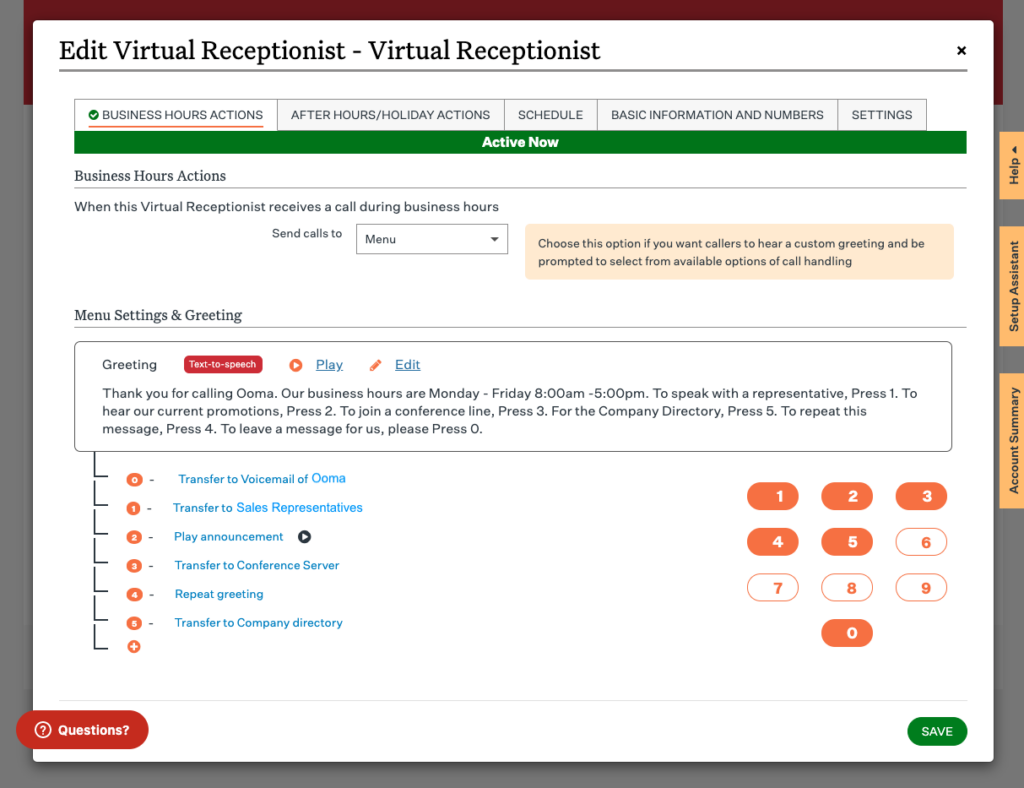 Another outstanding feature we found in our Ooma Office review is Ring Groups. Ring Groups ensure that no call goes unanswered. You can implement Ring Groups within specific departments like accounting or customer service teams. When Ring Groups is implemented, each member who is eligible to answer the call will receive the phone call.
Then, the phone call stops on everyone's phone as soon as the first person answers. Furthermore, you can set up Ring Groups to ring each person's phone sequentially, or user by user, until somebody picks up.
However, there are many more call management features Ooma Office offers. Each Ooma Office plan includes transfer music, music on hold, extension dialing, and call forwarding. You also get access to call logs, a company directory, call blocking, and 7-digit dialing.
Calling
Ooma Office provides an impressive set of calling features, even with the base plan. With each Ooma Office VoIP plan, you get access to unlimited calling in the US, Canada, Mexico, and Puerto Rico. Ooma Office's unlimited calling ability is essential if your business or clients are located in these locations.
Additionally, Ooma Office has very low international call rates. For example, a call to China costs $0.025 per minute, and a call to Australia costs $0.038. Therefore, a 30-minute phone call to China or Australia would only cost $0.75 or $1.14. These are some of the lowest international calling rates found in VoIP providers.
Ooma Office also makes it easy to transfer your existing business phone number to Ooma through porting. Additional calling features include enhanced 911 services, toll-free numbers, new company numbers, direct dialing, and free number transfers.
Setup
Ooma Office understands that every business is unique with different needs. Because of this, Ooma Office gives you flexible options to set up your VoIP service depending on your business.

You can set up Ooma Office with your existing analog phones, the Ooma Office smartphone app, or Ooma Office's IP phones. As such, your phones can be set up through the Ooma Office base station, wirelessly, or through an ethernet cable connection. Ooma Office's setup is so easy that the DIY setup will have your office phone system up and working in just a few minutes.
Advanced Features

Ooma Office Pro costs $5 more per user each month than the base Ooma Office plan. This plan offers a few additional features, including video conferencing, access to the desktop app, and call recording capabilities.
Online video meetings are more prevalent than ever before. For this reason, Ooma Office Pro offers a comprehensive video conference platform to host instant online meetings from any location. You can easily set up video conferences through Ooma Office's website or the desktop app.
Furthermore, the video conferencing feature offers simultaneous screen-sharing, which is not commonly found in other video conferencing platforms. Each meeting can host up to 25 people. The Ooma Office dashboard also shows an extensive calendar of future meetings and the ability to create, edit, view, and search for meetings.
You can also password protect video meetings, use a chat messenger, and mute individuals if you're the host. The Ooma Office desktop app allows you to do everything you can from the mobile app except your laptop. This is easier for remote workers who aren't typically on the go and need mobile calling capabilities.
The call recording feature allows you to playback phone calls, crucial for accurate note-taking and future references. You can automatically record each call or manually activate the call recording.
Interface and Usability
The best feature about Ooma Office is how easy it is to use because of its intuitive dashboard. You can easily configure your settings, add your business users and extensions, and set up other features through the online dashboard.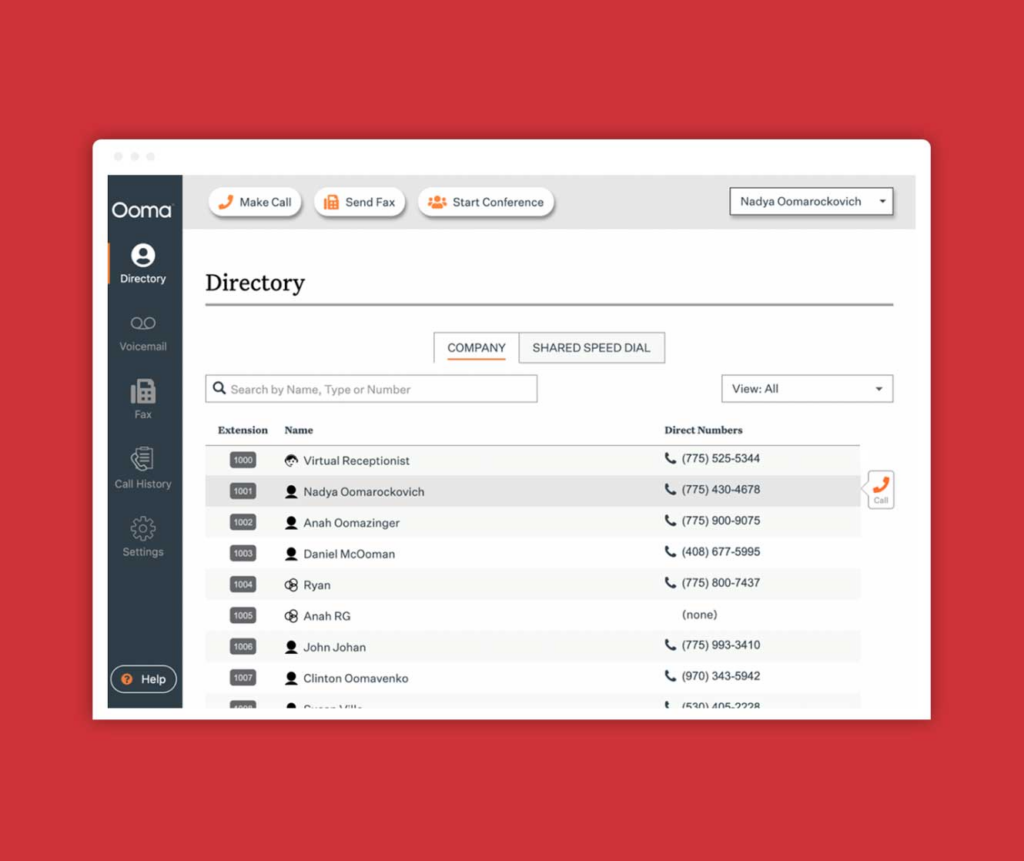 Furthermore, most settings within Ooma Office can be customized. For instance, when configuring Ring Groups, you can choose how long each phone rings before moving on to the next person.
Security and Encryption
All calls between two phones using Ooma Office are fully encrypted. Furthermore, video calls are fully encrypted as well.
However, Ooma Office could improve its account and communications security. This is because Ooma Office doesn't offer two-factor authentication. As such, there's not much you can do to protect your phone network if somebody steals your password.
Customer Support
Ooma Office provides 24/7 customer support through phone, email, and live chat. This way, there is always somebody available to answer your questions when you need help. You can also find an extensive support center with detailed tutorials about how to set up your phone network.
Alternatives to Ooma Office
Choosing the right VoIP provider for your business is crucial, so it's important to learn about a few alternatives to Ooma Office before making your final decision. Similar to Ooma Office, each of these alternatives offers excellent VoIP services. Therefore, your business will be positively impacted regardless of which option you choose to implement.
Here are three of the best VoIP providers that provide an alternative solution to Ooma Office.
RingCentral is a superb VoIP provider that offers unlimited business SMS, unlimited calls in the US and Canada, team messaging, and voicemail transcription. RingCentral's higher-tier plans offer international calling in over 100 countries, workflow integrations with Slack, and a CRM integration with Salesforce.
RingCentral is an excellent VoIP provider for larger enterprises who need a phone system that integrates with their existing apps. RingCentral is unique compared to Ooma Office because it offers volume discounts for larger teams.
Pricing
RingCentral carries four different pricing packages:
Essentials: $19.99/month per user – Includes message and phone
Standard: $27.99/month per user – Includes message, video, and phone
Premium: $34.99/month per user – Includes message, video, phone, and open API
Ultimate: $49.99/month per user – Includes message, video, phone, open API, and unlimited storage
To learn more about RingCentral's features and pricing plans, read our complete RingCentral review.
Mobile apps for Android and iOS
Unlimited calls within the United States and Canada
Built-in document sharing and team messaging
Steeper learning curve than other options
Only one user can monitor chat features for a specific phone line
Unreliable customer support
Nextiva is a VoIP provider that offers a solution for internal and external calls in one single package. The base plan comes with the essential features like unlimited calls in the US and Canada, an auto-attendant, and unlimited video calling. However, the higher-tier plan offers more collaboration-based features.
Nextiva is a great VoIP solution for small businesses looking for a productivity-driven communication system with collaboration features. Nextiva is very similar to Ooma Office because both VoIP services are easy to use and set up. However, Nextiva provides more pricing plans, which may be more suitable for your business.
Pricing
Nextiva provides three different pricing options to choose from:
Essential: $18.95/month per user – Unlimited voice and video calling
Professional: $22.95/month per user – Unlimited conference calls
Enterprise: $32.95/month per user – Call recording
To learn more about Nextiva's features and pricing plans, read our complete Nextiva review.
Mobile app access from any location
24/7 customer support team
Customizable auto-attendant
Call recording is exclusive to higher-tier plans
Lacks extensive integration capabilities
Confusing to add contacts
Mitel is a VoIP service with a full suite of collaborative tools. These tools include the ability to host video conferences with 100+ people and a platform for business and teamwork SMS messages. Mitel is a great option for small businesses interested in Outlook integration and Telephony for Microsoft support. This way, you can easily call through Teams.
Compared to our Ooma Office review, Mitel is the better choice for teams that need Outlook and Microsoft integration capabilities.
Pricing
Mitel offers three different cloud business phone systems. However, you need to contact Mitel's sales team to receive a quote.
Unlimited minutes each month
PC, Android, and iOS app
100-user video conferences
Time-consuming initial setup
Lack of user customization
Mobile app UX could be improved
Frequently Asked Questions (FAQs) for Ooma Office Review
Below are a few popular questions surrounding the Ooma Office review.
Bottom Line on Ooma Office Review
Ooma Office offers two different pricing packages depending on what VoIP services your business needs. It's an easy-to-use VoIP option that offers impressive calling and video conferencing features. However, Ooma Office isn't the best VoIP service if you're interested in team collaboration features.