In this 8×8 review, you'll learn how it appeals to modern businesses by providing smart and efficient ways to connect with clients and employees. It is a Unified Communications platform, meaning you benefit from chat, voice, and video solutions from anywhere using any device.
Our Verdict
8×8 is a unified communications service. It provides all-rounded communication solutions with features such as softphone, call recording, instant messaging, web conferencing, internet faxing, visual voicemail, and video calling. Moreover, the platform is easy to configure and comes with a mobile and virtual desktop app designed for ease of use.
The company's cloud-based VoIP phone system provides flexibility with a range of tier-based plans to adapt to your business's changing needs. Depending on your communication needs and the features you desire, you could choose from the eight plans with pricing ranging from $15 to $172 per month.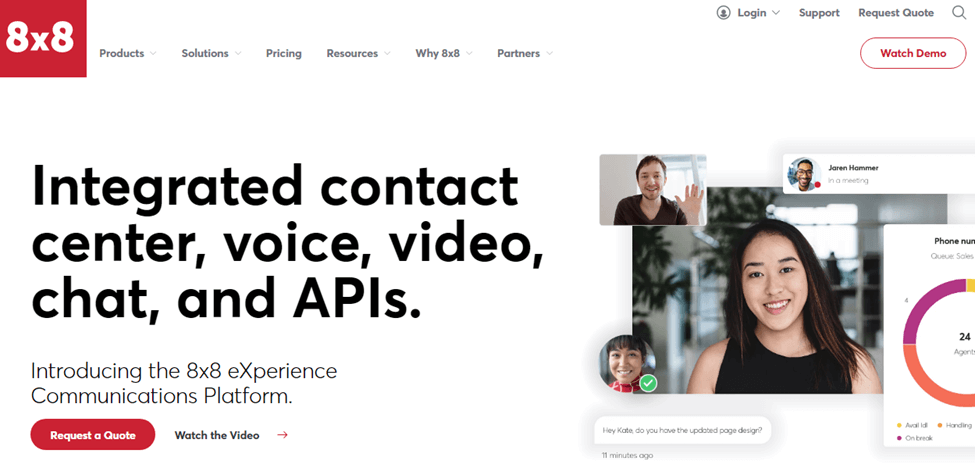 Mobile and desktop apps available
Plenty of security features and FCCR compliant
Allows easy collaborations and connections with remote teams
The customer service can be better
Complicated refund policy
The Express plan lacks fax capability
8×8 at a Glance
8×8 is a VoIP service provider with over three decades of experience in the industry. It offers one of the most comprehensive platforms that include call handling tools, web conferencing software, and team messaging tools.
Also, users enjoy enhanced customization options to set up phone systems that match their business needs. Whether you need essential phone services or managed hosting with dedicated servers and private cloud infrastructure, you can cost-effectively streamline your business communications.
Who Is 8×8 Best For?
8×8 is a solid VoIP provider to consider if you need a unified communications platform that makes it easier to make business calls, texts, video calls, conference calls, and online faxing. Because it offers eight unique plans, you can find a package that suits you irrespective of the size of your business.
8×8 Pricing
8×8 offers a range of plans to suit different businesses. The lowest tier is ideal for startups and small businesses with up to 10 users, while the top-tier plan is ideal for large companies with a number of contact centers.
Express Plan
The Express plan offers a reliable package for small companies and solo entrepreneurs with minimal communication needs. While the plan goes for an affordable $15 per user per month, it lacks critical features like web conferencing, internet faxing, and call recording. Also, users can only make unlimited calls to the U.S. and Canada.
8×8 X Series
The X Series tier-based plans have the essential features to create a robust communication hub for the employees and consumers of fast-growing businesses. These plans offer more features and combine voice, team messaging and video conferencing to provide comprehensive communications solutions in one reliable engagement system.
The main X Series plans are X2 and X4. However, 8×8 also provides the X3, X6, X7, and X8 mix and match plans whose prices they do not publicize on their site. Users get added features and a little more functionality as they rise through the tiers.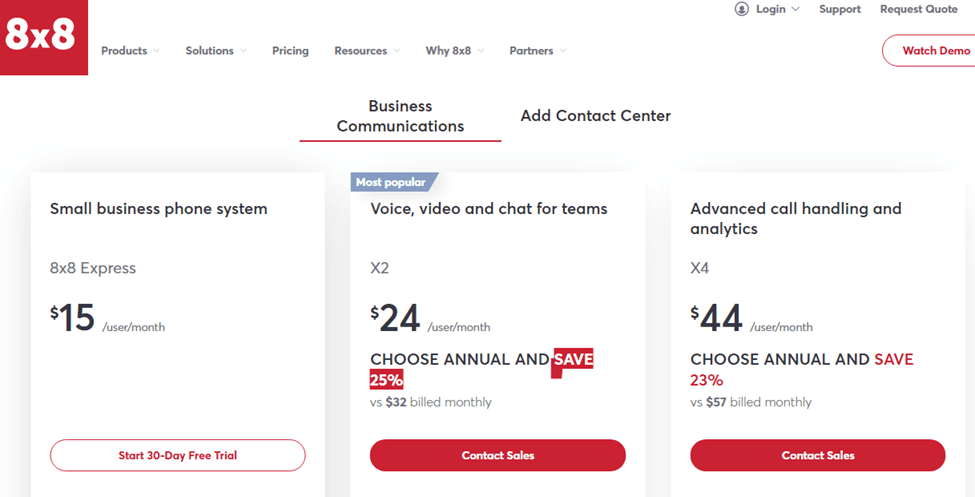 8×8 Enterprise Plan (X8 cloud PBX Model)
The X8 is a cloud-based PBX (private branch exchange) and unified communications plan accessible through VoIP apps or hardware. It is the top-most package that offers a multichannel contact center associate plan.
Users enjoy a complete suite of integrations, analytics, and cutting-edge call center software with predictive dialing, co-browse, and quality management features. Your business is assured of moving with speed to match higher customer expectations. For $172/month, you can expect the following:
Call quality guarantee
Single cloud system of engagement
Guaranteed security and compliance
Unique insights from a central system of intelligence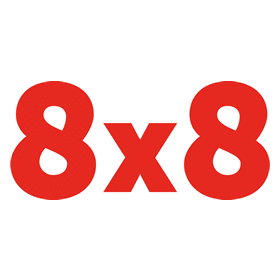 Plans
Express
X Series X2
X Series X4
Price Under annual Commitment



UC Media Storage for Meetings





















Unlimited Internet Faxing












Features
The 8×8 platform comes with all the bells and whistles of a premium virtual phone system. It boasts a comprehensive set of features designed to streamline communications, irrespective of the size of your business. The platform is easy to set up, and the intuitive interface makes it easy for users to take advantage of all available features.
Here are some of the top features users enjoy:
All-in-One Communication
8×8 VoIP services are more than just regular phone services. Apart from voice, video, and texting capabilities, the platform also provides in-built web conferencing features. Just share your link with up to 100 people you want to join the meeting and use the platform for general engagement, including sharing of presentations.
There are numerous other features designed to make communications as smooth as possible. These include instant messaging tools, team messaging, unlimited online faxing, social media messaging, advanced call routing, and live chat.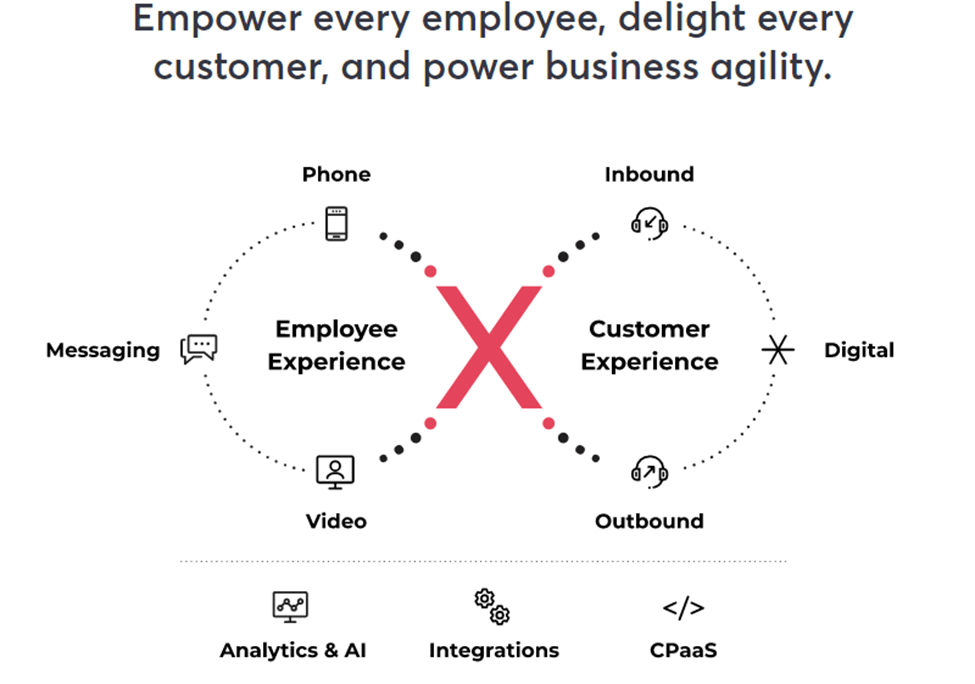 Phone System Management
8×8 offers a comprehensive platform where you will find a wide array of phone system management tools. Fortunately, it has straightforward work and admin dashboards that make navigation easier, irrespective of how you wish to customize the service.
Using the admin portal, you can choose the VoIP features you need, including extensions, business hours, auto-attendant, and more.
Phone Numbers
Once you subscribe to any 8×8 package, you get instant access to the platform's inventory of toll-free, vanity, and local numbers. You can also choose an international virtual number to reach out to your client base abroad. If your company has an existing number, it is perfectly okay to stick to it.
8×8 supports international calls to over 170 countries. However, even the top-tier plans only allow free access to 48 countries.
Mobile & Desktop Apps
8×8 users can make calls, texts, video conferencing, and voicemails from anywhere using any gadget! The desktop and mobile apps make investing in any special equipment unnecessary, and you never have to worry about missed opportunities when you're on the go.
One downside is that the mobile app is not as detailed as the desktop application. However, it still allows most basic functions, including call forwarding and business hours.
Call Handling
8×8 offers call handling tools that allow extensive configuration. For instance, you can use the hot desking feature to enable multiple users to log into one phone and keep your business operations running round the clock through rotating shift schedules. You can also take advantage of phone paging, which allows you to send an audio announcement to multiple users.
Integrations to Third-Party Software
8×8 allows easy integrations with up to 50 third-party software. You could even explore over 4,000 third-party integrations by connecting to Zapier. If there is a program you can use to streamline your business calls, texts, or videos, there's a good chance you can connect to it on the 8×8 platform.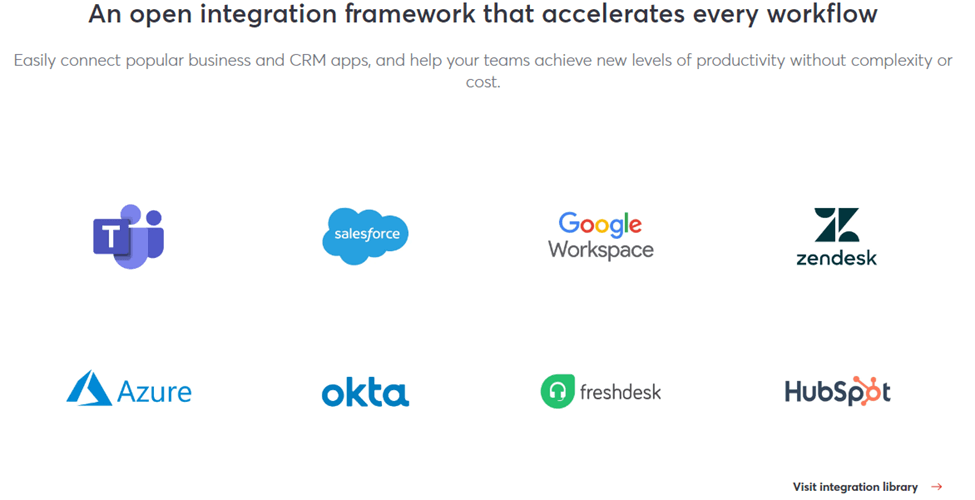 Security Features
Most businesses handle some level of private information from their customers. Any security breaches can lead to lost business or even lawsuits. 8×8 has multiple security measures to ensure the protection of confidential customer and business data.
First, the platform ensures full encryption of communications using Transport Layer Security and Secure Real-time Transport Protocol. There are also plenty of fraud detection tools to ensure data safety from calls and messages. 8×8 is also HIPAA, FISMA, CPNI, and GDPR compliant.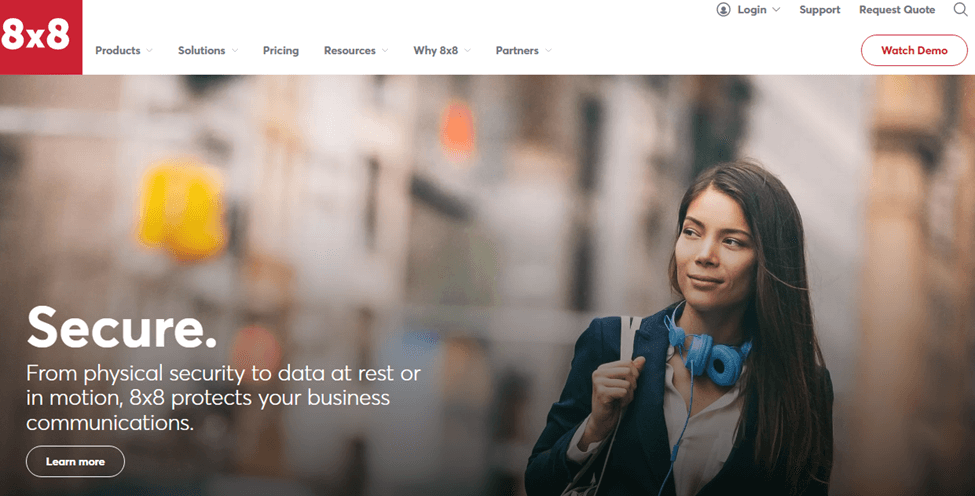 Customer Support
8×8 has a knowledge base where you can find plenty of information. Furthermore, the company has chatbot software that can help you navigate through text files to find the information you need. There are also plenty of relevant tutorials on YouTube to make it easier for users to take full advantage of all plans and features.
If you wish to reach out to the support team, they are available 24/7 via phone and chat. 8×8 is also pretty active on social media platforms, including Twitter and Facebook. You can drop a direct message and expect a response within a reasonable timeline.
8×8 Alternatives
8×8 scores high for its wide range of advanced features, competitively priced tier-based plans, and ability to allow plenty of integrations. Even so, it may not be an ideal option for all businesses. Here are three top competitors and alternatives to the platform.
Ooma Office is a tech and communications service best known for its VoIP products. The platform also offers audio conferencing, video conferencing software, business texting, and MMS to help small businesses manage their communications with ease, professionalism, and efficiency.
The platform's standout features include multi-ring solutions, hold music, call blocking, virtual receptionist, and spam protection.
Who is Ooma Best For?
Ooma is best for small businesses looking for sophisticated communication solutions through a platform designed for ease of use. Ooma is by no means the cheapest VoIP provider, although users commend the platform for having one of the easiest setups and customization capabilities. This is an aspect that organizations without an I.T. specialist highly appreciate.
Ooma Pricing
Ooma offers 4 tier-based plans. The base plan provides essential communications features like voice, text, fax, and virtual receptionist, while the top-tier Enterprise plan includes analytics and smooth integrations with third-party software. The Ooma plans include:
Ooma Office base plan—$19.95/ user /month
Ooma Office Pro—$24.95/ user /month
Ooma Enterprise—$27.99/ user /month
Ooma Enterprise Call Center—$49.99/ user /month
How Ooma Compares to 8×8?
Ooma is a viable alternative to using 8×8. Its base plan contains 35 attractive features curated to streamline business communications. However, 8×8 is a step ahead because users don't need to have any unique hardware to connect to the platform.
Unless you use Ooma's mobile app on your smartphone, you have to invest in Ooma hardware. This makes switching from another VoIP provider an expensive affair. Unless you are a new business looking for an innovative and modern means to connect to your customers, it is best to stick to 8×8. Read our in-depth review on Ooma Office to learn more about its services.
Mobile and desktop apps available
Integrates with third-party software, including Salesforce and G suite
Call encryption for enhanced data protection
Obtaining a toll-free number attracts an extra fee
Businesses have to incur the expense of purchasing Ooma business phone systems
Integrations can be limited
Like most platforms in the VoIP and UCaaS space, GoToConnect promises software that works better to provide reliable communication solutions. This company lives up to its promise by providing an all-in-one platform designed for ease of use. It has a robust portfolio of tools to allow calls, video meetings, chat, and contact centers and guarantees 99.99% uptime!
Who is GoToConnect Best For?
GoToConnect is a dependable platform to consider if you need UCaaS solutions and access to all communication and collaboration tools on one platform. The service is ideal for small businesses that want to upgrade from landlines and reap the benefits of a cloud-based VoIP without overstretching their budget.
GoToConnect Pricing
GoToConnect has a three-tier-based plan. Like the competition, the platform offers a generous discount to users who commit to the service for at least one year. The available plans include:
Basic—$24 or $22 /user /month
Standard—$29 or $26 /user /month
Premium—$39 or $36 /user /month
How Does GoToConnect Compare to 8×8?
GoToConnet is an ideal low-budget option for small businesses that want to enjoy a VoIP service's added functionalities and integrations. Unlike 8×8, the platform does not provide the caliber of robust features that larger enterprises require. Unless you are a startup or small business, it is better to settle for 8×8.
Unlimited extensions on all plans
Competitively priced plans
14-day free trial
Webcams limited to 25 with the video conferencing tool
No international phone numbers
Basic plan can only serve one physical location
RingCentral, like 8×8, is a Unified Communications as a Service that provides VoIP, text, instant chat, video, and audio conferencing. RingCentral's pricing plans package an attractive set of features like call forwarding, multiple extensions, and call recording to provide practical solutions when conversing with employees or customers.
Who is RingCentral Best For?
If the reputation of other VoIP providers is a make-or-break factor, RingCentral is one of the best platforms to consider. It has a brag-worthy reputation in the Unified Communications arena with features like real-time analytics, which is a nice bonus to the already stable and reliable platform.
RingCentral Pricing
RingCentral provides four tier-based plans where users enjoy a 33% discount for annual subscriptions. The plans include:
Essentials—$29.99 or $19.99 /user/ month
Standard—$37.99 or $27.99 /user/ month
Premium—$44.99 or $34.99 /user/ month
Ultimate—$59.99 or $49.99 /user/ month
How Does RingCentral Compare To 8×8?
RingCentral and 8×8 are known for providing effective cloud communications and collaboration solutions for global businesses. Generally, it's hard to go wrong with either choice because they offer relatively similar features at comparable prices.
However, while RingCentral is a solid choice for both small and large businesses, 8×8 is best for small businesses looking for added functionalities to enhance their credibility and expand their client base. Read our ultimate RingCentral review to learn more.
High definition video conferencing
Plenty of integration capabilities with apps like Salesforce and Zendesk
Free trial available
The fax feature isn't the easiest to navigate
No 24/7 customer support with the Essentials plan
Basic plan lacks video conferencing and most app integrations
Frequently Asked Questions (FAQs) for 8×8 Review
Here are answers to some questions frequently asked by prospective users.
Final Thoughts on 8×8 Review
8×8 is a Unified Communications as a Service provider that can integrate seamlessly with your existing business applications. It incorporates voice, text messaging, video conferencing, video meetings, and chats, making it more than a basic phone service provider.
The company provides robust features and service customization abilities. This ensures small, medium, and large-sized enterprises enjoy maximum communication efficiency across multiple channels while still sticking to their budgets.
Customer behavior is crucial for businesses like 8×8 to attract and retain customers and improve their service offerings based on customer needs and feedback. The best part is that you can take advantage of the 30-day trial period to sample the service. So, is it the right choice for you? We hope our comprehensive 8×8 review helps you decide from an educated standpoint.