The world of project management is forever changing. From new software to resource planning to technological development, keeping up to date with relevant blogs and resources is critical. We've listed some of the best blogs for staying aware of ideas and updates in the industry. Find your new favorite project management blog below.
Interested in the best project management tools out there? You should check out this list:
1. Project Management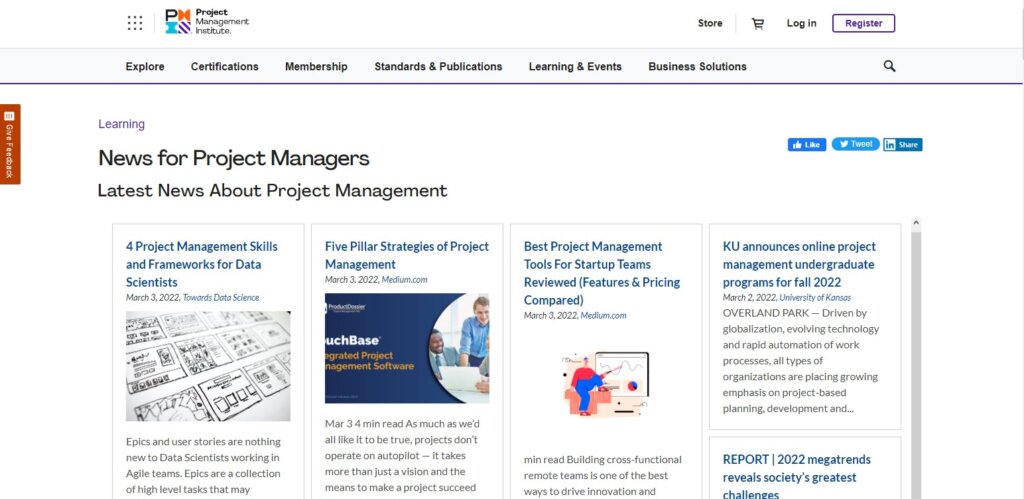 As the name might suggest, Project Management is your first port of call for an overview of everything project management-related. The website contains numerous helpful features, many of which are listed in the drop-down menus. These include everything from information about affiliate programs and integration to community discussion spaces.
This site is run by the Project Management Institute. They've been working since 1969 in seeking to demystify and uncomplicate the many different aspects of project management which, inevitably, can become difficult to navigate.
The fact that this site encourages a large amount of participation and discussion within the community is very beneficial for people at all levels of project management. There is space to learn and share advice or opinions. The opportunity to attend webinars and download resources for project managing is another useful feature.
2. Eye On the Workforce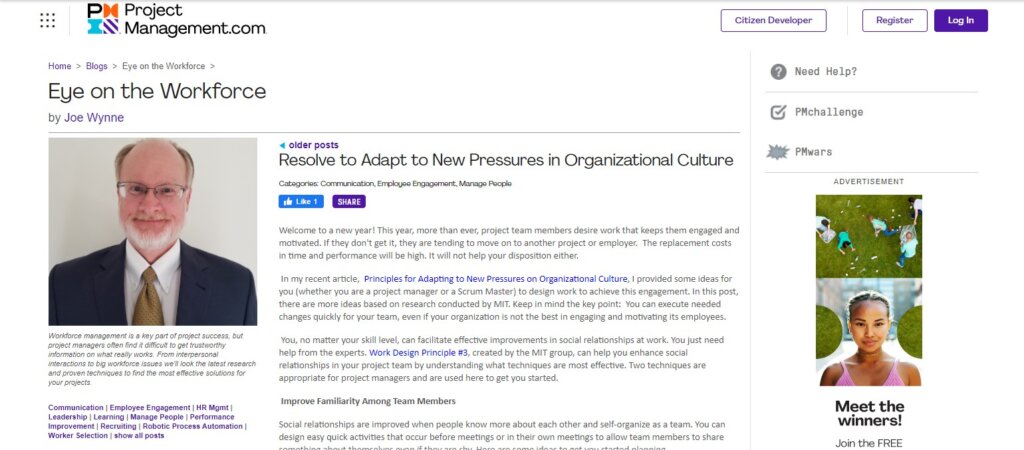 Eye on the Workforce is a sub-blog operating off ProjectManagement.com, written by Joe Wynne. He has been producing content since 2000 for people in the project management profession. As the name suggests, this blog specializes in workforce management, which Wynne believes to be a key component in project success.
The posts on this project management blog specialize in tips for managing and creating a sense of community within the workforce that improves productivity, morale, and profit. He provides a lot of depth in his posts on this topic, ranging from employee communication to human resources and leadership tactics. There's something here for every project manager.
Joe Wynne is a project management professional himself, having worked in many different areas of the industry. The variety of work he has done reflects the plethora of experience he divulges in his informative blog posts.
3. PMStudent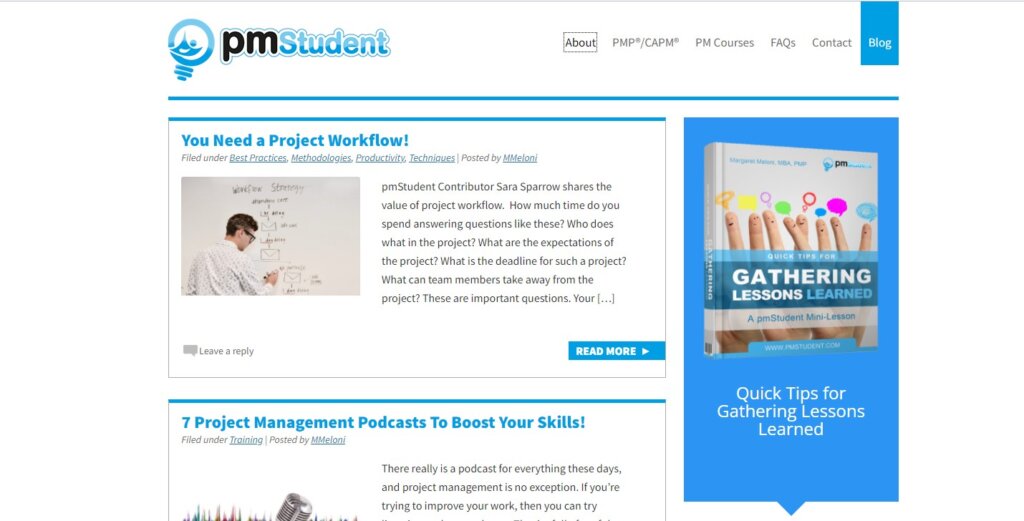 The blogger at PMStudent aims to teach and inform, whether you already have experience in the project management field or you're just learning about the five project management phases. To be able to learn something new or take away information that you will use at work is something many of us take for granted when we aren't actively engaging with blogs and resources like this.
PMStudent offers posts on a range of topics, from building and maintaining a good relationship with your team to project strategy and software advice. The scope of writing means there is something everyone can take away, allowing everyone to grow in the field.
The blog is run by Margaret Meloni, who focuses on IT Project Management and leadership. She seeks to build a community through sharing skills and ideas that everyone in the industry can benefit from. She also teaches project management skills.
4. The Girl's Guide to Project Management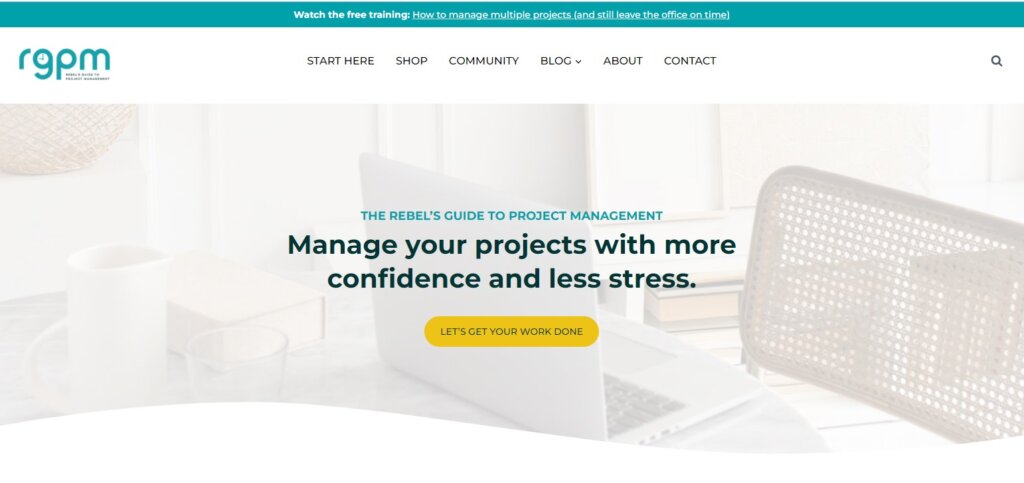 The Girl's Guide to Project Management came about as a result of the lack of women who have historically spoken and advised others on project management. The blog was created by Elizabeth Harrin, who has over twenty years of experience in the industry.
The purpose of the blog is to teach skills that are essential in project management, on a wide variety of topics, including responsibility, networking, task delegation, and tools like Agile. There are over 1,000 articles on the blog, written over the past decade, and the community which has grown from the blog means there is plenty you can do to grow.
As well as the numerous skills to be gleaned from this blog, there are a variety of workshops and templates available to help you organize tasks effectively and hone your skills as a project manager.
5. Simpletivity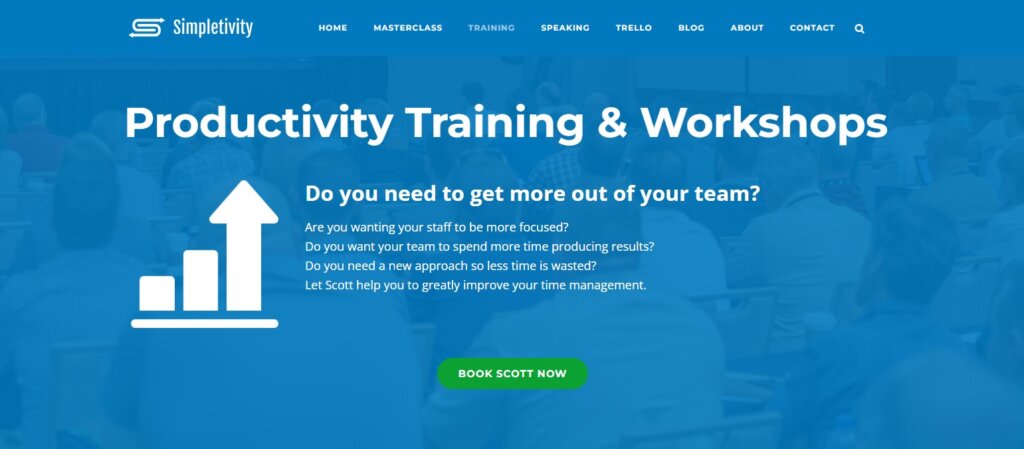 You'll find Simpletivity specializes in several particular aspects of the project management field, namely efficiency, productivity, and time management (ever heard of scope creep?). Run by Scott Friesen, Simpletivity aims to improve skills like focus and simplify the tasks of a project manager on a day-to-day basis.
The resources available through the Simpletivity blog enable you to cut down on a lot of administrative details, which may become a hassle in any project management role. By slimming downtime spent on producing work behind the scenes, you can simply focus on what matters.
By utilizing Scott's time-saving tips, you'll undoubtedly be able to improve the productivity of yourself and your whole workforce. Creating effective, standard practices in the office is a great way of maximizing your output and minimizing excess tasks, which is what Simpletivity is all about.
6. Helping Project Managers Help Themselves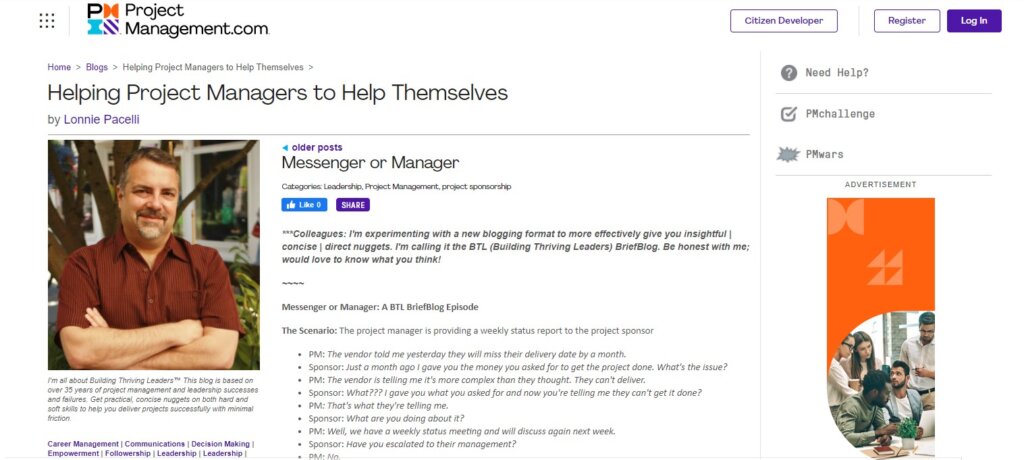 Here's another offshoot of ProjectManagement.com: Helping Project Managers Help Themselves. It's run by the highly experienced Lonnie Pacelli, with over 35 years spent in the industry. That time has been used working for companies like Microsoft as well as working for independent consulting groups and companies. 
Pacelli aims to provide practical information for project managers, the kind of information that you can retain and use when you need it. These tips revolve around communication and seamless collaboration of projects within teams, as well as transferable leadership skills surrounding many aspects of project execution.
This blog is imperative reading for nuggets of wisdom you'll apply in the long term. Pacelli's approach to project management is dynamic and covers many spheres of the industry, much like his own experience. Learning good leadership can be as much about gaining your own experience as it is about taking advice from others.
7. Projects at Work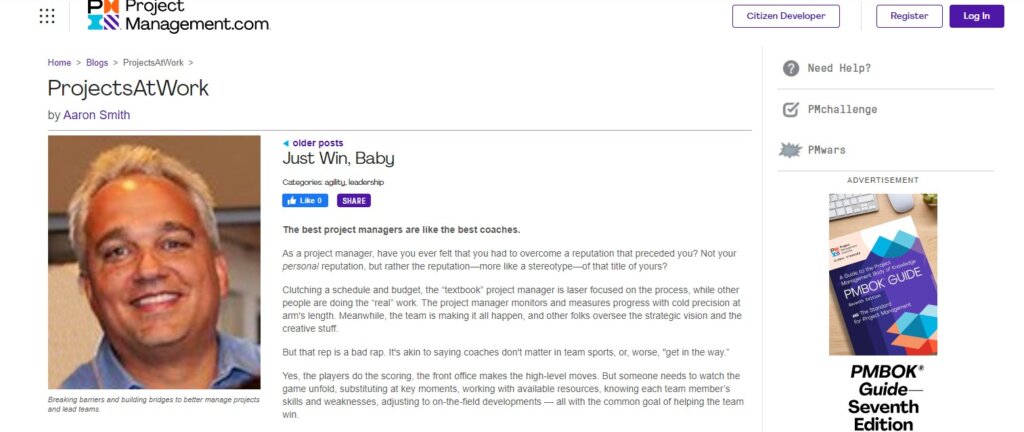 Another sub-blog of ProjectManagement.com, the purpose of Projects at Work is to explore the dynamism required to overcome challenges in project management and produce more effective results. Run by Aaron Smith, this blog for project managers is all about learning the hurdles of the job and finding ways around them.
Smith is a writer who focuses on project management skills after 25 years of experience in editing and publishing. Having worked for a variety of areas within his industry, he knows the common challenges of managing projects inside out and explores these problems in his blog.
This blog is full of interviews and advice pieces about practical issues and ideas within project management that can help you to think further about coordinating a team, arranging resources, and creating outstanding results. What's great about this blog is how it extrapolates PM problems into real-world ideas and creates food for thought about industry challenges.
8. PM Network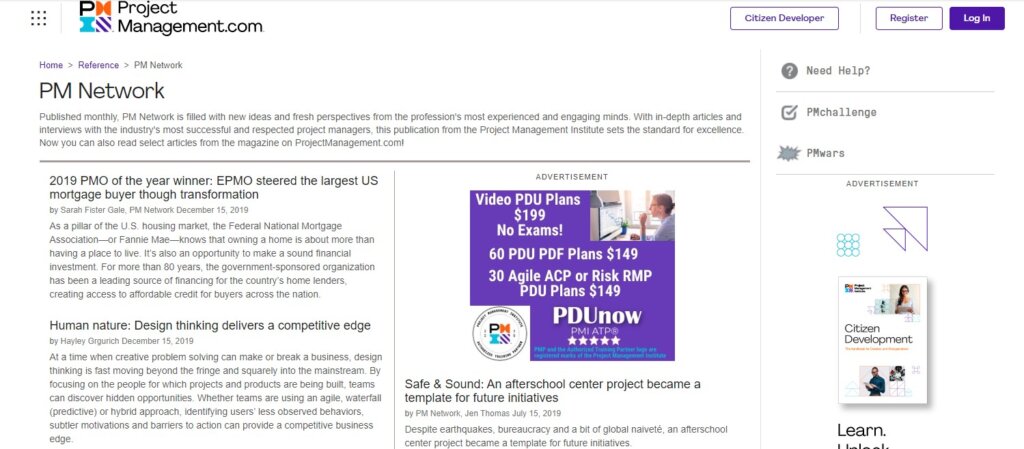 PM Network is another resource that has grown from the Project Management Institute, sourcing advice, and information from some of the most informed and experienced people in the industry. This journal is published monthly and contains a lot of really helpful advice.
What's so great about PM Network is how it draws on so many different voices from within project management, providing content now only about practical challenges in the industry but modern theory and cultural ideas that ultimately have a big impact on work, whether you work in construction, marketing or advertising.
But PM Network doesn't stop at just articles. It has a database chock-full of downloadable content, tools, and webinars that will keep you informed and up to date about everything going on in project management. The resources available go back over a decade, as a result covering every imaginable base within the job.
9. NTask Blog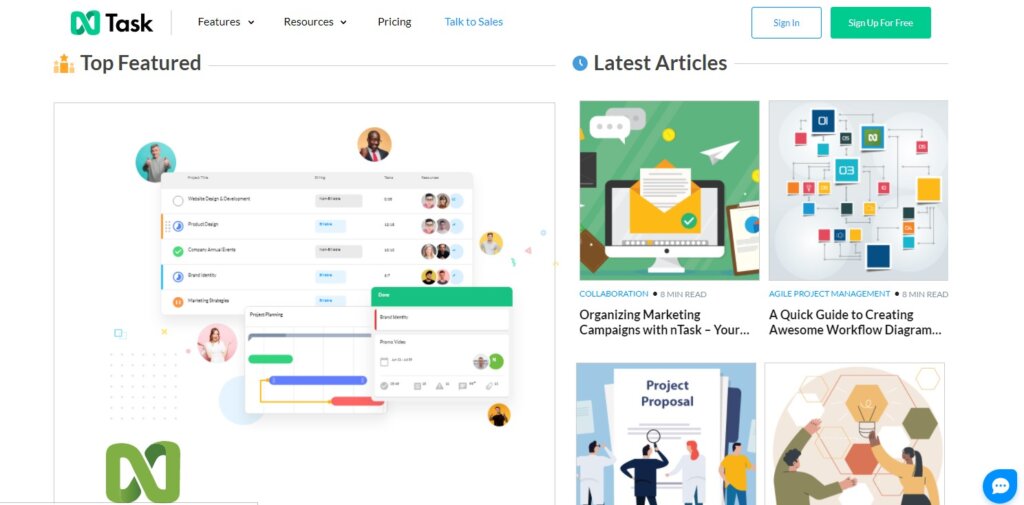 In project management, NTask is known best for its software, but there is also a very helpful blog available on their website with additional resources for management, regardless of your experience level or industry. This is one of the best-organized blogs of its kind, with many categories and fields of information.
What kind of information are you looking for? NTask offers articles on productivity, collaboration, resource management, and multi-project management. As well as this, it is certainly well-designed and highly readable in layout and design.
The articles on this project management blog often act as handy guides to different areas of project management, they are informative and clear. The clarity of the writing would lend itself well to beginners and provides plenty of introductory knowledge about topics like software and integration, which aren't always super accessible.
10. The Lazy Project Manager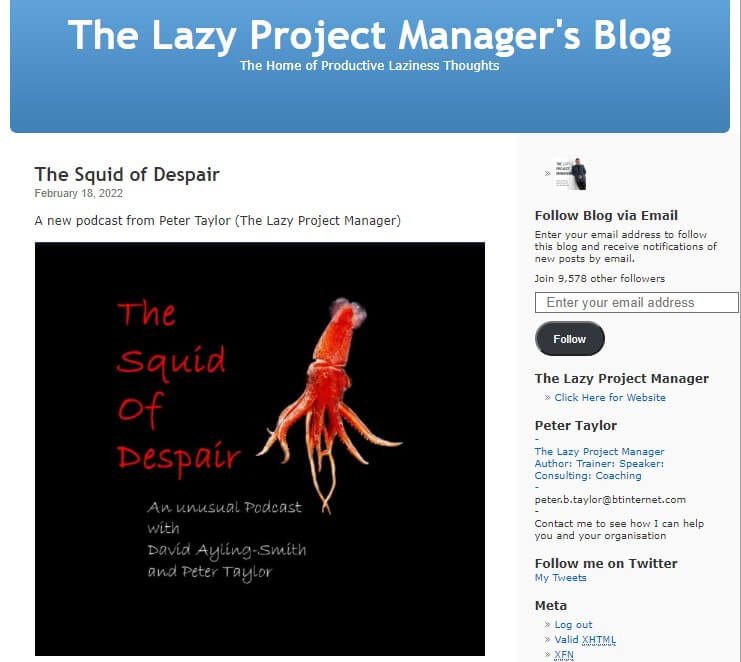 The Lazy Project Manager blog is one of the most informative out there, not only in terms of the content produced, but the resources easily found within blog posts. Curated by Peter Taylor, who has a wealth of experience in the project management role, it's understandable that this blog is so full of valuable information.
Content on the blog spans back over a decade, covering the basics of the project management role to more complex issues in business and management altogether. Peter Taylor's message revolves around the idea of how to be an effective manager; finding your role satisfying, working well with a team, and utilizing the best tools to maximize your success and output.
More recently, Taylor has converted a lot of his knowledge into widely available books, but this does not detract from the sheer volume of information available on this blog for free which will undoubtedly help even the most seasoned project managers overcome hurdles at work.
11. Project Management Basics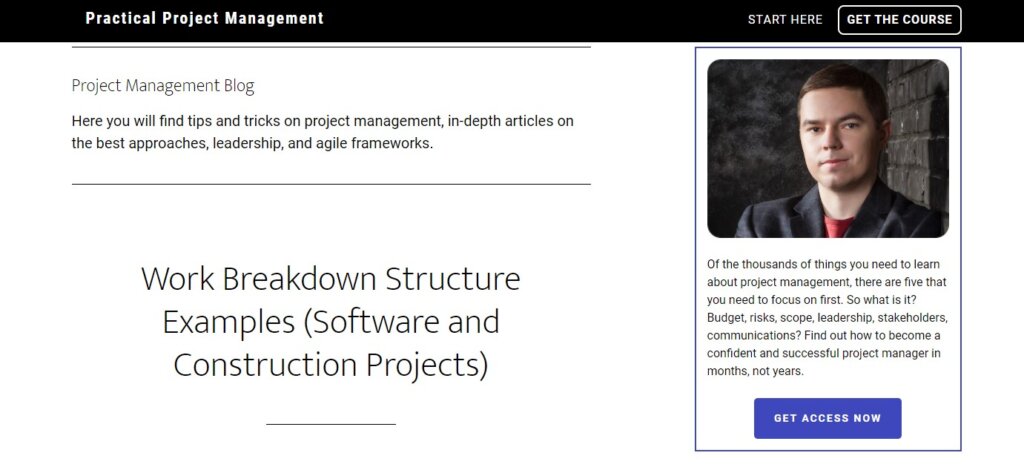 You'll find Project Management Basics provides lots of in-depth information about the realities of working in project management as well as useful advice and tools that span many aspects of the job. Much of the content is written by Dmitriy Nizhebetskiy, who has over ten years of experience in IT project management, and who has founded his course on the subject.
Nizhebetskiy's approach focuses on his own experiences, rather than research or academia. He prides himself on providing relatable and realistic glimpses of what makes a good project manager and how leadership skills can be gained.
Examples of his posts include real examples of what the role of a project manager involves and interview samples to help you advance yourself into a managerial role. As well as educating on different approaches to the job, he also provides advice on tools like Agile which can maximize your output as a manager.
12. Easy in Theory, Difficult in Practice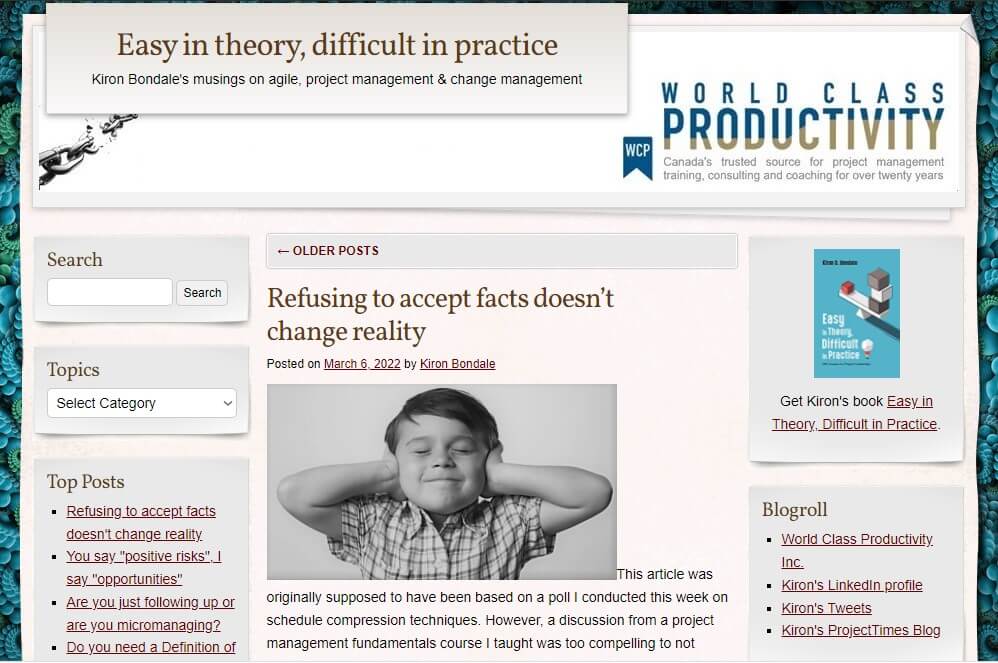 Easy in Theory, Difficult in Practice is a blog that specializes in maximizing your chances of success in project management. It is run by Kiron Bondale, who writes weekly posts on the site, musing on a variety of topics and conundrums that come with being a project manager.
Unlike some sites, this blog is arranged in a more personal, conversational way. This makes the page thoroughly accessible but has less of the professional tone that many project management sites have. Like it or loathe it, this site is based on Bondale's plethora of experiences managing many projects, and he is a great source of wisdom.
Bondale often writes on the topic of Agile, which is very useful for project managers. As well as this, he shares personal advice about productivity and resource managing, portfolios, and the psychology behind project management jobs.
13. Gina Abudi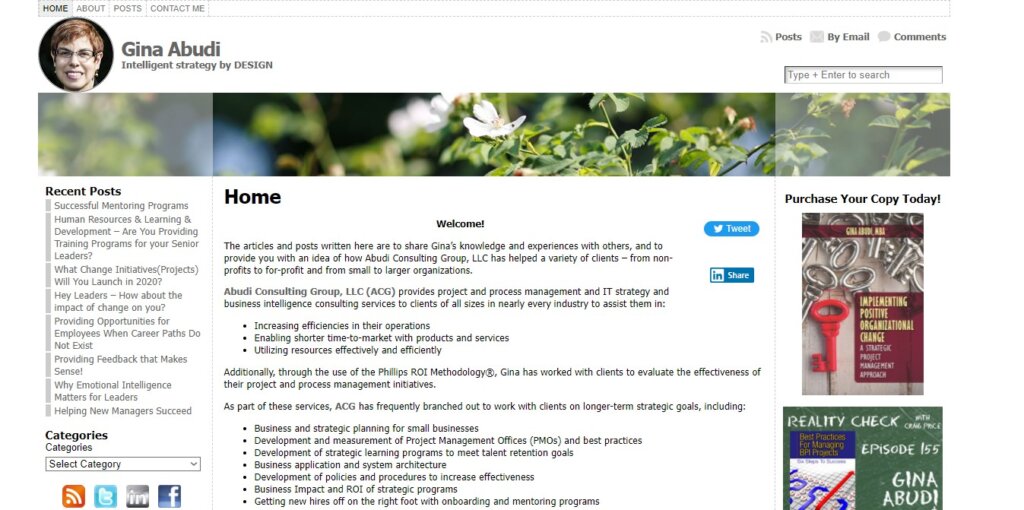 This site aims to share knowledge that applies to a wide variety of industries and clients that are dealt with in project management. Based on her work in Abudi Consulting, Gina Abudi's blog details wisdom from her personal experiences in management, and Gina is a frequent speaker within forums where she also shares her knowledge.
Abudi has over 25 years of experience in various roles within project management, for organizations ranging from non-profits to global companies, she is a member of several associations within business. Clearly, her experience cannot be understated.
With over a decade of advice available on this blog for project managers, there's information to be gleaned about the realities of project management that can help managers and team members alike. Abudi focuses on producing intelligent strategies that work to produce results around client satisfaction, team productivity, and return on investment.
14. The Digital Project Manager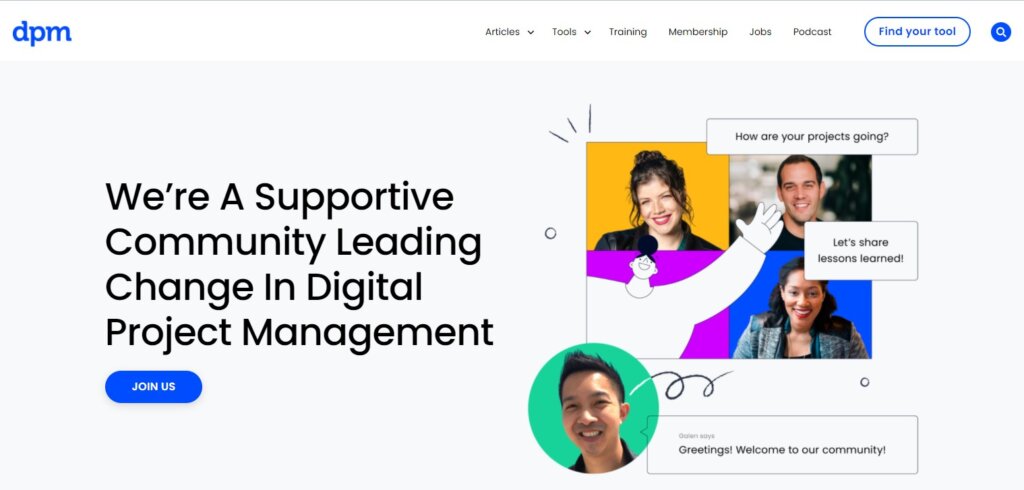 The Digital Project Manager site is full of resources, some free and some paid, but their archive of articles is especially helpful. Spanning a number of topics and issues, this blog is especially informative, and the layout is crisp, making it easy to navigate and very accessible.
The articles on this site come from several contributors and all have something fresh to say about project management, no matter the angle they take. The blog also spans an impressive variety of topics, from career development to communication, time management to stakeholders, risk management to methodologies, and Agile processes.
Undoubtedly, this is a one-stop location for so many project management queries, and the scope of writing and topics makes it one of the most useful and diverse spaces for writing on management across the internet. The resources here are invaluable for new and experienced managers alike.
15. Musings on Project Management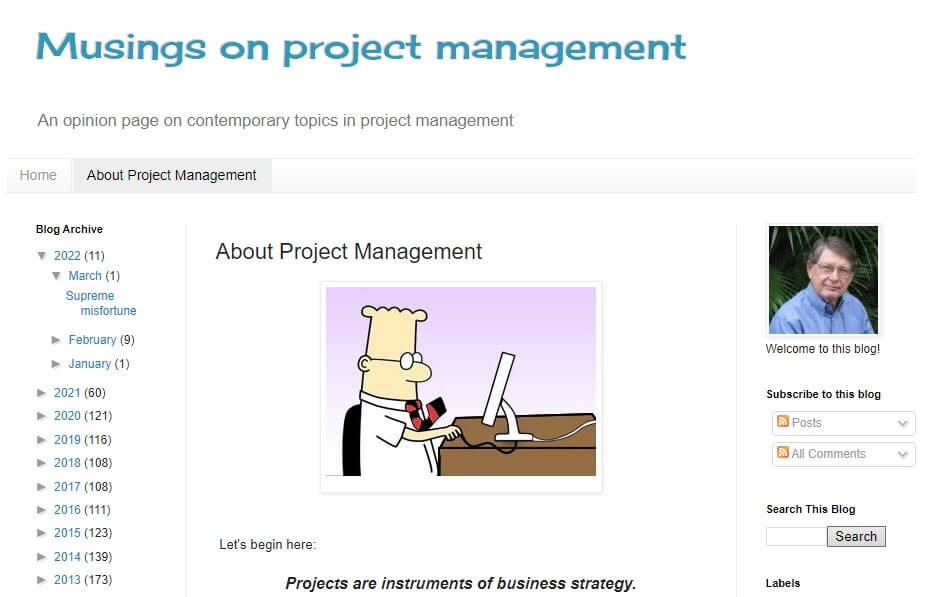 Musings on Project Management is a more abstract and personal blog about the challenges of project management, but a super valuable page, nonetheless. The writer, John Goodpasture has been managing projects for decades, resulting in reams of advice to share with his audience. In fact, this blog spans more than a decade of regular posts on the topic.
For any people new to the job or looking for career advancement advice, this project management blog also provides a very helpful and extensive definition of what project management means and how interesting the work can be.
Goodpasture may be one of the most knowledgeable people writing content on project management today, his writing is always fresh and engaging, and above all, his posts remain regular. This blog is not one to be missed if you're interested in Agile, risk management, or more general musings on the realities of project management industries today.
16. Finding Marbles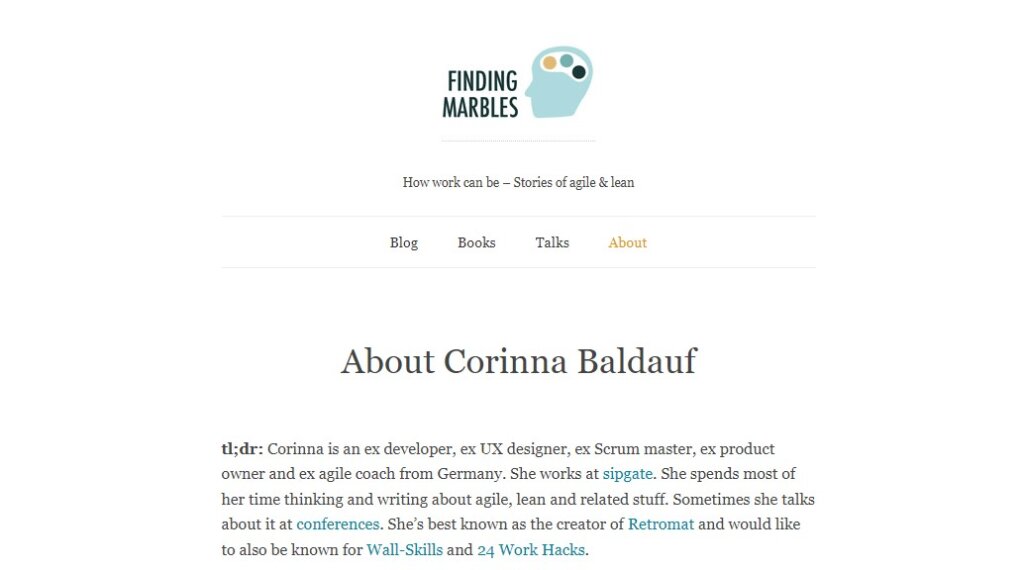 Unlike many of the blogs on this list, Finding Marbles is no longer updated. Despite that, it's definitely worth a peruse for relevant information about project management, especially Agile, Lean, and Scrum methodologies. The site is run by Corinna Baldauf, a German web developer with a degree in computer science.
Baldauf has a lot of experience with very popular methodologies. As a result, her blog posts are definitely worth reading. She offers advice on when these systems work, and what to do when they don't. She also has more general advice for working in project management that is friendly and relatable.
If you're looking for valuable information about developing a project management career concerning methodologies like Agile, Lean, and Scrum, you need to look no further than Finding Marbles for the answers.
17. PMHut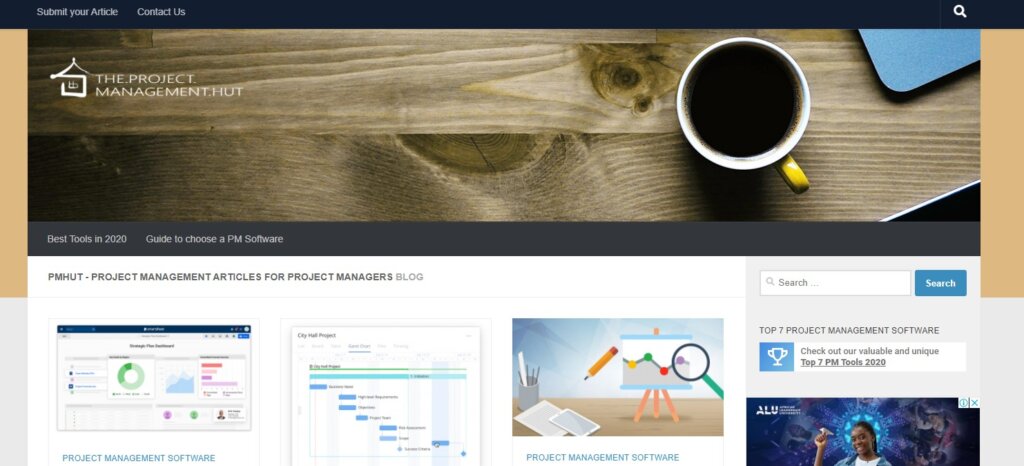 PMHut offers a lot of practical articles detailing lists and advice on making the right choices as a project manager, whether that be choices in the correct technology and software or more general management decisions regarding teams and resources.
It remains ambiguous whether this blog is going to be updated or not, but the information which remains available is still highly valuable. There's relatively up-to-date advice about quality tools for project management and a helpful guide for choosing software for project management tasks that considers plenty of the relevant decision factors.
Although this is a more simplistic blog and less sophisticated than many of the other ones out there, the information remains astute and well thought out. This is an especially ideal blog for anyone new to project management software solutions.
18. PMI Global Insights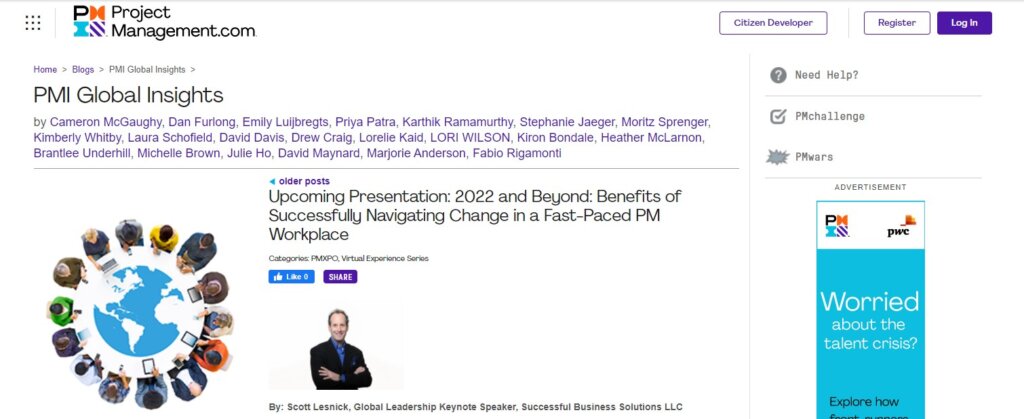 The Project Management Institute's Global Insights blog is an overarching space featuring some of the most well-known names in the project management world. Here, these experienced writers and speakers share insights about a variety of issues common in management.
You probably won't find another blog that contains so much experience and influence in the whole sphere of project management. With dozens of contributors sharing their wisdom and advice, the content spans software, metrics, HR, resource management, and leadership lessons.
While some blogs explore the insights of just one experienced project manager, the scope of the guests writing on this blog is something to be admired. Whether you're looking for something specific or mere life lessons from people in management, you'll find what you need when you look here.
19. Project Bliss

Leigh Espy's Project Bliss is a blog that approaches a variety of topics within project management, it remains regularly updated and has plenty of essential resources. She aims to make the journey into management easier for other people, exploring her career along the way.
What's so impressive about this blog is how informative it is, and how much knowledge is shared by one woman on her project management journey. It's informative and helpful without being hard to take in. Throughout writing the blog, Espy has covered dozens of useful management topics that encroach on many different industries.
As well as the variety of article topics presented in the blog, there are also resources available, like downloads and free templates, perfect for those relatively new to project management and those looking for specific advice on methodologies and systems of management.
20. ProjectSmart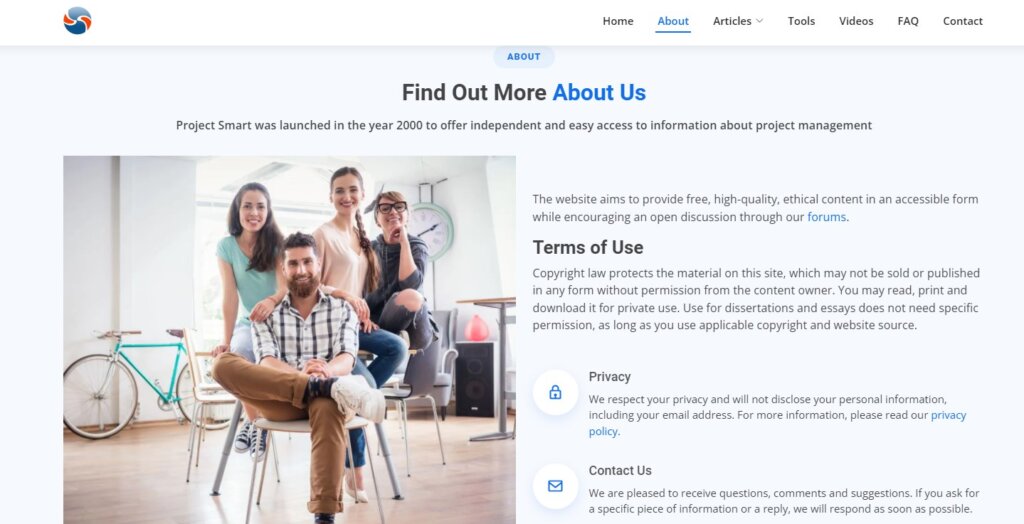 ProjectSmart is a website with dozens of resources about the development of insights in project management. Their clean interface is easily navigated, and their articles are very easy to come by. They've been providing access to project management information since 2000 and are easily one of the most reputable sources in the business.
By way of articles, they have an impressive archive spanning almost 15 years, and you can search by specific categories to find information that you need. As well as this, they offer tools and white papers that aim to inform on plenty of valuable topics.
All articles on ProjectSmart are quality assured, so you know that what you're getting is the right information. This is undoubtedly an invaluable resource, especially for those more experienced or managing highly professional projects.
Bottom Line on Project Management Blogs
Project management blogs are an excellent way of gaining awareness for tools and techniques in the industry, growing your knowledge as a manager or a team member. Because industries like marketing and advertising are so dependent on developments in technology, finding accurate sources of information is essential to stay ahead.