Gusto is a payroll processing software, offering tools to expedite payment processing and tax filing. To rise above the competition, it provides features to make other areas of business management easier as well. This Gusto review uncovers the features that make this platform shine.
Our Verdict
Built with small businesses in mind, Gusto has a slew of payroll tools that simplify or automate the entire process. In addition, its higher tiers throw in HR services to help you and your employees make the most of time management.
Built-in time tracking
Unlimited payroll runs
Auto process and submit payroll taxes
HR assistance locked behind the most expensive tier
Customer service is slow
Costlier than other options
Gusto at a Glance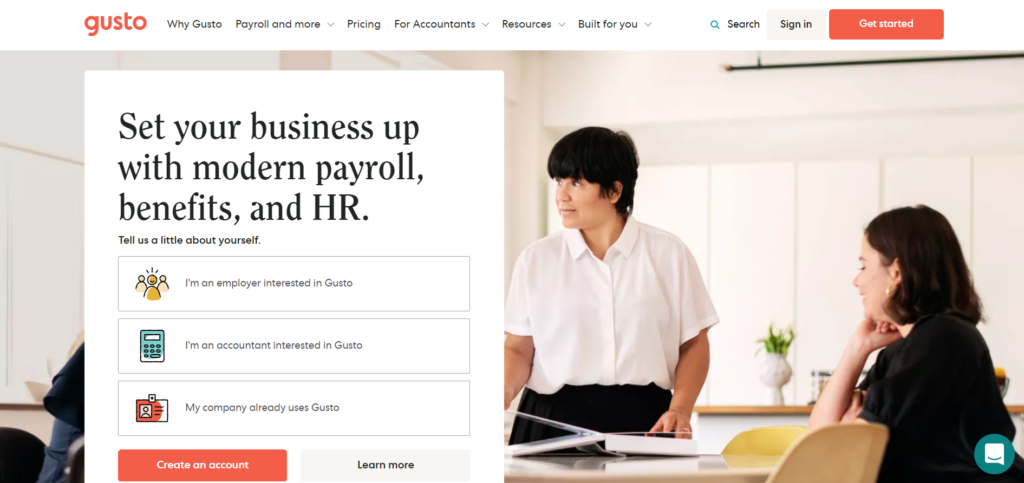 Gusto packs a lot into each of its packages, going well beyond what a typical payroll processing app can do. At its core, Gusto offers unlimited payroll runs and automated payroll processing for fixed hourly and salaried workers.
If you are slow to get payments processed in any given week, Gusto might be a good pick for you – it can have funds in your employees' bank accounts in just 24 hours. Above that, the software calculates and processes tax filing without you needing to lift a finger.
Gusto really stands out through additional tools such as time tracking and access to HR professionals that can help with the tough questions. Starting at $39 per month, Gusto isn't as cheap as some other payroll processing software, but you get what you pay for.
Who Gusto is Best For
The payroll processing software gets along best with smaller businesses that can make the most of having an abundance of features in one package. Gusto can run payroll in any state and even seamlessly crunches the numbers for small businesses spread across multiple states.
Pricing
Gusto features three price points to connect with your business. The Core tier costs $39 per month, with an additional $6 per payee. The Complete plan has the same base rate of $39, but each employee is $12 per month. Finally, the Concierge package will set you back $149 per month, but staff are still just an additional $12 each.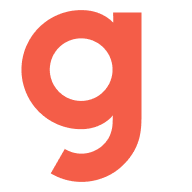 Plan
$39/month
$6 per month per person
$39/month
$12 per month per person
$149/month
$12 per month per person



Automated payroll processing















Gusto Features
Gusto's features extend beyond typical payroll processing tools to include HR services as well. You can get quick direct deposits for employees, automated payroll processing, and an HR resource center, which can connect you with an actual HR professional.
Unlimited Payrolls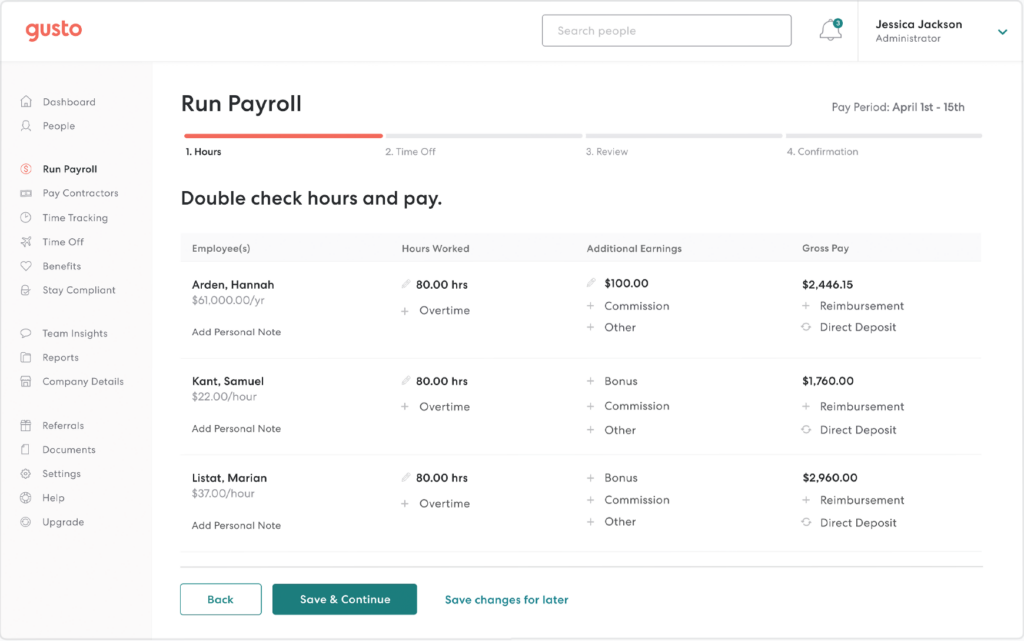 When it comes to doing payroll, sometimes once just isn't enough. Last minute changes or addendums can be an issue if your software service decides to charge you every time you need to run the numbers. With Gusto, you can do your payroll as many times as you need to and not worry about incurring additional costs.
Automated Payroll Processing
Gusto has the ability to run payroll automatically on the day of your choice. The software can accommodate salaried employees or hourly staff with fixed hours where payment is the same each time. You'll receive a notification a day before Gusto does its processing, so you can make any last-minute changes before it's too late.
Auto-file Payroll Taxes
Managing and submitting payroll taxes for each employee can be a job in itself, and any issues with the numbers can lead to more headaches down the road. Luckily, Gusto can calculate and file these for you.
The software can handle filings for local, state, and federal governments each time payroll is completed. To sweeten the pot further, Gusto makes this service available at even their lowest price tier.
Next-day Direct Deposit
Even if you're a little late to work through payroll for the week, Gusto has your back. With its Complete and Concierge plans, you can direct deposit funds into employees' accounts the very next day. If you've chosen to go with the Core plan, you still have the option to direct deposit two or four days after payroll is processed.
Time Tracking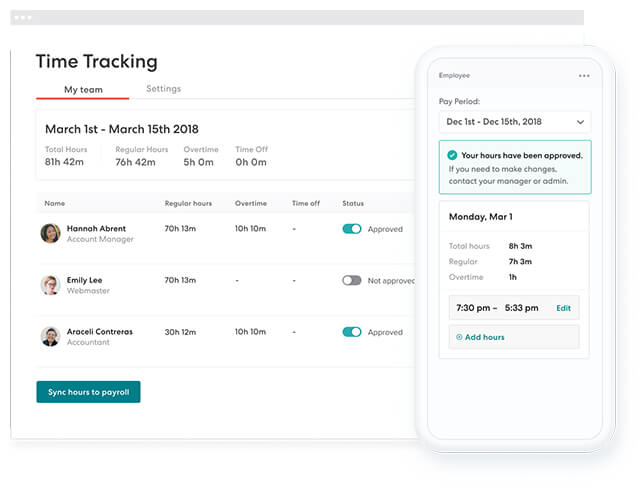 When dealing with hourly staff, it's imperative to know hours worked so you can pay them the correct amount. Gusto has a built-in time tracker through the website or mobile app to keep everything in-house. At a glance, you can add hours worked for each employee into payroll without getting lost in a sea of programs. Read how to do payroll for contractors and freelancers.
You can also use Gusto to track sick days and PTO and run reports off the data. Team members can also see this information and make time-off requests right from their Gusto login. Note that this feature is missing from the Core package.
HR Resource Center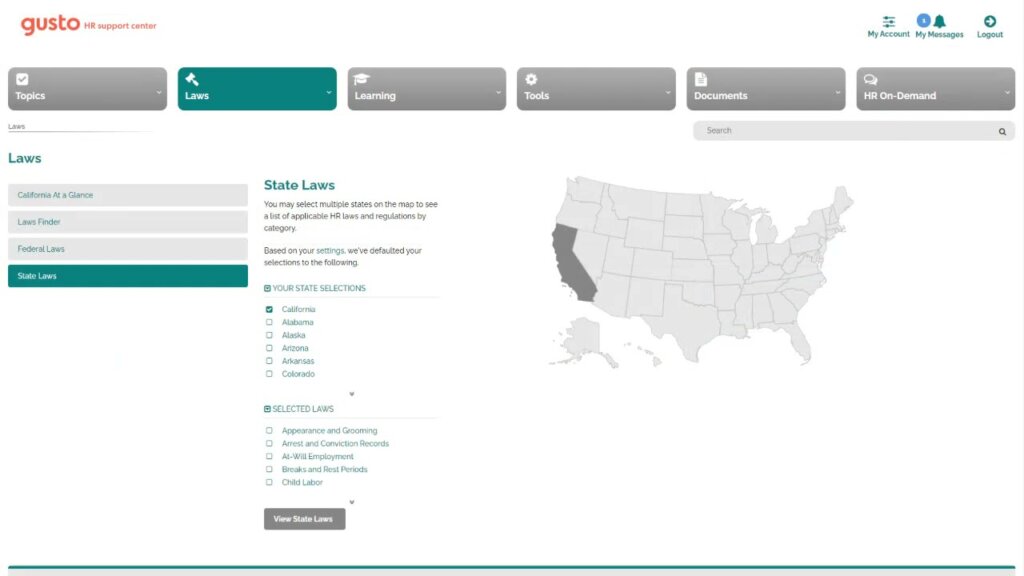 Gusto's Concierge service goes a step further with a comprehensive HR resource center. Within this portal, you have unlimited access to a team of human resource professionals who can guide you through issues you may face while on the job. Furthermore, this resource center allows you to build a custom employee handbook, job descriptions, and guides and policies for your company. Read on the different payroll laws here.
Alternatives to Gusto
While Gusto has a lot to offer, it may not be for everyone. Business managers with other time management software are effectively double-dipping with Gusto's extra features. All these tools do come at a higher price than other options out there. Here are some alternatives to Gusto worth checking out:
SurePayroll matches Gusto blow for blow with payroll processing at its $29.99 per month tier. At $5 per employee, it is cheaper than Gusto in that regard. SurePayroll's services are more affordable because it lacks the time tracking tools that Gusto brings to the table. If you already have time tracking covered elsewhere, SurePayroll may be a good option for your small business instead. Read the SurePayroll review if you're interested in this tool or the SurePayroll vs Gusto review.
Wave's unique pricing structure is based on its limited ability to run automated payroll. The software can only do so in 14 states and charges a $35 base fee for use in those states. Other states are only $20 per month, but both charge $6 per employee.
What makes Wave stand out for small businesses is its free accounting and invoicing software. Without setup fees or hidden charges, these tools are made available at any time. If you're interested in this tool, read the Wave Payroll review.
Onpay doesn't charge for setup or the first month of use, and its base fee of $35 is lower than Gusto. With only one tier of service, you're not able to pick from a list of packages for the one with the features you need.
The payroll processing software does scale well with small businesses, adding just $4 for each new user. Onpay includes automatic payroll, unlimited pay runs, and free tax document processing just like Gusto does. It doesn't have any built-in time tracking but does come with some basic HR tools. Read the OnPay review to learn more about this payroll software.
Frequently Asked Questions (FAQs) for Gusto Review
Bottom Line on Gusto Review
Gusto doesn't stop at payroll software, adding more features small businesses can use. A project management software with built-in time tracker and HR tools eliminate confusion about hours and processes so you can dedicate more time to getting things done. The service includes the staples of auto payroll and fast deposits while keeping costs to a modest amount.