SurePayroll is a payment processing app designed to take the stress and guesswork out of paying your employees. This SurePayroll review takes a look at the software's top features and what makes it worth considering for your small business.
Our Verdict
Designed for small to medium businesses, SurePayroll features the ability to auto-process payroll while dealing with the nuances of tax forms and state government submissions.
One of its most notable features is an entire service dedicated to payroll for in-home care. SurePayroll easily navigates all the pitfalls of payroll processing for these employees that often amount to penalties and headaches.
Unlimited payroll runs
2-month free trial
Can process and submit taxes
Struggles with employees who switch between hourly and salaried pay
App can be challenging to navigate
Long customer service hold times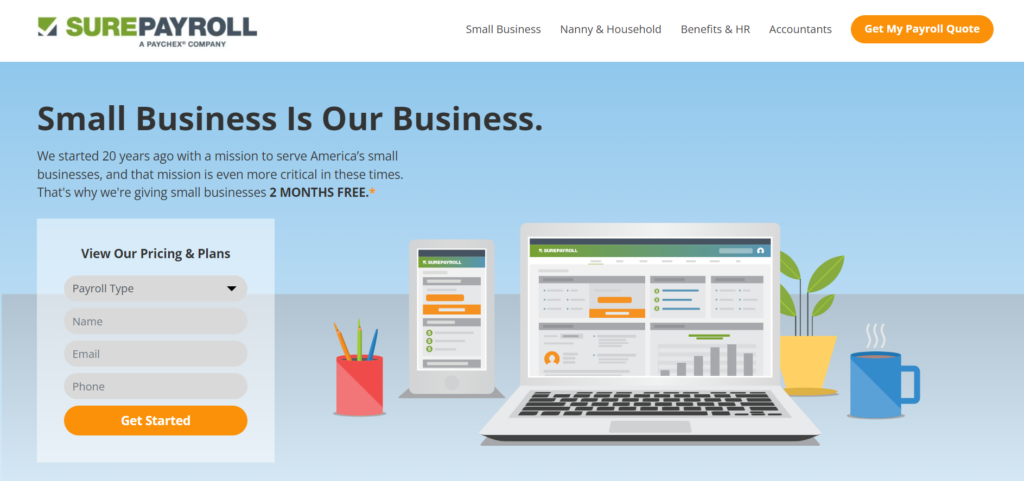 SurePayroll stands tall as one of the best payroll options for small businesses currently available. The product has three different tiers of service starting at $19.99 per month and working their way up to $49.99 monthly at the highest level.
All plans offer the option to perform payroll automatically, and payroll can be run an unlimited number of times per day without additional cost. The Full Service plan goes so far as to calculate and submit all payroll taxes alongside a guarantee that they will be filed correctly. Higher tier plans drop money into employees' accounts two days after submission for prompt payment.
The payroll system has a feature tier specific to in-home care, such as nannies. This particular package contains all the payroll and tax info you need to avoid penalties and fees.

SurePayroll extends its service to offer worker's comp, 401(k) plans, health insurance, and pre-employment screening, though HR services aren't included in any plan. Having these options available keeps everything under one roof while also meaning you don't have to search around for them on your own.
Who SurePayroll is Best For
SurePayroll's line of services are all set up specifically with small and medium businesses in mind. Pricing is reasonable at the onset but grows quickly for organizations with a large number of employees. Should you need to keep track of payroll for a household helper, SurePayroll has a feature set just for that.
Pricing
SurePayroll has three tiers of service to choose from, depending on your needs. The No Tax Filing plan costs $19.99 per month, plus $4 for each employee in your organization. The Full Service plan starts at $29.99 monthly but charges $5 per team member. Finally, the Household Payroll plan runs $49.99, including one employee. Additional employees will set you back $10 a month for each.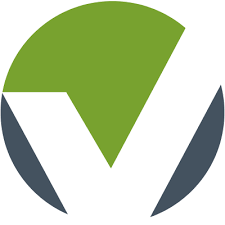 $19.99/month + $4 per employee
$29.99/month + $5 per employee
$49.99/month (includes one employee)
$10 per additional employee
Free two-day direct deposit


















SurePayroll Features
SurePayroll's suite of payroll handling tools center around making the process as simple as possible. It includes two-day direct deposit, which is faster than some big names in payroll that may take up to four days to deposit funds. The company also offers paid time off (PTO) and sick day time tracking without you having to integrate an app.
Free Two-Day Direct Deposit
SurePayroll provides the means to pay your employees through printed checks or via direct deposit. There's no additional charge for either one outside of the costs you'll incur for paper and ink for a printed option.
When it comes to direct depositing, SurePayroll lets you know once you've completed payroll when employees can expect the funds to reach their bank accounts. If you've signed up for the Full Service or Household Payroll plan, SurePayroll promises a two-day turnaround.
File and Deposit Taxes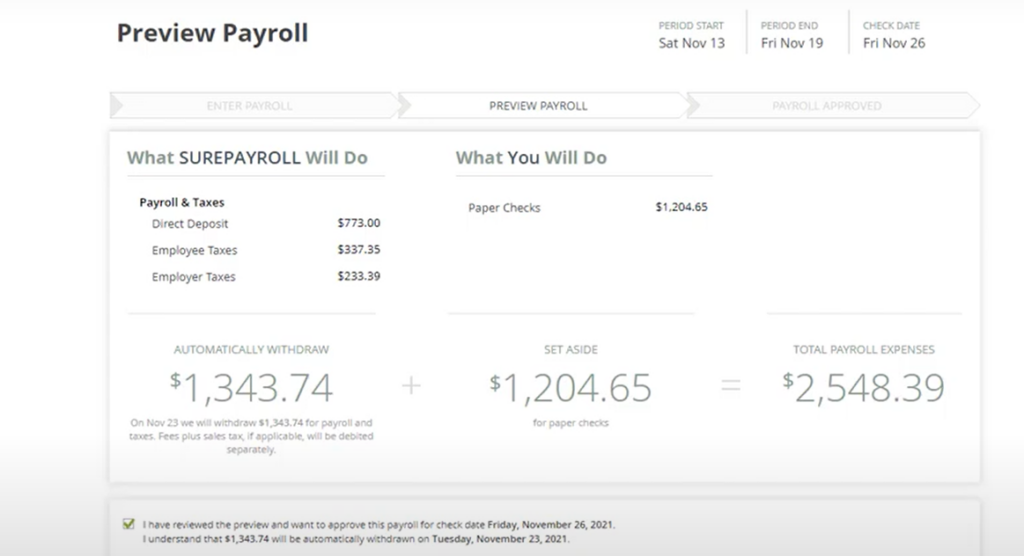 Even with a small business, calculating and submitting payroll taxes and filings is quite the chore. In the Full Service and Household Payroll plans, SurePayroll will crunch the numbers and send everything off for you error-free.
Read: How to Avoid Common Payroll Mistakes
Even if you opt for the No Tax Filing plan, SurePayroll still runs calculations for you when it generates payroll information. That being said, it's up to you to submit the paperwork and applicable fees on your own.
Unlimited Payroll Runs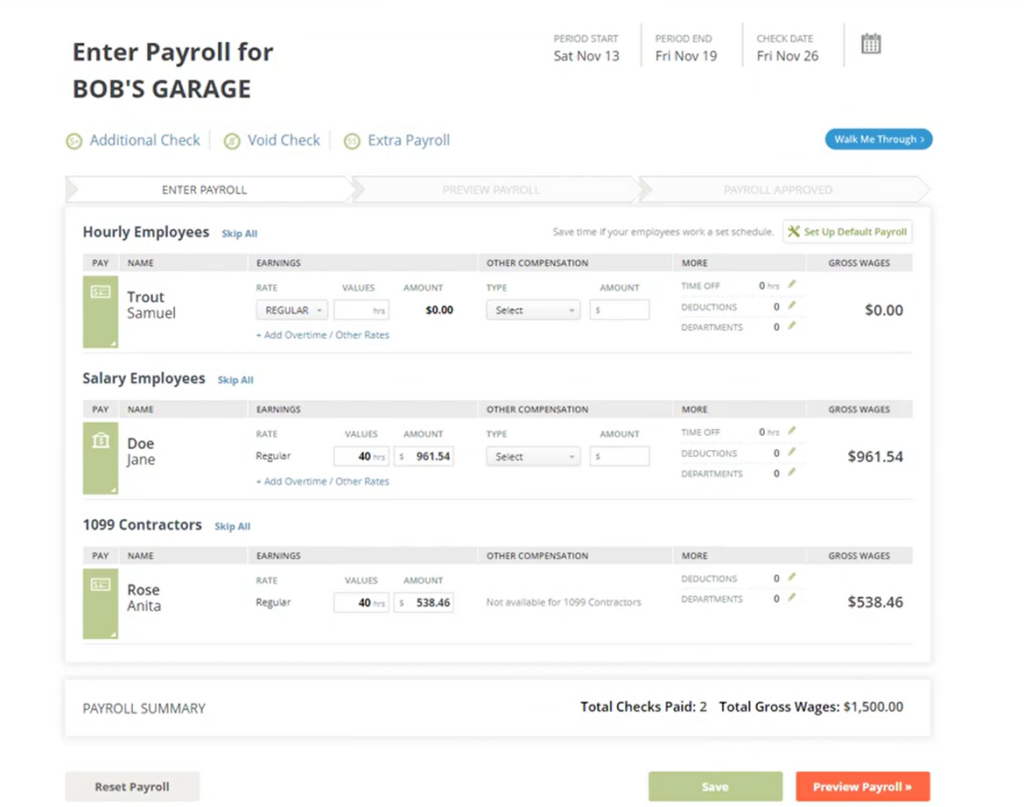 Whenever the need arises, SurePayroll allows you to run an unlimited number of payrolls on any day at any time. Whether you need to add, change, or remove information, you can do it for no additional cost. Best of all, this feature is available at any price tier.
Auto Payroll
With Auto Payroll, you can set up a repeating day of the week and time that SurePayroll will run the numbers for you. The software will send you a reminder before payroll processing begins, giving you time to input salary numbers or hours worked for each employee. You can even have SurePayroll add in these values automatically if you're sure they won't change from week to week.
When the aforementioned day and time arrive, SurePayroll will run the payroll and prepare checks or send out direct deposits as instructed. The platform will inform you once the process is complete.
New Hire Reporting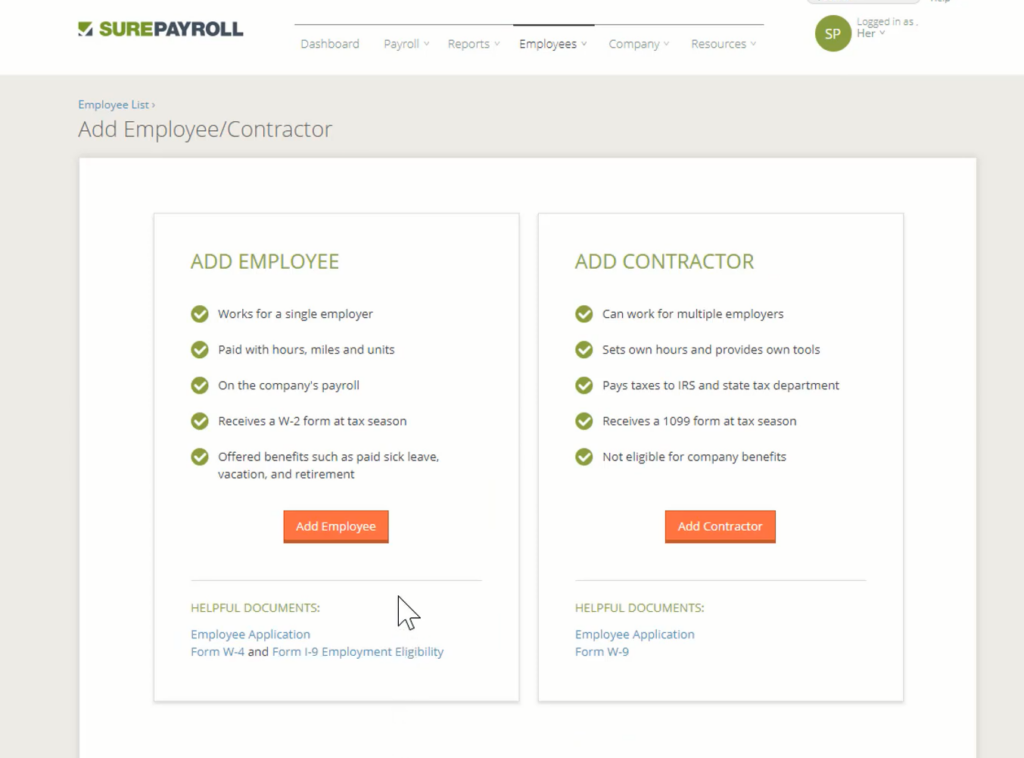 Depending on your state, you only have so many days to report a new employee to the state government. SurePayroll can take the information for new staff entered into its payroll system and send the necessary details to the powers that be so you don't have to.
PTO/Sick Time Tracking
Although only available in the Household Payroll plan, SurePayroll is able to keep tabs on days employees miss and track vacation days they can use this year. Since the Household Payroll plan is designed for nannies and other in-home services, you won't be caught completely off guard by time-off requests.
Alternatives to SurePayroll
SurePayroll has several features at its disposal, but struggles with a difficult-to-manage app and lackluster customer service. While good at what it does, the software doesn't offer much outside of payroll. If you're looking for something a little different, here are some alternatives to SurePayroll that are also worth considering:
Gusto is a modern payroll platform in the same vein as SurePayroll. Similar to SurePayroll, Gusto can auto-process payroll and run the numbers as many times as needed. Although comparable on payroll, Gusto adds time management and employee benefits to its package that SurePayroll does not have. If you're interested in both software, see the Gusto vs SurePayroll review.
Still built for small to medium-sized businesses, Gusto does cost more because of its enhanced feature set. Plans start at $39 per month but can reach as high as $149. Read the Gusto review to learn more about it.
Wave has payroll with direct depositing and automation options alongside timesheets for either $20 or $35 per month, depending on the state your business is located in. What makes Wave stand out is the free accounting and invoicing software that you can use at any time.
Following the same trend as SurePayroll, Wave is best for smaller businesses without a massive number of employees to process payroll for. Wave is limited to automatic filing in only 14 states. Read the Wave payroll review if you're interested in this software.
Payroll4Free boasts that its basic payroll software is entirely free for any business with fewer than 25 employees. These features include payroll processing, tax calculations, and reporting. Tools are more rudimentary than what SurePayroll offers, but the price is right.
If you want the software to process taxes and run direct deposits for you, this will cost $30 per month.
Frequently Asked Questions (FAQs) for SurePayroll Review
Bottom Line on SurePayroll Review
SurePayroll is a stellar tool for small to medium businesses, offering the capability to automate payroll and tax submissions so you don't have to. In addition, you can run an unlimited number of reports and pay your employees within a few days of payroll submission. Best of all, it is a very affordable solution even for new ventures just getting their feet off the ground.