Payroll software like OnPay automates each step of the payroll process, making it easier to manage employee payrolls. The program allows you to set aside taxes and other deductibles, automate direct deposits and even maintain accurate and well-organized payroll records. In this OnPay payroll review, you'll see how it can simplify an otherwise complex process.
Our Verdict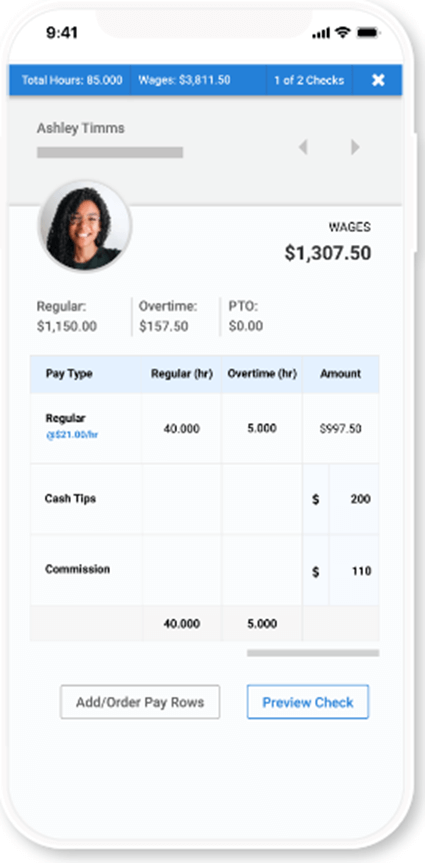 OnPay is a comprehensive and data-heavy payroll software with one of the most user-friendly interfaces you'll find. It is a cloud-hosted service, meaning your company will not be responsible for maintaining the servers.
Unfortunately, the OnPay Payroll service does not have a dedicated mobile app. However, users enjoy a desktop-like experience and can access most features on their iOS or Android smartphones. You can review the payroll history, enter employee hours, and even submit payrolls from your smartphone or tablet.
User-friendly
Modestly priced with no hidden fees
Simplifies payroll reporting and tax obligations
Lacks an automated payroll submission option
No quick direct-deposit option
Mobile version can be better
You can depend on OnPay for automated calculations of payroll taxes. The software also offers HR support for other work-related items like workers' compensation, health insurance, and retirement plans. Also, you get features that simplify hiring processes, including automated onboarding, e-signing, offer letters, etc.
OnPay Payroll is a pocket-friendly online payroll software ideal for startups and small businesses. It is headquartered in Atlanta and has branches spread out in all 50 states. This fully automated payroll service has over 10,000 clients and offers unrivaled assistance to small and medium businesses.
Who OnPay Payroll Is Best For
OnPay has numerous attractive features, although it is not a fully automated software. It is still necessary to click on a few screens, confirm pay schedules, and approve employee payments during each payroll run. This makes it best for small and medium businesses that need affordable payroll software that offers just enough features to make their investments worthwhile.
OnPay Pricing
OnPay offers a no-tiers plan with no hidden fees. Once you pay a base rate of $36 monthly, you will only be required to pay a flat rate of $4 per employee. The payment structure ensures that you only spend as much as the level of assistance you need.
Monthly Base Rate
Flat Rate Per Employee
Automated Payroll
Automated Tax Filing
HR Features
Weekend Support
OnPay Payroll Top Features
OnPay is a superior cloud-based payroll tool that simplifies employee payments, tax obligations, and HR processes. It enhances accuracy and generally ensures risk-free payroll compliance. This software comes with a host of attractive features. The most notable ones include the following:
Smooth User Interface
Running payroll can be detail-heavy and complicated payroll software can make things worse. OnPay offers a clean interface designed for ease of use. While the platform has aesthetically pleasing graphics, fonts, and colors, its sole purpose is to reduce your scrolling time by making it easier to identify key features.
Moreover, it's never necessary to leave your current screen to review other areas of interest like the employee timesheets or profiles. The software's design allows you to slide a panel on the original screen for smoother navigation.
It's also worth mentioning that navigating through HR, company, and payroll links is fast and straightforward. The toolbar contains nine navigation icons for easy access to the dashboard, employee screens, hour worksheets, worker files, payroll section, and HR content.
Also, the software allows easy integrations with other programs. For instance, it only takes a few minutes to link QuickBooks Online, TSheets, America's Best 401k, Guideline, Humanity, PosterElite, and Xero with OnPay.
Unlimited Scheduled Payroll Runs
OnPay Payroll may be ideal for small businesses because of its modest cost and user-friendliness. However, it is also perfect for larger companies because it can support the data of over 100 employees.
An unlimited payroll capacity, coupled with time tracking features and easy to access employee inputs, makes it dead simple to manage the payroll processes of more than a handful of employees. Furthermore, you can set up different pay cycles for company contractors, freelancers, and full-time and part-time employees.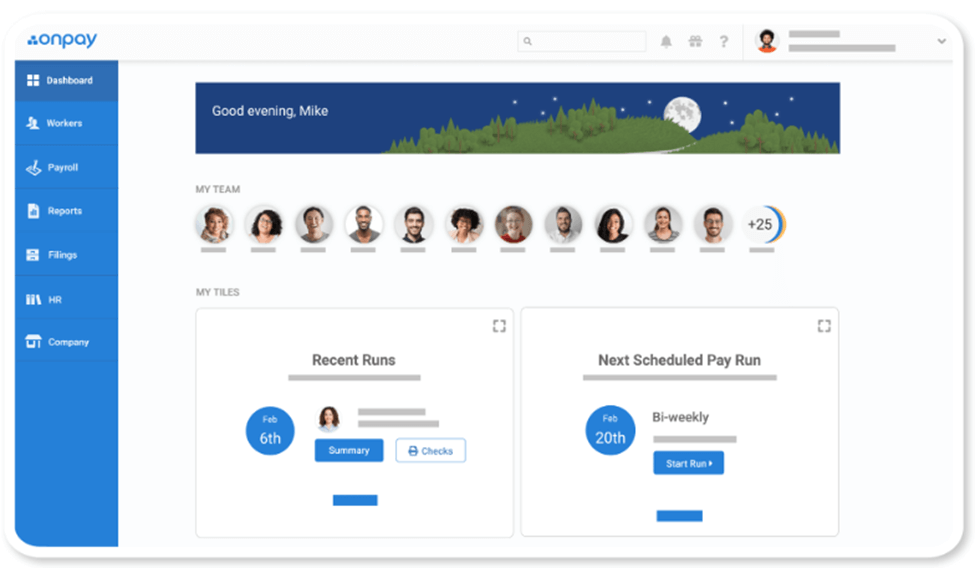 Fast Payroll and Tax Processing
OnPay Payroll does all the calculations for you – here are a few things to note if processing payroll yourself. Just visit the payroll tab and access the sheets of the employees you want to pay. Add other details such as their pay rate, hours clocked in, bonuses and commissions earned, and tax or insurance deductibles. The rest is a breeze, as the software will do all the necessary calculations.
The software will withhold all deductibles, including taxes, retirement plan contributions, health insurance plans, 401(k) plans, and contributions and workers' compensation based on an employee's category. Each entity receives an exact amount in a timely fashion to avoid IRS tax fines and other penalties. You could even dictate the specific deductions based on dollar amounts or percentages.
Payroll Payment Options
OnPay does not dictate your systems of paying employees. Once you process the payrolls, you can make direct deposits where the software automatically deposits into employees' bank accounts or prepaid debit cards.
Another option is to make payments through paper checks, although this remains an exclusively manual process. Irrespective of your choice, you can enter commands for the software to notify employees of deposited monies.
Paid Time Off
Depending on your company's policies, you can create a customized paid time off (PTO). This allows the OnPay software to track your employees' sick days accurately and paid leave days. Moreover, employees can log into the self-service portal to request time off. Managers with access to the admin portal can then approve the requests to ensure that they will automatically reflect on the paychecks.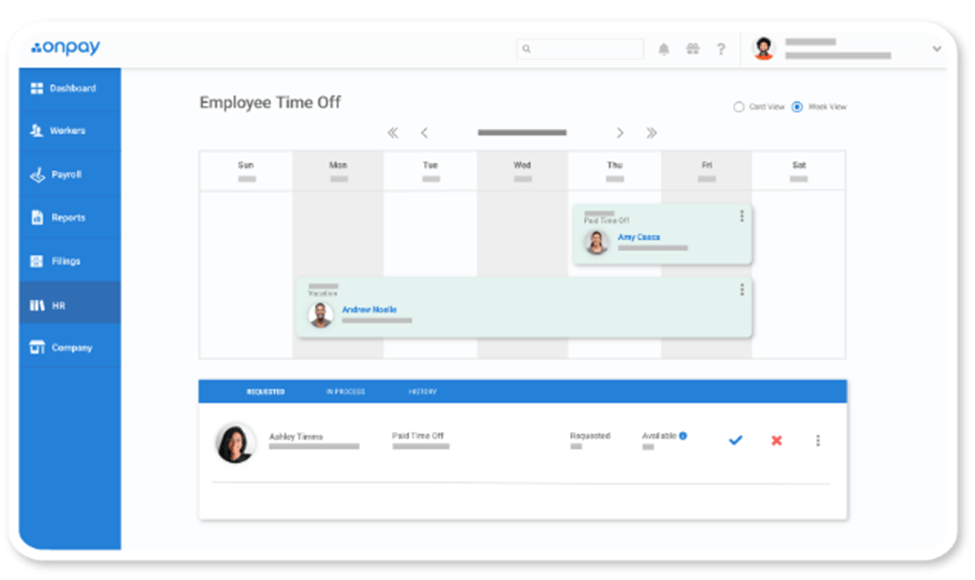 Employee Portals
OnPay features employee self-service portals where workers can sign in to update personal information, review their payroll data, access year-end tax forms, or even communicate time-off requests. The employee portal feature can help save time, mainly because employees enjoy lifetime access to their accounts.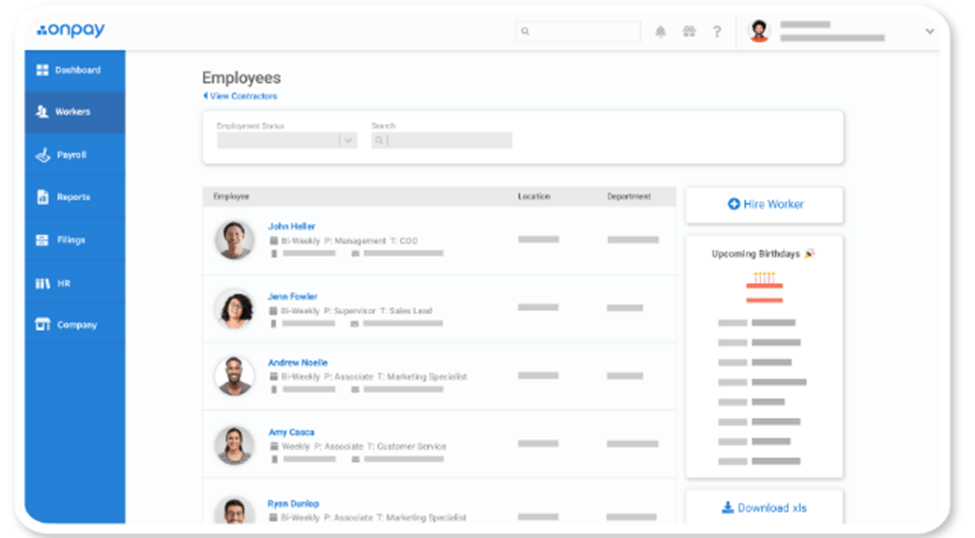 HR Features
OnPay has a range of helpful time-saving HR tools. The most notable is the new-hire reporting feature that automatically sends an employee's information to the relevant government entities right after a hire.
New hires can input their basic personal information through their employee accounts and add their names, birthdates, addresses, hire dates, and bank details. You can then add their pay rates, payment schedules, and deductibles.
Other useful HR features include customizable checklists and PTO tracking. OnPay also allows sending of offer letters without spending on third-party programs.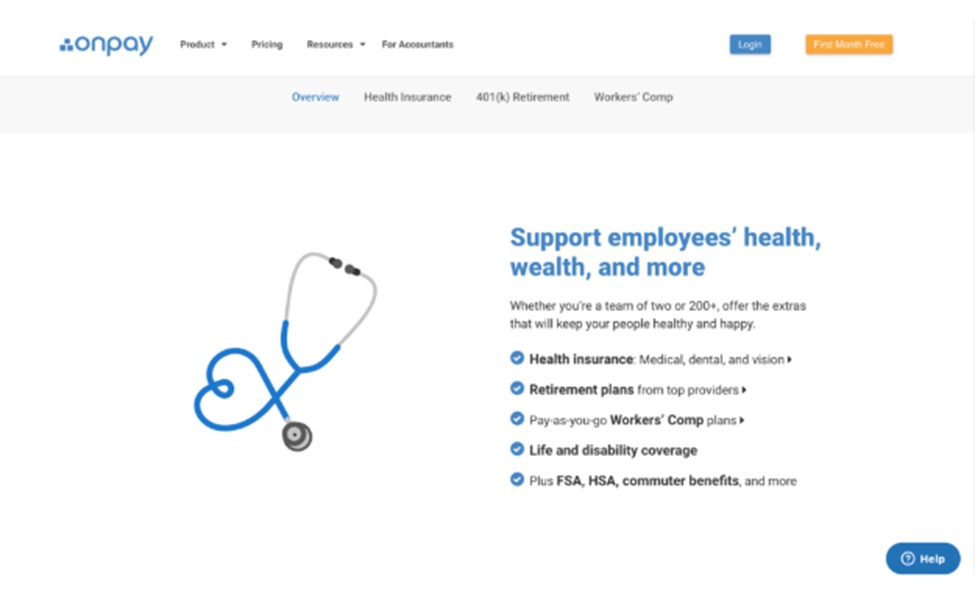 Customer Service
OnPay offers free account setup services. You will also not spend a dime integrating your account with other programs like T-Sheets and QuickBooks.
OnPay's customer service representatives are super helpful, and you can reach out to them via chat, email, or phone from 9 a.m. to 8 p.m. EST Monday to Friday. Also, urgent email support is available during the weekends.
Alternatives to Onpay Payroll Software
Unfortunately, OnPay is not ideal for all businesses. Other top alternatives that offer equally comprehensive payroll processing and HR solutions include the following.
One of the best alternatives to using OnPay is Gusto. The award-winning payroll service offers a comprehensive HR platform where you can manage payrolls, taxes, insurance coverage, and new employees.
Gusto Pricing
Gusto provides tier-based pricing ideal for small and midsize businesses. The core plan has a base rate of $39 and a $6 flat rate for each employee.
You could also opt for the Complete Plan, which comes with the extra convenience of next-day direct deposits. This plan is available at a base rate of $39 and a flat rate of $12 per worker. If your business requires dedicated support and could benefit from compliance alerts, Gusto offers the Concierge Plan. The base rate here is $149, while the flat rate per employee is $12.
Who Is Gusto Best For?
Gusto works perfectly for small businesses in just about any industry. It is perfect for companies with less than 100 employees that only hire contractors. The payroll service offers more freedom of integration with third-party programs and provides a commendable array of payroll processing and HR features.
How Gusto Compares To OnPay
Both OnPay and Gusto are superior payroll services that provide automated tax filing and payroll functions. Both companies offer an employee access portal and employee management benefits. Moreover, they provide user-friendly interfaces and excellent live support.
However, Gusto offers better employee self-service and third-party software integrations. On the other hand, OnPay wins in its Onboarding and HR features, payroll management, and paid time off management. Read the Gusto review to learn more about the software or read the Gusto vs OnPay article.
Streamlined HR and payroll processes
Automated tax filing and paperless onboarding for new hires
Easy integration with popular software
Top-notch customer support and pleasant user experience
No same-day deposit
Time tracking not available in lower tiers
If you run a large business with 50 to 1,000 employees and need complete Payroll and HR services, ADP is your best bet. The extra features and functions come at a higher fee, although users can choose from several scalable plan options.
The basic package offers full-service Payroll and HR features, direct deposits, an employee self-service portal, and more. You have to spend a little more to access the mobile app, payroll reporting tools, new-hire reporting, time tracking, talent management, wage garnishment assistance, and other advanced features.
ADP Pricing
ADP offers a personalized quote based on the individual needs of your business. The software setup fee ranges between $25 and $200. Other factors that may influence your quote include the size of your workforce, the frequency of payroll runs, and the additional features you need.
Who Is ADP Best For?
ADP payroll services are flexible enough to meet the needs of any business with between 50 and 1000 employees. It offers a range of plans ideal for small, midsized, and large companies. The software comes with all the bells and whistles of a premium service, making it unsuitable for businesses with tight budgets.
How ADP Compares To OnPay
OnPay and ADP Payroll are reliable software for businesses that need help with Payroll, HR, and Tax compliance services. While OnPay is best for startups and midsized companies, ADP is best for large, well-established enterprises.
Both companies offer ease of setup, quality support, unlimited payroll runs, and data management and reporting, among other features and functionalities. However, OnPay seems to gather higher user ratings, and it is more affordable and has more transparent pricing. Unless you are a large business, OnPay will likely offer you better value for your money.
Full-range payroll and HR features
Easy tax filing
Mobile app available and excellent technical support
HR features come at an extra fee
No pricing transparency online
QuickBooks Payroll offers fully-automated payroll processing. The software also provides tax filing assistance with unrivaled accuracy. It's one of the easiest payroll software to set up, and it allows quick integrations with a decent number of third-party programs.
However, QuickBooks Payroll provides a limited array of HR features that you must pay extra fees to access.
QuickBooks Payroll Pricing
There are three pricing tiers to choose from. The Basic plan goes for a base fee of $45 per month and a flat rate of $4 per employee. The base fee for the Premium plan is $75 plus a flat rate of $8 per worker per month. If your company can benefit from extra tax penalty protection and round-the-clock support, you could opt for the Elite plan, which will set you back $125 and $10 per employee.
Who Is Quickbooks Payroll For?
QuickBooks payroll is mainly ideal for companies that require all-rounded payroll services. The software allows you to file payroll taxes, pay your employees, and manage their benefits. Generally, it is pretty advantageous to startup businesses and first-time payrollers because of its intuitive interface and overall ease of use.
How QuickBooks Payroll compares to OnPay
OnPay and QuickBook go toe to toe in terms of their payroll features. However, OnPay provides better HR services and customer support. You need to decide which service makes better sense for your business.
User-friendly with an intuitive display
Convenient/quick same-day or next-day direct deposits
The QuickBooks Elite plan provides extra tax penalty protection
Smooth integration with QuickBooks Time, and Quickbooks Online
Added fees for tax filing and HR features
Limited third-party integration without Quickbooks Online
Frequently Asked Questions (FAQs) for OnPay Payroll Review
OnPay Payroll Review – Bottom Line
If you need automated payroll solutions, we hope this detailed OnPay Payroll review puts you a step closer to finding the best payroll software for your business. While there are dozens of options available, OnPay Payroll is a top option for small and mid-sized companies looking for affordably priced software.
Onpay is user-friendly and comes with plenty of features that simplify HR and Payroll processes. The main downside is that it lacks fully automated payroll processing, making it an ill-fit for large companies with hundreds of employees. However, it is worth trying if your employee count is below 100.