In this ADP payroll review, you'll see it's one of the best on the market, with multiple plans, so you can upgrade as you grow. The company offers plans for organizations with less than 50 employees, but it may be a bit complex, so we recommend it for businesses expecting rapid growth.
We've narrowed down the benefits and downsides of the software and you'll see why it gets such high marks for ease of use, payroll reporting tools, and its employee portal. Plus, if you need HR tools, ADP payroll might replace what you're using now.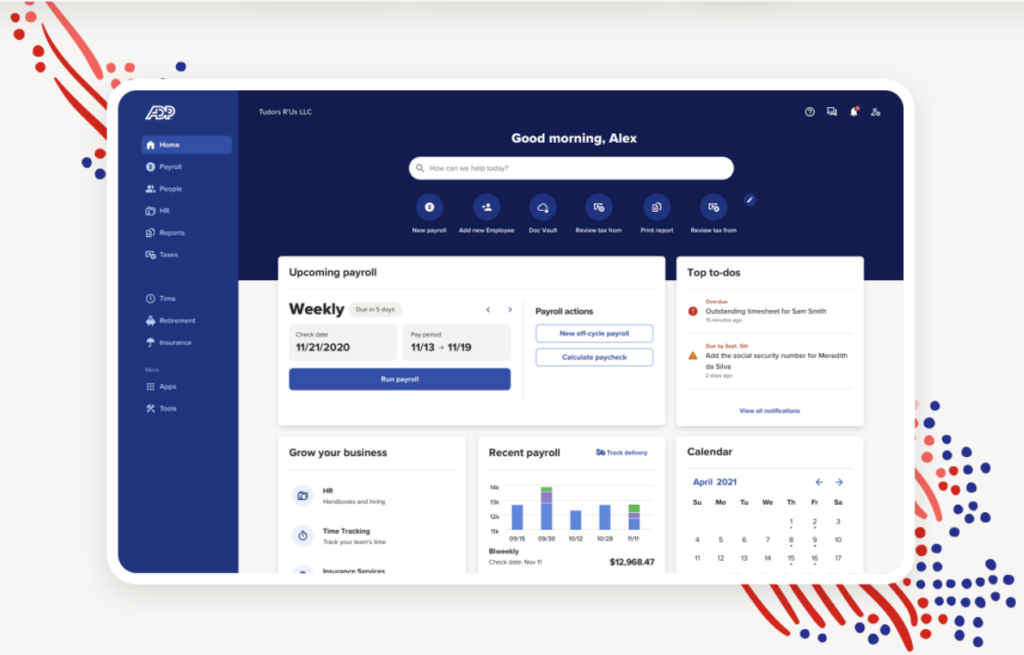 Our Verdict
ADP is a comprehensive payroll solution that helps companies automate and manage regular employee payments. ADP offers tax services, including automatic payroll tax filing and ensures you stay compliant. There's also an employee self-service portal, payroll reporting tools, and standard payroll features.
Besides the traditional payroll resources, ADP comes with helpful additional features, such as expanded human resources functions and software integrations. This makes ADP a more robust solution when compared to its competitors—meaning it should continue to meet businesses' needs as they grow.
While these exclusive features are what make ADP stand out from other payroll software, it adds extra costs to the solution, which can become pricey for a small business looking for simpler and more affordable solutions.
ADP is great for companies that require a broader set of resources beyond payroll. In addition to basic HR features, ADP also includes add-ons that take payroll to the next level, such as time and attendance, retirement, workers' compensation, and health insurance resources.
However, its broad set of features makes ADP an improper fit for small businesses. Companies with fewer than 50 employees might find such features unnecessary, disrupting the cost-benefit scale. On the other hand, businesses quickly scaling up might want to choose ADP at their early stages to adjust their needs as they grow.
Automated tax filing
HR features, including employee access, new hire onboarding, and employee discounts
50+ integrations are available (ERPs, accounting, time and attendance)
Extra payroll run costs extra
Some users have reported that customer support isn't responsive at times
Feature-heavy for small businesses looking for more straightforward solutions
ADP has a variety of resources and features. In addition, its many available integrations make the software an even more robust solution. Companies can integrate ADP with multiple apps, including QuickBooks, Oracle, ClockShark, ZipRecruiter, and Slack.
With ADP, payroll can be set to autopilot, and payroll taxes are calculated, deducted, and automatically paid. Furthermore, all packages include customizable reports. But HR features set ADP apart from completion—all packages include employee access, new hire onboarding, and employee discounts.
When it comes to costs, ADP does not disclose its pricing upfront—businesses should request a quote at the ADP website. The only pricing available is the Essential Payroll package, starting at $59 monthly plus $4 per employee per month.
However, many users have stressed that some features available on the payroll software are charged extra, which can be a significant hurdle for small businesses on a budget.
Who ADP is Best For
Although ADP is available for companies with as few as one employee, extra charges are what set back small companies from choosing this payroll software. This ADP Payroll review will show you why it's best for established or fast-growing companies rapidly expanding their headcount.
Pricing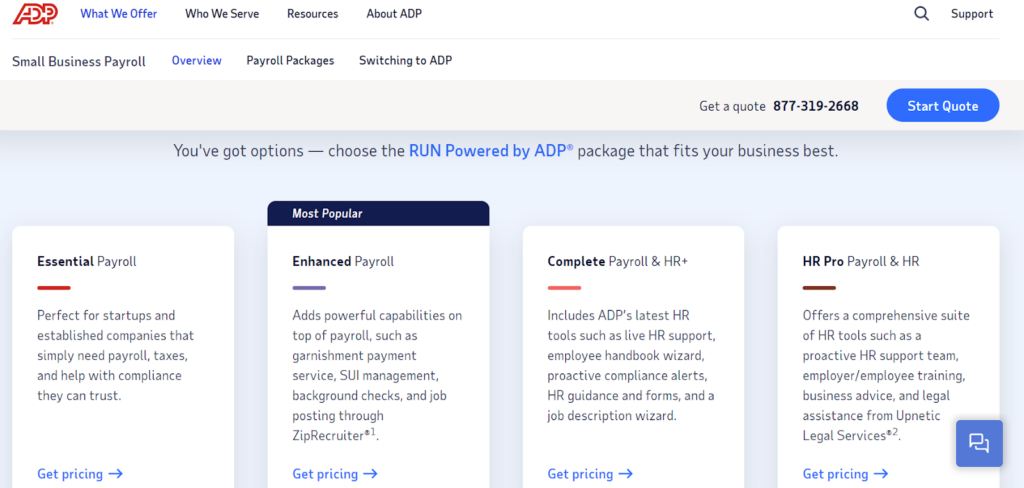 For companies with less than 50 employees, ADP offers four different plans that vary in terms of pricing and features. All price tiers include payroll and tax, HR, marketing and consulting and services modules.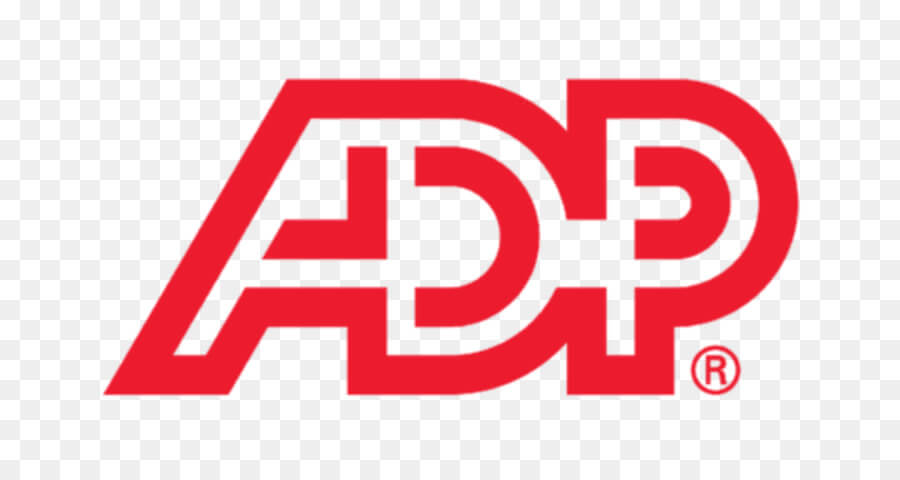 Plans
Essential
Enhanced
Complete
HR Pro
$59/monthly + $4 per employee/month
Pricing available upon request
Pricing available upon request
Pricing available upon request
Payroll: Computer, Mobile App, Phone Call
































Multi-jurisdiction Payroll












State Unemployment Insurance (SUI) Management




Labor Law Poster Compliance




ADP Payroll Features
We've analyzed and detailed the main features in the Essential package that stand out for this ADP Payroll review:
Payroll accessibility
Tax filing
Employee access
Google Ads setup and management
Time and attendance
Payroll Accessibility
ADP is a cloud-based service, so both employees and employers can access it from mobile devices or desktops. The company also allows you to run payroll via its mobile app (available for iOS or Android). Alternatively, companies can also run payroll by phone.
Tax Filing
ADP automates tax filing for companies by calculating, filing, depositing, and reconciling payroll taxes. ADP also responds to inquiries from taxing agencies regarding deposits and returns.
It is worth mentioning that a few users have reported issues with ADP's tax filing. However, if there are any tax filing errors, ADP will pay the resulting fines or penalties imposed by taxing authorities.
Employee Access
HR features make ADP a more comprehensive tool compared to other payroll software. One of the leading resources available in this module is employee access. Employees can manage ADP retirement accounts, check payment history, and enroll in pay statements.
Google Ads Setup & Management
Aside from payroll and HR features, ADP plans come with marketing resources. All small business plan tiers offer Google Ads setup and management, allowing companies to launch a campaign and reach more customers. This benefit is a helpful addition for businesses aiming to reach more customers through a Google Ads campaign.
Time and Attendance
With the time and attendance add-on, companies can run payroll accurately, include and manage schedules, hours worked, vacations, and sick time for employees.
Alternatives to ADP
For small businesses that don't need such robust payroll software, there are a few alternatives in the market. Here are a few we find might be a better fit.
Gusto's starting package includes full-service payroll, employee profiles and self-service, Gusto-broked health insurance administration, employee health and financial benefits, and several integrations. Gusto might be a better fit for small companies as it offers a complete set of payroll features, with pricing more affordable than ADP. Pricing starts at $39 per month, plus $6 per person per month for the Core plan, and $12 per person for the Complete plan.
Compared to Gusto, ADP offers more features in its basic package, especially in the HR module. But as far as payroll goes, ADP isn't different from Gusto when comparing pricing and main payroll features in its basic plans. Go beyond our comparison of Gusto to ADP in this ADP Payroll review—read the Gusto vs ADP article to learn more about which is right for your business.
Affordable package for comprehensive payroll software
Easy-to-use platform and beginner-friendly
A broad set of integrations
Unlimited payroll runs
Limited customer support hours
QuickBooks is another alternative for ADP that covers all payroll services a small business may need. Pricing starts at $35 for the Payroll Core + QuickBooks Simple Start, with a $4 extra charge per employee, per month.
When compared to ADP, QuickBooks offers fewer HR features and employee benefits. There are also few integrations without QuickBooks Online. Payroll is also limited to the US and Canada. However, for businesses looking for more cost-effective solutions, QuickBooks might be a better fit as it's more affordable than ADP.
Unlimited payroll runs
Next-day direct deposit
Affordable pricing
Limited customer support hours
Paychex Flex is one of the best-known payroll and HR software for small-to-medium-sized businesses. Pricing starts at $39 monthly with a $5 charge per employee per month.
Similar to ADP, Paychex Flex offers 24/7 customer support and automatic tax payroll administration, including calculation, filing, and payment of payroll taxes. Paychex also comes with HR analytics, a free mobile app, and custom reports. Read the Paychex Flex review to learn more.
Unlimited payroll runs
Pay any kind of worker (full-time, hourly, or contract) via direct deposit, paper checks, or payment cards
24/7 customer support
Some users have reported poor user interface
Frequently Asked Questions (FAQs) for ADP Payroll Review
ADP Payroll software can streamline the way you run payroll in your company. We've listed the most asked questions about ADP Payroll to determine whether this software solution is a good match for you.
Bottom Line on ADP Payroll Review
ADP is one of the most comprehensive payroll software out there. It comes with full payroll and tax features that help take off the stress from carrying out employee payments. Additional HR features are what make ADP stand out, along with seamless integration with over 50 platforms that expand the software's functionalities and benefits.
However, many of the features available in ADP cost extra. Plus, none of the costs are disclosed by ADP—not even the basic package plans are available on ADP's website, meaning you should request a quote to make sure about pricing.
Bottom line, ADP is a robust payroll solution fit for established companies and fast-growing businesses. If your company expects rapid change and quick scaling, we've established in this ADP Payroll review that it's a fine software to meet your needs. However, if you are a small business on a budget, looking solely for payroll solutions, simpler software such as Gusto can perfectly cater to your needs.