Freshdesk Contact Center (formerly Freshcaller) offers a new channel for telephonic communication called VoIP (Voice Over Internet Protocol). You'll see in this Freshcaller review that it's a helpful tool for businesses looking to scale and establish a local presence. It also allows you to manage all calls from anywhere with a mobile device or computer.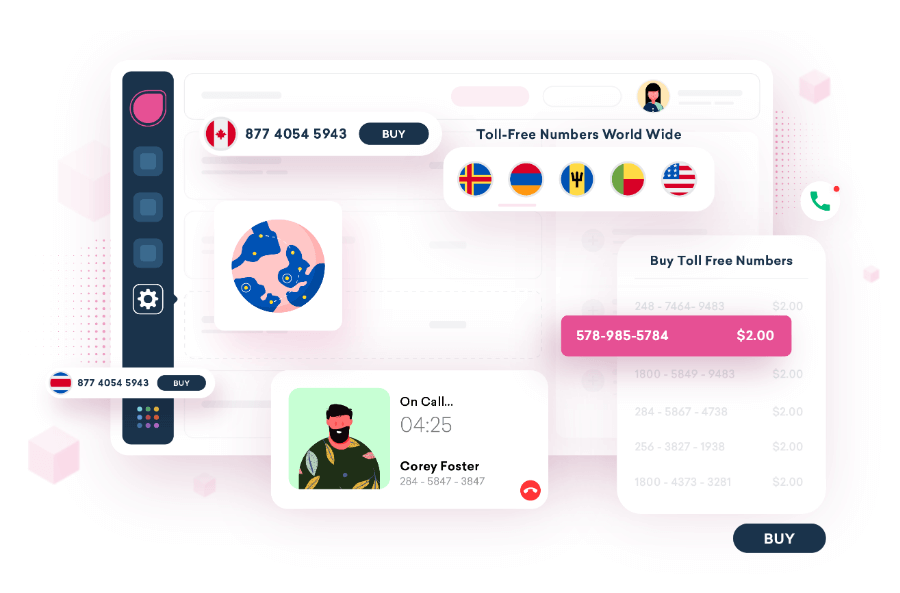 Our Verdict
For business owners who want to set up a call center but find it an overwhelming process, they might want to consider the Freshdesk Call Center. This VoIP solution is tailored to streamline the whole process.
Freshdesk offers many features that make managing a remote and large team of agents easy. First of all, the system is user-friendly and intuitive, so both you, your managers, and your agents won't get caught up in configuration or learning how the system works–it requires no zero phone hardware, coding, downloads, or costs, and you'll find that this VoIP service is much more intuitive than competing VoIP platforms.
The platform also provides built-in reports that convert phone metrics and team performance into data sets that can be used for your analysis. According to our research, the Freshdesk Call Center VoIP solution offers the best balance between affordability and available features.
Free plan available
Customizable and in-depth reports
Easy to set up and run
Wide set of features
Focused on call center operations
Expensive per-minute calls
Not recommended for organizations dealing with highly sensitive data
When your business hours starts to grow, you might realize that you'll need customer support. But the good news is that voice-over-internet-protocol (VoIP) services such as Freshdesk Contact Center give you the option to set up an easy and scalable customer support operation with multiple agencies represented by one single number. 
Freshdesk Contact Center is a VoIP phone number provider that offers local, international, toll-free, and vanity phone numbers across 90+ countries.
The agents can make and receive calls through both mobile and computer devices, and traditional online telephone support system features such as caller ID, call forwarding, and conference calls. But Freshdesk features make VoIP the ideal solution for modern enterprises wanting to leverage their call center software system like automatic call routing, voicemail, call recording, CRM, helpdesk, or other third-party integrations. It also allows the managers to monitor their team performance through customized reports with information like metrics and activity.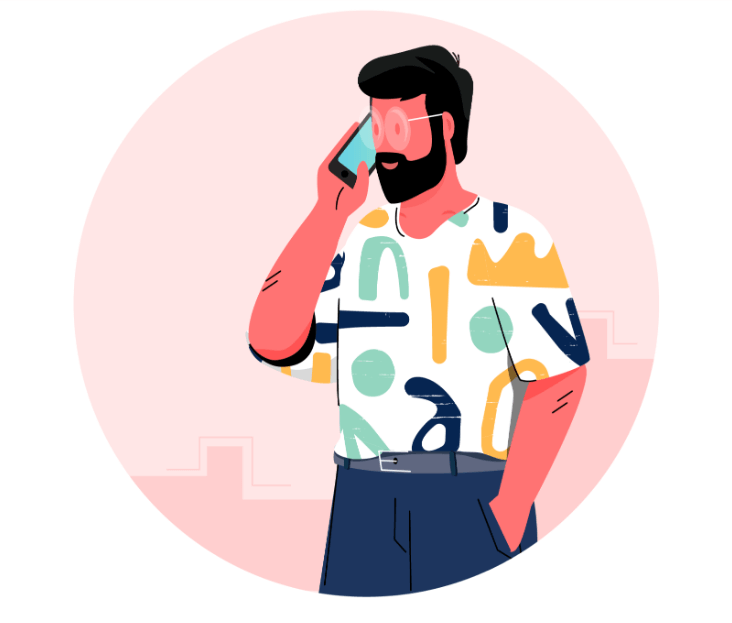 Freshdesk Contact Center's live dashboard allows you to monitor all call your agents are doing and you can even engage and join a specific call. Also, the AI bot streamlines your team's work by offering features like round-the-clock automatic response to callers, queued call-backs, and holiday settings.
In case you already have a business phone number provided by an external carrier but you want to upgrade your call center capabilities, you don't need to switch your current number. Freshcaller offers the BYOC (Bring Your Own Carrier) option which you can port your existing phone number to VoIP, so you can continue using the same phone number while availing the benefits of VoIP.
Who Freshdesk Contact Center VoIP Solution is Best For
Freshdesk Contact Center VoIP tool is an excellent solution for businesses that are scaling but are on a tight budget. The company offers a free plan and a 21-day free trial. If after the trial you want to continue, plan tiers are very affordable.
Pricing
The free plan best suits small teams with low call volume and basic call management needs. As the business needs go up, so does the pricing. See the pricing chart below.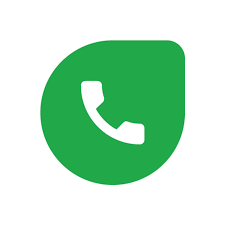 Plans
Free Plan
Growth
Pro
Enterprise
Starts at $18 per agent per month
Starts at $47 per agent per month
Starts at $83 per agent per month
















































Freshdesk Contact Center VoIP Features
Freshdesk Contact Center offers a variety of features that works well for any size and type of business. We've listed the main ones in this Freshcaller Review.
Smart Escalation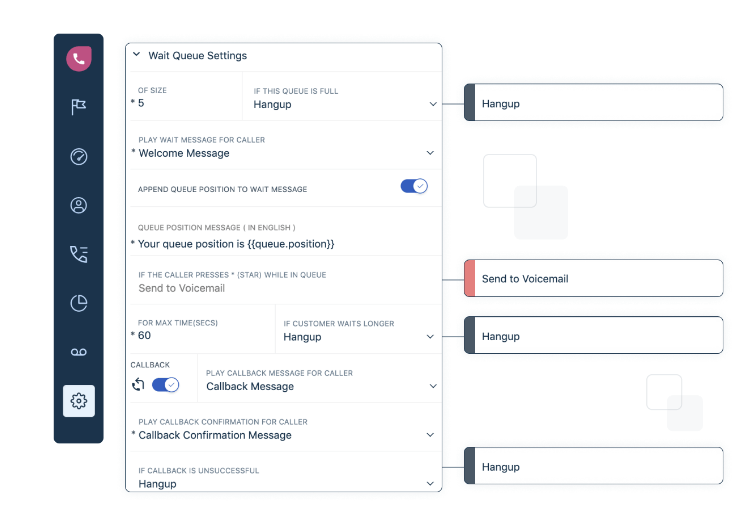 Available only at Pro and Enterprise plans, the Smart Escalation feature proactively plans to handle all your customer service team allowing calls with fallback rules. This functionality aims to reduce the operational burden from the calls that your technical support team can't attend to immediately, so it will automatically direct these calls to voicemails, wait queues, nested call queues, and callbacks wherever suitable.
Call Metrics
You can view your team's call metrics by storing call logs, checking and analyzing call lifetime metrics, and keeping a tab of all billing-related information for every call made or taken. Functionality is available in all plans, including the free package.
Reports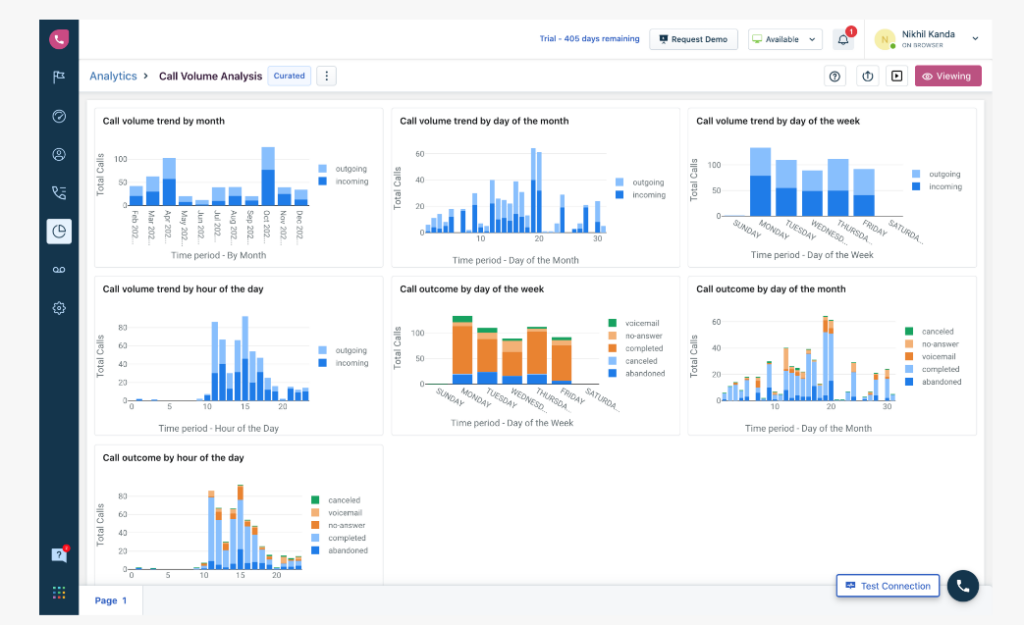 You can collect and use all the data available in your favor with the reporting analytics tool. From call trends, volume trends, and the number of call transfers, hold time, and average talk–you can use any of these reports to evaluate your team's performance and spot trends in calls either hourly, daily, weekly, and monthly basis.
After Call Work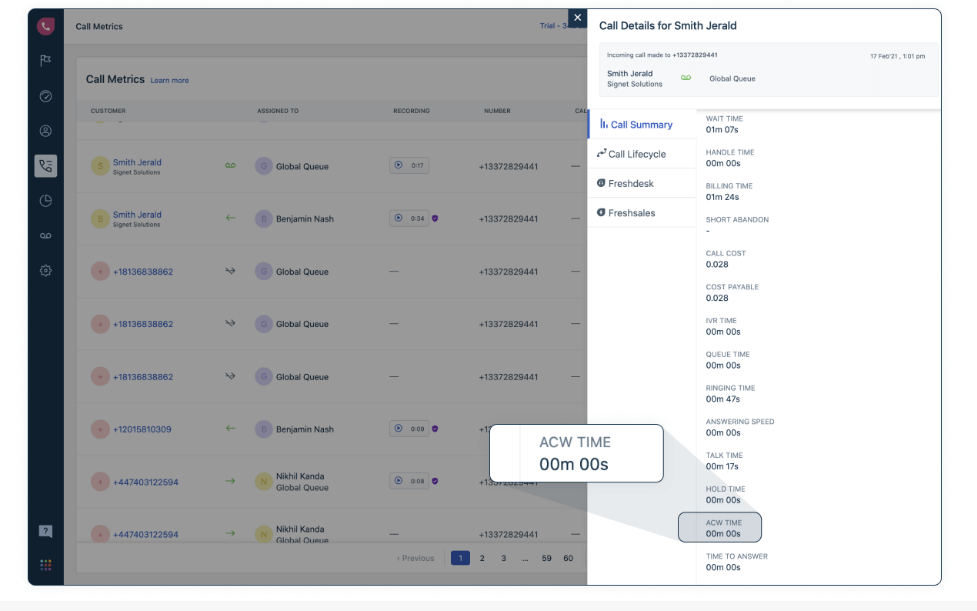 After Call Work is defined as the process of wrapping up the current call before being available for the next call. It can include logging notes about the call, emailing prospects on critical points discussed, and updating comments on the CRM. You can increase your team's productivity, understand each agent's time spent on ACW, and gain insights into the average ACW time through the comprehensive call summary report.
Alternatives to Freshdesk Contact Center VoIP
Choosing the right VoIP platform for your business doesn't have to be complicated. If you wish to know what else is out there besides what you've learned about in this Freshcaller review, we've listed the best VoIP providers for businesses.
RingCentral offers very similar services and sets of features, such as voicemail, toll-free numbers with minutes, and call recording. The solution also allows users to structure automated prompts for callers, and make use of several collaborative tools to boot.
Pricing tiers start at $19.99 per month and it's a great option for international companies as it provides international phone numbers to over 100+ countries, while Freshdesk Contact Center supports over 90.
International presence in more than 100 countries
Toll-free numbers available
Collaborative tools to bots
No free trial
No free plan
Not as user-friendly as Freshdesk Contact Center
8×8 brings together voice, video, and messaging to call center. Get multiple call flows depending on the origin of the call, and set up HD video conferencing for up to 100 guests (and expand to 500 participants at higher-level plans). The software also offers to record and transcribing capabilities for future reference. 8×8 is the best choice for companies looking for the best video conferencing solution – which might not be the case for most small enterprises. 
However, the downside of 8×8 is that it's not as easy to identify and block spam calls as the other best VoIP providers for businesses can. Also, for companies looking to expand internationally, you might choose other options such as Freshdesk or RingCentral – 8×8 makes international phone calls available for 48 countries.
Pricing ranges from $15 to $133.
HD video conferences
Video call record and transcribe
Voice calling for up to 48 countries
Limited protection from spam calls
Dialpad's most significant feature is its work with AI. With a business and sales approach, business owners may use the Dialpad solution to run their call center and scale sales and revenue by using virtual assistants–which can transcribe voicemail and video calls to text and let you know the tone of the message. Freshworks also offers call recording but only on paid plans. Pricing starts at $15 per month.
The solution offers unlimited calls, SMS, and group messaging for all plans and a 14-day free trial. The downside of Dialpad is that it charges a $15 add-on fee for video conferencing for more than 10 meeting participants
Free 14-day trial
Call recording and voicemail transcription available at all plans
Unlimited calls, SMS, and group messaging
The Standard plan limits your service to one physical location
$15 extra for video conference with 10+ participants
Frequently Asked Questions (FAQs) for Freshcaller Review
In this section, we've listed the most frequently asked questions about Freshdesk Contact Center VoIP.
Bottom Line on Freshcaller Review
Setting up a call center doesn't have to be daunting. Many customers highly appreciate high-quality and efficient customer support phone number, and at times, it can be a decision-making factor when choosing between two products or services in an effortless and affordable manner. In other words, if your company doesn't offer an appropriate center solution, they might look for your competitors.