Customer support is a trained team of people aiming to help customers with a product or service issue. In other words, it is to ensure that customers have successfully solved their problems with your company's products and/or services. In this article, we've listed why client support services are important, how it works, and the difference between customer support and customer success.
What Is Client Support?
Competition is getting tighter among businesses, especially in a digital-first world. How companies can differentiate themselves will be a key element to how customers will react – will they stay, will they look for a competitor? Or will they stay loyal to your brand?
One of the main ways to increase customer loyalty, retention, and satisfaction is through customer support services. As opposed to what it used to be a decade ago, customer support is omnichannel, so it can be done through email, social media, phone, and instant messaging apps.
The faster, more efficient, and more effective a customer support team is, the higher the chance that customers will be happy with your service or products. Hence, increasing your customer lifetime value. But what is customer support, anyway?
Client – or customer – support is a team of people offering a range of client support services in order to assist customers and address their issues. In general, the team helps customers to solve a problem related to a company's service or product.
Why Client Support Is Important
Offering a good client support service is just as important as developing and selling good products and services. Shopping – in all of its forms, whether it's online, offline, a product, or a service – is half customer experience and half transaction.
If customers aren't well assisted, they might leave. So, when organizations question if providing extra resources and budget are worth it to set up a customer support team or customer success team, the answer is an absolute yes.
A top-notch client support service adds value to products and services, increases loyalty and customer retention, adds value to your brand, sets your business apart from competitors, boosts sales, and even helps business owners and managers to make better business decisions.
Customer Success Vs Customer Support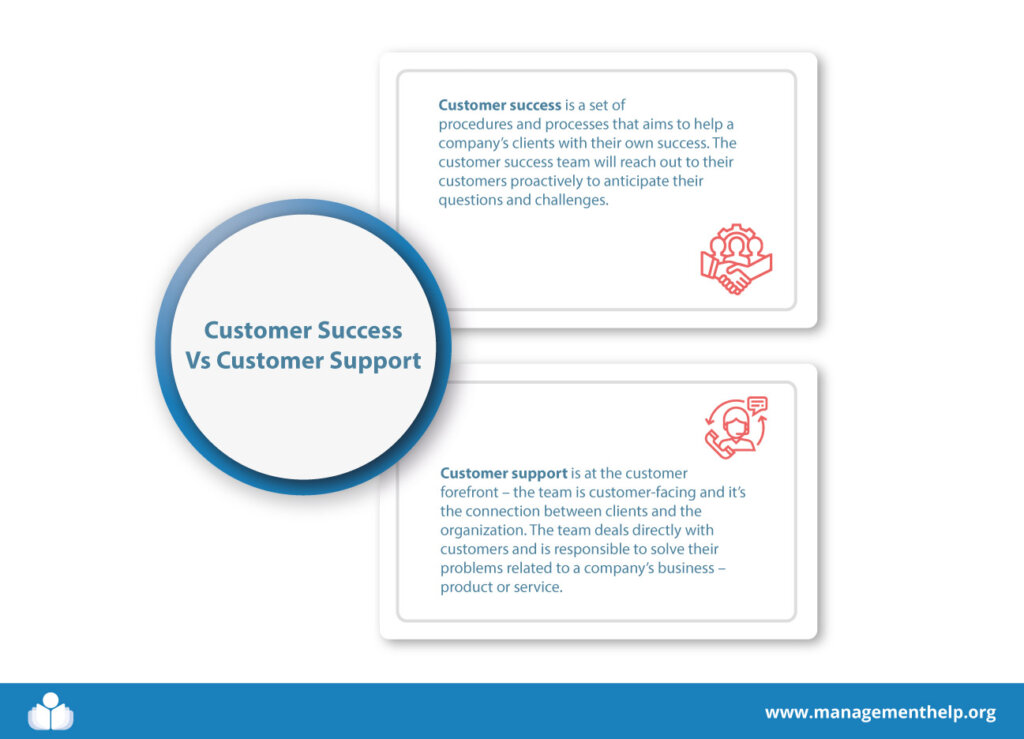 Customer success and customer support may sound like it's the same thing but it isn't. Despite some similarities, these two services (and teams) operate in different ways. Having a deep understanding of both concepts, you can better strategize improvements in both areas that will benefit your business.
Customer success is a set of procedures and processes that aims to help a company's clients with their own success. In other words, the customer success team will reach out to their customers proactively to anticipate their questions and challenges. Also, customer success helps customers to accomplish their business goals and maximize the values they get from your product or service.
Customer support is at the customer forefront – the team is customer-facing and it's the connection between clients and the organization. The team deals directly with customers and is responsible to solve their problems related to a company's business – product or service.
For instance, customers might have a specific question about a product before purchasing or they might run into an issue with a product and need support – here's where client support comes into play.
Client-Driven Focus but Different Departments
Despite these two services being quite different, the confusion between them happens because customer support team members and customer success managers are generally well-skilled and have customer service best practices. In general, customer success and customer support play important roles in the overall customer experience.
Overall, these two are complementary services and the companies that understand the connection between them and put these two teams to work together – which isn't often the case – can create more impact for their customers and the business, as opposed to siloing the two as stand-alone functions or departments.
Types of Customer Support Services
There are many ways to offer customer support services and the right type of service will depend mainly on business needs and customer demands. We've listed the top types of customer support services.
Phone support
One of the most traditional ways to tend to customers' needs and troubleshoot their problems is through telephone support. And it is, still to these days, a powerful way to do it. Complex issues can be quickly solved in a matter of minutes, whereas, if compared to other customer support services such as email, it may take longer. It's one reason why call center software is vital to customer support teams.
Chat support
The number of customers wanting to communicate with companies using the same tools they talk to their friends and family has increased over the years. Less personal than phone support, chat is still quite convenient.
Chat support can happen in many forms, and the most popular ones are automated chatbots (interactions with automated bots jumped 81% in 2020), instant messaging apps such as WhatsApp, and social media messaging.
Email support
Another traditional form of contacting a company's customer service is using email. Using an effective email management system and customer relationship management (CRM) software, companies can easily organize, prioritize and solve customer support issues in one place.
Self-service support
Self-service support primarily exists in the form of frequently asked questions (FAQs) published on a company's website, a dedicated customer support page, or an online community. For customers searching for product reviews and comparing services or prices on their own, this tool works quite well for them.
Self-service support offers less friction and less interaction when compared to the others and it can also increase a company's efficiency and help deliver faster resolutions.
Omnichannel Approach
As seen above, there are various types of customer service your business can offer. However, it doesn't cut it to just offer one channel. Customers want different ways to reach out to companies, especially if their first option didn't work.
The solution is to offer a customer experience across different channels and make them interact with each other. For example, if a customer sends an email or talks to a customer support agent on a live chat, they might expect a phone call to pick up exactly where they left off.
Client Support & Customer Success Roles
Customer support starts at the top with customer service management, but CS jobs embrace any job involved in customer service, support, success, and experience. There are some skills and qualifications for those interested in working in one of these areas.
Soft skills, for example, may include empathy, patience, persuasiveness, friendliness, clear communication, and emotional intelligence. Regarding hard skills, qualifications, and requirements, it will depend specifically on the job itself. Within a customer support team, the main roles are: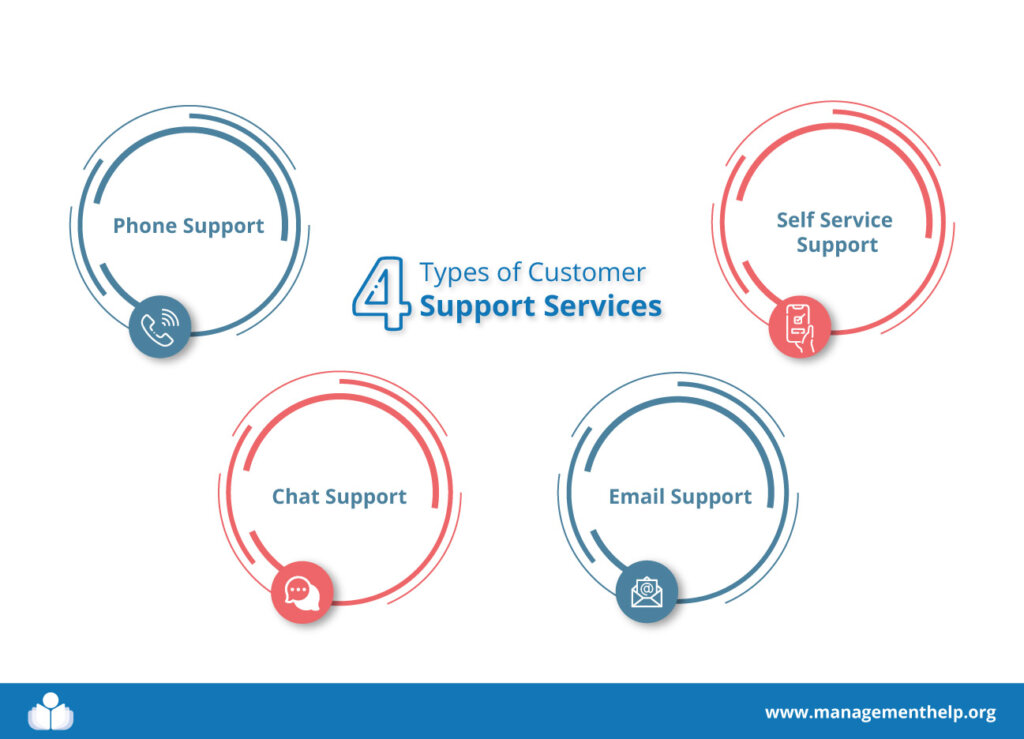 Customer support representative
Customer support specialist
Customer support supervisor
Customer support manager
The structure of a customer success team involves multiple job roles to fulfill all the responsibilities of developing and maintaining customer relationships, similar to customer support roles.
Some useful skills for members of the customer success team include communication, the ability to analyze and interpret data, and problem-solving. The key roles in a customer success team are:
Customer success management team lead
Customer success operations manager
Digital success manager
Customer success analyst
Customer success manager
Frequently Asked Questions (FAQs) for Client Support Services Definition
Customer support and customer success may sound like it's the same thing and it may cause some confusion. We've wrapped up the main questions about customer support services.
Bottom Line on Client Support Services
Some managers and business owners may question some kind of investment (whether high or low) in a customer support team or customer success. If you are one of these people, we strongly advise you to think twice. That's because both customer support and customer success team are vital for companies expanding and wanting to thrive.
Competition is fierce in the digital-first era and the organization willing to put an extra effort to attend and give special attention to their customers increases their chances of success.
Customer support is a way to help clients to solve any problems, questions, or concerns they have regarding a company's products or services. Whereas, customer success proactively helps their customers with their challenges and issues so that they can achieve their business goals.