About 49% U.S. adults depend on VPNs to keep their work or personal data private. If you are shopping for a reliable virtual private network, you have likely heard of ExpressVPN. The company promises an extremely safe VPN platform thanks to its broad network of servers distributed in 94 countries.
However, it is significantly costlier than most of its alternatives. In this ExpressVPN review, we will analyze how the VPN platform performs on different operating systems, its pros, cons, features, and alternatives to help you decide whether it's worth its weight in gold. If you aren't sure what a VPN is and who needs it, be sure to read up on that first.
Our Verdict
ExpressVPN towers over other VPN service providers for being a user-friendly, premium VPN service provider. The service offers intuitive apps designed for fast installation and ease of use. While it ranks as one of the most beginner-friendly VPN platforms, it has a whole array of advanced features and security tools that appeal to seasoned users.
It's no secret that ExpressVPN's price tag can be a turnoff. However, the performance, superb security features, and nice-to-have features like a collection of VPN protocols, split-tunneling, obfuscated servers, and ExpressVPN encryption protection, among other features, make it worth the investment. Users even get a 30-day cash back guarantee, allowing them to test the service.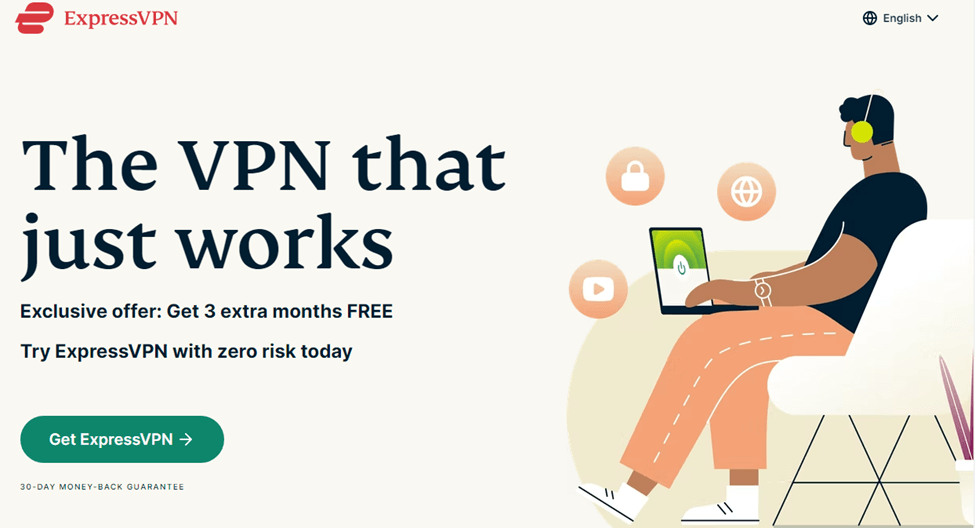 3,000+ diversely distributed servers (in over 94 countries)
Solid privacy and security suite
5 simultaneous connections
More expensive than others
ExpressVPN app required for browser extensions
Ownership changes to Kape Technologies has gathered mixed reactions
ExpressVPN is a virtual private network service provider launched in 2009. Even with plenty of competition from other VPN providers, including 100% free VPNs like PrivadoVPN and ProtonVPN, this veteran stands out for its professional features accessible through a user-friendly platform.
The platform's apps pair well with Mac, Windows, and Linux operating systems. ExpressVPN is also probably the best VPN for mobile. It offers highly responsive apps that you can install on your Android or iOS. Moreover, the service offers custom firmware for routers, and users receive comprehensive configuration manuals for setting up the VPN on Chromebooks, Apple TV, PlayStations, etc.
ExpressVPN delivers reliable speeds, making it an attractive VPN option for Xbox devices. It also offers a solid security suite that provides multi-layer protection. The use of high-end encryption technology keeps your activities safe from the reach of advanced attackers. Also, the platform instantly activates a top-quality kill switch for added safety when your VPN drops.
Who Is ExpressVPN Best For?
ExpressVPN is a solid option for anyone willing to pay a fee to enjoy a significant security boost to keep their data and activities private. ExpressVPN's most attractive feature that is arguably worth the steep cost is the no-logs policy.
The no-logs policy ensures no one can access your usage logs because the company does not have them anyway. If you are extra-privacy conscious, you could even sign up for ExpressVPN anonymously and pay for your subscription using bitcoin.
ExpressVPN Pricing
ExpressVPN Services are available in three subscription options. The fee will highly depend on the period you intend to commit to the service. You can save quite a substantial amount by opting for the annual subscription which gives you three additional months free.
Type of Subscription
Monthly
Bi-Annually (6 months)
Annually
30-Day Money Back Guarantee
ExpressVPN Features
ExpressVPN apps are compatible with all major operating systems, including Linux, Windows, and Mac. There are also apps for iOS, Android, and most routers. While you can expect to enjoy nearly the same features and functions irrespective of the operating system or device you use, the apps for iOS lack the kill switch and split tunneling features.
Many users hail ExpressVPN as the best VPN for PC and mobile because its apps are easy and fast to install. They are also user-friendly and come with a sleek and intuitive design. If you opt to use the desktop apps, you can also use the browser extensions for Chrome, Firefox, Vivaldi, Brave, and Edge and enjoy several additional security options.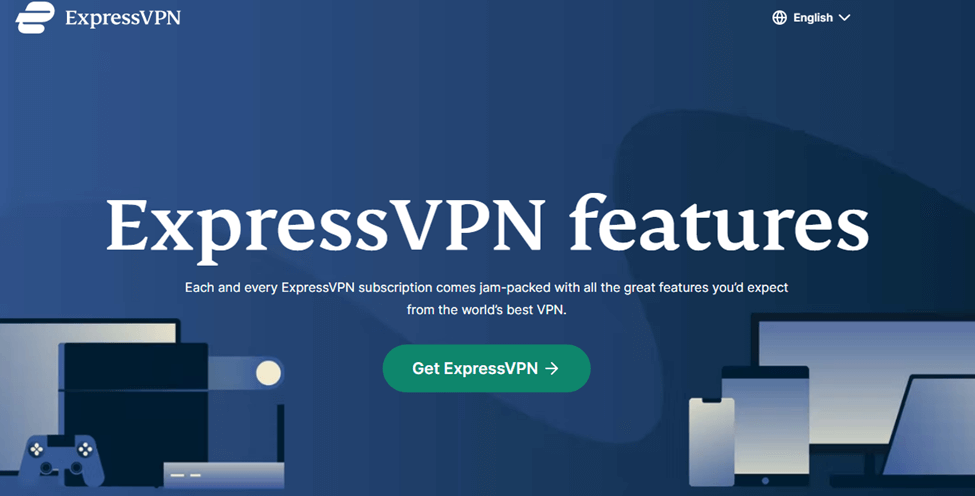 Irrespective of whether you opt to be billed monthly, bi-annually, or annually, here are the standard features you can expect.
Server Network
ExpressVPN has a network of servers spread across the globe (more than 3,000 servers in 94 countries). This makes the service fast and assures you of stable connections. Also, users benefit from "smart location," a feature that identifies the fastest servers close to you. This is a pretty convenient feature, although you can also use trial and error to search for faster servers close to you.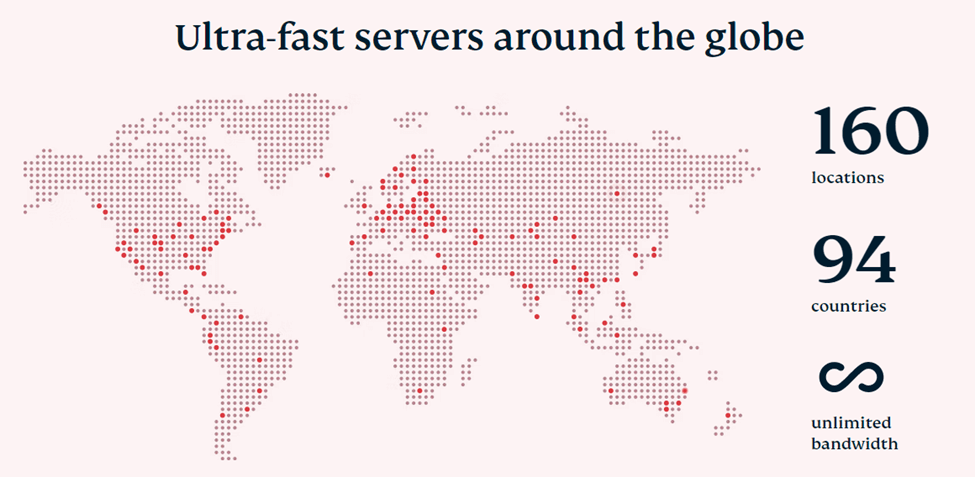 TrustedServer Technology
Through TrustedServer Technology, ExpressVPN maintains 100% RAM-only servers. This enhances the privacy and security of users because instead of the RAM storing data from your sessions, it deletes it and loads your operating system afresh with each reboot. Also, the TrustedServer Technology software is constantly updated because it is reinstalled during server reboots.
No-Logs Policy
ExpressVPN maintains a strict no-logs policy. This enticing feature assures you that hackers, governments, and even Google can't access your information. ExpressVPN cannot sell users' personal data because it does not store it.
The only information the company collects includes your email address, billing details (it could be bitcoin) and your connection data. It also keeps logs of non-sensitive details like the number of apps you have activated and the amount of data transferred daily. ExpressVPN does not collect personal IP addresses, metadata, or browsing history.
ExpressVPN is one of the few VPN providers who have been independently audited by PwC proved and Cure53. The audit reports show that the service is as secure as it claims to be.
Military-Grade Encryption Protection
The privacy of your data is a top priority for ExpressVPN. The company uses 256-bit AES encryption technology, which is the same technology used by governments, banks, and the military to ensure the safety of sensitive information.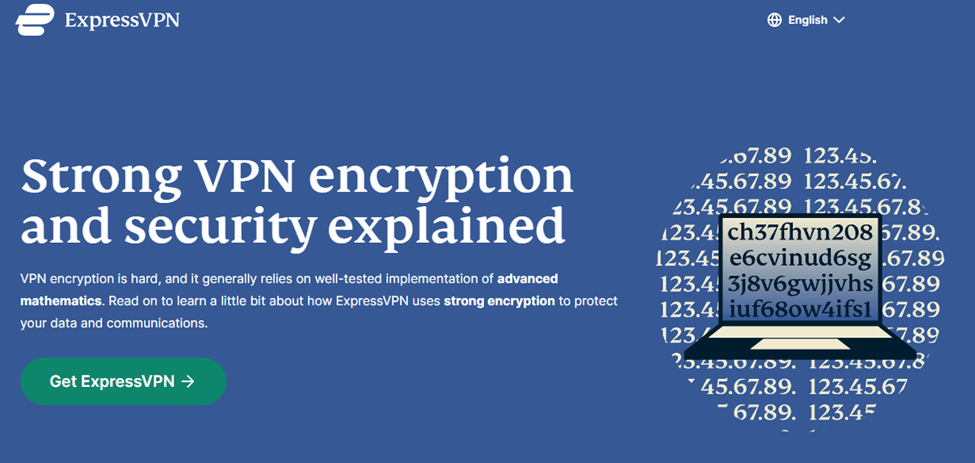 Essentially, even seasoned hackers cannot access your private data or cannot do so without breaking a sweat. With 256-bit AES encryption, hackers need to create a 78-digit combination to crack into your data.
ExpressVPN uses the Perfect Forward Secrecy feature to change your encryption key each time you log in to further enhance your data's safety. Further, users can customize their data encryption protection using ExpressVPN's security protocol options. These include:
ExpressVPN Lightway —Best option to use on your phone
L2TP/IPsec—Best for tasks where your top priority is speed, not security
IKEv2—Not the most secure, although you can use it when the other security protocols are not working
OpenVPN—Offers both UDP and TCP options and is the most secure protocol to use when handling sensitive data
Split Tunneling
When speed is of the essence, you can reduce traffic on your VPN tunnel using the Split Tunneling feature. The feature also comes in handy when toggling back and forth between private and public networks. It allows you to maintain a VPN for some online activities and exempt others to ensure both safety and speed.
Using a VPN that allows split tunneling is crucial if you have a hybrid work model. The feature lets you maintain a team that handles both in-office and remote work without jeopardizing delicate company data.
Kill Switch
Even the best VPN cannot provide a 100% uptime guarantee. Fortunately, ExpressVPN has a kill switch feature that instantly shuts down all tabs and windows online when the VPN is down. Essentially, the feature blocks your internet connection and conveniently restores it when the VPN reconnects.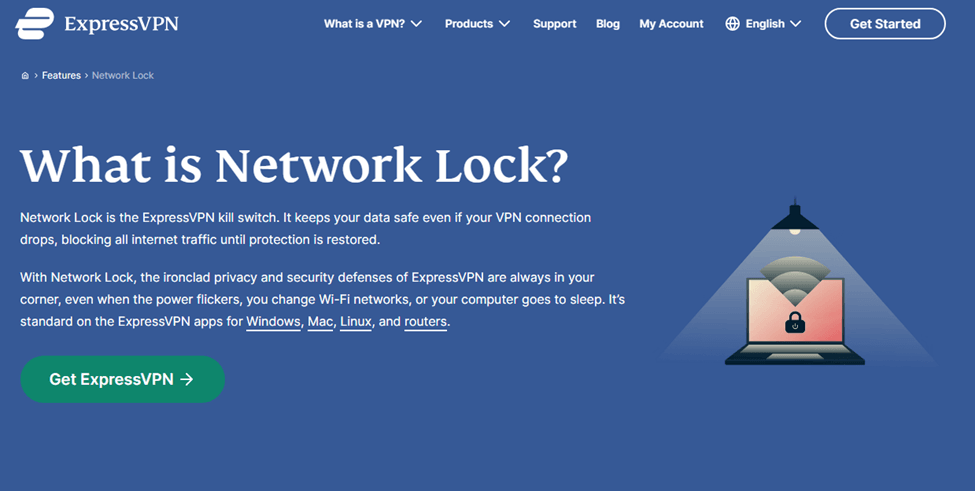 It's worth noting that not all the buzz around ExpressVPN has been good. After the recent change of ownership, the company is now owned by Kape Technologies, which also owns CyberGhost, ZenMate VPNs, and Private Internet Access. Its current Chief Information Officer is Daniel Gericke, an alleged member of Project Raven, a company infamous for building cyber spying tools that help target journalists and human rights activists.
For a good reason, many are unsure whether ExpressVPN is trustworthy. We hope this thorough ExpressVPN review helps you draw your conclusion from an informed perspective.
ExpressVPN Alternatives
ExpressVPN is an excellent choice for those looking for an extra layer of security when browsing the web. The service is also fast and effective at unblocking region-locked sites. Unfortunately, it may still not be an ideal choice for everyone, and there are better options for those looking for cheaper VPNs or those with more stable connections. Here are a few options to consider.
One of the top alternatives to using ExpressVPN is NordVPN. The service offers a blend of intuitive desktop and mobile apps, decent speeds, streaming and torrenting capabilities, and many security and web browsing tools. Like ExpressVPN, NordVPN has a no-logs policy and is independently audited to verify that it delivers the promised protection.
Who Is NordVPN Best For?
NordVPN has 5,000 plus servers situated across 59 countries. This makes it best for anyone looking for a VPN service that offers reliable security and privacy. You should also consider the service if you want more anonymity. NordVPN uses shared IP addresses where users connected to the same server use a standard IP address.
NordVPN Pricing
NordVPN offers reliable VPN services with enticing introductory rates. The service cost is dirt cheap, especially when you commit for longer. It's also worth noting that the company offers a free 30-day premium trial and a 30-day money-back guarantee with the paid subscription options.
Month-to-month subscription—$11.95 per month
One-year subscription—$4.99 per month (58% discount with the first payment)
Two-year subscription— $3.99 per month (66% discount with the first payment)
How NordVPN Compares to ExpressVPN
NordVPN, just like ExpressVPN, is a behemoth in the VPN industry. It offers reliable security, speed, and privacy, making it a worthy contender against ExpressVPN. Also, the two companies are pretty similar in that they are based in privacy-friendly countries that lack data retention laws. While ExpressVPN is situated in the British Virgin Islands, NordVPN is located in Panama.
Reliable speed and overall performance
Intuitive desktop and mobile apps that pair with different operating systems
30-day money-back guarantee
Lacks router apps
Some servers don't support torrenting
Some payments cannot be refunded
Surfshark stands out for its unlimited simultaneous connections. It is a budget-friendly option that offers competitive speeds and performs just like other highly-priced premium VPNs. The service also allows you to customize your service package with add-ons like IPVanish. Other equally enticing features include a Kill switch and split tunneling.
Who Is Surfshark Best For?
Surfshark is best for anyone looking for a reliable VPN that allows unlimited simultaneous connections. If your top priority is to have a VPN that allows you to hook up many devices at once, Surfshark is your best bet.
Surfshark Pricing
Surfshark offers standard features across three subscription options. As expected, users enjoy a better deal with more extended subscription plans.
Month-to-month subscription—$12.95 per month
One year subscription—$3.99 per month
Two-year subscription—$2.30 per month
How Surfshark Compares to ExpressVPN
Surfshark has more than 3,200 servers spread across 65 countries, which is not so different from ExpressVPN's more than 3,000 servers in 94 countries. Both companies are based in the British Virgin Islands, which allows them to uphold no-logs policies.
However, Surfshark offers added perks like Block Ads and a hard-to-beat unlimited devices policy, while ExpressVPN employs slightly tighter security measures.
Unlimited devices policy and simultaneous connections
Range of attractive features, including split tunneling tools, fast WireGuard protocol, and SmartDNS
Reliable security and privacy suite
iOS apps don't support split tunneling
The privacy policy could be more detailed
Torrent speeds aren't impressive
CyberGhost, like ExpressVPN, underwent a recent ownership change and is now owned by Kape Technologies. While this fact raises alarm bells, it still maintains one of the best privacy policies and security suits in the industry. It is a beginner-friendly VPN with many features that make it suitable for gamers, businesses, and professionals who want speed, security, and privacy.
Who Is CyberGhost Best For?
CyberGhost routes your web traffic via an encrypted connection to protect your personal information and enhance privacy. The VPN is especially beneficial to those that want to have an easier ride bypassing geo-restrictions for streaming. The service can unblock over 35 platforms, including Disney, Netflix, EuroSport, and BBC iPlayer.
CyberGhost Pricing
CyberGhost VPN is expensive, especially if you opt for a month-to-month subscription. However, the service is way cheaper if you enter the three-year contract. The company offers a 30-day free trial that allows you to sample the service and a 45-day money-back guarantee if you choose a subscription plan.
Month-to-month subscription—$12.99 per month
One-year subscription—$4.29 per month
Two-year subscription—$3.25 per month
Three-year subscription—$2.29 per month
How CyberGhost Compares to ExpressVPN
Both CyberGhost and ExpressVPN offer good value for the money. However, CyberGhost has a more expansive network of servers, a feature that can significantly improve user experience. ExpressVPN is also the best option for those that prioritize security because its services are independently audited.
6,000+ servers in 89 countries
Reliable security protocols and encryption
Affordable, especially when you choose long-term plans
6,000+ servers in 89 countries
Reliable security protocols and encryption
Affordable, especially when you choose long-term plans
Frequently Asked Questions (FAQs) for ExpressVPN Review
There are cheaper alternatives to choosing ExpressVPN. This service has no free trial, although you can get your cash back within 30 days if you are unhappy with how the VPN performs. Also, new customers enjoy three extra free months with the 12-month subscription. The following are some frequently asked questions to help you understand the service better.
Final Thoughts on ExpressVPN Review
ExpressVPN offers high speeds, a generous server selection, and the ability to unblock streaming services like Netflix and Disney. While it is a product worth buying, other alternatives like CyberGhost and Surfshark may be preferable for you if you're concerned about the recent changes to its parent company.