This NordVPN review will help shed light on why it's one of the leading services in the VPN industry. It is best known for its vast server network, reliable security protocols, advanced features, and no logs policy. All of which work toward your data privacy and protection.
If this is your first time considering a virtual private network (VPN), start by reading our guide that helps you understand what a VPN is and what a VPN can protect you from. It's a good idea to also learn how to use a VPN so you know whether NordVPN is right for you.
Our Verdict
NordVPN is an encryption powerhouse that upholds strong security and privacy practices. With its network of over 5,200 servers in 60 countries, and security protocols including NordLynx, IKEv2/IPSec, and OpenVPN, it can protect your internet traffic from snooping eyes.
This VPN service provides more than just essential protection. It uses reliable technology to block dangerous websites, malware, and malicious ads. Furthermore, it provides an arsenal of features that make it harder for even advanced hackers to spy on your online activities. Each account supports up to 6 simultaneous connections, and you can safely sample the service thanks to NordVPN's free trial.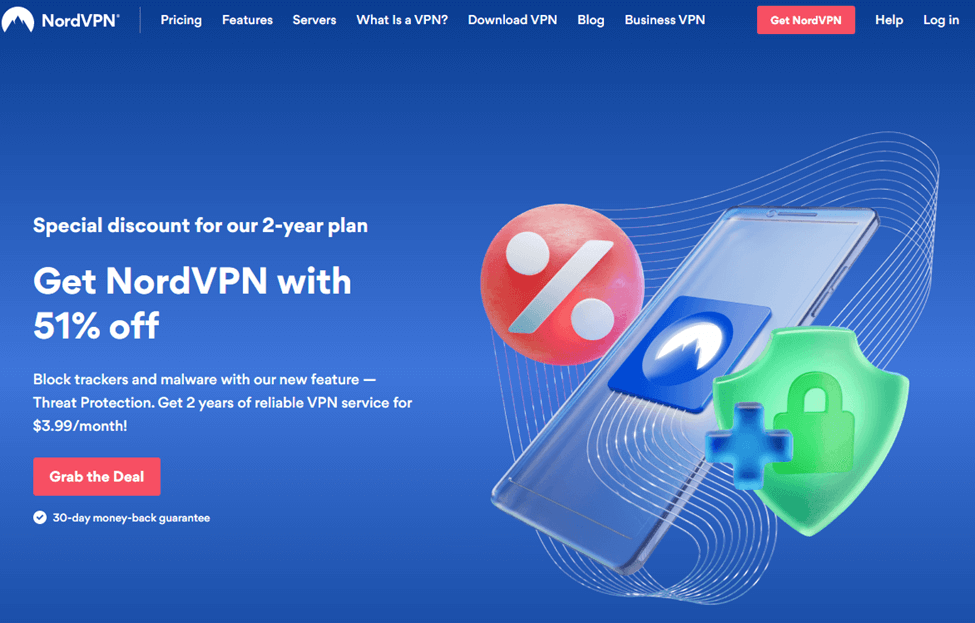 Feature-packed yet easy to navigate user interface
A massive number of servers (5,200 plus in 60 countries)
Available for Android, iOS, Mac, Windows, Linux, and Routers
No graphic interface on Linux OS
Expensive
Some servers don't support torrenting
NordVPN, founded in 2012, is a virtual private network based in Panama. Panama has no internet restrictions, does not have mandatory data retention laws, and is not part of the infamous 5 Eyes or 14 Eyes intelligence alliance. The VPN makes the internet a safe area free of prying eyes and geo-restrictions.
NordVPN software and apps are noteworthy for their user-friendliness. Both the website and apps are feature-packed yet well-organized and aesthetically appealing. Installing the software into any device or operating system is also fast and easy. If you bump into any hurdles, you can always contact the support team 24/7 via chat or email.
Who Is NordVPN Best For?
NordVPN is ideal for individuals or entities wanting to keep their data and browsing activities confidential and free from surveillance and censorship. The VPN provides a good arsenal of security features, including high-grade encryption technology for enhanced privacy.
Pricing
NordVPN offers monthly and long-term subscription plans. Depending on the subscription duration, the service can cost between $3.99 and $11.99 a month. Also, users enjoy enticing introductory prices for long-term plans. A 1-year plan costs $59.88 instead of $99.48 for the first year, and a 2-year plan costs $95.76 instead of $198.96 for the first subscription.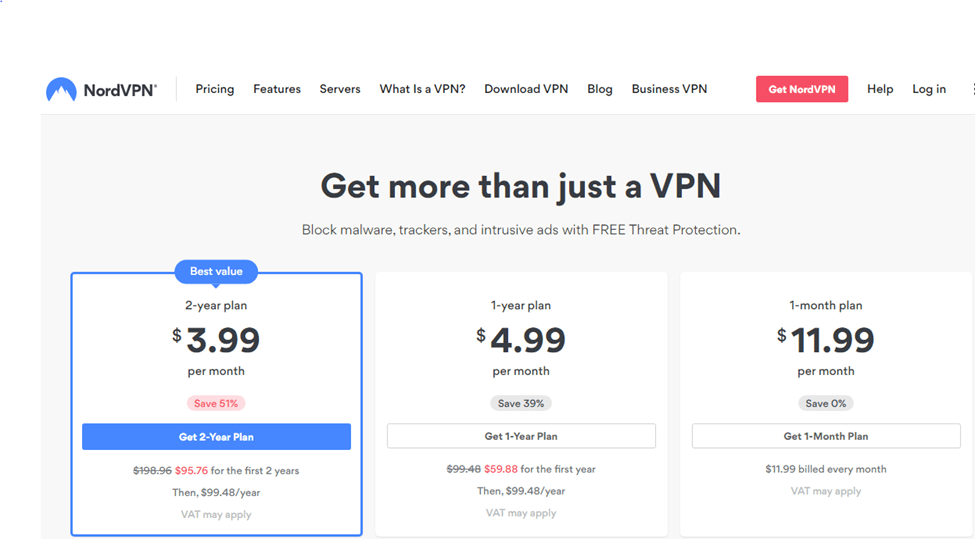 Plan
Month to Month Plan
1-Year Subscription
2-Year Subscription
6 Simultaneous Connections















Features
NordVPN is not the cheapest virtual private network, especially in light of 100% free VPNs. However, it is one of the most feature-rich services with plenty of tools to enhance privacy and security. Here are some of NordVPN's best features.
Mobile Apps
NordVPN has neat and intuitive apps for Android and iOS. You can enjoy access on the go by installing an app on your cell phone or tablet. Once you install the app, you can be assured of the safety of any data on your device, irrespective of whether you are using your mobile network, home Wi-Fi, or random connection at a local eatery.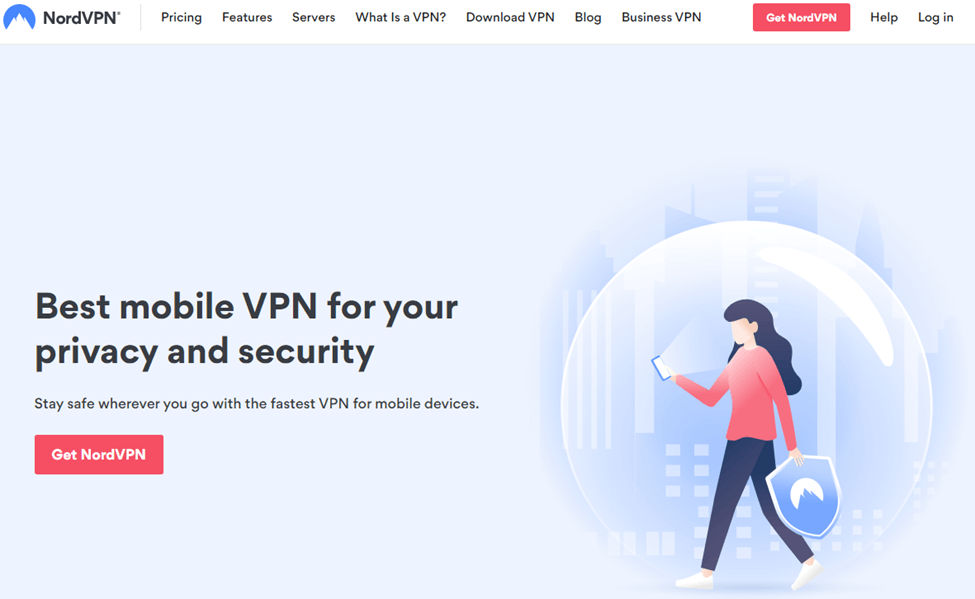 If you are searching for the best VPN for mobile, NordVPN is undoubtedly a solid choice. Download the app, log into your NordVPN account, and hit the "Quick Connection" button. The service also offers one of the best VPN for PC, allowing you to secure your personal and work laptops or desktops.
Multi-Factor Authentication (MFA)
Another impressive feature typically not offered by most VPN providers is multi-factor authentication. This is an extra cushion of security where you authorize a login attempt into any account by entering a password. The feature can give you great peace of mind, especially when handling sensitive accounts.
No DNS Leaks
NordVPN ensures that all your online traffic, including DNS queries, is routed through the virtual private network. You don't have to worry about your queries going through the default DNS servers of your internet service provider. No information leaks, and all DNS queries are channeled through an encrypted tunnel to ensure private information remains confidential.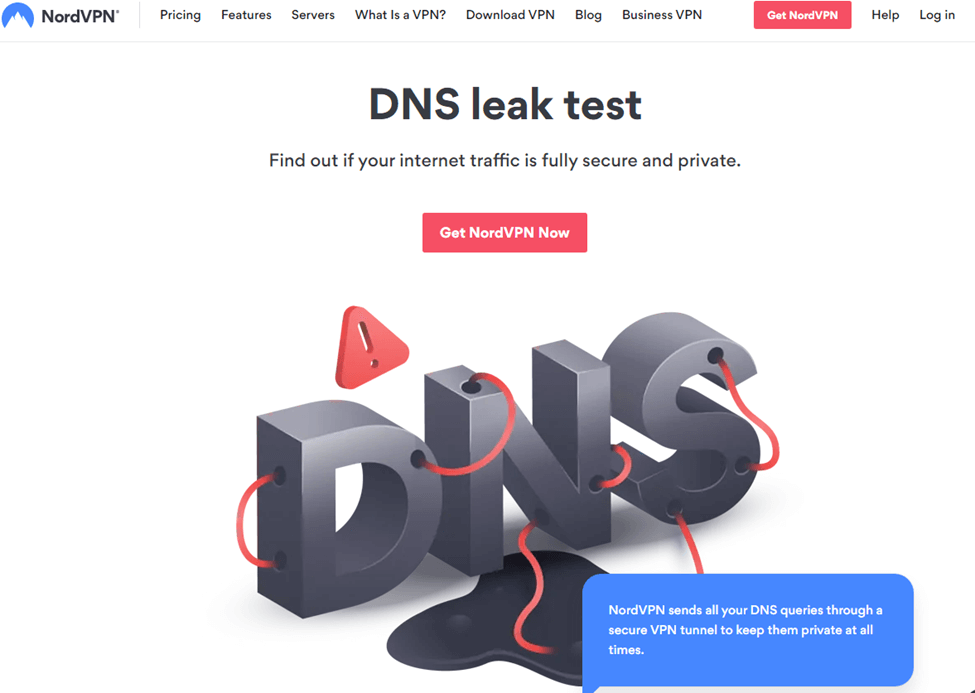 Next Generation Encryption
Through security protocols like NordLynx, IKEv2/IPSec, and OpenVPN and data encryption, NordVPN minimizes the vulnerability of your data. By routing internet traffic through a secure tunnel, the service creates an encrypted connection between devices as your data travels on the web.
The service hides your location and IP address. This ensures that not even government agencies can snoop into your activities, leave alone identify where you live. The protocols in place also protect your devices from spyware, viruses, adware, browser hijacking software, fake security software, and other malicious malware.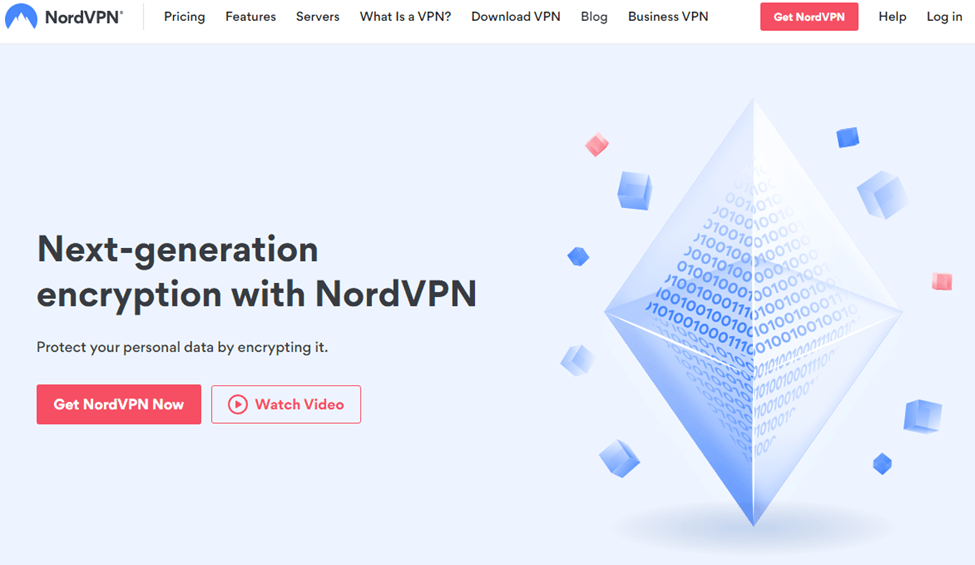 Browser Extensions
NordVPN provides browser extensions for Firefox, Chrome, and Edge. Just download the extensions, log into your NordVPN account and connect to the server to enhance the privacy on your browsers. This feature can be beneficial when accessing websites not configured to provide encrypted traffic.
Split Tunneling
One of NordVPN's most advanced features is split tunneling. This allows you to set aside sensitive apps or URLs that require constant VPN protection. The less sensitive ones can connect to the internet directly for faster speeds.
The split tunneling feature creates two simultaneous connections. This feature can provide added convenience if you have a hybrid work setting where employees handle both on-site and remote work. They can secure only the apps or URLs that matter to prevent speed drops typically caused by too many online activities that can push your internet connection to the edge.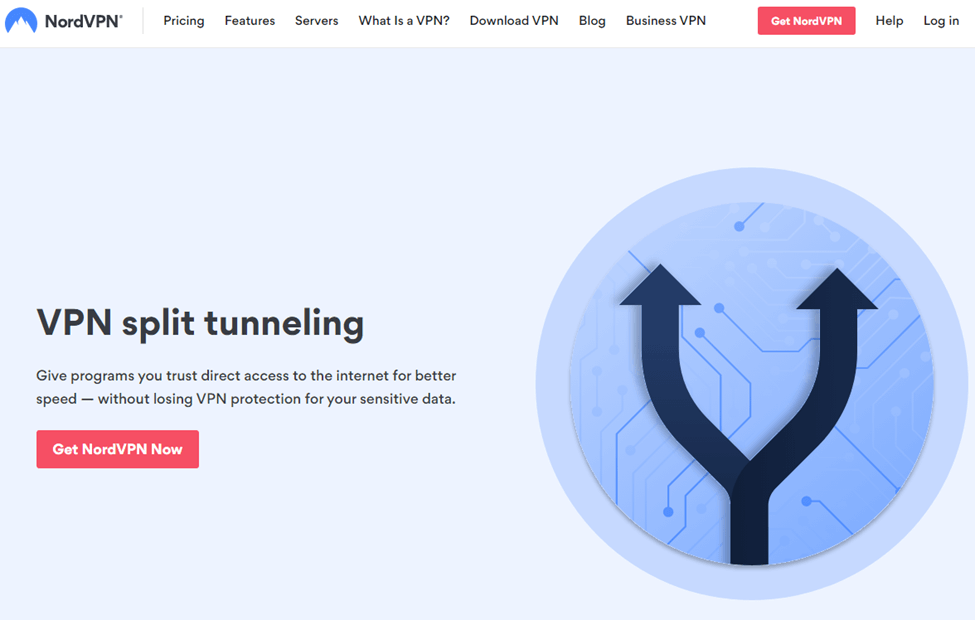 Six Simultaneous Connections
A single NordVPN account can support up to six devices simultaneously, irrespective of the operating systems you use. If you have more devices, consider installing the VPN on your router. This conveniently secures all the gadgets on the network through a single device.
So, how many devices can you secure simultaneously under one account? As many gadgets as you desire. While there are only six connection slots, you can cover more devices through your router.
Kill Switch
Another helpful feature that enhances security is the Kill Switch. Whenever the VPN is down, it blocks internet access to your devices. To access NordVPN's kill switch, you must go to your app's settings and turn it on.
Nord VPN Alternatives
NordVPN is a dependable service that can boost your online security. It offers fast connection speeds and has handy features that give users peace of mind as they surf the web. Unfortunately, it is not a perfect fit for everyone, especially those searching for cheaper VPNs or more stable speeds. Here are a few good alternatives to using NordVPN.
IPVanish was established in 2012 and is another popular name in the VPN industry. The service offers high-speed connections and an impressive array of advanced security protocols. While it is not a premium VPN, (and therefore does not unlock all streaming platforms) it is still a strong contender for its torrenting abilities, ease of use, and compatibility with most devices and operating systems.
Who Is IPVanish Best For?
IPVanish is best for individuals or businesses that want a competitively priced VPN that allows unlimited simultaneous connection on different devices, including routers and gaming consoles. It offers great security features and speeds, although you should consider alternatives if you want a VPN for heavy streaming.
IPVanish Pricing
Monthly plan— $10.99 per month
Quarterly plan—$ 5.32 per month
Yearly plan—$3.99 per month
How IPVanish Compares to NordVPN
IPVanish, like NordVPN, delivers enhanced privacy, security, and speeds. It also has a robust collection of features and has competitively priced subscription plans. However, NordVPN is a better option, especially because IPVanish is yet to undergo a third-party audit. Also, IPVanish has only 1,900 servers in 52 countries, compared to NordVPN's 5,200 plus servers in 60 countries.
Unlimited simultaneous connections
Cheap long-term plans
Geographically diverse servers
Slow speeds during heavy streaming
Limited payment options (only credit card and PayPal)
Not available in China
ExpressVPN was established in 2009 and is another worthy alternative to NordVPN. The service has been in the game for longer and is arguably better reputed. It boasts 3,000 plus servers in 94 countries and delivers dependable speeds across multiple devices.
ExpressVPN also provides an enticing package of security and privacy features. It is also one of the best streaming platforms and can unlock social media sites, Peacock, ESPN, Hulu, Amazon Prime, and HBO Max.
Who Is ExpressVPN Best For?
ExpressVPN is an ideal service to consider if you want a premium VPN at a premium price. The service is all-rounded and reliable in all areas, including security, speed, torrenting, and unblocking regionally locked sites.
ExpressVPN Pricing
Monthly plan— $12.95 per month
Bi-annual plan—$ $9.99 per month
Yearly plan—$8.32 per month
How ExpressVPN Compares to NordVPN
Both ExpressVPN and NordVPN are well-established and reliable virtual private network providers. They are ideal for streaming and torrenting and have solid privacy and security practices. However, NordVPN offers faster connections because it has more servers than ExpressVPN. Generally, it is safe to go with either option.
Reliable speeds across all server locations
Advanced security features
Unblocks most streaming sites
Expensive than most rivals
Only supports five simultaneous connections per account
The split tunneling feature is not supported on macOS Big Sur (version 11)
Private Internet Access VPN has one of the largest fleets of servers in the industry. The service boasts 35,000+ servers in 78 countries, assuring users of ultra-fast speeds even when heavy streaming. Moreover, this feature-packed service maintains a strict no-logs policy and has various competitively priced subscription packages.
Who Is PIA VPN Best For?
PIA VPN is one of the best VPNs for anyone looking for a native VPN for Linux. It offers ultra-fast local connections and one of the industry-leading encryption protocols. It is also a pretty decent choice for heavy streaming.
PIA VPN Pricing
Monthly plan— $9.95 per month
1-Year plan—$ $3.33 per month
3-Year plan—$2.03 per month
How PIA VPN Compares to NordVPN
Both PIA VPN and NordVPN are cybersecurity software that perform well to provide an extra layer of protection from snooping eyes. Even though PIA VPN has a broader network of servers, NordVPN provides equally great speeds with its NordLynx protocol. NordVPN is also better at unblocking problematic streaming platforms, including DAZN and BBC iPlayer.
Moreover, NordVPN makes a better choice because it is based in a privacy-friendly location. It is situated in Panama, while PIA VPN is based in the United States. While the former has undergone a third-party audit, PIA is yet to do so, making it the weaker contender.
A massive network of servers
It supports 10 simultaneous connections
Geographically diverse server locations
The dedicated IP feature is an add-on that costs a fee
No free version
Yet to undergo a third-party audit
Frequently Asked Questions (FAQs) for NordVPN Review
If you are considering a NordVPN subscription but still feel torn between the service and other options, here is more information to help you make an informed decision.
Final Thoughts on NordVPN Review
So, is NordVPN the fastest virtual private network with the broadest fleet of servers on the planet? Probably not.
While it has ultra-fast servers, there are other equally fast, perhaps faster services like Private Internet Access and Express VPN. What is factual is that this premium VPN service is pretty reliable and upholds dependable privacy and security practices.
We hope that our thorough NordVPN review helps you decide whether the service is ideal for you. Generally, NordVPN is ideal for journalists, gamers, organizations, and individuals that want to access the internet free of geo-restrictions, censorships, and snooping eyes.