Surfshark safeguards your online privacy through first-rate VPN services. Like the shark is the king of the ocean, it's the king of secure VPNs because it combines advanced security, abundant servers, agile speeds, and affordable pricing.
In this Surfshark review, let's dive into the pricing, features, pros, cons, and competitors of one of the most secure VPNs in the industry. Discover if Surfshark is the perfect match for you as a small business owner or freelancer.
Our Verdict
In the ocean of VPN providers, Surfshark is a top-notch choice for entrepreneurs and professionals who plan to use a virtual private network (VPN). First of all, it has a rich set of security features, including CleanWeb, MultiHop, Kill Switch, IP change, private DNS, two-factor authentication, AES-256-GCM encryption, and a no-logs policy.
Plus, it has a respectably wide server network that's composed of over 3,200 servers in 95 countries. It's in the process of upgrading its 1Gbps VPN servers to 10Gbps on a global scale. Finally, the 2-year and 1-year plans have economical rates at $2.49 and $3.99 per month respectively.
While Surfshark is a first-rate VPN company, it has a few limitations too. For example, it doesn't offer any free plans, unlike some VPN providers. Aside from this, the monthly plan has a much higher rate at $12.95 per month compared to the annual and 2-year packages. Lastly, third-party audits are done occasionally, but not every year which means less transparency.
Solid security suite
3,200+ servers
Network speed upgrade
Cost-effective long-term rates
Lacks free plan
Relatively higher monthly pricing
Occasional audits, not annual

Surfshark is a VPN provider that strives for innovations in the cybersecurity industry. Its goal is to make digital security accessible to everyone. Established in 2018, it's currently based in the Netherlands. It's already gaining recognition as a VPN company through awards, such as the "Best Value VPN 2019" and "Mobile VPN Solution of the Year 2020."
Surfshark shines among VPN providers because it offers you terrific value for your money. If you subscribe to a budget-friendly VPN plan, you can benefit from an impressive range of features, including superior security, Bypasser, NoBorders, server network, a speedy connection, wide device compatibility, unlimited devices, external audits, payment options, and good customer service.
Pricing: Starts at $2.49/month
Who Surfshark Is Best For
Surfshark is ideal for small business owners and independent contractors who are looking for a great deal on secure VPN services. After all, you only need to pay low monthly rates if you sign up for the 2-year or 1-year packages. Even more importantly, this VPN provider is generous when it comes to providing attractive VPN features along with its plans, which we'll discuss in this Surfshark review.
Pricing
Surfshark presents three types of plans for VPN users. Check out the chart below to learn more about these packages: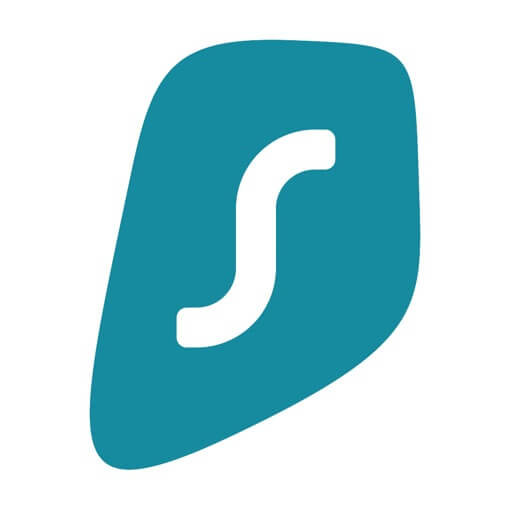 Plans
24 Months
12 Months
1 Month
Security suite + free antivirus






Browser + Desktop + Mobile
Browser + Desktop + Mobile
Browser + Desktop + Mobile



Credit/debit card + Third-party payment platforms + Cryptocurrency
Credit/debit card + Third-party payment platforms + Cryptocurrency
Credit/debit card + Third-party payment platforms + Cryptocurrency
24/7 live chat & email support
24/7 live chat & email support
24/7 live chat & email support
To sum things up, there are three kinds of Surfshark packages:
24 Months: $2.49/month
12 Months: $3.99/month
1 Month: $12.95/month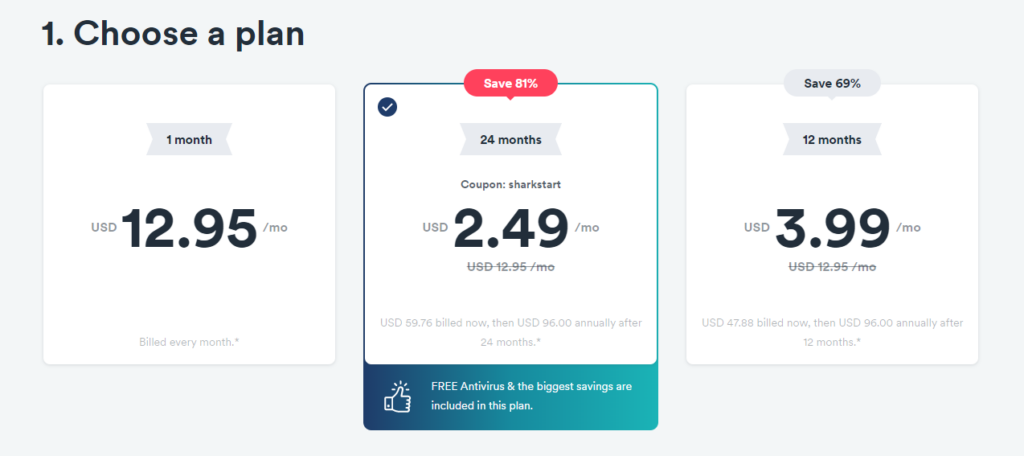 The main difference between the packages is the rates since the long-term plans are significantly cheaper than the short-term plan.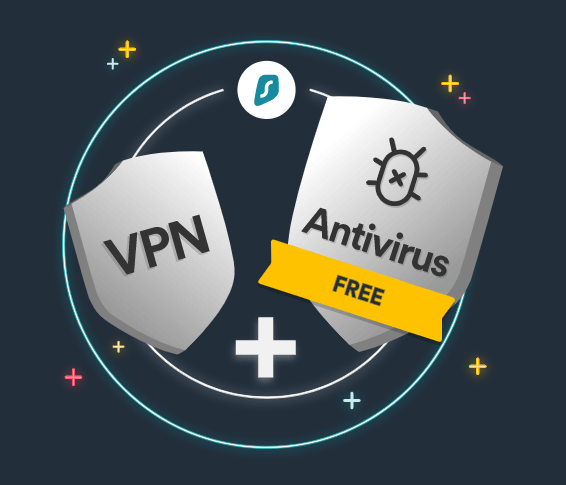 Overall, these plans are almost the same when it comes to features, although the 2-year plan includes a free antivirus as a bonus.
Surfshark Features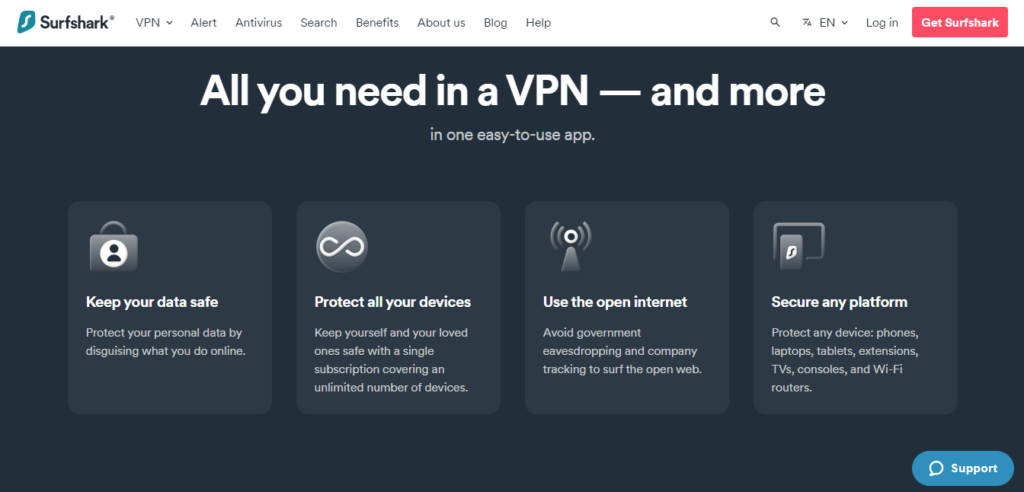 Surfshark has a strong set of features that you can take advantage of. In this Surfshark features overview, we'll talk about security, Bypasser, NoBorders, server network, connection speed, device compatibility, maximum devices, third-party audits, payment options, and customer support.
Security
Surfshark has one of the most comprehensive security suites among VPN providers. To begin with, it keeps your sensitive data private through industry-grade AES-256-GCM encryption. lt ensures that only you can access your account through two-factor authentication.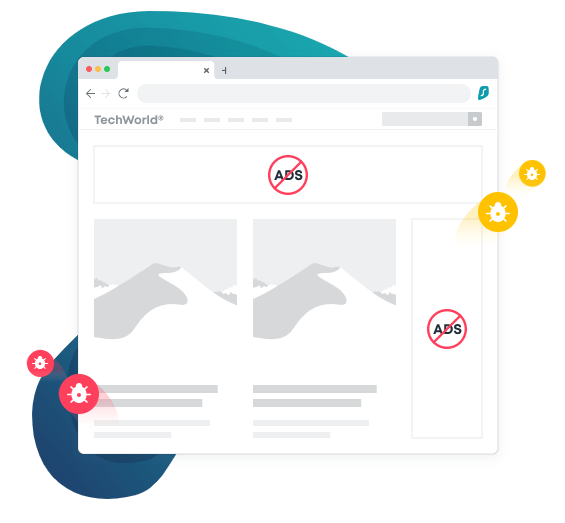 Aside from the basics, it showcases advanced security features to level up your online safety. CleanWeb efficiently blocks malware and ads before they load, while preventing phishing attempts that could expose your accounts. MultiHop allows you to route your internet traffic through two servers located in two different countries to improve browsing security.
In addition to this, each server has a private DNS to safeguard your identity. Leak protection is available as well if you use the IPv4 stack. Also, Kill Switch serves as a safety net just in case your VPN connection suddenly drops.
Last but not least, it enforces a strict no-logs policy. After all, it's based in the Netherlands, which is the ideal headquarters for a VPN company. In this country, there's no data retention law that requires it to log your activity.
Bypasser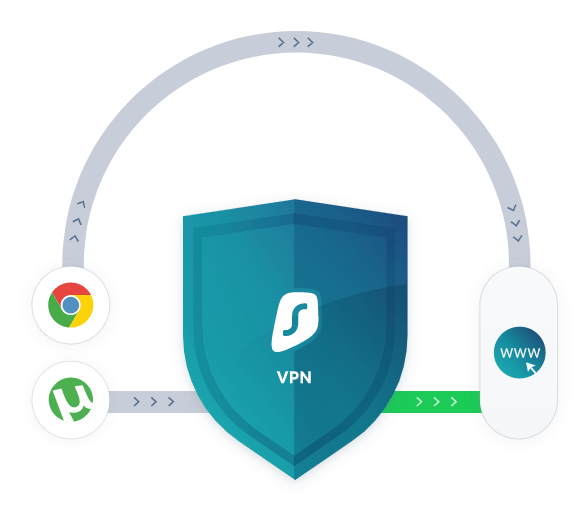 Bypasser is the VPN split tunneling feature of Surfshark. It gives you the choice to let some of your internet traffic go through the VPN server while allowing certain apps and programs to bypass it. This function can come in handy if you want to continue encrypting your classified data while speeding up your internet connection for general browsing. Just be aware that you will use your own IP address for the apps which bypass the VPN.
NoBorders
The NoBorders mode of Surfshark makes it possible for you to access global content. No matter where you are located, it gives you the opportunity to freely use the internet without any geographical limitations. It lists down all the servers that work well under local network restrictions. While you can set the NoBorders mode to automatic activation, you may also opt to turn it on and off manually.
Server Network
At present, Surfshark boasts a fairly expansive network made up of more than 3,200 servers. These servers are located in 95 countries in various regions all over the world, including the Americas, Europe, Asia Pacific, Middle East, and Africa.
The network is well-defended by security protocols, such as OpenVPN, WireGuard, IPSec, and IKEv2. The 100% RAM-only servers are continuously enhanced by software updates and periodic wiping.
Connection Speed
The Surfshark network is currently being upgraded for faster connection speeds. To start with, there is already a minimum of a single 1 Gbps port on each server. On top of that, new 10 Gbps ports are being added each day to the network. Surfshark explains that these new ports are designed to transfer large amounts of data faster. Plus, the addition of brand-new servers means that you have more server resources to share with other VPN users for a more stable connection.
Device Compatibility
You can use Surfshark with a broad range of devices. For instance, it's compatible with popular browsers like Google Chrome and Mozilla Firefox. All you need to do is download a VPN proxy extension to benefit from an encrypted proxy. Plus, you can use it with most computers and smartphones. After all, it supports common desktop and mobile operating systems, such as Windows, Mac OS, Linux, Android, and iOS.
Maximum Devices
Surfshark grants you the privilege of using VPN services on unlimited devices. You can connect all your laptops and phones at the same time if you sign up for a VPN plan. This is a cost-effective advantage because you don't need to pay extra anymore just to use a VPN connection with additional gadgets.
Third-Party Audits
Just last May 2021, Surfshark underwent its most recent third-party audit by Cure53. After inspecting the server infrastructure, the German cybersecurity firm verified that the network has solid defaults. Also, it confirmed that the constructs were skillfully configured. While the auditor found a few small issues, Surfshark made a prompt effort to remedy these issues.
Back in November 2018, the VPN provider went through its very first external audit by Cure53. During this initial audit, the firm validated that the browser extensions of Surfshark have generally good security with only two minor issues. Although it would have been better if Surfshark requested an annual audit, it's still noteworthy that it achieved overall positive feedback from the completed audits.
Payment Options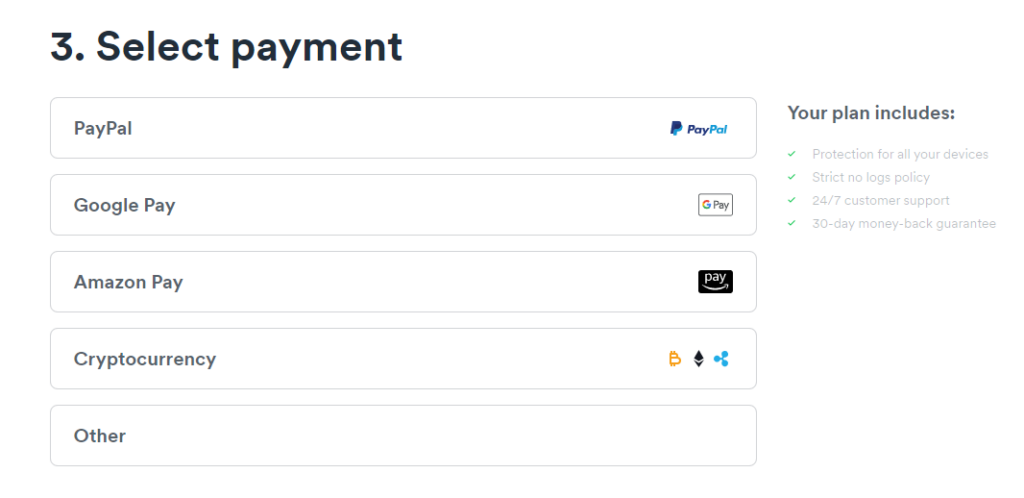 No matter which package you select, there are different methods you can use to pay for your Surfshark plan subscription. The payment options include credit card, debit card, cryptocurrency, and third-party payment processing platforms like Google Pay, Amazon Pay, and PayPal. Just head to the Surfshark website to make your online payment via your preferred method.
Customer Support
Surfshark provides 24/7 customer service to all VPN users. You may contact the support team through live chat or email if you need technical assistance. Also, you can submit a ticket request via the official website. While round-the-clock service is a good perk, it would have been more helpful if Surfshark offered phone support as well since it's sometimes easier to speak directly with an agent.
Alternatives to Surfshark
Surfshark is a viable option if you need a highly secure VPN for business purposes. Nevertheless, you can also look at other alternatives if you are focusing on other aspects of VPN services.
CyberGhost is a VPN provider based in Romania that's counted as one of the best VPNs for PCs. It's ideal for VPN users who need an extremely wide server network. After all, it has even more servers than Surfshark with over 8,000 servers in 91 countries. Unlike Surfshark, CyberGhost publishes regular transparency reports and develops crypto-technology.
However, Surfshark has an edge over CyberGhost in other ways. For example, its 1 Gbps to 10 Gbps speed range is faster than the underwhelming 6 Mbps to 1 Gbps estimated speed of CyberGhost. Plus, Surfshark has completed third-party audits, which CyberGhost totally lacks. While both have respectable security suites, Surfshark has more advanced features than CyberGhost.
8,000+ servers
Transparency reports
Crypto-technology development
Slow estimated speeds
Zero third-party audits
Fewer security features than Surfshark
Pricing:
2 Years: $3.25/month
1 Year: $4.29/month
1 Month: $12.99/month
ProtonVPN is a VPN service located in Switzerland that originated from ProtonMail. As one of the best free VPNs, it's suitable for VPN users who don't have the budget for paid plans. In contrast to Surfshark, it offers a free monthly plan which we discussed in our ProtonVPN review.
Aside from this, it operates Secure Core servers which are capable of defending itself against network attacks. Plus, ProtonVPN matches the speed of Surfshark at 10 Gbps. Just be aware that you need to upgrade to a paid plan to enjoy the special servers and maximum speed.
Still, Surfshark has certain advantages over ProtonVPN. One of these is a bigger server network since ProtonVPN only has 1,772 servers in 63 countries. Another one is a greater number of security features compared to ProtonVPN. Last but not least, its recent third-party audit has wider coverage than the independent audit of ProtonVPN, which only evaluated the no-logs policy.
Free plan available
Secure Core servers
10 Gbps maximum speed
Fewer servers than Surfshark
Fewer security features
No-logs policy audit only
Pricing:
ProtonVPN Free: $0/month
ProtonVPN Plus:

2 Years: $4.99/month
1 Year: $5.99/month
1 Month: $9.99/month
Windscribe is a VPN provider that's headquartered in Canada. It's appropriate for VPN users who want to customize their VPN plans according to their preferences. As we explained in our review, it offers a Build A Plan option which Surfshark lacks. This interesting package helps you save money by letting you pay only for the server locations you actively use.
In addition to this, Windscribe doesn't cap your bandwidth so you can freely make data transfers. Also, it has a convenient Auto Pilot feature that automatically picks the optimal server location on your behalf.
Nevertheless, Surfshark is better than Windscribe in other aspects. For instance, its security protection is miles ahead of the basic security features of Windscribe. Next, the server network is swifter than Windscribe, which only has an estimated speed of 1 Gbps for uplinks for both free and paid servers. Finally, Surfshark underwent independent audits, while Windscribe hasn't completed any third-party audits at all.
Customizable plan
Unlimited bandwidth
Auto Pilot function
Simple security only
Slower speed than Surfshark
No external audits
Pricing:
Build A Plan: $1/location/month
Pro Plans:

1 Year: $4.08/month
1 Month: $9/month
Frequently Asked Questions (FAQs) for Surfshark Review
Surfshark levels up the security of your online activities through VPN features. Find out the answers to some basic questions so you can boost your knowledge on Surfshark and VPN.
Bottom Line on Surfshark Review
In a sea of VPN providers, Surfshark leads the pack because of its top-rated VPN services. It deserves the title of king of secure VPNs because it fuses together powerful security, many servers, quick speed, and budget-friendly pricing. We hope our Surfshark review has enlightened you if this VPN service is the best option for you as a small business owner or freelancer.