The CyberGhost VPN service is carefully designed to keep you safe from the dangers of cyberspace. Through the best encryption money can buy, CyberGhost VPN makes your online transactions and personal information indiscernible to anyone trying to pry. Discover in this CyberGhost review how it works and what makes it one of the best VPNs available.
Our Verdict
Anyone looking for extra security while on the web for personal or business purposes will find a friend in CyberGhost. The VPN protects your information through strong encryption while not keeping any logs of your time. If you're willing to sign up for a few years of service at a time, costs can be as low as a couple of dollars per month.
Insane number of servers
No-logs policy
45-day money-back guarantee
Support limited to online chat
Weak ad-blocker
Pricey if you don't sign up for long periods of time
CyberGhost VPN reigns king with its monumental 8,100 servers scattered across 91 countries. Not only can you watch content from this long list of nations, you'll likely have no difficulty connecting to a server with blazing fast speeds.
Pricing for CyberGhost is actually one of the cheapest if you're willing to subscribe for a whopping 40 months at a time. Signing up for just a year comes at a middling cost, and a single month is a prohibitive $12.99. If you don't like the service within the first 45 days, you can get your money back with CyberGhost's guarantee.
The company doesn't keep a log of anything you do on the internet, nor does it record your digital identity. One area CyberGhost struggles is with ads, as the pesky pop-ups tend to sneak through the filter.
Should you encounter any issues while using the virtual private network, CyberGhost does have a 24/7 support team on hand at all times. However, chat can be slow and not always efficient.
Who CyberGhost is Best For
CyberGhost VPN is great for anyone looking for extra security while on the internet. Whether at home or on the road, a VPN uses encryption to protect your data from unsavory characters lurking on the web. This holds especially true when using public Wi-Fi locations open to anyone.
Pricing
CyberGhost VPN's pricing structure varies depending on how many months you sign up for at a time. A month-to-month membership will set you back $12.99, whereas signing up for a year lowers the cost to $4.29 per month. A two-year subscription runs $3.25 monthly, but the VPN's best deal offers 40 months of service for $2.23 every 30 days.
Those using Chrome or Firefox browsers can download a free extension offering top-tier protection while you browse the web. CyberGhost makes these apps available whether you have an active subscription or not.
$2.23 to $12.99 per month; free browser extensions
Over 8,100 across 91 countries
Android, iOS, Windows, Mac, Linux, TV devices, game systems, browsers
OpenVPN, L2TP/ IPSec, IKEv2/ IPSec, PPTP


CyberGhost VPN has but one service plan that gives full access to its list of features. Your monthly bill depends on the number of months you sign up for at a time, ranging from $12.99 for a single month to $2.23 for 40. If CyberGhost isn't the VPN for you, you can cancel your subscription within the first 45 days of use for a complete refund.
The VPN has an extensive network of servers located in 90 countries around the world. No matter where you connect, you can use up to seven devices with a single subscription. You're not limited to the device you use, as CyberGhost's technology works on Windows, Mac, Linux, TVs, game systems, and all mobile devices.
Flexibility doesn't stop there, as CyberGhost runs four different protocols you can use to maximize your online efficiency. The software doesn't throttle back its bandwidth like some other providers, allowing you to surf and download at the same speed whether you use little or a lot of data.
When you are on the web, CyberGhost adheres to a strict no-logs policy that doesn't track where you are or what you do. If downloading sensitive material, an automatic kill switch can suspend your internet connection if the VPN goes down for any reason.
Should issues arise while using the software, you can turn to chat help at any time. Unfortunately, CyberGhost doesn't have phone or email support.
CyberGhost Features
This CyberGhost review wouldn't be complete without a closer look at the VPN's features. You'll find industry standards, such as unlimited bandwidth and strong encryption, but CyberGhost offers some advantages over other VPN competitors.
Number of Servers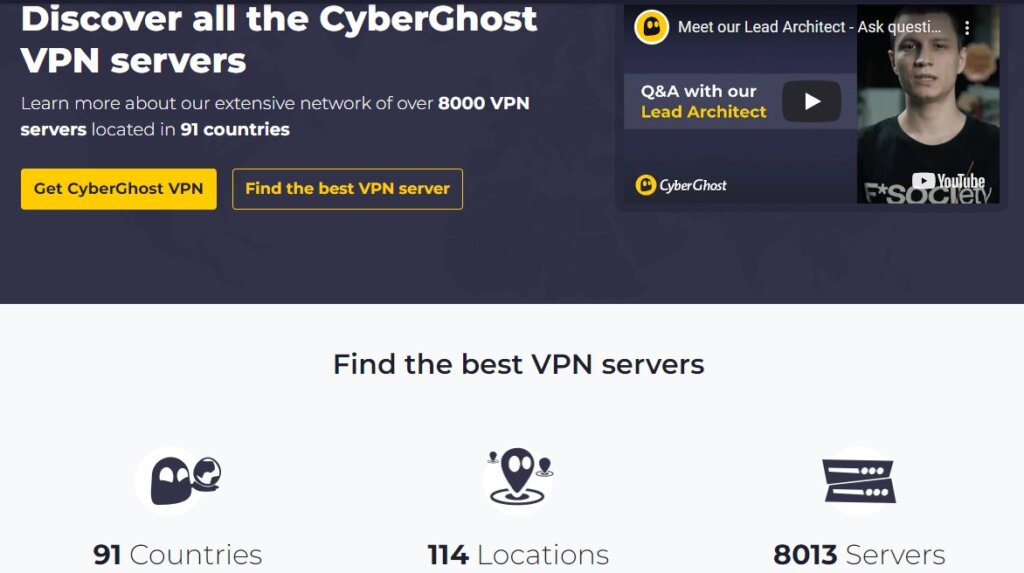 The more servers a VPN has, the more it can distribute users across them. With over 8,100 servers in 91 countries, CyberGhost VPN maximizes your chances of a speedy connection. Access to so many regions also allows you to view content from other parts of the world.
Simultaneous Connections
You can connect up to seven devices to a single VPN account. Whether at home or away on vacation, you can protect your phone, tablet, and PC at the same time. If you have multiple device users in your house, seven connections will keep them all safe.
Unlimited Bandwidth
CyberGhost won't ever throttle your bandwidth back or limit traffic through your VPN. Whether you download huge files or stick to checking your email, your connection speed will remain the same. The software will also keep speeds as high as possible when you have multiple connections.
Encryption
CyberGhost uses AES 256-bit encryption to keep your information safe. Each key length is 256 bits, practically unhackable by modern standards. It is the strongest encryption method currently available.
Platforms
Whatever devices you use to connect to the internet, chances are CyberGhost has the software to support it. Obvious apps include Windows, Linux, and Mac, but CyberGhost has downloads for Android and iOS devices as well. On top of that, it's even considered one of the best VPNs for mobile devices.
The VPN also protects smart TVs, gaming consoles, and even your home router. If that wasn't enough, you can grab free extensions for Chrome or Firefox to surf the web without fear.
Protocols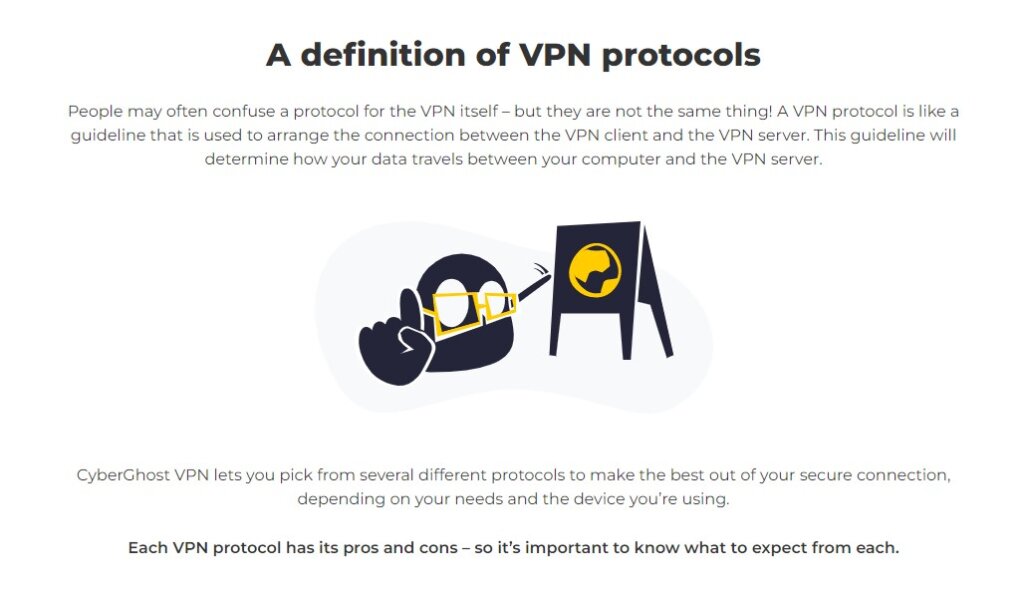 VPNs use protocols to determine how to route data through a connection. Each type of protocol has different benefits, such as speed versus security.
Having multiple protocols enables you (or the VPN) to choose the best one for the task at hand. CyberGhost's four options offer much more flexibility than those with fewer protocol choices.
No Logs Policy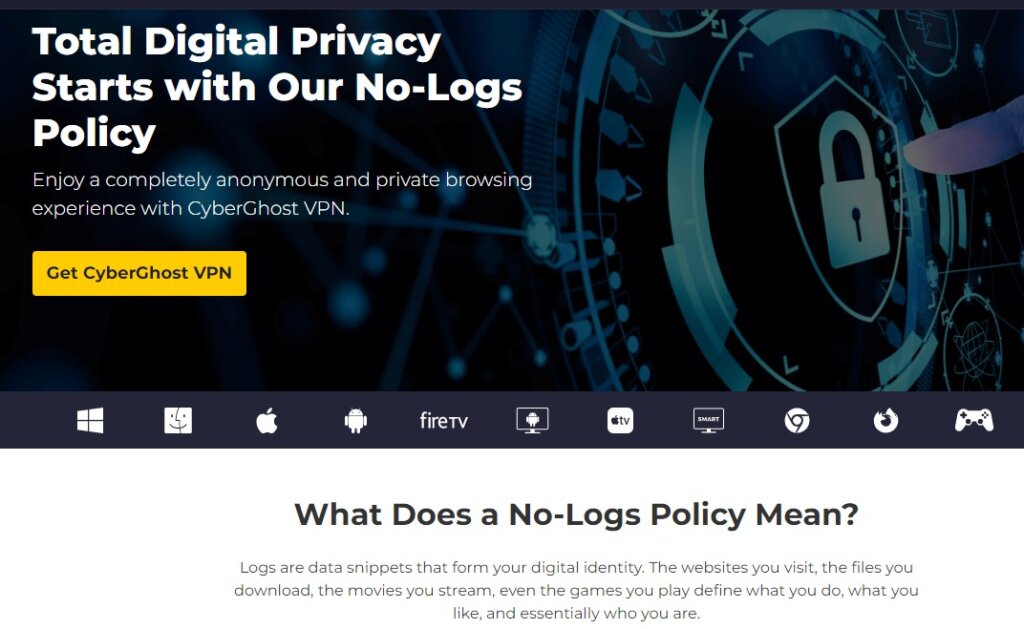 CyberGhost follows a strict no logs policy and doesn't keep track of your time on the internet while using its VPN. Everything from timestamps to browsing history and IP addresses stays off the books. Without records, your digital identity while using CyberGhost is as safe as can be.
Customer Support
Customer support is available 24/7 no matter where in the world you may be. The downside is that you can only connect via chat through the website. There are no phone numbers available to reach help.
Automatic Kill Switch
You can set up CyberGhost to immediately terminate your internet connection if the VPN shuts down for any reason. Doing so protects sensitive information on your device or network that you don't want to be leaked out into the cyber world.
Alternatives to CyberGhost
Although you may have found in this CyberGhost review that it has several great features, it may not appeal to you. Here are a few other options to consider if that's the case.
NordVPN has similarly priced subscription plans, with its best offer at $3.29 per month over a two-year span. Those wanting to try out the service can do so risk-free with a 30-day money-back guarantee.
The app boasts some of the best malware and threat protection out there to keep you and your information safe. Zero connection logs ensure that no one can access your data from the source. Unfortunately, NordVPN does tend to stick you with the same static IP address, making you a bit easier to track.
Linux users may want to think twice about using NordVPN, as the interface is in need of some work. CyberGhost gives those using Linux devices a much better experience. Whatever platform you're on, the customer support team can be difficult to wrangle with limited chat hours and delayed email responses.
Zero connection logs
Powerful malware and threat protection
30-day money-back guarantee
Linux interface could use updating
Doesn't cycle through dynamic IPs well
Customer support can be difficult to reach
ExpressVPN may have some of the fastest connection speeds among VPNs, but you're certainly going to pay for it. At best, a 12-month membership will set you back $8.32 every 30 days. Fortunately, you can try it out and cancel within the first 30 days for a complete refund if not satisfied.
Alongside other top VPNs, ExpressVPN keeps no record of your activity or connection logs. This security is bolstered more by a network kill switch that shuts down your internet if the VPN stops working.
If you need a static IP address, you won't find one here. ExpressVPN limits its connections to dynamic IPs, posing a problem when you need a specific digital location. You won't be able to connect more than five devices at a time either, which may not be enough for bigger households.
No activity or connection logs
Network lock kill switch
30-day money-back guarantee
No static IPs
Limited to five devices
A bit on the pricey side
Surfshark comes through with its own no-logs policy, a necessity for keeping your online transactions away from the eyes of cyberattackers. There are apps available for Windows, Max, Linux, mobile devices, and browsers as well. Better yet, you can connect an unlimited number of devices through the VPN to keep all your information safe.
At present, Surfshark offers a two-year subscription for just $2.49 per month, right in line with CyberGhost. Apple users have reason to be leery, as Surfshark struggles to work properly on those devices.
The VPN's somewhat limited server base may account for slightly slower than average speeds while connected. If you think things are running slower than they should be, you can reach customer support through chat or email. There's no way to contact the team by phone.
Very budget-friendly subscription options
Can connect to an unlimited number of devices
Strict no-logs policy
Doesn't work as well on Apple devices
Not the fastest speeds
No phone support
ProtonVPN does things a little differently, offering a completely free plan in addition to a paid tier of service. Its free VPN only allows access to 100 servers and medium surfing speeds. Two years of paid service will set you back $4.99 per month, but you'll have the fastest speeds and 1700 servers to choose from.
The app has a no logs policy and won't keep a record of anything you do while signed on. You can log on with up to ten unique devices and keep your information safe on each one. If you run into trouble along the way, you'll have to wait for a response through email which can take days.
Up to ten device connections
Based in Switzerland with a no-logs policy
Has a free plan
Pricing is relatively high
Slow speeds at lower tiers
Support details limited to email
Frequently Asked Questions (FAQs) for CyberGhost
VPNs offer unprecedented protection while on the internet, but they're not always easy to understand. This FAQ addresses some of the most common questions about CyberGhost.
Bottom Line on CyberGhost Review
Anyone spending any amount of time on the internet can benefit greatly from keeping personal and business data safe. CyberGhost packs a virtual protective punch with top-of-the-line encryption and thousands of servers to keep internet speeds fast. Plus, if you're willing to commit to a few years of service, CyberGhost's prices rank as some of the best out there.