Dialpad levels up the way you call and message your co-workers and customers. It stands out among VoIP providers because it offers cutting-edge AI technology, comprehensive call management features, and affordable pricing. We list pros, cons, features, and competitors in this Dialpad review.
Our Verdict
Dialpad is a smart selection for your business if you're looking for a combination of multiple VoIP functions, advanced AI platform, and cost-effective plan rates. To begin with, all the plans allow you to manage your incoming and outgoing calls via call forwarding, voicemail transcription, and call transferring.
Plus, the AI system provides real-time recommendations and task automation for better workflows. In addition to this, you can make as many calls and send as many messages as you like to colleagues and clients. Last but not least, the pricing of the Dialpad packages is cheaper compared to similar VoIP services.
Although Dialpad has its benefits, it admittedly has a few drawbacks too. For instance, the basic plan only lets you integrate your VoIP system with essential productivity suites, while the advanced plans come with more integration options.
Aside from this, none of the packages include dedicated VoIP devices, although the app is compatible with computers, smartphones, and softphones. Finally, number extensions are available with the most expensive plan only. At the end of the day, Dialpad is a well-rounded VoIP provider that gives you bang for your buck.
Pricing: Starts at $15 per user/month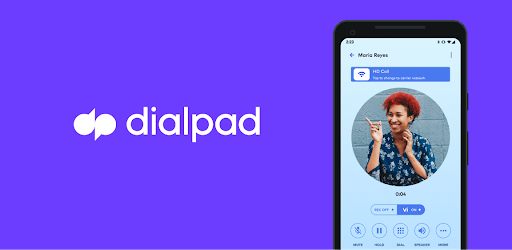 Superior AI technology
Complete call management features for all plans
No caps to VoIP calling, SMS & MMS
Limited integrations only for low-tier plan
No dedicated VoIP hardware
Extensions available for corporate plan only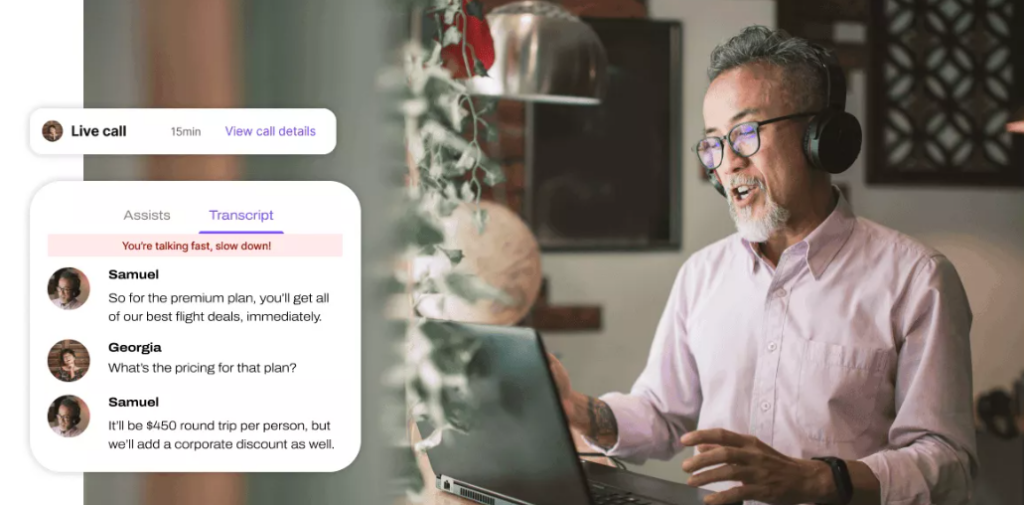 Dialpad is a VoIP platform that serves as a unified communications solution for business teams of all sizes. Through a single VoIP app, it equips you to contact your customers via phone calls, messages, and video conferencing. Since the VoIP system is customizable, you can scale it to match the growth of your business by adding users and managing phone numbers.
It was founded in 2011 by Craig Walker and Brian Peterson. At present, it now has more than 70,000 brand customers all over the world. It currently employs over 1,000 team members who are based in 11 global offices in various countries.
Dialpad has an edge over other VoIP services because this budget-friendly yet ultra-functional VoIP system is powered by modern AI technology. Its features include VoIP communications, call management, phone numbers, office locations, collaboration tools, auto attendant, software app support, hardware compatibility, third-party integrations, and customer service.
Who Dialpad Is Best For
Dialpad is ideal for business owners who need an all-purpose VoIP service but have a limited budget. It grants you and your team access to a wide variety of call management features plus AI assistance without breaking the bank. The low-tier plan is recommended for small businesses, while the high-tier plans are advisable for mid-sized companies, corporations, or contact centers.
Pricing
Dialpad offers three types of plans that vary in terms of pricing and features. Check out the chart below to discover how these packages stack up to each other: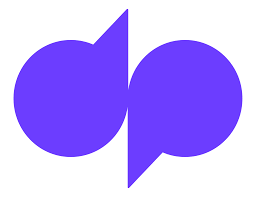 Plans
Standard
Pro
Enterprise
Contact Dialpad for quote
Unlimited calls, SMS & MMS + limited meetings + 3 ring groups
Unlimited calls, SMS, MMS & meetings + 25 ring groups
Unlimited calls, SMS, MMS, meetings & ring groups



1 local number/user + additional local or international numbers
1 local number/user + additional local or international numbers + extensions
Contact syncing + analytics & reporting
Contact syncing + analytics & reporting
Contact syncing + analytics & reporting
AI-powered Auto Attendant









G Suite & Office 365 integrations
G Suite, Office 365, CRM & productivity tool integrations
G Suite, Office 365, CRM, productivity tool & IAM/SSO integrations
To summarize, Dialpad presents you with three VoIP packages which you can choose from:
Standard

$15 per user/month
Minimum of 1 license
This basic plan is ideal for individual professionals or small business teams who wish to connect with colleagues and customers.
Pro

$25 per user/month
Minimum of 3 licenses
This advanced package is appropriate for multiple small teams or mid-sized business teams that want to simplify the way they communicate with various clients and co-workers.
Enterprise

Contact Dialpad to get a quote
Minimum of 100 licenses
This corporate plan is suitable for large companies or contact centers that reach out to a wide network of customers via VoIP systems or call center software.
Take note that these rates are applicable only if you sign up for annual billing. Higher rates apply if you subscribe to the monthly billing arrangement.
Dialpad Features
Dialpad has a strong set of features that improves the way you connect with your customers and workmates. In this Dialpad review, let's dive deeper into the features of this VoIP caller, such as VoIP communications, call management, phone numbers, office locations, collaboration tools, auto attendant, software app support, hardware compatibility, third-party integrations, and customer service.
VoIP Communications
Dialpad equips you to reach out to your team members and clients in several important ways. All the plans allow you to make unlimited phone calls and send unlimited SMS or MMS messages. Plus, they give you the chance to participate in video conferencing and team chats.
While the basic communication capabilities of the three packages are the same, the advanced communication features of each plan differ slightly. For instance, the Standard package only includes limited meetings and three ring groups.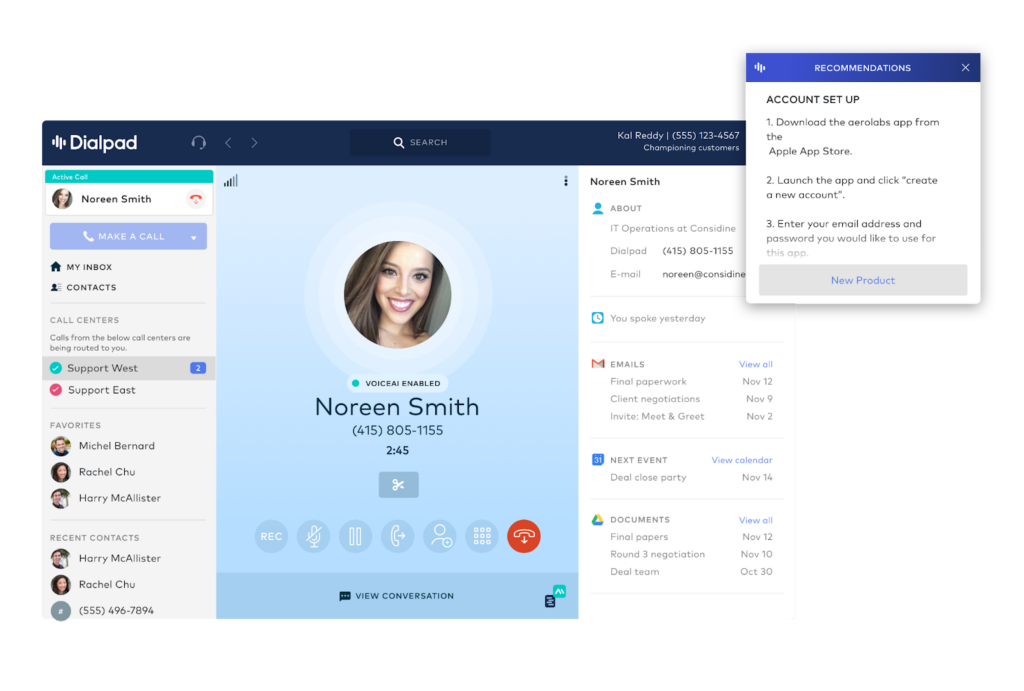 Next, the Pro plan comes with unlimited meetings and 25 ring groups. Finally, the Enterprise package tops them both by showcasing unlimited meetings and ring groups. Be sure to take your business communication needs into consideration as you pick a Dialpad plan.
Call Management
Dialpad makes it a breeze for you to monitor and handle your incoming and outgoing VoIP calls. All three plans boast a slew of call management features, such as call forwarding, call routing, call recording, voicemail transcription, custom voicemail greeting, and number forwarding.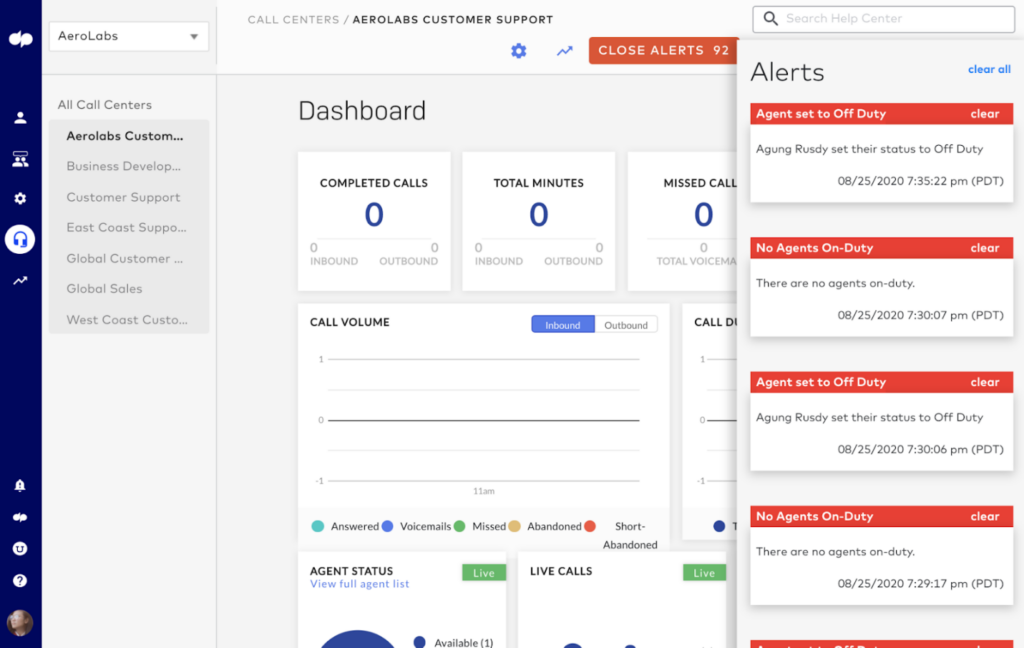 For example, you can forward calls to your smartphone, to co-workers' stations, or to external numbers. Plus, you can route calls to the appropriate agent or join conference calls via three-way calling to save time. Also, you can record an unlimited number of calls. On top of this, you can keep track of your voicemails through the transcription and playback services.
In this case, the only advantage which the Pro and Enterprise packages have over the Standard plan is the ability to hold queues. That's why Dialpad has you covered in terms of call handling regardless of the package you select.
Phone Numbers
No matter which plan you subscribe to, Dialpad provides each user of your team with one local number. You also have the option to get additional local or international numbers if you go for the Pro or Enterprise package, although this privilege isn't part of the Standard plan. Just keep in mind that you can only avail of number extensions if you pay for the Enterprise plan.
Nevertheless, number porting is available for all packages. As a result, you can carry over your existing toll-free, local, or international numbers from your previous phone provider to your new Dialpad system.
Office Locations
Dialpad uses office locations to represent physical workspaces or groups of team members. In addition to this, each office also serves as a basis for the computation of tax rates. Every Dialpad plan comes with a maximum number of office locations.
The Standard package only encompasses a single office, while the Pro plan accommodates up to 10 offices. If you don't want any office number restrictions, the Enterprise package gives you free reign with unlimited office locations.
Collaboration
Dialpad makes it easier for you to collaborate with co-workers in your team and in other departments. It syncs contacts across the VoIP system so that the appropriate people can quickly access the customer database. Also, it analyzes relevant information and generates reports that will help you and your colleagues gain insights for improved planning.
Auto Attendant
Dialpad is well-regarded for its multi-level auto attendant that's fueled by AI technology. It provides real-time recommendations so that your agents can instantly share AI-suggested answers to client questions. Plus, it enables them to resolve customer issues right away even without supervisor assistance.
In addition to this, Dialpad comes with tools that empower your sellers and managers to close sales deals, such as scripted responses and objection handling. It also has task automation capabilities that let you attach notes to your CRM platform and prepare the call review procedure.
On top of this, it allows you to keep track of real-time representative activities via leaderboards. Last but not least, Dialpad helps your customers to instantly search for information even without speaking to agents by automating customer touchpoints.
Software
Dialpad has a wide compatibility range when it comes to software support. After all, you can use the desktop app whether your computer is based on Windows or Mac OS. Aside from this, you can install the mobile app on your mobile device, which includes your smartphone whether it runs on Android or iOS.
Hardware
You should be aware that none of the Dialpad plans come with dedicated VoIP hardware. Still, you can use the Dialpad app for calling, messaging, and faxing with your existing laptops, mobile phones, or softphone devices for your business phone system.
Integrations
While all Dialpad plans include third-party integrations, the level of consolidation varies greatly depending on the package you subscribe to. For instance, the Standard plan only allows you to connect your VoIP phone system with basic productivity suites like G Suite and Office 365.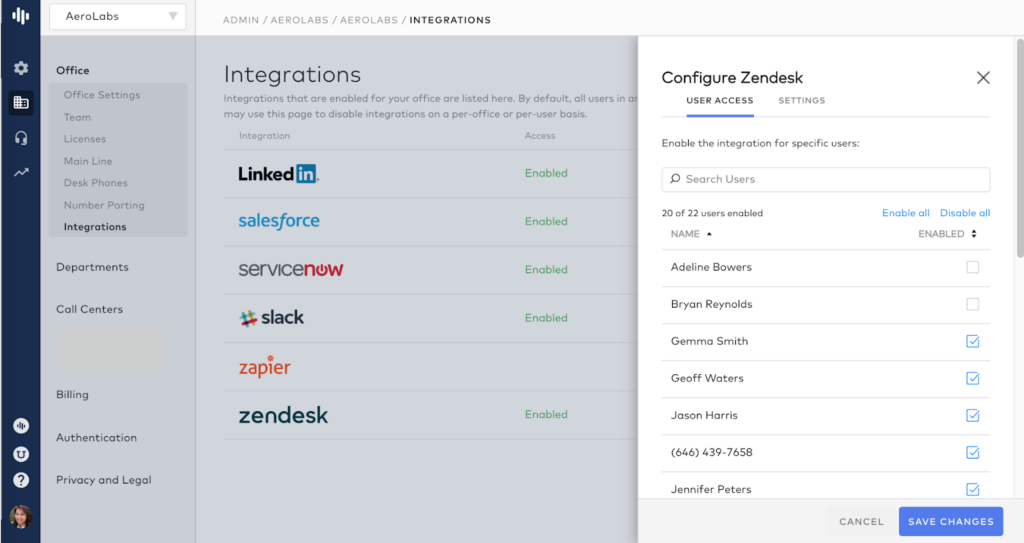 Nevertheless, the Pro package accommodates integrations with CRM systems like Salesforce and Hubspot, plus productivity tools like Slack, Zendesk, and Zapier. To level up the game, the Enterprise plan includes all these third-party integrations, while adding cloud services like Azure and Okta to the mix.
Make sure that the package you select is compatible with the essential programs your work team uses on a daily basis.
Customer Service
Dialpad provides customer service for all plans, although the level of support changes based on the tier you sign up for. On one hand, the Standard plan only includes 24/5 chat and web assistance, while the Pro and Enterprise packages both come with full 24/7 phone, web, and chat support. Plus, it's just the Enterprise plan that falls under the Service Level Agreement (SLA).
On the other hand, the three packages equally grant you access to the knowledge base and community forum. To top things off, all Dialpad plans give you the option to get support-related add-ons, such as a dedicated account manager and professional deployment services.
Alternatives to Dialpad
Dialpad is a viable option for your business if you value AI-enhanced VoIP features. Still, you may check out other notable alternatives if you prioritize other aspects of VoIP services.
RingCentral is a centralized VoIP system that enables you to make calls, host video meetings, write messages, and send faxes through a single app. It gives you the chance to gain new global, local, and toll-free numbers. Plus, it allows you to monitor system activity so that you can assess service quality, team performance, and system usage.
RingCentral is ideal for business teams that use video communications frequently. While Dialpad comes with video conferencing, RingCentral has a bigger focus on video meetings and messaging. However, keep in mind that RingCentral charges much higher rates than Dialpad, especially for the premium plans with progressive features. Also, Dialpad has an edge when it comes to AI technology.
Strong emphasis on video communications
One central app
Real-time analytics for phone calls & video meetings
Expensive pricing
Some advanced features available for high-tier plans only
Less focus on AI than Dialpad
Pricing:
RingCentral MVP
Essentials: $19.99/user/month
Standard: $27.99/user/month
Premium: $34.99/user/month
Ultimate: $49.99/user/month
*Rates applicable for annual billing
Freshdesk Omnichannel Suite is a contact center support solution that includes VoIP telephony and messaging features. It enables you to connect with clients via various channels like live-chat, mobile, and web. In addition to this, chatbots guide you to answer questions of callers.
Freshdesk is suitable for call centers that want to improve user experience (UX). It places more weight on prepping agents to provide excellent customer service to callers, while Dialpad aims for a fairly equal balance between team collaboration and client support.
Nevertheless, the more economical Dialpad offers more internal communication options than Freshdesk. Plus, Dialpad is a better all-purpose VoIP service than Freshdesk.
Designed to boost UX
Multiple channel options for customers
Chatbot assistance
Limited collaboration tools
Costly plan rates
Not as well-rounded as Dialpad
Pricing:
Freshdesk Omnichannel Suite
Growth Omnichannel: $29/agent/month
Pro Omnichannel: $59/agent/month
Enterprise Omnichannel: $99/agent/month
*Rates applicable for annual billing
Ooma is a VoIP provider that offers best voip cell phone, messaging, and video solutions for small businesses and enterprises alike. It showcases mobile apps and video conferencing tools that let you connect with colleagues and clients on the go. Aside from this, it comes with a virtual receptionist which directs callers to the right extension.
Ooma is appropriate for entrepreneurs who need scalable VoIP services for their growing business. The Ooma VoIP system is easy to personalize because it lets you add extra perks to the standard features. In comparison, Dialpad is also customizable to an extent, yet you need to upgrade to a higher plan to avail of some advanced functions. Still, the cheaper Dialpad comes with more built-in call management features plus more plan options than Ooma.
Adjustable VoIP services
Tools for remote work
Virtual receptionist assistance
Lacks some complex call management functions
Two plan options only
Steeper pricing than Dialpad
Pricing:
Ooma Business Phone Plans
Ooma Office: $19.95 per user/month
Ooma Office Pro: $24.95 per user/month
Frequently Asked Questions (FAQs) for Dialpad Review
Dialpad transforms the way that you contact your customers and workmates through VoIP calls and messaging. Discover the answers to essential questions about Dialpad and VoIP to evaluate if it's a practical solution for you.
Bottom Line on Dialpad Review
Dialpad boosts your productivity by streamlining the way you communicate with your clients and colleagues. It's a clever choice for you if you're looking for a VoIP service that successfully blends together avant-garde AI assistance, ample call management features, and competitive pricing. We are optimistic that this Dialpad review has helped you decide if the VoIP ace of AI is a good match for your business or not.