Our Mullvad VPN review concludes that it offers excellent security and privacy features. As with any reputable VPN, Mullvad VPN establishes a secure connection between your devices and the internet. Mullvad VPN protects your data by masking your device's IP address, which establishes a private tunnel for your data when using private networks.
Our Verdict
You can use Mullvad VPN to protect your identity when accessing the internet. When you connect to one of Mullvad VPN's encrypted servers, your IP address is hidden from hackers, corporations, and government agencies. It adds an extra layer of security, especially for businesses that frequently utilize remote access.
Same price across all time periods
Multi-hop connections
Fast speeds
Fewer servers than competitors
Tricky desktop interface
Lack of customer service options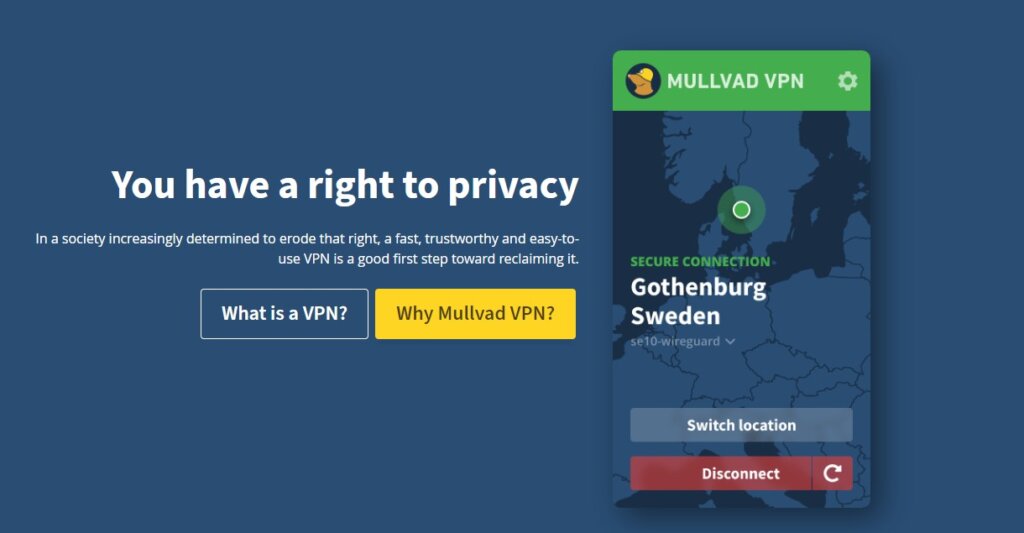 Mullvad VPN competes with industry favorites such as NordVPN and ExpressVPN. It's also one of the best VPNs for PC. This is because it offers great VPN security features, such as a no-logs policy, open-source apps, and multi-hop connections. Furthermore, Mullvad VPN doesn't ask for information when buying a subscription and offers anonymous payment options.
Based in Sweden, Mullvad VPN offers 846 servers across 39 countries. Although this is a lower number of servers than other VPNs, it's more than enough for most individuals. Best of all, Mullvad VPN has affordable and flat-rate pricing. No matter how long you choose to subscribe, Mullvad VPN costs €5 per month, which is $5.23 at the time of writing.
It can be difficult to find an ideal VPN because the world of VPNs is so hectic and confusing. Luckily, Mullvad VPN offers a breath of fresh air. It's a secure and affordable VPN service that offers excellent protection at a transparent price. 
Although Mullvad VPN doesn't offer a magnificent interface or a huge selection of servers, you won't get upsells, and you will get better online privacy for a small price. Mullvad VPN is available on Windows, macOS, Linux, Android, and iOS.
Who Mullvad VPN is Best For
Mullvad VPN is best for individuals and businesses searching for a low-cost VPN focusing on privacy and security. This VPN provider offers a lot for a little, and you can have peace of mind knowing you can protect your data at an affordable flat rate.
Pricing
Mullvad VPN is unique because it costs €5 per month no matter how long you subscribe. Therefore, Mullvad VPN only offers one plan, and you can access all of its features for €5 per month.
1 Month Plan
1 Year Plan
10 Year Plan
As you can see, each subscription length offers the same features. When you subscribe to Mullvad VPN, you get access to its integrated kill switch, no logging protocols, split tunneling, and in-house support team. You also get to use any of Mullvad VPN's 846 VPN servers across the globe.
Mullvad VPN Features
Mullvad VPN offers a robust set of security, privacy, and ease-of-use features. Here's an in-depth overview of what you can expect when subscribing to Mullvad VPN.
Security and Privacy
Mullvad VPN's core service is filled with privacy-friendly technologies. For example, it only uses OpenVPN and WireGuard protocols. Furthermore, Mullvad offers industrial-grade encryption, including AES-256 GCM (Galois/Counter Mode), 4096-bit RSA certifications with SHA512, and perfect forward secrecy.
This VPN service provider also features multiple layers of DNS and IPv6 leak protection. In addition, you receive port forwarding support and various stealth options to bypass VPN blocking.
Another key feature is Mullvad VPN's kill switch, which blocks internet traffic if the VPN drops. Therefore, your data and privacy are protected if the VPN suddenly loses connection and you're on a public network.
Mullvad VPN's multi-hop feature called Bridge mode lets you route your connection through two VPN servers. This adds another layer of encryption and allows you to bypass restrictive firewalls.
Mullvad VPN has a direct focus on your privacy. During a 2020 infrastructure audit and a comprehensive Cure53 audit of its mobile and desktop apps, it was able to find and fix a few small problems. Cure53 audits are extremely thorough, and it bodes well for Mullvad's privacy features that it passed the audit with flying colors.
This proves that Mullvad is more trustworthy than its competitors because it's willing to open itself up to a high level of scrutiny.
Servers and Server Locations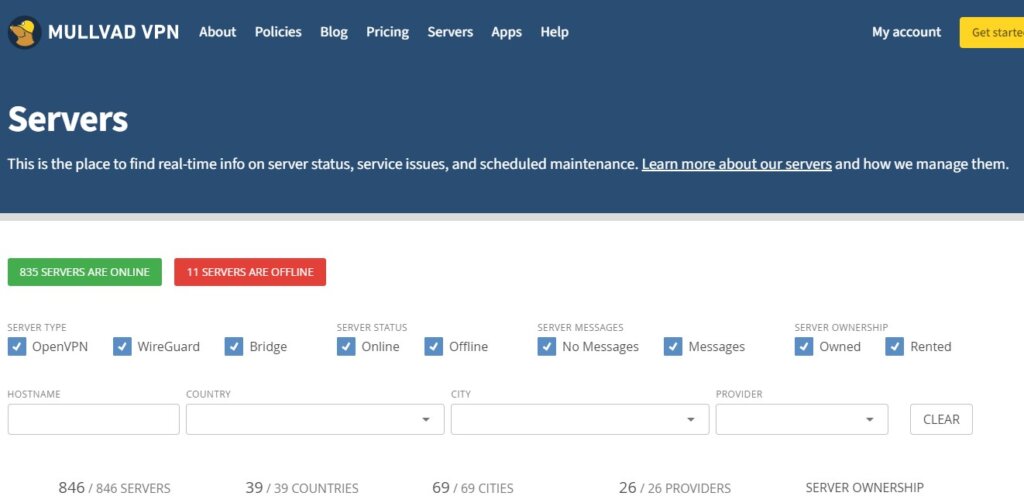 Mullvad carries a robust network of 846 servers in 39 countries. Although this is a high quantity of servers, ExpressVPN has even more, with over 5,000 servers. Nonetheless, 846 servers are plenty for the average VPN user.
A few server countries include Australia, Belgium, Brazil, Hong Kong, Singapore, and the United States. Each server also displays a server speed, from 1 gigabyte per second (Gbps) to 20 Gbps.
Speed and Performance
In comparison to other noteworthy VPNs, Mullvad offers above-average download, upload, and latency speeds. Since a VPN causes your internet connection to jump through more hoops, you should always expect a decrease in performance when you don't use a VPN.
However, you won't take a massive performance blow when you connect to a Mullvad VPN server. The speeds are on par with far more expensive VPN providers and fast enough to torrent and game.
Nonetheless, the server distance affects how much your speed is reduced. Servers located across the globe offer lower speeds than servers in neighboring countries. Keep this in mind as you connect to a VPN server with Mullvad.
App Interface and Usability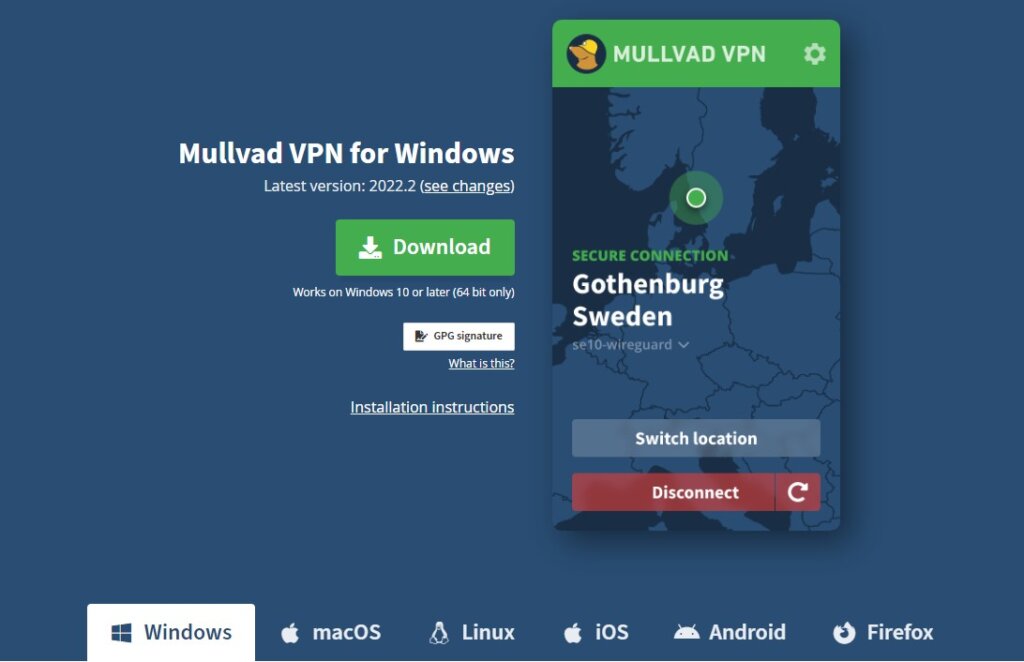 Unlike other prominent VPNs, Mullvad's interface isn't as well-designed. However, having a beautiful interface isn't an essential function of a VPN. Inside the desktop or mobile app, you'll find a 'Secure My Connection' that you can click to view a list of countries or cities.
This is essentially all the app offers. There are no options to save favorites, no filters, no search option, and no fastest or closest server based on your location. Furthermore, our tests discovered that Mullvad VPN couldn't access geo-blocked content, including BBC iPlayer, Amazon Prime Video, Disney+, Netflix, and Hulu.
One great feature about Mullvad VPN is you can use it on up to five devices. Whether you use the iOS, Windows, or macOS app, the apps look identical, so the learning curve when switching devices is nonexistent.
Customer Support
Mullvad VPN offers a comprehensive help center on its website. Inside the help center, you can find FAQs on a wide range of topics, including bridges, privacy, routers, connectivity, and the Mullvad apps.
If you need one-on-one support, you can email Mullvad's customer support team. Unfortunately, Mullvad VPN doesn't have live chat or phone support. Luckily, the customer support team is quick to respond to emails.
Alternatives to Mullvad VPN
It's always a good idea to compare the product you want with other competitors in the market. Therefore, let's discuss three alternatives to Mullvad VPN. This way, you can ensure you choose the best VPN for your unique needs and situation. If you're new to VPNs and want to test one first, read our guide on the best free VPNs.
As one of the most popular VPN service providers in the world, ExpressVPN offers a comprehensive set of security and privacy features. With over 3,000 servers to choose from across 94 countries, there's no shortage of optionality.
ExpressVPN is suited for individuals and businesses seeking easy-to-use and well-made apps on any device–in fact, it tops our list of the best mobile VPNs. It offers support for Windows, macOS, Android, iOS, and Linux, ExpressVPN. If you want a full suite of security features, ExpressVPN is a great choice.
Compared to Mullvad VPN, ExpressVPN offers more servers and lets you unlock geo-locked streaming services. However, Mullvad VPN has a more strategic focus on privacy.
Pricing
ExpressVPN offers three different payment periods. All three plans have a 30-day money-back guarantee:
1 Month – $12.95 per month
6 Months – $9.99 per month, $59.94 billed every 6 months
12 Months – $8.32 per month, $99.84 billed every 12 months
24/7 customer service
Excellent desktop apps
Outstanding speeds across all tasks
Expensive compared to other options
No multi-hop connections
Only connect five devices
NordVPN is another popular VPN service provider with over 5,000 servers. However, NordVPN doesn't cover as many countries as ExpressVPN. This VPN is unique because it offers Tor connections, something Mullvad VPN doesn't provide.
Offering similar security features to Mullvad VPN, NordVPN upgraded its privacy protection after a data breach several years ago. Now, NordVPN offers impressive security protocols such as multi-hop, kill switches, and WireGuard.
NordVPN is the best VPN for Windows users because of the software's well-designed interface and functionality. However, the NordVPN apps on macOS, Android, Android TV, iOS, and Chromebooks are just as good.
Pricing
NordVPN carries three different payment options:
1-Month Plan – $11.99 per month
1-Year Plan – $4.99 per month, billed $59.88 for the first year, then $99.48 per year
2-Year Plan – $3.29 per month, billed $78.96 for the first two years, then $99.48 per year
Easy to set up and use
Great server selection
Strong customer privacy stance
Cheaper rates only on long-term plans
Inadequate Linux client
No router app
Surfshark is an affordable VPN service provider with over 3,000 servers across 110 locations. What sets Surfshark VPN apart from other providers is its 24/7 customer service and ability to host unlimited connections. You can use Surfshark on as many phones, computers, or tablets as you'd like.
This VPN solution is suited for individuals seeking an extremely affordable VPN on a long-term plan. If you choose to subscribe for two years, the price comes to $2.49 per month. This is half the price of Mullvad VPN.
Compared to Mullvad VPN, Surfshark is an excellent choice for beginners. It's easy to use and offers ample tutorials on how to set up your VPN connection.
Pricing
Surfshark has three unique pricing plans, depending on how long you choose to subscribe:
1 month – $12.95 per month
12 months – $3.99 per month, billed $59.76 every 12 months
24 months – $2.49 per month, billed $59.76 every 24 months
Beginner-friendly
Well-designed user interface
Affordable long-term plans
Antivirus not included
Unreliable kill switch
High monthly price on one-month plan
Frequently Asked Questions (FAQs) for Mullvad VPN
If you have further questions about our Mullvad VPN review, let's go over a few common questions we receive about this VPN provider.
Bottom Line on Mullvad VPN Review
Mullvad VPN reimagines what you receive from a low-cost VPN provider. It's incredibly transparent and has an exceptional attitude toward consumer security and privacy. If you're searching for industry-standard VPN features at an affordable price, you can't go wrong with Mullvad VPN.