Square Payroll is an online payroll service specially designed for small businesses. It offers an easy way to manage employees' paychecks along with seamless timecard imports, automated tax filings, and a range of other helpful features.
We've thoroughly researched the payroll processing software market on your part to bring you a comprehensive Square Payroll review. Keep scrolling to learn more about how Square's online payroll service matches up with some of the best payroll software out there.
Our Verdict
Square Payroll is best for small businesses that hire hourly wage contractors only. Although it works for both salaried employees and contractors, there's no base fee for the contractor-only plan. It offers many useful features including healthcare and retirement benefits syncing, seamless integrations with other tools, and a mobile app for on-the-go payments.
Square Payroll should work perfectly for you if you already use Square POS – it integrates nicely to make employee payments much easier. That said, this payroll software is not for large businesses. It doesn't have the scalability and customization needed for large-scale operations.
Low pricing
Easy to use
Integrates with other tools
Basic HR functionality only
Slow customer support
Basic payroll reports
Square Payroll is a subsidiary of Square, a company offering a range of business management solutions from POS systems to payment processing solutions. It's a US-based payroll software and works in all 50 states and the District of Columbia.
You can access the online payroll service through its web portal and mobile app. If you're a small- to medium-sized enterprise, you will probably find all the features you need to streamline employee payments with Square. The service is fairly easy to use with an intuitive user interface that you can get familiar with pretty quickly.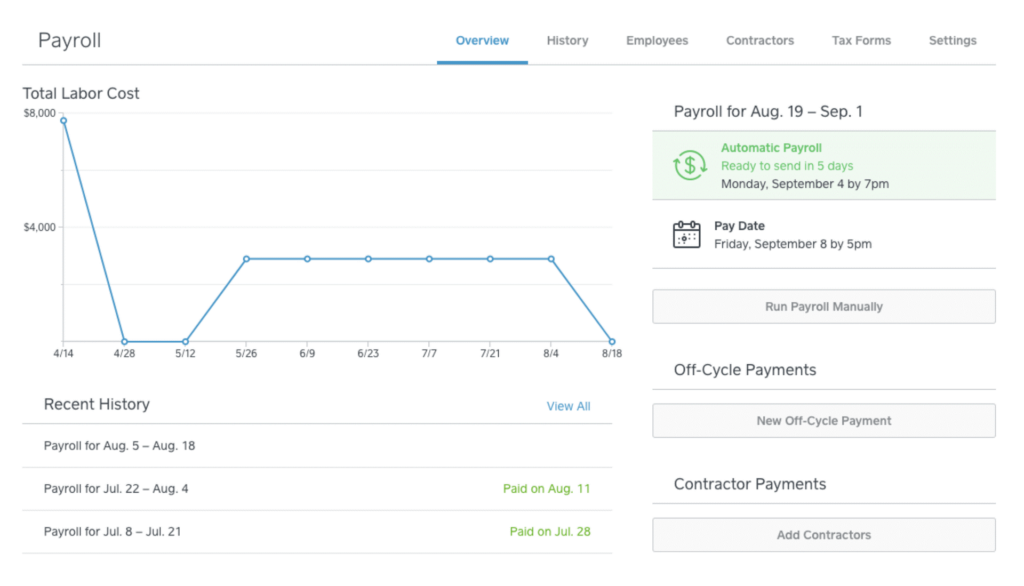 Square Payroll is one of the more reasonably priced software solutions. It has very competitive prices starting at just $35/month plus $5 per person paid for the Employees+Contractors plan. Whereas the Contractor-only plan only costs $5 per person paid without any base fee. Square offers relatively cheaper prices compared to alternatives.
Apart from other software solutions like Square, the service is integrated with a range of other management tools including QuickBooks, Beekeeper, TSheets, and Deputy. If you're looking for an all-in-one payment processing software that runs payroll, calculates accurate taxes according to your location, and files them automatically, go for Square Payroll. 
Who Should Use Square Payroll?
Square Payroll is a perfect match for small businesses, especially those that work with contractors only. If you already use Square Point of Sale, your search also ends here because you won't find a better match than this. This vendor is not for you if you're a large business and want to scale or customize the solution.
Pricing
Square offers only two pricing plans for its online payroll processing service: Pay Employees & Contractors plan starting at $40 per month and Pay Contractors only plan starting at $5 per month per person.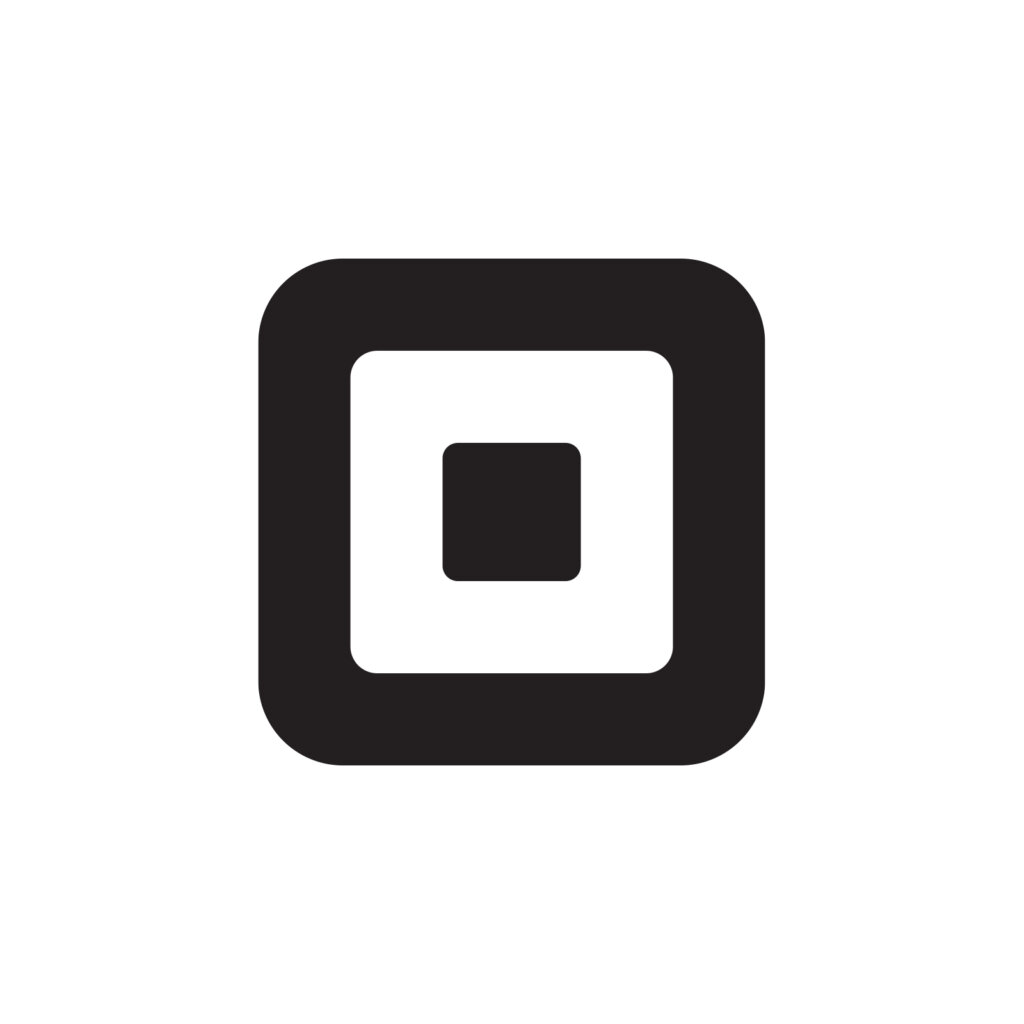 Plan
Pay Employees & Contractors
$35 monthly subscription + $5/month/per person paid






Pay via check, direct deposit, and Square's cash app


Square POS, QuickBooks Integrations




Live support for account setup


Square has a straightforward and transparent pricing structure so it's easy to ascertain what it will cost. Although it gets pricey as you pay more people, it gives you certainty with expenses.
Competitors like ADP and PayCor, don't publish their pricing structures so can never tell what they'll cost compared to other options, it's also relatively affordable. Because Square doesn't lock you into a contract, there's no added cost if you need to cancel. Square also allows businesses to pause their subscription without a cost, which could be a good fit for seasonal businesses.
Square Payroll Features
Ease of Use
It's easy to navigate to different tools when using Square Payroll. It has a simple design with all the tools you need easily accessible from the home page. Still, if you get stuck for some reason, the knowledge base is always there to help you get the job done.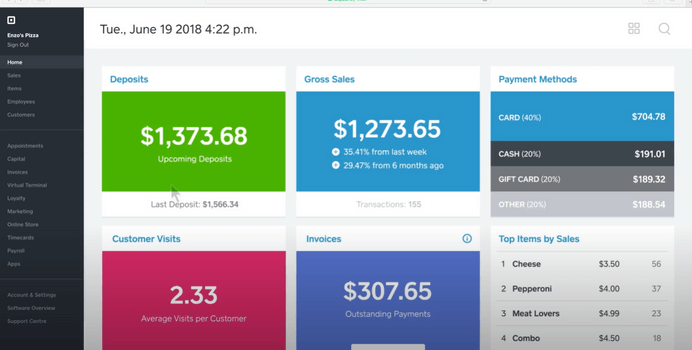 After signing up, you have to enter your businesses' details including tax information and bank account, among others. Next, you have to enter your employees' or contractors' details. This can be a daunting task but Square lets you send an invite to every worker so they can fill out tax and deposit details on their own.
Full-Service Payroll Processing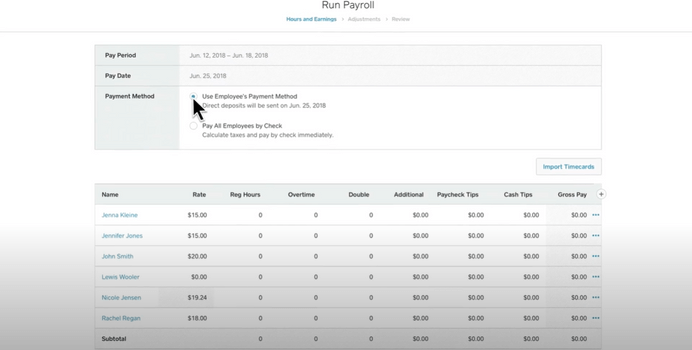 This payroll service aims to give you a one-stop solution to pay workers easily. It will take care of everything from processing payments, filing taxes, printing paychecks, to direct deposits. If you're using Square POS, you can also import tips and commissions automatically.
Square Payroll makes your life easier as a business owner. All you have to do is import time cards from other tools or enter the hours clocked by each employee, choose a payment method and it'll do the rest.
The vendor supports monthly, semi-monthly, weekly, and bi-weekly payment frequencies. Square is not the fastest service as your employees or contractors get paid four business days after the payroll is processed. For instance, if you run the payroll on a Friday, workers may have to wait until the next Thursday to get paid.
Automatic Tax Filing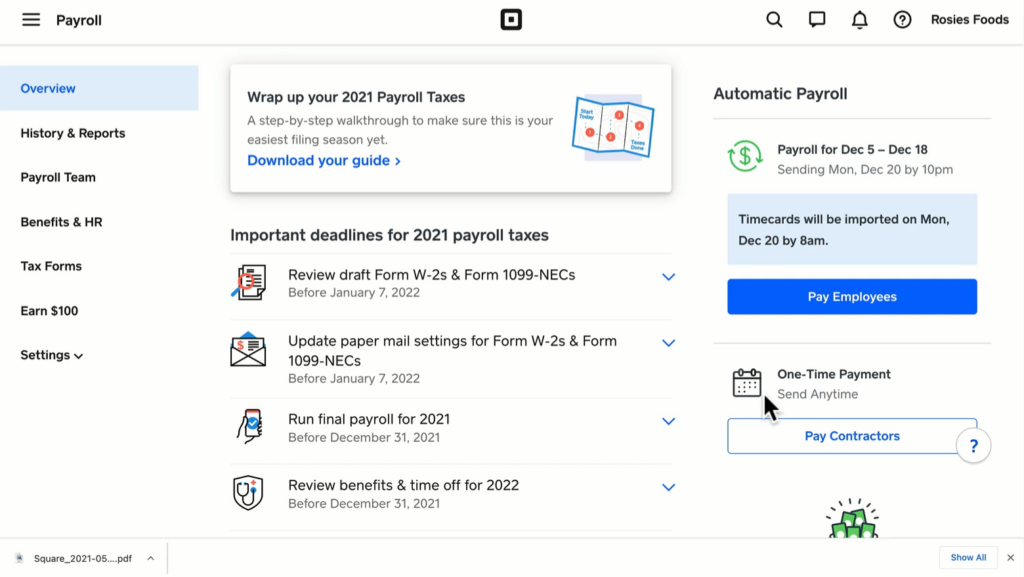 This feature gives you accurate and timely-filed taxes and takes away yet another time-consuming task. The service takes all relevant data for every employee into account to calculate state and federal taxes, withhold them and send them to the right agency. It also handles quarterly and year-end tax forms like the W-2 and 1099-NEC.
Flexible Payment Options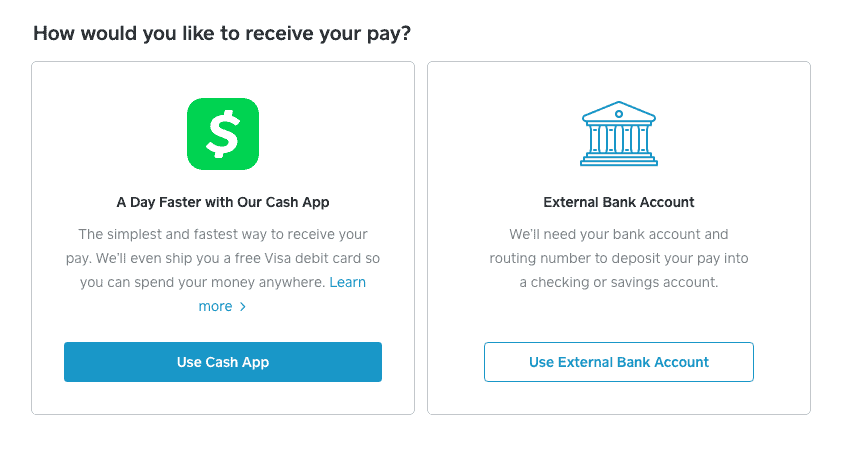 Square Payroll lets you pay employees and contractors via direct deposits, checks, and the Square Cash App. Although direct deposits take four days to get processed and reach recipients, you can get them paid early if you and your employees use the vendor's Cash app at no extra charge. Employees can also request an advance paycheck through the Cash app and receive up to 50% of their pay (maximum of $200).
Square POS, QuickBooks, and other Integrations
The integrations the online payroll service offers are one of the best features it's got. Currently, it's integrated with the following tools:
Square Point of Sale
Square for Retail
QuickBooks
TSheets
Homebase
Hubworks Hostel Management
Deputy
Beekeeper
TrackTime24
Benefits Management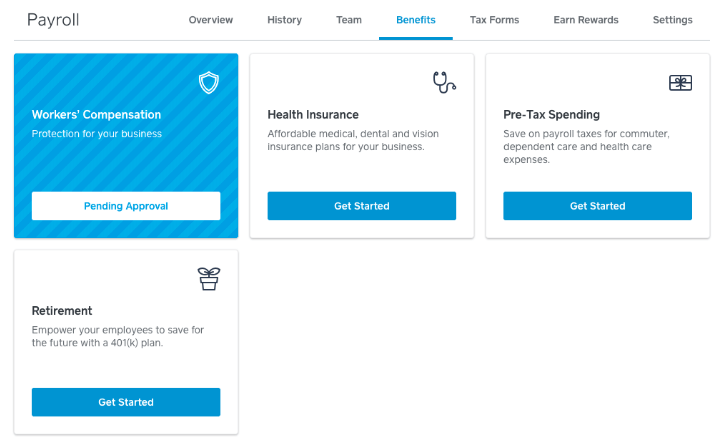 The benefits management feature takes care of employees' health insurance, retirement funds, pre-tax spending, and even workers' compensation insurance. This means you don't need an HR specialist on the team to manage employee benefits.
Square Payroll lets you choose the right benefits plans for your business, and once you've made that decision, you can invite employees to enroll on their own. It will handle everything moving forward including keeping records and deducting premiums from paychecks.
Square Payroll Mobile App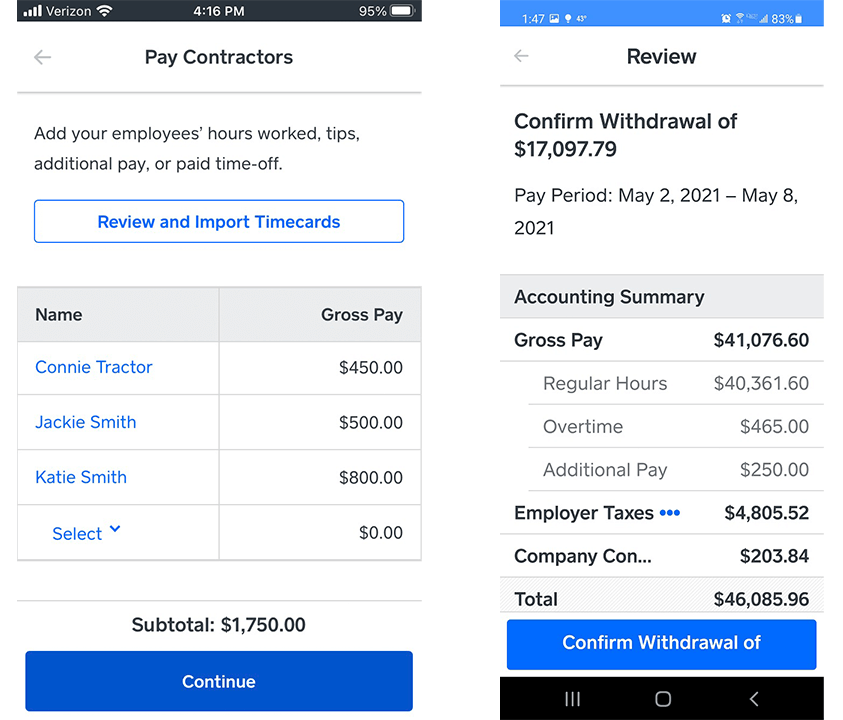 The Square Payroll Mobile app helps the vendor stand out among other services. It comes with both plans and offers almost the same features as the web version. You won't be able to access the complete set of features but the mobile app is pretty useful for on-the-go payment processing.
The app is a great way for employees to stay updated with their payroll process. It lets employees clock in and out on timecards, file taxes, and view pay stubs.
Alternatives to Square Payroll
There are quite a few alternative options on the market if you think Square is not for you. But before you look for other services, please note that free payroll software won't be able to offer you the same features as paid ones. That said, take a look at some of the best alternatives to Square:
Gusto – All-in-One HR Solution
Gusto is an HR and payroll service that works well for SMBs. It carries a comprehensive set of services including benefits management, HR, and compliance functions. It offers quicker payment processing than Square. Starting at $39 + $6/per person paid, it'll cost you slightly higher than Square Payroll. Read the Gusto review to know more about its features and plans.
Rippling – Best for Mid-Sized Businesses
If you're a mid-sized business, Rippling might be a good option for you. It offers a range of HR and payroll features to simplify your personnel management. It offers plenty of integrations too so you can sync it with other management services to streamline payments. Rippling has better reporting capabilities than Square, making it a great choice if you want to analyze salary trends. It has a quote-based pricing system but you can expect it to start at $8/month/per person paid.
Patriot – Best for Startups
If you're looking for a payroll service for your startup and you want to get the best features while staying within your budget, Patriot might be the one for you. Patriot offers the most affordable plans on the market. Its Basic Payroll plan starts at $10/month + $4/per person paid. However, you won't be able to access the automatic tax filing feature with this plan and would have to upgrade to the Full Service package.
Frequently Asked Questions (FAQs) for Square Payroll Review
Bottom Line on Square Payroll Review
Square Payroll is best for small businesses. Go for it if you're already using other services from Square. It has all the basic payment processing features an average small business needs. It should be on the top of your list especially if you hire contractors only. That said, its four-day waiting time, slow customer support, and lack of scalability and customization are its biggest drawbacks.