Hashtag Legal offers a modern approach to forming a business while providing a clear path through legal hurdles along the way. The law firm takes a personal approach to growing your company, offering services tailored toward your specific needs. This Hashtag Legal review reveals what the company brings to the table to help your business succeed.
Our Verdict
Hashtag Legal works exclusively with small businesses in need of legal support. More specifically, fledgling or established small businesses located in either New York or New Jersey. Areas of legal aid include entity formation, registered agent service, trademarking, and more.
Custom plans based on your needs
The (un)business podcast
Strong customer support
Pricing is not transparent
Small boutique firm
Limited to New York and New Jersey
The Hashtag Legal LLC service focuses on small businesses wanting to overcome the industry's legal pitfalls. The company meets these entrepreneurships where they are and works with them on an individual level. In doing so, Hashtag Legal helps get you exactly where you want to go.
There's not one drop of pricing information anywhere on the website, so you're forced to call them to work out those details. On the bright side, Hashtag Legal customizes all its cases, so static pricing doesn't make sense anyway.
For such an unusual business model, the staff at Hashtag Legal can only practice in New York and New Jersey. Being a small firm, it may not be able to get to cases as quickly. However, the staff is good about handling communication and being upfront with this information.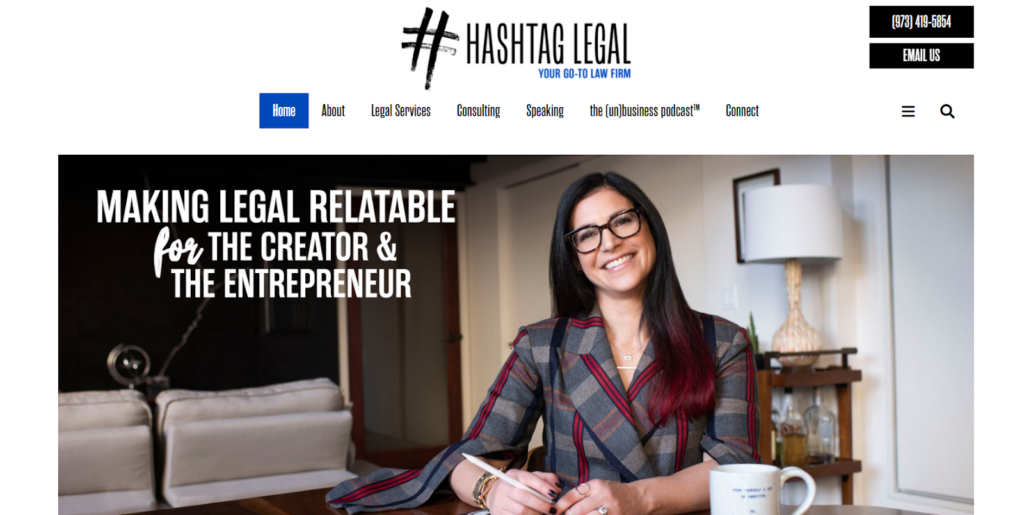 Who Hashtag Legal is Best For
If you're a small business located in either New York or New Jersey, it's worth giving Hashtag Legal a call. Hashtag Legal understands the ins and outs of the legal system and wants to help you navigate the nuances of staying on the level. It views aid not as an obligation but as a partnership and will work with you until your legal intelligence is where you want it to be.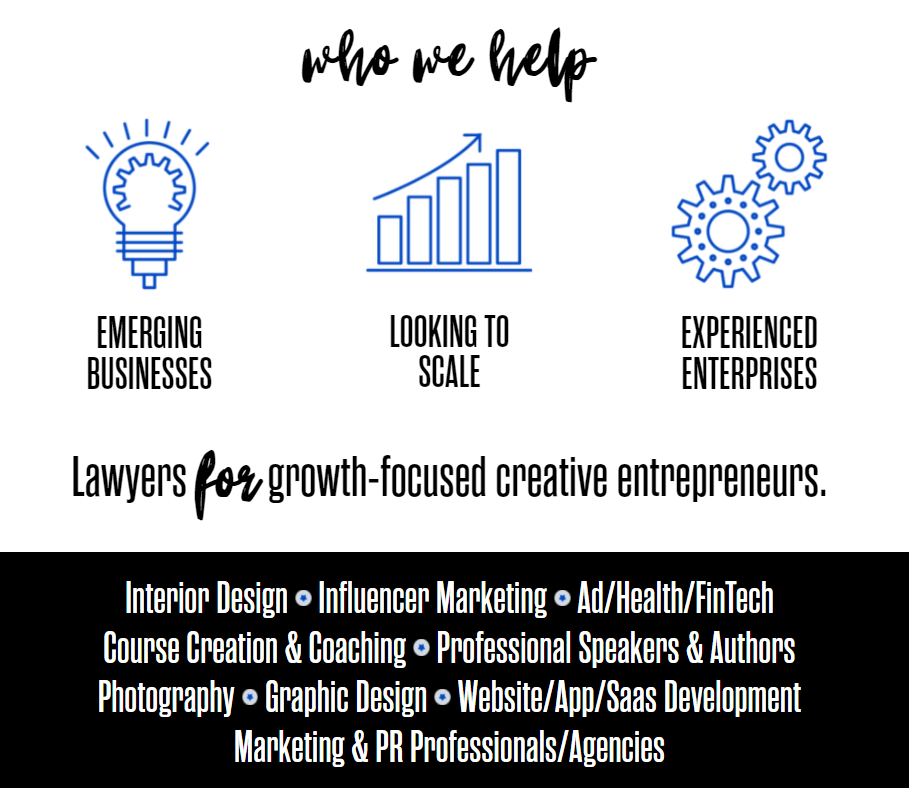 Pricing
Pricing information does not exist due to the custom nature of Hashtag Legal's approach to advice. The firm treats each consultation as a potential partnership and looks for ways to bring a small business into a safe legal area. Therefore, each contract is unique, and pricing is never the same.
Hashtag Legal Features
Hashtag Legal has an abundance of features to help businesses start on the right foot and continue to succeed. Below are the main features it offers and how you can use them to grow and protect your enterprise.

Entity Formation and Advice
The Hashtag Legal LLC service has the information you need If you're looking to establish your business as a limited liability company (LLC). The legal team will walk you through finding an appropriate name that sets your venture apart. From there, they will work with you to file the articles you need to make the formation official.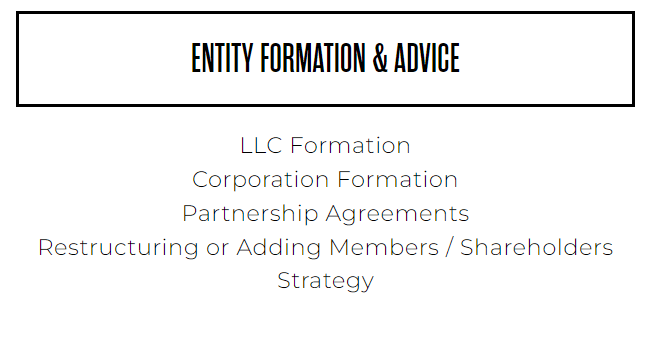 After setting up your LLC, Hashtag Legal is available to help understand tax requirements and file the necessary annual reports. Depending on how you set up your partnership with Hashtag Legal, they will continue to ensure you don't miss any step along the way.
When the time comes, the law firm can help you create a corporation, once again taking you through the process from start to finish. Furthermore, Hashtag Legal can set up partnership agreements, add members, or develop shareholder strategy.
Registered Agent Service
You're required to have a registered agent when you form an LLC. This registered agent is someone who receives legal documentation on behalf of the company in the event of a lawsuit. Hashtag Legal provides this service for a fee.
It's worth noting that a registered agent must have a physical street address within the state you registered your business. Hashtag Legal has a physical address in both New York and New Jersey and is a reasonable choice if they are also the ones helping form your LLC.
Trademark and Copyright
Should your business have a unique concept or product that you want to protect, look no further than Hashtag Legal. The staff can help you file applications for trademarks or copyrights and help you distinguish which application you need.
Assistance extends to strategies that protect your trademarks and copyrights from those looking to steal your ideas. If push comes to shove, Hashtag Legal will file cease and desists to keep your intellectual property safe.
Contract Drafting and Review
Hashtag Legal's expertise goes well beyond simply setting up an LLC. As an established business, Hashtag Legal can work with you on contract drafting with vendors, independent contractors, or employees themselves.
The law firm can help review and negotiate contracts on your behalf, so you don't get the raw end of any deal. At times, the legal team will work with you to renegotiate and improve existing contracts, so your business gets the biggest bang for its buck.
Legal Strategy and Outside General Counsel
Hashtag Legal's legal strategy extends to risk management and having programs in place to mitigate loss from theft, damage, or lawsuit. Should the need arise, you'll have a lawyer always on call to answer questions and provide counsel as needed.
The (un)Business Podcast
Just this year, Hashtag Legal started producing its own podcast series. The podcast is completely free to listen to and offers a lawyer's unfiltered take on common business issues. The first season revolves around dealing with conflict in an office setting.
Alternatives to Hashtag Legal
Hashtag Legal isn't for everyone, especially if your business is located somewhere other than New York or New Jersey. Consider some of the best LLC formation services as viable alternatives to Hashtag Legal's service.
ZenBusiness is all about getting your business up and running in a fast and budget-friendly way. For as little as $49 and 10 minutes, you can be the owner of your very own LLC. You can use ZenBusiness to connect with a registered agent no matter what state you're located in. The downside is that it doesn't have the personal touch that Hashtag Legal does.
The company is great for those who understand the LLC formation process and need to get the job done. It does not walk you through the process but instead relies on you to know each step along the way.
ZenBusiness does have expert support only a phone call away, but you'll still need to know which questions to ask. To learn more about its services and pricing, read our complete review on ZenBusiness.
Rocket Lawyer has a "one plan fits all" membership for $39.99 per month, giving access to most of its many features. The monthly rate includes document creation, attorney services, and even formation services for an LLC or corporation. If you are a member, Rocket Lawyer discounts its registered agent service by 25%.
New businesses can take advantage of one flat rate for creating all the documents you'll need and legal advice without having to pay any extra. Rocket Lawyer does offer an a la carte service if you need help in one specific area, but these prices tend to be quite high.
Rocket Lawyer will work with you every step of the way, but ultimately it's up to you to know which documents you need to create and which legal questions to ask. Having an LLC formation service included is a huge bonus, even if Hashtag Legal provides a more personal approach. Read our Rocket Lawyer review to learn more.
Northwest Registered Agent is more than just a registered agent service, providing the information entrepreneurs need to get a fledgling business off the ground. In addition to custom business advice, Northwest Registered Agent offers tools to start up an LLC in no time flat.
You can either pay an up-front rate of $225 (plus state fees) for filing and registered agent, or you can pursue a monthly VIP service ($40 to $80 depending on your state) containing ongoing help after your business is up and running. The VIP service also covers you when annual filings are due at the beginning of year two.
Northwest Registered Agent prides itself on being transparent with its information while protecting yours. The company takes a personal approach to each case and strives to be approachable no matter what method of communication you use. Read our Northwest Registered Agent review to learn more.
MyCompanyWorks showcases tools to both start and manage a company for years to come. The Basic plan for forming an LLC starts at $59 (not including state fees), with registered agent service an additional $99 per year. Higher-priced plans include a registered agent and other bonus features your company can benefit from.
You can supplement your new business with a domain or website from MyCompanyWorks if you don't want to pay for these features on their own. There's also a step-by-step startup wizard and will file the necessary paperwork on your behalf.
MyCompanyWorks also helps you manage your company by filing annual reports for you. These services start at $59 and ensure you don't overlook any paperwork that needs to go out. Read our review on MyCompanyWorks to find out if it's the right choice for you.
Bottom Line on Hashtag Legal Review
Hashtag Legal carefully walks entrepreneurs through the LLC creation process, ensuring you don't leave any stone unturned during the process. The firm doubles as a registered agent and can handle any legal woes you may encounter down the road. Beyond company formation, Hashtag Legal offers several other tools to keep your business on top of its game.
Anyone looking to start an LLC or corporation in New York or New Jersey shouldn't hesitate to give Hashtag Legal a call. They will work with you to develop a custom plan (and price) to get your business where you want it to be. This personal touch sets Hashtag Legal apart from the many cookie-cutter formation services that feel robotic.