As the name suggests, Northwest Registered Agent at its core is a registered agent service, but in this review of Northwest Registered Agent you'll see it offers a lot more. If you want to start an LLC, having a registered agent is a must to handle government, tax, and legal matters on your behalf. You can also get LLC formation, business operation, and brand protection legal services.
Our Verdict
Northwest Registered Agent is the second-largest registered agent service in the US. It offers quality LLC formation services and is a great choice for small businesses that prioritize privacy. If you want to keep your address off public records, this LLC service is for you.
Northwest Registered Agent focuses on giving you the best customer service. It guarantees same-day LLC filings, privacy protection, and professional service based on years of experience. Note that Northwest offers its LLC formation and registered agent services as one package, so it's an excellent choice if you're looking for both in one deal.
Offers privacy protection
Quality customer service
Transparent pricing
Limited features
Pay extra for EIN service
More expensive than alternatives
Northwest Registered Agent is a well-established, family-owned business that's been offering its services for more than 20 years. Unlike other online legal services, Northwest services are handled in-house by their Corporate Guides. These are business experts that guide you through starting and running your business. Northwest's Corporate Guides are probably the reason behind its excellent customer service.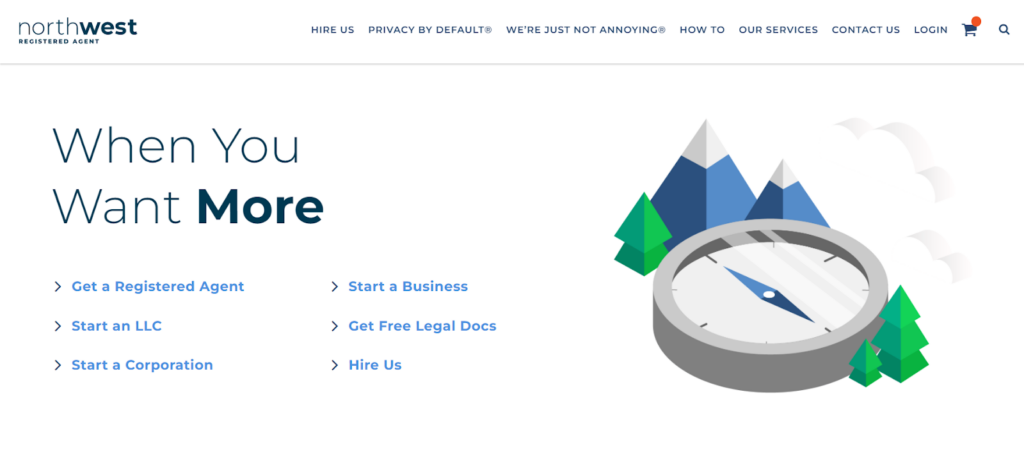 Whether you reach out to them via phone or email, you're guaranteed to receive a quick response from a Corporate Guide who understands your needs. Northwest Registered Agent carries its "We're Just Not Annoying" motto to set itself apart from the competition.
To set itself apart from other LLC services, it promises to give you the most pleasant customer experience with clear and effective communication. This includes same-day email responses, no phone trees, and getting a return call within two hours of leaving a voicemail.
Apart from its LLC formation and registered agent service, Northwest also offers virtual office and mail forwarding services, annual business compliance filing, operating agreements, and legal forms. Its range of services isn't as wide as other online legal services, but its emphasis on customer service and transparency makes it an attractive option.
Who Northwest Registered Agent is Best For
Northwest Registered Agent is best for you if you own a small business, are privacy-conscious, and don't want your address to appear on public records. Northwest values your privacy and promises not to sell your data and minimizes exposure to your personal data at no extra cost.
That said, it's also a good choice for you if you're looking for both LLC formation and a registered agent service in one package. If you're looking for peace of mind, Northwest's top-of-the-line customer service and professionalism guarantee you a smooth LLC process.
Pricing
Northwest Registered Agent has a transparent, easy-to-understand pricing structure. Although it's one of the more expensive LLC services, you don't have to keep an eye out for hidden fees. Northwest informs you of the complete cost for the service you require plus government fees so you can evaluate your expenses accurately.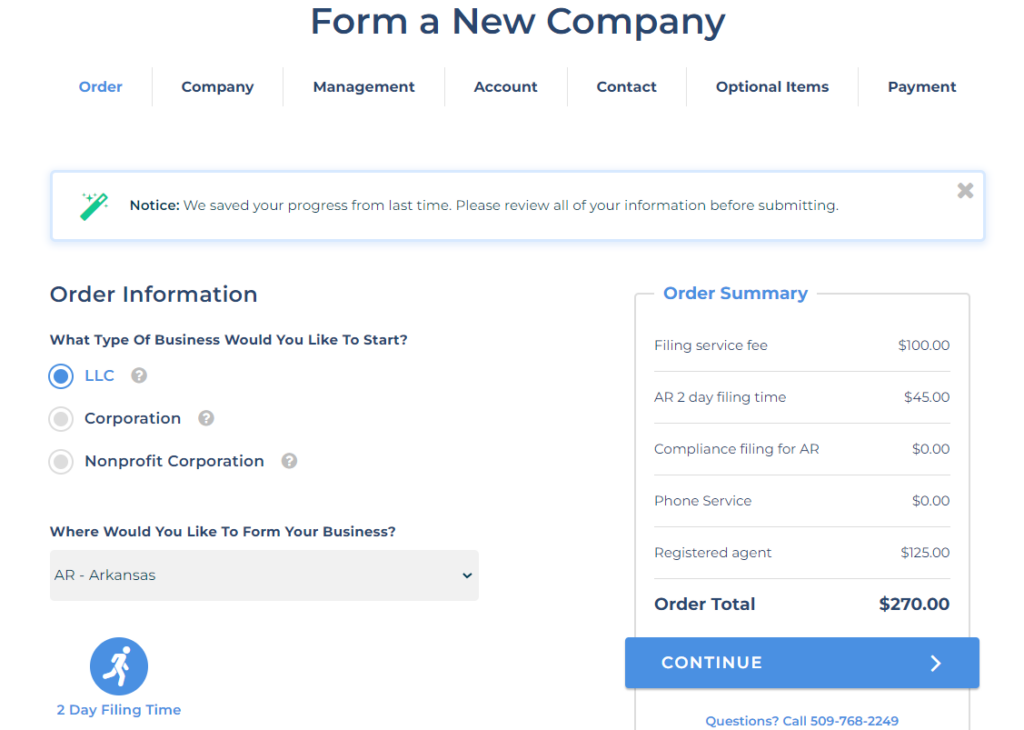 Northwest doesn't have tiered pricing plans like other online legal services. Rather it offers each of its services for either a one-time fee or includes them in a VIP package that you pay for monthly. These two packages cost:

$225 + state filing fees for LLC formation and registered agent service for one year
$30-80/monthly for VIP service – based on your state
The table below summarizes Northwest Registered Agent's pricing structure for the different services it offers.
Up-front payment
Monthly VIP service



Annual business compliance filings

Operating agreement and other documents


US Virtual Office Service
If you need only LLC formation and registered agent service and are willing to pay $225 plus state filing fees upfront, the one-time payment option suits you better. However, if you want a wider range of services and want to start off with a lower monthly fee, the Monthly VIP service is a great option for you.

Note: The cost of the monthly VIP service varies from state to state.
Northwest Registered Agent Features
Northwest Registered Agent's quality customer service seems like their strongest selling point. But upon a closer look, we've discovered a range of other features that make it a top contender among other LLC service providers. Let's take a look at its strongest features and other services it offers to see whether it can meet your needs when it comes to starting a business and running it.
Privacy by Default®
Northwest Registered Agent follows a Privacy by Default® practice to minimize exposure to your personal data as much as it can. There are very few service providers on the market that emphasize customer privacy as much as Northwest. This makes it the go-to LLC service for you if privacy is your number one priority.

Northwest protects your privacy by
Limiting personal information on public documents
Limiting private data stored by state agencies
Never selling data
Protecting your data from loss or theft
Limiting the use of third-parties
Testing for and tracking vulnerabilities
Limiting data requests
The best part about Northwest Registered Agent's robust privacy policy is that you don't have to opt into it. It protects all your information by default.
Same-day Filing
If you want to create an LLC as quickly as possible, Northwest Registered Agent is your best shot. It commits to filing your request on the same business day as you place your order. Same-day filing is a part of Northwest's objective to get you what you want as fast as possible.
Please note that while Northwest Registered Agent files your documents on the same day, you might still need to wait for state authorities' approval. This can take anywhere from 7 to 21 business days depending on your state.
Federal Tax ID (EIN)
Your company's EIN (Employer Identification Number) is more or less like its Social Security number. It's not a must at the time of starting a business, but if you're going to hire employees or pay excise taxes, you need an EIN. You may also need it to open a business bank account or if your state law mandates it.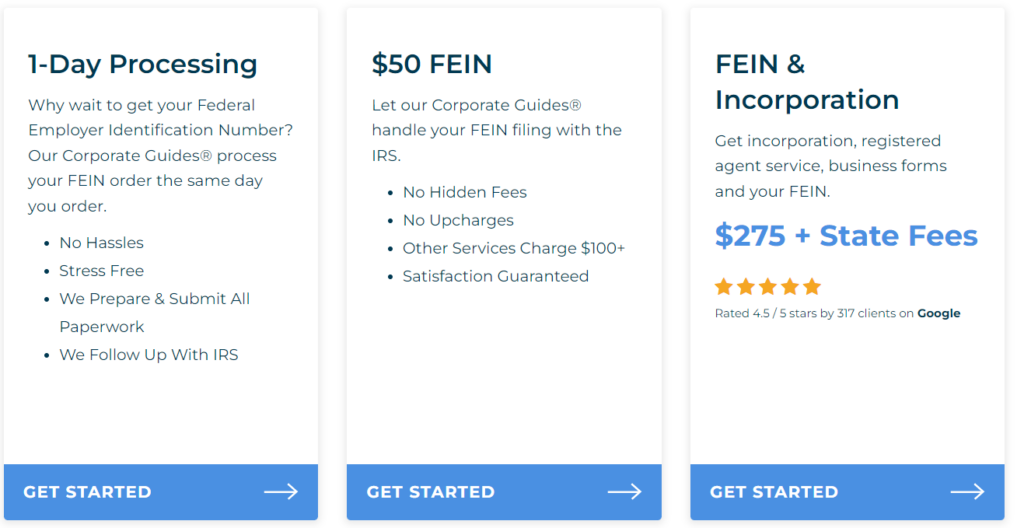 Northwest Registered Agent will help you get your EIN Number from the IRS for $50 if you're a US resident. If not, and you don't have a Social Security Number, you can still get an EIN but for $200.
Annual Business Compliance Filing
Northwest is one of the best LLC formation services around for annual business compliance filing or auto-filing. Annual compliance filing is all about filing an annual report about your company and paying a fee along with it.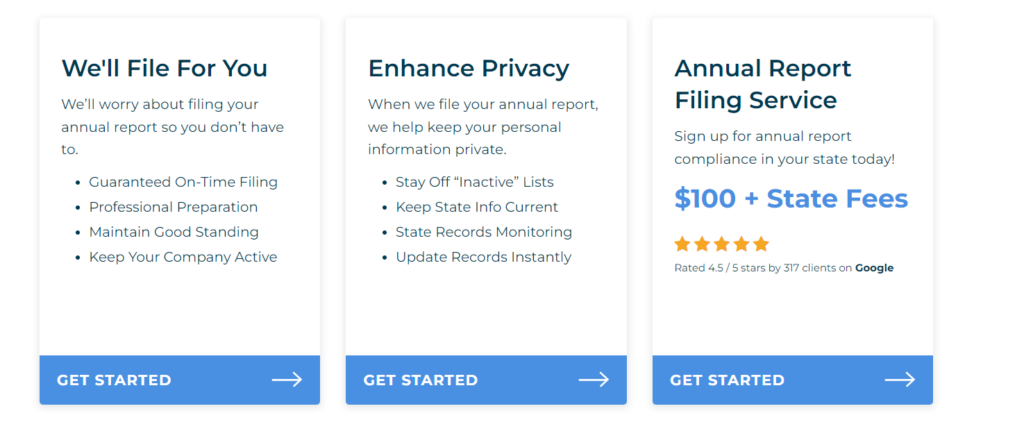 This filing service won't cost you anything initially, but you will later have to pay $100/year for filing the report plus associated state fees. You can easily keep track of compliance reports using your Northwest Registered Agent user dashboard.
Premium Mail Forwarding & Virtual Office Services
Do you need your mail forwarded to another address? Northwest's forwards your mail to your selected address either digitally or physically. The service is available in California, Delaware, Illinois, Idaho, Florida, Texas, Montana, Washington, and Wyoming for now.
Digital mail tends to arrive on the same day, while physical mail can take up to five business days to arrive. The mail forwarding service will cost you $40 per month.

Northwest Registered Agent also offers virtual offices in Wyoming, Idaho, Florida, Delaware, Texas, Washington, and Montana. You may avail of this service if you're interested in getting a physical address for your company, a unique suite number, and a real office lease. Northwest also gives you same-day digital mail forwarding, weekly physical mail forwarding, and a virtual phone line with the local area code you choose.
Top-of-the-line Customer Service
Northwest Registered Agent is best known for its high-quality customer support. Their in-house business experts, AKA Corporate Guides, have all the answers you need. When you call the support team, you're not redirected to the right department. There's no phone tree, which means the person who picks up your call has all the information to guide you and answer your questions.
Being a family-owned business, Northwest emphasizes the importance of human touch. This is why it commits to:
Never sending a 'no-reply' email to its customers
Getting back to customers within two hours of them leaving a voicemail
All emails replied to on the same business day
Here are a few examples of NW Registered Agent's customer reviews to give you first-hand evidence of its proficient customer service.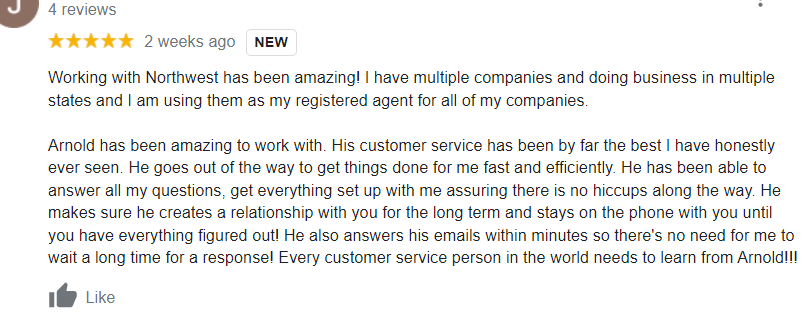 Alternatives to Northwest Registered Agent
If you feel NW Registered Agent's services are too expensive for you, or you're looking for something different in terms of features or service, you can always opt for alternatives. Here are some of the best LLC services you can go for alternatively.
Just like Northwest, LegalZoom is right up there with the most expensive LLC services available. It can be argued that LegalZoom is slightly cheaper than Northwest with its LLC formation service at $79 plus state filing fees, but it may end up costing you more with registered agent service combined.
Nonetheless, LegalZoom is as experienced as NWRA with more than 20 years in the online legal space under its belt. This is especially a great alternative if you need ongoing legal help with a range of business matters instead of a one-time service. You can get cost-effective business formation legal solutions and professional legal advice from experienced lawyers in the long term with the Business Advisory plan. Read the LegalZoom review to know more about this service.
Well-established service with 2 million+ businesses helped
Offers a wide range of legal services
Robust customer service
More expensive than alternatives
Slow turnaround time
Excessive upsells
Pricing
Economy – $79+state filing fees
Standard – $329+state filing fees
Express Gold – $349+state filing fees
ZenBusiness is one of the best LLC service providers for affordability, ease of use, and legal expertise. It also provides you assistance from preparing to filing your LLC formation requests all the way through. Apart from that, ZenBusiness gives you an annual report filing with every service package.
Unlike other online legal services, ZenBusiness is a Public Benefit Corporation. When it comes to affordability, it offers cheaper plans than Northwest Registered Agent with plans starting at $49 plus state filing fees. To learn more about its services and pricing, read our complete review on ZenBusiness.
Affordable and customizable LLC operating agreement
Personalized dashboard for storing and managing important details
Offers registered agent service
Does not offer a free plan
Recurring fee for registered agent service in the basic plan
Limited Website Templates
Pricing
Starter plan – $39 + state filing fees
Pro plan – $149 + state filing fees
Premium plan – $249 + state filing fees
If you're looking for a free LLC filing option, be sure to check out IncFile! It's one of the most affordable LLC formation services on the market. With its free LLC formation package, you only have to pay state filing fees to register your company.
In addition to the free plan, it offers three LLC formation packages: silver, gold, and platinum. The price depends on your state and the addons you want along with the base service. The best part? You get a free registered agent service for a year with all packages. Read the IncFile review if this service sounds right for your business.
Free LLC formation service
Free registered agent service included
Helpful online dashboard
Limited customer service
Expedited filing for premium tier only
Limited support options
Pricing
Silver – $0 + state filing fees
Gold – $149 + state filing fees
Platinum – $299 + state filing fees
Frequently Asked Questions (FAQs) for Northwest Registered Agent Review
Here are some frequently asked questions about Northwest Registered Agent to help you resolve any remaining queries.
Bottom Line on Northwest Registered Agent Review
We've analyzed and reviewed a range of LLC services and we can conclude that Northwest Registered Agent deserves a top rank among the best LLC services. We've singled out its phenomenal customer support as its most powerful selling point, but it's not the only plus point.
Northwest has over 20 years of experience and amazing customer feedback, making it a reliable option for anyone who wants to start an LLC. With a transparent and easy-to-understand pricing structure, NWRA is indeed an attractive choice, especially for those looking for LLC formation and registered agent services in one package.