Square POS is an intuitive point-of-sale system designed to facilitate payments both in person and online. It breaks out of traditional molds by offering a number of additional features that add up to a robust all-in-one platform. This article explores the tools Square POS offers to take your business to the next level.
Square's POS software is very business-friendly with a free Basic plan and card reader to collect in-person charges. Online businesses can take advantage of a user-friendly website builder to design the perfect store.
You will have to use its payment processing system and subsequent fees, which fall on the higher side. Some tools, such as marketing, loyalty, and payroll do come with an additional charge.
Get Square POS for your business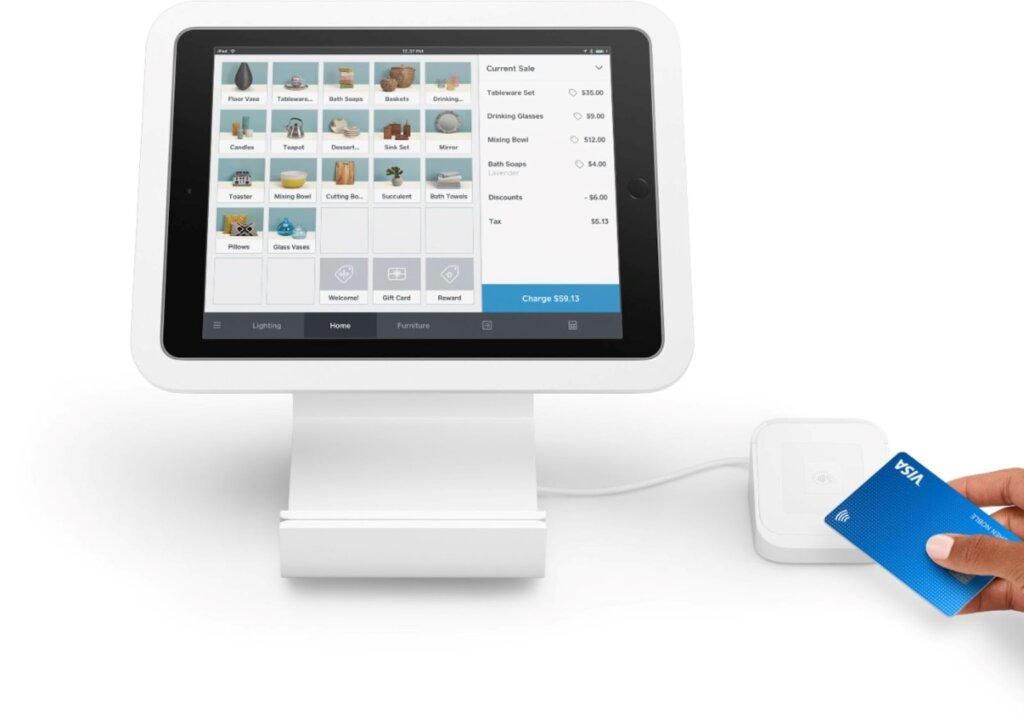 Basic plan is free to use
Free reader for in-person sales
Systems for several business types
Must use Square's payment processing
Processing rates are on the expensive side
Marketing tools cost extra
Square POS Review at a Glance
Square POS offers the perfect blend of tools for physical locations, online stores, and businesses firmly in both worlds. This makes it our top pick for the best POS software out there.
There are a number of hardware tools from portable card readers to terminals and registers you can use to set up your brick-and-mortar business any way you choose. Square's free online store and website builder has everything you need to build a professional digital sales platform, even if you have no prior knowledge.
Basic plans across all business types are completely free for as long as you remain at that tier. Prices increase incrementally as you upgrade plans and gain access to more features. Processing rates are a bit on the high side but only come out of any transitions you make.
No matter what tier you start off at, Square POS has checkout and payment tools to bring in sales and inventory management tools to prevent you from running out of bestsellers. The platform automatically builds customer profiles, offers thorough reports, and even has banking options.
Who Square POS is Best For
Square POS's range of features works well for startups and larger businesses alike, whether you're in person or online. New companies can join Square for free and never worry about monthly payments or surprise charges. Enterprises with high sales numbers can uncover custom pricing, lower processing rates, and get the most out of Square's extensive feature set.
Get Square POS for your business
Square POS System Cost
Square POS system cost changes depending on whether your business falls into retail, restaurants, or you do business by appointment.
Square for Retail
Square for Restaurants
Square for Appointments
2.9% + 30¢ online,
2.5 to 2.6 + 10¢ in person
2.9% + 30¢ online,
2.6 + 10¢ in person
2.9% + 30¢ online,
2.5 to 2.6 + 10¢ in person



Sales reports, integrated payments, team management, inventory management, client management
Unlimited locations and devices, menu and table management, unlimited KDS, shift reports, inventory management
Automated reminders, online booking tools, team management, client management, multiple payment options
Square POS builds each of its plans with a particular industry in mind. Each industry-specific plan has a free-forever option perfect for those starting out. Prices rise to $60 if you want to use more features. Processing rates don't vary much, but each plan type has specific features to help your business succeed.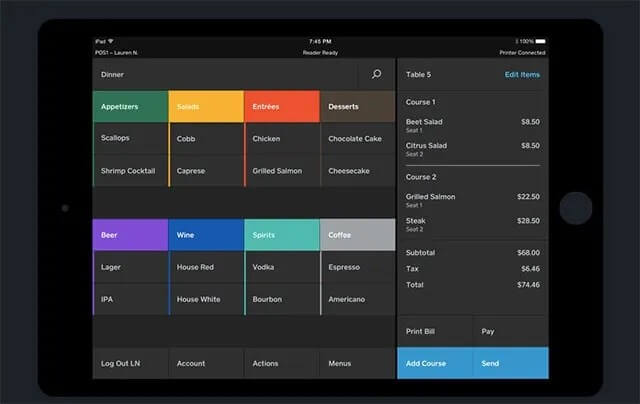 Square POS Features
Square POS has several incredible features, and many of them are available completely for free. Check out the standout ones below.
Payments
With Square POS, you can take payments from anywhere you do business. Sales and payment tools even tie into Instagram and Facebook, where customers can buy with the tap of a button. If you make sales on the go, there's even an option to accept payments through your smartphone.
The invoicing system makes it easy to accept payments remotely from regular customers or other businesses buying your products. Invoices can start out as estimates to quote jobs and land you contracts. You can use Square's system to track where invoices are and which still need to be paid.
The POS system accepts all the major credit cards, whether in a physical location or through the internet. Online credit card rates come in at 2.9% + 30¢, whereas in-person rates vary slightly from 2.5% + 10¢ to 2.6% + 10¢, depending on your plan.
Checkout
Online checkout with Square POS is fast and flexible no matter your business type. You can customize your checkout page with Buy buttons or QR codes to expedite the process. The in-person process is just as fast, with credit card readers, full registers, and barcode scanners.
Hardware
Square POS has an assortment of hardware tools to not only give your brick-and-mortar store a professional feel but allow for an easy and quick sales process.
Plans come with a free card reader you can attach to a smartphone or tablet to take payments, but you can purchase terminals, stands, or registers as well. Accessories such as a cash drawer, barcode scanner, or receipt printer complete the look.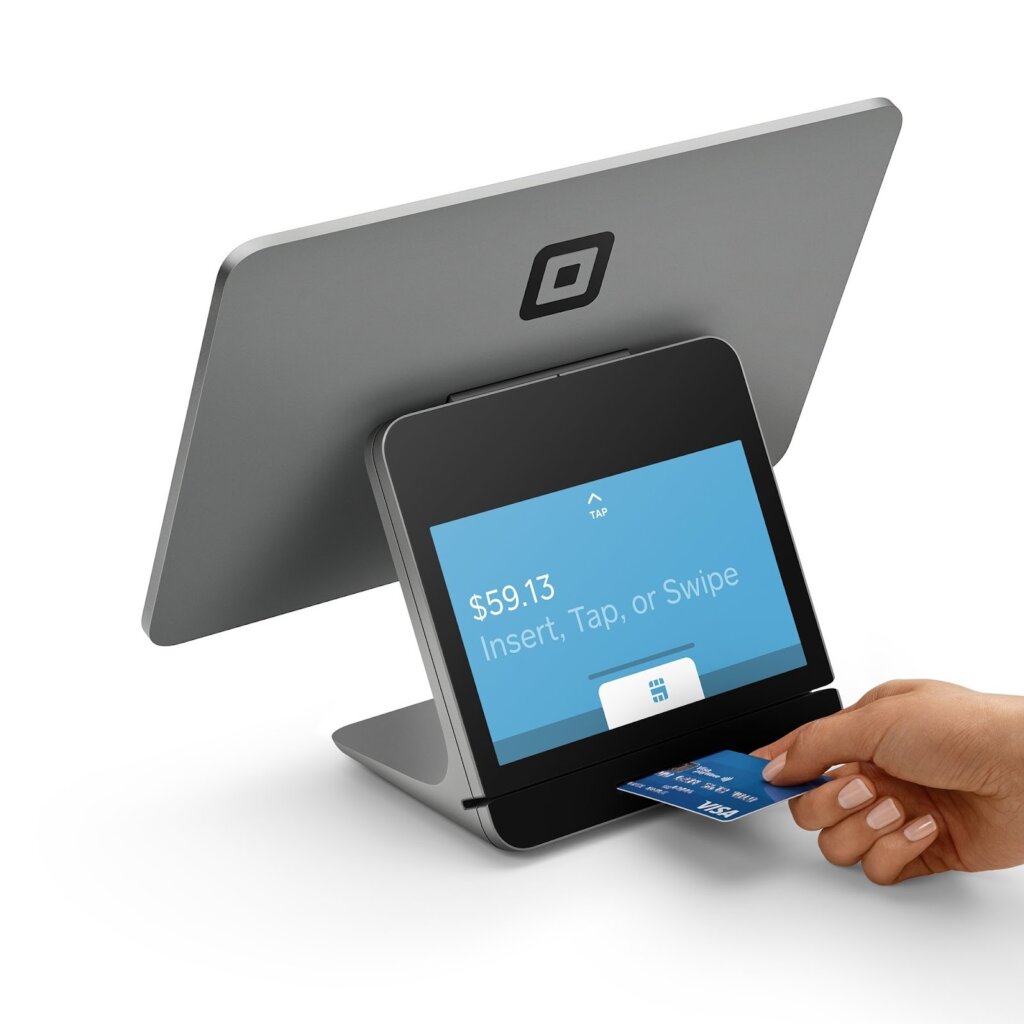 Contract Length
There are no long-term contracts with Square POS. You can upgrade from the free plan at any time to one of Square POS's paid services. Anyone enrolled in a paid tier can make changes at the end of every 30-day billing cycle.
Online Store
All Square POS plans come with an online store to expand your business across multiple channels. The included website builder makes it easy to drag and drop your way to the site of your dreams.
Personalize all aspects of your site to drive more sales and push customers toward high markup items. Square POS online stores work across mobile devices to reach more people for less work. Alongside credit cards, you can accept payments from pay apps to maximize sales potential.
Inventory Management
Inventory management tools allow you to sort products among different categories and attach SKUs for tracking purposes. If you sell both in-person and online, Square POS keeps tabs on how much of each item you have left in stock, so you don't have to.
Plus users get additional features, such as smart stock forecasts and managing goods across multiple locations. You can also set up automatic purchase orders to go out once an item falls below a certain amount.
Payroll
Square Payroll is an optional add-on, starting at $35 per month and increasing by $5 per active employee.
Your team can use Square's POS system to clock in and out on shifts so you can accurately track hours and make all your employee payments from a single source. Businesses can tie in tips and commissions as well.
The software will also automatically calculate your quarterly and annual tax filings so you don't have to. There's no need to worry about costly mistakes or compliance issues across one or multiple states.
Customer Profiles and Management
Whenever you make a sale, Square POS automatically generates customer information into your database. The system adds to data as customers shop again, building a profile you can use to reward loyalty or generate targeted marketing campaigns.
Mobile App
If you're on the road, the Square app allows you to follow your business, check sales information, and update inventory all from your phone. You can engage your customers from the Square app, receive orders if you're running deliveries, and update your online store with the latest products.
Marketing and Loyalty
Marketing and loyalty tools are add-on features designed to keep customers engaged and coming back for more.
You can create campaigns through email or text message, depending on customer preferences and data you've collected in customer profiles. A marketing strategy can share information on new items, promote in-store events, or send out exclusive sales deals. Change up campaign type or template depending on the deal or who you target.
Square POS allows you to automate the marketing process once you've set it up the first time. It can send welcome emails, abandoned cart reminders, ping customers you haven't seen in a while, and more.
With loyalty programs, it's possible to send one-time coupons to specific customers as a thank you for repeated business. Similarly, you can set up reward points they can redeem over time. The software will prompt customers to sign up at the time of sale so you don't have to.
Marketing tools start at $15 per month, with loyalty tools starting at $45 per month.
Reporting and Analytics
With sales reports, you'll know which inventory items are flying off the shelves and where you're making the most money. At higher pricing tiers, it's possible to break down reports by vendor, check profit margins, and view products by category to see what customers prefer the most.
Banking
To really stand out among the competition, Square POS incorporates basic banking tools to help you pay vendors and set aside finances.
Checking accounts grant instant access to your funds by way of a free business debit card. There are no minimums or recurring fees to worry about. With a savings account, you can set aside a portion of your sales for tax purposes or a looming expense.
If you need extra cash quickly, Square POS has a loan service for up to $250K. There's no interest on the loan as you pay it back, just one flat monthly fee you'll need to keep up with.
Alternatives to Square POS
Square POS has a ton of great features but may not be for everyone. Here are some other options to consider if Square doesn't speak to you.
Shopify POS connects users with a powerful ecommerce network and website builder that even the most computer illiterate can use to generate online income. Sales tools extend to brick-and-mortar locations as well, with robust payment options through many types of hardware.
If shipping across the city or the country, Shopify's deals with major carriers earn you up to 88% off shipping costs.
You can get started for as low as $29 per month, but plans can reach $299 if you want to bring credit card rates down or access more features. Payment rates start very high and don't drop too much even at the highest level.
The top-tier POS features are locked away behind a separate PRO plan at $89 per month. While most small businesses can make do with included tools, larger companies will have to consider this additional expense if choosing Shopify for point of sale tools.
Smooth omni channel selling
Powerful online store builder
Shipping discounts from the major carriers
Only two staff accounts at the Basic level
High payment processing fees
Shopify POS PRO is a costly add-on
Clover leans more on the brick and mortar side of POS, including hardware in each of its plans. The devices you receive vary depending on the plan you choose, but at the very least you'll get a touchscreen you or your customers can use.
Pricing models vary considerably depending on the type of business you run. Clover has some pre-built POS systems but will also customize plans to your specific needs should you desire. No matter which way you go, your first month of service is on the house.
You can add an online store to your POS system as well, but unlike Square, this is an optional upcharge. While easy to set up, the additional cost only adds to the confusion of monthly pricing options. It's best to work directly with Clover for your point of sale software, as some third-party sellers are not reputable.
Hardware included in each plan
First month of service is free
Customizable to any industry
Confusing pricing model
Some Clover partners may not do legitimate business
Keyed-in transactions have significantly higher processing rates
Revel Systems is a favorite of anyone with some developer knowledge under their belt. The adaptable Open API platform lets you build POS your way, and you can further customize your system with flexible payment options.
The platform is in no way limited to programmers, though. Revel Systems' POS software is intuitive, with a number of tools for managing inventory, customers, and your team. Everything can run off iPad devices if you want to go that route.
Monthly pricing starts at $99 per terminal, and this rate requires you to buy two terminals and sign a three-year contract. At nearly $200 per month, Revel Systems may be out of reach for some smaller businesses. Revel Systems is quite unclear about its payment processing rates, requiring you to make a phone call to see what yours would be.
Adaptable Open API platform
Customizable payment system
Runs off iPad devices
Best rate requires two terminals and a three-year contract
No transparency with payment processing rates
Monthly pricing is expensive
TouchBistro is a restaurant-exclusive POS software with all the fixings you'll need to run your fast food business or sit down. Wait staff can take orders and send them to the back of the house through standard iPad devices, maintaining a professional vibe while saving on expensive hardware.
It will cost you a minimum of $69 per month to start using the majority of TouchBistro's restaurant tools. There are no tiers of service; instead, you add additional features to cover all your business needs.
Add-ons include features like online ordering, reservations, and marketing tools that come with the means to up your sales numbers. You'll have to weigh the costs of these tools with profit potential to see what makes sense.
By signing up, you commit to at least a one-year contract. Make sure you iron out processing fees and add-ons before you buy so you know exactly what you're getting yourself into.
Several restaurant POS tools
Works with iPad devices
Always available customer support
Minimum one-year contract
Nontransparent hardware and processing fees
Add-ons like online ordering are not cheap
Square POS Review – Frequently Asked Questions
Bottom Line on Square POS Review
Square POS is an excellent point-of-sale system, allowing your business to accept payments from any medium. It doesn't stop there, offering an online store, management tools, and even banking to an already impressive package. Best of all, businesses of any size can take advantage of Square's features thanks to a free plan and attractive pricing options.