Shopify POS is a point-of-sale system your business can use to accept payments while managing inventory, staff, and sales. Whether your operations are online-only or you need Shopify POS hardware for your physical store, Shopify POS has the tools you need to succeed. This Shopify POS review will show you how one simple system can maximize your business's potential.
Get started with Shopify POS today.
Businesses of any size can make use of Shopify POS's omnichannel sales tools and powerful online store builders to reach the most customers. Be prepared for slightly higher than average processing fees from credit card transactions, especially with some of the cheaper plans. To lessen the sting, you'll receive some fantastic shipping discounts on all outgoing packages.
To get the most out of your Shopify POS system, you'll need to come up with an additional $89 per month to go PRO. Only here will you have smart inventory management, unlimited staff logins, and the whole gamut of analytics.
Smooth omni channel selling
Powerful online store builder
Shipping discounts from the major carriers
Only two staff accounts at the Basic level
High payment processing fees
Shopify POS PRO is a costly add-on
Shopify POS System at a Glance
Shopify POS offers the means to maximize sales for your physical or online store with mobile pay and credit card payment processing. If you sell from multiple locations, you can also track inventory changes and utilize reports to see which items are hot.
Built-in checkout and payment tools aim to improve the consumer experience and boost revenue. Customer profiles track customer habits, so you can tailor deals to demand or reward shoppers for loyalty.
Best of all, Shopify's point-of-sale system is only one part of an impressive suite of services. What really sets it apart is the eCommerce platform millions of businesses use every day.
Point of sale and eCommerce software are so intertwined that you can't purchase one without the other. Plans start at just $29 per month and grow alongside the needs of your business.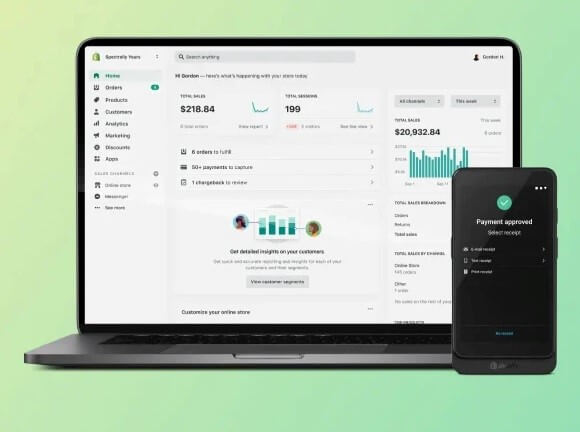 Who Shopify POS System is Best For
Any business able to handle $29/month is a good candidate for Shopify POS. As your company demands additional features, you can upgrade to more comprehensive plans or invest in Shopify POS PRO. Even large businesses should find everything they need with all of Shopify's tools at their disposal.
If you're starting an online store and need a POS, Shopify should be one of your top picks the best POS software for your business.
Shopify POS Pricing
Shopify POS has three price tiers you can take advantage of as your company's needs change. Check out the chart below to find the best plan for your business.
2.9% + 30¢ USD online
2.7% + 0¢ USD in person
2.6% + 30¢ USD online
2.5% + 0¢ USD in person
2.4% + 30¢ USD online
2.4% + 0¢ USD in person






Each tier includes Shopify's powerful online store builder and a support team that never rests. Differences start to appear with credit card rates, where you'll see a drop in fees the higher up the list you go.
The Basic plan only allows for two managers to log in and make administrative adjustments. You can have 15 managers helping you on the top level once you make the move to the Advanced tier.
Other features also get progressively better as you step up the ladder, such as the quality of reports and shipping discounts. You can also track and sell inventory across more warehouses or retail locations as the need arises.
Shopify PRO
If you want to elevate your POS software to the next level, Shopify PRO removes limitations on store staff logins and the number of registers you can use with your account. It also kicks inventory management into high gear and boosts your omnichannel selling with new features.
Adding Shopify PRO to your account costs $89 per month in addition to whichever plan you signed up for.
Check out what Shopify PRO has to offer.
Shopify POS System Features
Shopify POS has no shortage of tools to help your business out. Let's take a look at the key features now.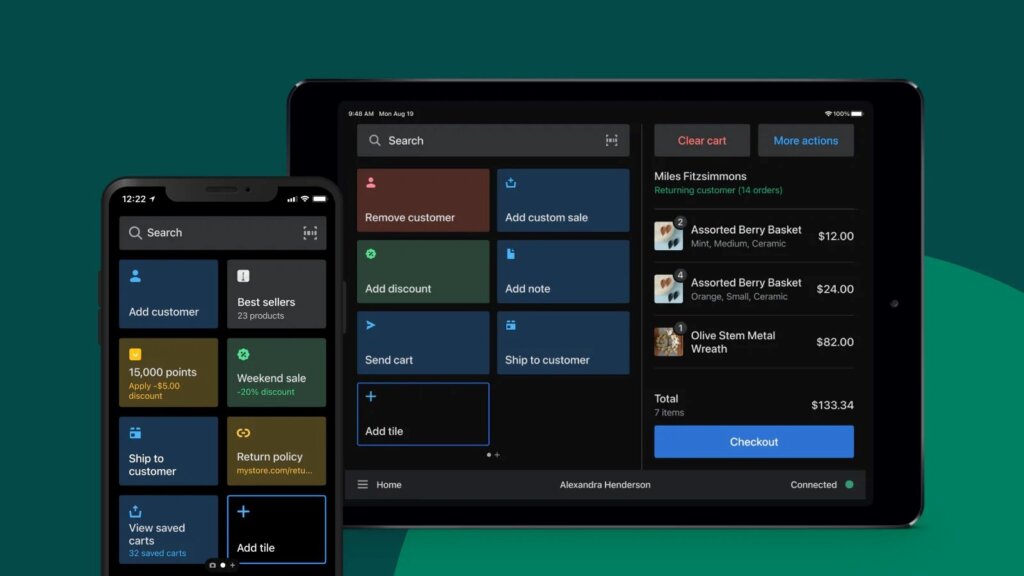 Payments
Whether you're doing business in person or on the web, Shopify POS has you covered. The software works with popular payment methods like Visa, Mastercard, American Express, and Google, and Apple Pay.
Credit card rates vary depending on the plan you use and where customers are shopping from. Online orders incur a 30¢ transaction fee on top of the cut Shopify takes for helping you do business. Charges range from 2.9% at the Basic level to 2.4% should you upgrade to Advanced.
Online fees work the same way, starting at 2.7% at Basic and dropping to 2.4% at Advanced. In addition to better rates, internet purchases don't have a transaction fee.
Checkout
Customers bogged down by the checkout experience may leave their merchandise and run. Shopify POS facilitates the process from any device to keep shoppers happy. The software automatically calculates taxes and can provide email receipts.
In-store barcode scanners make for quick transactions. It's possible to print out custom receipts with your store's information in hopes of bringing customers back in the future.
Shopify POS Hardware
You can deck out your brick-and-mortar store with Shopify POS hardware designed to speed up the sales process. Its standout tool is POS Go which looks like a phone but incorporates a barcode scanner, card reader, access to customer profiles, and more.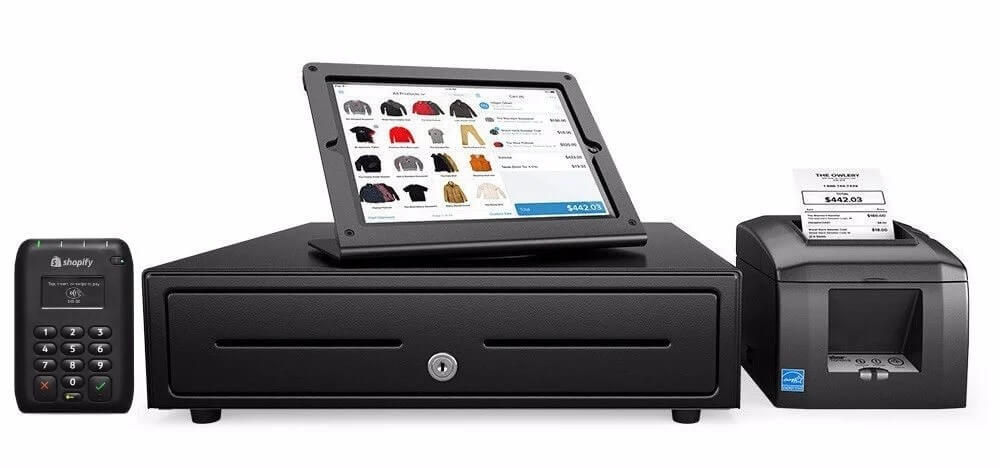 To make your business look even more professional, you can add registers, cash drawers, barcode scanners, receipt printers, and more. These devices all talk to each other through Bluetooth, Wi-Fi, or a wired connection.
Contract Length
You don't have to get locked into a long-term contract by signing up for Shopify POS. Any plan you choose can be month to month, allowing you to upgrade or cancel without worrying about termination fees.
A yearly contract is available if you want to bring prices down. The commitment discounts monthly rates by 50%.
Ecommerce Platform
Shopify is one of the best eCommerce platforms that millions of businesses use for online sales. Each of its POS plans includes the tools to create an incredible site of your own.
You don't need one iota of coding knowledge to build your site, either. Shopify's drag-and-drop system makes it easy to create the online store you want without the headaches that come with programming. If you do have programming skills, the sky's the limit of what you can do.
There are thousands of themes to choose from, and Shopify's websites are optimized for products and selling. If you're just starting out, you can use the built-in generator for your business name or domain.
Shipping Discounts
Perks for using Shopify's point-of-sale software even extend to shipping. No matter where you send products, you'll receive competitive shipping rates from UPS, USPS, or DHL Express. Discounts can reach up to 88% off standard costs.
Anyone using the Shopify or Advanced plans gets additional savings on smaller packages, but Basic users miss out. There's also up to $200 including insurance coverage if you use Shopify shipping labels.
Inventory Management
You can connect up to eight locations with your Shopify account to manage retail inventory. While this could mean multiple store locations, it also includes storage facilities or products hot off the manufacturing line. Inventory automatically updates when you fill orders or move products to a different place.
The rest of Shopify's inventory management tools are only accessible if you're a Shopify PRO member. PRO members can view inventory analysis and reports identifying sales trends and decide which items are worth keeping in stock. You'll also get a heads-up if items are running low and purchase order suggestions based on products flying off the shelves.
Customer Profiles
Repeat customers are a business's bread and butter. Shopify will build customer profiles listing contact information, purchases, lifetime spending, and pertinent notes about likes and dislikes. You can use these metrics to adjust marketing preferences or reward loyalty.
Reporting and Analytics
Shopify has a wide variety of reports you can use to track store performance and discover trends among your shoppers.
Retail sales reports allow you to view sales based on staff member, location, customer, or time of day. Product and inventory reports reveal what's selling and which items only collect dust. You can even see cash flow and whether your sales promotions are helping or hindering your bottom line.
Alternatives to Shopify POS System
Shopify POS has some powerful features, but it may not be for everyone. Check below for some alternatives that may be more of your style.
New businesses tend to love Square's Basic plan, which is completely free to use for the life of your company. It even includes a free card reader you can attach to a tablet or mobile device, so you can theoretically sell without any initial out-of-pocket costs. Square for Restaurants is also our top pick for the best restaurant POS systems.
Square has two other service tiers with advanced features to consider as your business grows. The Premium tier is only available to larger businesses making over $250,000 annually. Since all plans are month to month, you can change them at almost any time.
Among its bonus features, the POS software gives access to your very own online store to build your internet presence. There is also a slew of inventory management tools and sales reports to stay on top of your business needs.
Credit card processing rates are on the high side, effectively dipping into your bottom line. You'll have to use Square's payment processing system, so there's nothing you can do to get these fees down. Adding to the strain on your pocket, marketing, and loyalty tools are not included in standard rates.
Basic plan is free to use
Free reader for in-person sales
Systems for several business types
Must use Square's payment processing
Processing rates are on the expensive side
Marketing tools cost extra
Clover offers an excellent POS system catering, especially to brick-and-mortar businesses. The platform has all-in-one solutions built around restaurants, retail, and various professional and personal services. If your company doesn't fit into one of these molds, Clover can create a package just for you.
There are several plans for each industry type depending on the features you need. All plans come with hardware in the form of touchscreens, kiosks, or full registers for your transactions.
Your entire first month of service comes at no cost to you as a gift for choosing Clover. This lessens some of the pain surrounding monthly pricing, which requires a phone call to sales to sort out. It's best to do business directly through Clover, as some third-party vendors are not very reputable.
An online store through Clover is an optional add-on, causing monthly rates to jump even higher. Keyed-in transactions come with high fees, so make use of your card readers whenever possible.
Hardware included in each plan
First month of service is free
Customizable to any industry
Confusing pricing model
Some Clover partners may not do legitimate business
Keyed-in transactions have significantly higher processing rates
Revel Systems opens the door to customization tools that allow you to create the perfect POS system for your business. Alongside flexible payment options, developers can use the adaptable Open API platform to integrate other software and build game-changing solutions.
If programming isn't your thing, Revel Systems still has an intuitive point-of-sale software with inventory and customer management. Everything can run off a standard iPad device if you'd rather not invest in potentially expensive proprietary hardware.
Pricing begins at $99/month per terminal, requiring a three-year contract and the purchase of at least two terminals. Startups may be unable to come up with these funds early on in the game. Revel Systems isn't clear about its card processing rates, forcing you to call for a quote.
Adaptable Open API platform
Customizable payment system
Runs off iPad devices
Best rate requires two terminals and a three-year contract
No transparency with payment processing rates
Monthly pricing is expensive
Lightspeed's inventory management tools leave other POS providers in the dust. You can track products across multiple locations like Shopify, but Lightspeed lets you assign custom SKUs and reorder supplies directly from its platform.
Everyone except those in the Basic tier gets access to Lightspeed's eCommerce platform for online sales. There's also free onboarding assistance until your team is up to speed on everything Lightspeed has to offer.
Payment processing fees do not vary from plan to plan or business type and actually come in a bit lower than most of the competition. Monthly prices to use the POS software start at $69/month and only go up from there.
On the hardware side, Lightspeed software runs on any iPad device to help keep costs down. You'll have to call for a quote if you want to use a register, cash box, or receipt printer.
Robust inventory management system
Free onboarding assistance
Lower payment processing fees
eCommerce platform not included in the basic tier
Must request a quote for hardware pricing
On the pricey side
Shopify POS Review – Frequently Asked Questions (FAQs)
This section provides answers to some of the most commonly asked questions about Shopify POS.
Bottom Line on Shopify POS Review
Shopify POS combines the best point-of-sale software with an impressive eCommerce platform. In addition to omnichannel selling, you'll have inventory and staff management tools alongside comprehensive reports and the Shopify POS hardware you might need for a brick-and-mortar location. Businesses small and large turn to Shopify for its long list of features that grow right along with you.