LegalZoom is a big name in the online legal services sector. Whether you're a business owner, professional, or looking for personal legal services, LegalZoom offers a one-stop solution for all.
While the online legal service covers intellectual property, personal, and family matters, we will emphasize its business-related services in this review. Continue reading to learn more about LegalZoom's LLC (Limited Liability Company) formation services, its pros and cons, and the best LegalZoom alternatives out there.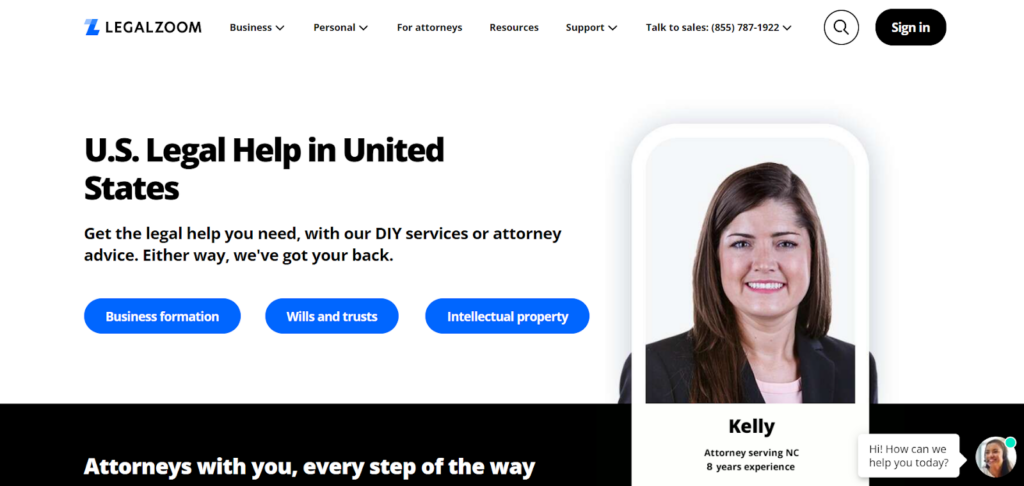 Our Verdict
LegalZoom is a great option for you if you run a small business and want to form an LLC but don't have your own business lawyer. This business formation service makes it easy and affordable to file an LLC with LegalZoom with plans starting at $79 (plus filing fees). It's one of the oldest online legal establishments with many other offerings including operating agreement drafting, registered agent services and business license searches.
While LegalZoom is not your cheapest choice for a one-off service, it's better suited for businesses with long-term legal needs. It offers cost-effective business formation legal solutions and professional legal advice from experienced lawyers if you need a long service package.
Well-established service with 2 million+ businesses helped
Offers a wide range of legal services
Robust customer service
More expensive than alternatives
Slow turnaround time
Excessive upsells
Headquartered in Glendale, California, LegalZoom is a well-known name in the online legal technology industry. With well over 1000 employees, the company has been in the business since 2001 and has helped over 2 million businesses with their legal needs over the years.
LegalZoom is not technically a law firm. It partners with experienced legal professionals from around the United States to provide its users with personal and business legal expertise. Apart from business formation, operation, and brand protection services, LegalZoom can also help you with personal wills and trusts, and family and property-related matters.
When it comes to pricing, LegalZoom's services will cost you a tad bit higher than its alternatives. Just like other LLC formation services, LegalZoom has three-tier pricing plans. Economy, Standard, and Express Gold. Here's what its LLC packages look like:

LegalZoom's 60-day satisfaction period is what sets it apart from some of the best LLC services. All online legal service providers offer some guarantee of satisfaction, but you will rarely find one offering a two-month guarantee. You can ask for a 100% refund on services in case you're unsatisfied with the services you were promised.
Who LegalZoom is Best For
LegalZoom is best for you if you're a small business with frequent legal needs. If you can't afford to have an in-house lawyer or hire a lawyer every time you need legal services, you should consider LegalZoom. While it's not the cheapest available service for one-time services, LegalZoom's long service packages are cost-effective with a flat monthly fee.
LegalZoom Pricing
LegalZoom charges more than other online legal services. As mentioned above, it follows a 3-tier pricing plan. The chart below summarizes the tiered pricing structure for LLC formation services only.
Name search and business entity filing






Lifetime customer support









LegalZoom's Standard or Express Gold plans don't offer a lot of extra features, so what does it charge the extra money for? The main difference is the turnaround time. The economy plan has a usual turnaround time of 30 days, which is a lot of waiting for someone who needs to start their LLC process quickly. The Standard and Express Gold plans have a processing time of 15 and 10 business days respectively.
LegalZoom Features
LegalZoom has a bunch of features up its sleeve that make it such a popular choice despite its high-priced packages. Below we'll discuss some of its most useful features and their availability in the Economy, Standard, and Express Gold packages.
Prepaid Business Advisory Plan
The prepaid business advisory plan is a brilliant option if you need ongoing legal help for your business matters. This annual or semi-annual plan gives you expert legal help throughout your membership tenure. You can get help on anything from contracts and agreements to trademarks and trusts starting at a low monthly fee of $39.09.

LegalZoom's business advisory plan gives you 30-minute attorney consultations on new legal matters, reviews for legal documents up to 10 pages, and an annual business evaluation (if you get the annual plan). Apart from that, you also get unlimited downloads from the legal form library and exclusive discounts on other LegalZoom packages.
Business Operation Services
LegalZoom is a one-stop solution for your company's legal needs. So apart from LLC formation, incorporation, and other business registration services, it also offers operational legal services. LegalZoom provides services including registered agent services, annual reports, minutes manager, compliance calendar, operating agreement, tax help, contracts and agreements, and permits.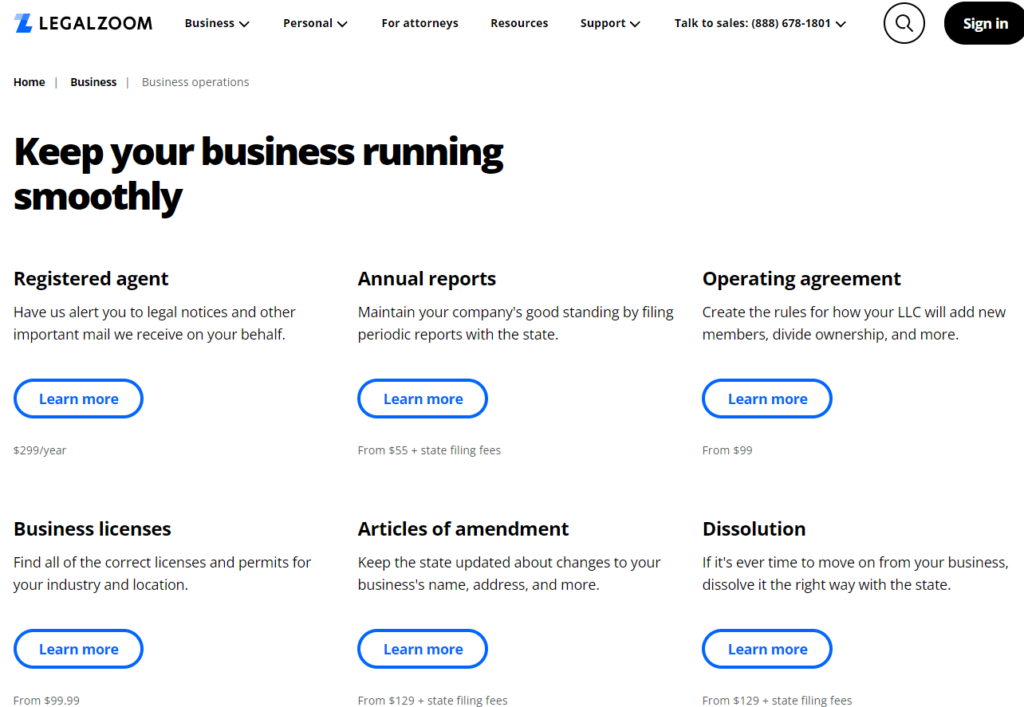 Intellectual Property Protection
You can also get intellectual property protection services like copyright, trademarks, and patent registration with LegalZoom. The company claims to be the No. 1 online intellectual property protection company on the market. In addition to registration, LegalZoom offers trademark search and trademark monitoring services too. 
Lifetime Customer Support
LegalZoom prides itself on its robust customer support. It has a proven track record of positive customer experiences with its 7-days-a-week customer service. This is what sets it apart from its competitors. Most LegalZoom competitors don't focus a lot on customer service and have relatively smaller teams dedicated to answering customers' questions.


Lifetime customer support means you can reach out to LegalZoom agents and get your queries answered whenever you want. The company has a US-based customer service team that's available 5 a.m. to 7 p.m. PT on weekdays and 7 am. to 4 p.m. PT on weekends.
Ease of Use
LegalZoom is an easy-to-use online legal platform. The LLC formation process won't take you more than 20 minutes and you can complete your order in one sitting easily. In case you can't complete your order, you don't have to worry about losing all your submitted answers and documents. LegalZoom will email you a link with all your saved answers so you can get back to it whenever you want.
Well-Experienced Vendor
LegalZoom has been offering its services in the online legal industry for more than two decades now. The vendor has amassed plenty of users over the years and this has helped them develop their service to cater to the needs of all types of businesses.
LegalZoom offers efficient online templates for LLC formation or any other legal matter that can get the job done for you reliably. You can count on LegalZoom for your company's legal needs as they've got a proven track record of delivering positive results for their clients.
Satisfaction Guarantee
LegalZoom's 60-day satisfaction guarantee makes it quite an attractive option. It offers to refund 100% of its service fee if you are not satisfied with the results even two months after you purchase a package. This adds to customers' peace of mind and reassures them that they will receive value for their money.
Note that LegalZoom won't refund any money paid to government authorities and other third parties. It also won't refund the money paid directly to third parties, such as the attorneys affiliated with LegalZoom's legal plans. Although the 60-day satisfaction guarantee is a plus, availing of this money-back guarantee isn't easy. Customers have reported that the cancellation or refund option is hard to locate on the LegalZoom site.
Alternatives to LegalZoom
LegalZoom is a quality vendor but its price tags may not fit into everyone's budget. Here are some of the best alternative LLC services, what they offer, and how they compare to LegalZoom.
ZenBusiness is a top LLC service provider for its affordability, ease of use, and industry-leading legal expertise. It assists you all the way through from preparing to filing business registration requests. It also gives you annual report filing with all its packages. The ZenBusiness Public Benefit Corporation status makes it a unique vendor in the online legal marketplace.
ZenBusiness offers cheaper plans than LegalZoom with the starter plan starting at $49 plus state filing fees. It's not as well-known as LegalZoom but its turnaround time and ease of use are much better. To learn more about its services and pricing, read our complete review on ZenBusiness.
Affordable and customizable LLC operating agreement
Personalized dashboard for storing and managing important details
Offers registered agent service
Does not offer a free plan
Recurring fee for registered agent service in the basic plan
Limited Website Templates
Pricing
Starter plan – $39 + state filing fees
Pro plan – $149 + state filing fees
Premium plan – $249 + state filing fees
IncFile is the most affordable LLC formation service on the market. You'd be surprised to know that they offer a completely free LLC formation package where you need only to pay state filing fees to register your business as a Limited Liability Company.
A free package obviously means you're required to put in more work from your end, but it still is an attractive option for those who have time on their hands and are looking for a free LCC service. If you opt for IncFile, you also get a registered agent service completely free for the first year, and at a reasonable rate of $119/year moving forward. Read the IncFile review to know more about its features and pricing.
Free LLC formation service
Free registered agent service included
Helpful online dashboard
Limited customer service
Expedited filing for premium tier only
Limited support options
Pricing
Silver – $0 + state filing fees
Gold – $149 + state filing fees
Platinum – $299 + state filing fees
Rocket Lawyer offers business registration services to help you start your business, along with services to meet your legal needs while running it. This legal service is known for providing affordable online legal services with a range of package options.
Rocket Lawyer's pricing plans are a bit different than LegalZoom. It has separate plans for premium members who pay a monthly fee of $39.99 and non-members who don't pay a monthly fee and only purchase one-time services. Rocket Lawyer's new premium members get free incorporation filing and 25% off moving forward.
The premium plan also includes access to a vast library of legal documents, 30-minute consultations for new legal matters, and unlimited legal questions from on-call lawyers. If you're a non-member, the one-time LLC filing package will cost you $99.99 plus state filing fees. Read our Rocket Lawyer review to know more about this company.
Affordable monthly fee
Access to ongoing legal support through membership
Discounted legal counsel with membership
Addons for non-members can be expensive
Free trial converts automatically
Not specialized in business formation
Pricing
Premium membership – $39.99/month
Non-member LLC formation – $99.99 + state filing fees
Registered Agent Service – $149.99 (25% off for premium members)
Frequently Asked Questions (FAQs) for LegalZoom Review
Bottom Line on LegalZoom Review
LegalZoom is one of the most experienced and well-known vendors in the online legal space. It offers a wide range of legal services from business registration and operation to IP protection. Its LLC formation plan, although slightly pricier than the competition, offers great value and customer satisfaction.
Furthermore, its business advisory plan is great for small businesses in need of ongoing legal assistance but can't afford an in-house lawyer. All in all, LegalZoom is a reliable service provider that can get the job done for you with its vast experience and resources in the industry. If you think it's too costly for you, you always have cheaper alternatives like ZenBusiness or IncFile.