IncFile makes it easy for you to form a new LLC or convert your existing business into one, thanks to its budget-friendly pricing, ease of use, and LLC registration features. In this IncFile review, we will explore the pros, cons, pricing, and features of the IncFile LLC service. Continue reading to find out whether it's a good choice for you.
Our Verdict
IncFile is the best affordable LLC service for entrepreneurs like you because it combines economical plans, a simple UI, and LLC formation services.
Offers free plan & cost-effective paid plans
Easy to use
Convenient preparation & filing tools for LLC registration
Lacks advanced features of expensive LLC services
Involves slightly more work compared to other LLC solutions
Unlimited customer support not available for free version
IncFile is an LLC service that helps business owners register LLCs in the U.S. It streamlines the LLC registration process so you can save time and money. After all, this solution makes it possible for you to reduce your paperwork and skip hiring a lawyer. On top of this, it also assists you in managing your bookkeeping, taxes, and banking, which you will need to operate and maintain your LLC once it is formed.
IncFile stands out among LLC services because of its cheap pricing, which ranges from free to $299 (plus state fee). At the same time, it doesn't skimp on functionality in spite of its cost-effective price. Its handy features include a minimalist UI, LLC registration service, name search, custom dashboard, finance management, company alerts, registered agent service, and customer support.
Founded in 2004, IncFile is currently based in Houston, Texas. At present, it has already guided over 500,000 small business owners and entrepreneurs to start and expand their business ventures. Find out if this LLC service is right for you with the help of this IncFile review. Check out the pricing and features below.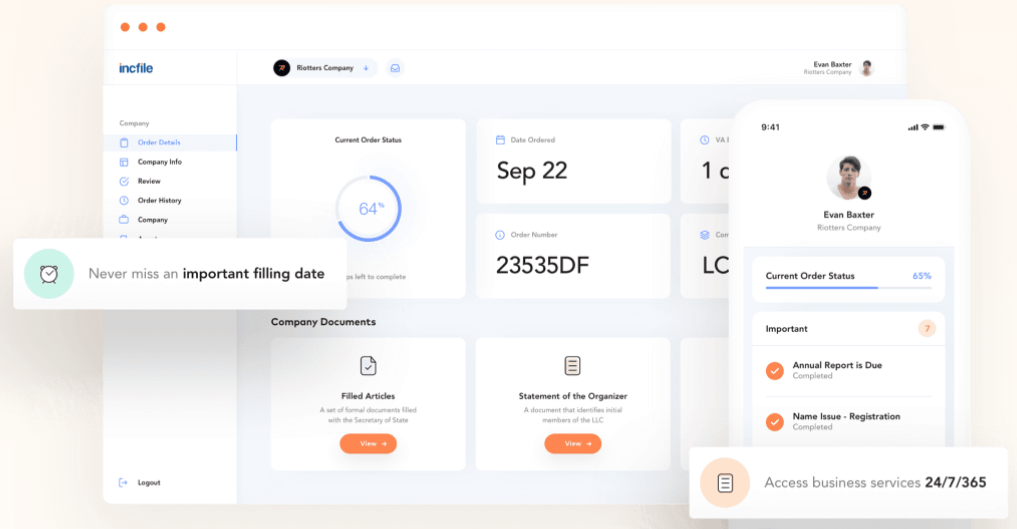 Who IncFile Is Best For
IncFile is ideal for business owners on a budget who are planning to start a new LLC or convert an existing business into an LLC. Even if your resources are limited, it lets you experience the advantages of a high-quality LLC service without breaking the bank. That's why we recommend it as the best affordable LLC solution among the top-rated LLC services.
Pricing
Compare the price and features of the three IncFile plans to choose the one that works best for your business.
LLC Registration Assistance
Preparing & filing articles
Preparing & filing articles
EIN Business Tax Number
IRS Form 2553
Operating Agreement
Preparing & filing articles
EIN Business Tax Number
IRS Form 2553
Operating Agreement
Expedited filing
Banking resolution
Business banking account
Business tax consultation
Banking resolution
Business banking account
Business tax consultation
Business contract templates
Unlimited phone & email support
Unlimited phone & email support
To summarize, here is a quick overview of the three plans offered by IncFile:
Silver (Free + State fee): It is suitable for business owners who need basic LLC registration assistance.
Gold ($149 + State fee): It is appropriate for entrepreneurs who require intermediate LLC registration assistance, plus finance management and customer support.
Platinum ($299 + State fee): It is ideal for business owners who need advanced LLC registration assistance and expediting filing, as well as finance management and customer support.
IncFile has an edge over other LLC services in terms of pricing. Unlike most of its competitors, it has a free version for entrepreneurs with limited spending power. Even the paid plans are not as expensive compared to similar plans from other providers.
IncFile Features
Pricing is an important factor when you're choosing an LLC service, but it's not the only aspect you should consider. You should also check out the functions of IncFile to learn if it meets your requirements as a business owner. Let's discuss the key features of the IncFile LCC service, including the minimalist UI, LLC registration service, name search, custom dashboard, finance management, company alerts, registered agent service, and customer support.
User Interface
IncFile has a clean, simple user interface (UI) that is easy to use and navigate. You can start using it right away even if it's your first time trying an LLC service. It shows information in a clear, visual way through boxes and lists in the dashboard. As a result, you can quickly find the options that you are looking for.
LLC Registration Service
IncFile makes it possible for you to register your LLC in just a few steps. First, it will prompt you to input basic information so you can get started. Next, IncFile will assist you in the preparation of articles of incorporation and filing with the governing state agency. Finally, it displays the filed article information and related documents in your dashboard.
The free Silver plan covers basic preparation and filing services. In addition to this, the Gold and Platinum paid plans also include assistance with documents like EIN Business Tax Number, IRS Form 2553, and Operating Agreement. Since the Platinum plan is the most premium package out of the three options, it involves expedited filing as well.
To be realistic, IncFile does involve a little more work compared to its high-end competitors which have more advanced features. Still, IncFile helps you save time and money by simplifying the LCC registration process, which can be a long, complex procedure when done manually.
Name Search
All the IncFile plans allow you to search for business names in collaboration with your state. The Name Availability Search tool lets you confirm if the company name you plan to use for your LLC is unique to your business and has not yet been taken by another organization.
Custom Dashboard
If you choose a paid plan, IncFile will provide you with a custom dashboard that lets you keep track of your activities. You can access all your filed articles, documents, and extra services through the dashboard. Aside from this, it displays your current order status, order history, and company information in a visually friendly way by grouping data into boxes and lists.
Finance Management
While it is mainly an LLC service, IncFile goes the extra mile by offering finance management features too. For instance, the Gold plan includes tools related to banking resolution, tax consultation, and business bank accounts. On top of this, the Platinum package grants you access to over 150 business contract templates. You can also check out the best small business bank accounts for LLCs.
Company Alerts
Both paid plans of IncFile come with lifetime company alerts. It will send you email messages to remind you about upcoming compliance deadlines. These automatic notifications will prompt you to complete all your state filing requirements on time.
Registered Agent Service
IncFile offers free registered agent service for one year for all plans. A registered agent is a person or business who receives vital information, documents, and correspondence on your behalf from the federal government, state government, and agencies. The agent forwards the data to your LLC so you can reply or respond accordingly. All business entities in the U.S., including your LLC, are required to have a registered agent.
Customer Support
IncFile provides unlimited phone and email support. You can call the support team from Mondays to Fridays from 9 a.m. to 6 p.m. EST if you need technical assistance. You may also fill out the Client Support Request form in case you have questions about IncFile. Take note that unlimited customer support is only available for paid plans, not for the free version.
Alternatives to IncFile
IncFile is a solid LLC service given its economical price. However, it is possible that you have other pressing priorities aside from pricing when it comes to selecting an LLC service. That's why we have listed down other IncFile alternatives that you may consider.
Rocket Lawyer is a legal service provider that offers LLC registration services. On the business formation side, it checks the availability of your preferred entity name, files your paperwork requirements, and follows up with your state on your behalf. On the legal side, it gives you the chance to consult with on-call attorneys. It also grants you access to a legal document library.
Rocket Lawyer is suitable for you in case you need online legal services while you form your own LLC. Unlike IncFile which is dedicated to LLC services, it concentrates on providing legal assistance without the need for costly lawyer's fees. Read the complete Rocket Lawyer review to know more.
Affordable monthly fee
Access to ongoing legal support through membership
Discounted legal counsel with membership
Addons for non-members can be expensive
Free trial converts automatically
Not specialized in business formation
Pricing:
Legal Documents: $39.99
Attorney Services:

$9.99 per document
$49.99 per question
$59.99 per consultation

For Business:

Incorporation Filing: $99.99
Registered Agent Service: $149.99
Inc Authority is an online LLC setup service that focuses on business entity formation. It gives you access to a wide range of business startup services. For instance, its services include preparation plus filing, business name check, digital storage plus delivery, S-Election Form preparation, tax planning consultation, and registered agent service.
Inc Authority is ideal for entrepreneurs who need round-the-clock email and phone support for their business. While its features are fairly similar to IncFile, Inc Authority has stronger customer service because of its 24/7 US-based online support. Read the Inc Authority review if this service interests you.
Free LLC filing
Highly rated customer support
Free registered agent service for one year
Lots of upsells
EIN filing costs extra
No refunds
Hashtag Legal is an LLC provider that offers customizable LLC formation services. These solutions include corporation formation, business restructuring, addition of shareholders or members, and strategy development. It also gives you the opportunity to ask for professional advice from legal experts.
Hashtag Legal is appropriate for you if you wish to tailor the LLC setup process and operating agreement according to the needs of your business. It's more flexible compared to IncFile since you can personalize some of its services. Read our review on Hashtag Legal to find out if it's the right choice for you.
Customizable plan
Receive legal advice with to LLC filing
High-quality customer support
Pricing isn't transparent
Small boutique firm
Limited to New York and New Jersey
Pricing:
Contact Hashtag Legal for quote
LegalZoom is a business formation service that provides LLC startup services. It completes and files your paperwork after you input your preferred name plus basic data. If you need legal solutions, it connects you with an independent network of lawyers. It ensures customer compliance so you can fulfill all the legal requirements of your business.
LegalZoom is ideal for owners of online businesses because of its expertise in setting up LLCs in the technology industry. Unlike IncFile which is a general LLC service, LegalZoom is designed especially for technology businesses. Read the complete LegalZoom review to learn more.
Well-established service with 2 million+ businesses helped
Offers a wide range of legal services
Robust customer service
More expensive than alternatives
Slow turnaround time
Excessive upsells
Pricing:
Economy: $79 + State filing fees
Standard: $329 + State filing fees
Express Gold: $349 + State filing fees
Frequently Asked Questions (FAQs) for IncFile Review
IncFile is a viable option for you if you are planning to set up an LLC on a minimal budget. Let's discover the answers to common questions about IncFile and LLC.
Bottom Line on IncFile Review
IncFile makes it simple for you to start an LLC so you can limit your potential liability as a business owner. We recommend it for you in case you are looking for a cost-effective LLC service with good functionality. After all, IncFile LLC service shines because of its affordable price, intuitive UI, and LLC registration tools. We hope this IncFile review has helped you figure out if IncFile is the right affordable LLC service for your business.